How music therapy helped Black Eyed Peas star Taboo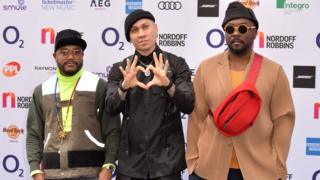 The Black Eyed Peas won best international group at the Silver Clef Awards on Thursday, and they had a special reason for being there.
The awards support music therapy charity Nordoff Robins, and rapper Taboo, told the BBC he had personal experience of music's "healing power".
"Music was my therapy while I was on chemo," said the star, who was treated for testicular cancer in 2014.
"It kept my mind off the stress and the trauma I was experiencing."
Taboo, whose real name is Jaime Luis Gomez, was diagnosed with cancer after going to the emergency room for what he thought was the flu.
After an intensive 12-week course of chemotherapy, he is "celebrating five-years of being cancer-free".
His band-mate will.i.am added that music had helped him when he was "down or stressed or trying to get out of the clutches of depression".
"So it was an honour when they asked us to be part of this event."
Other winners at the ceremony included Ed Sheeran, Mabel and The Chemical Brothers.
Accepting the award for best male, Sam Smith paid tribute to Nordoff Robins' practitioners, saying: "What you do is sensational, it takes my breath away."
Best female winner Dua Lipa added: "You are changing so many people's lives, I know music has changed mine."
Pop band Years & Years, who won best group, also spoke about their experience of attending a music therapy session with three young children.
"We got to make some music with them and have a jam," said singer Olly Alexander. "It was so inspiring. The work they do is literally life-changing."
"You sometimes forget when you're in this business that it's essentially about play, being creative and having fun," said his band-mate Emre Turkmen.
"So when we went there it was quite… humbling isn't the right word. It was fun. They were having fun and we were having fun, and it connects you because you're all doing it together. It's amazing."
As part of the ceremony, the band auctioned off a personalised song to raise funds for the charity. Last year's event generated £750,000, which organisers were hoping to top in 2019.
The event, at London's Grosvenor House Hotel, also highlighted some of the lives changed by music therapy.
The audience, which also included stars like Gary Numan, Sheku Kanneh-Mason and Bernard Sumner, saw a video of Charlie, a five-year-old with Down's Syndrome, who contracted leukaemia and spent six months in hospital.
His mother, Emma, said the music therapy sessions "were an invaluable part of Charlie's treatment.
"As he couldn't verbalise his feelings, music was a huge outlet. It just made him so happy – like a ray of sunshine for his mind and soul."
The fan of the year prize also went to Samih El Sanhouri, who lost both of his eyes to cancer as a child,
"Music is his passion and joy and the way he experiences beauty and creativity," said his mother, Taghreed.
"For me, it's genuinely been a lifesaver," added Samih. "It was hard as a young child, growing up blind, and it's definitely gotten me through."
Host Edith Bowman, returning for the third year, said the Silver Clef ceremony was "always a really emotional day," adding: "I have extra-thick waterproof mascara on."
She noted that many stars turn up to this event when they shun other awards ceremonies, because they recognise the importance of Nordoff Robins' work.
"For them, it's not about the awards. They can see what their music can do for people – emotionally and physically.
"You know when you hear a song and the hairs on your arms stand up? It's an uncontrollable reflex. And that's the power of music."
Follow us on Facebook, on Twitter @BBCNewsEnts, or on Instagram at bbcnewsents. If you have a story suggestion email entertainment.news@bbc.co.uk.
Keith Lemon star hits out at fake Caroline Flack t-shirts being sold online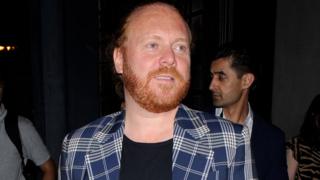 Comedian Leigh Francis says fake versions of the charity t-shirt he made following the death of his friend Caroline Flack are being sold online.
The actor – better known as Keith Lemon – accuses other people of "ripping off" his design, which he made to support The Samaritans.
And he's urging websites remove the fakes to make sure as much money as possible goes to charity.
So far, more than 11,000 of his original Be Kind tees have been sold.
Caroline took her own life earlier this month and Keith had known her for years.
Launching his t-shirt, he said he wanted to spread her #BeKind message – and said all the profits would go to charity.
But fakes have started springing up online.
Radio 1 Newsbeat's found a number of sites selling the fakes – originals can only be purchased through Keith Lemon's own pages.
And the comedian's put out a number of messages on Instagram, urging people not to buy the copies.
"Thanks so much to everyone who's bought a t-shirt for Be Kind. Unfortunately, there's a website called Teespring.com that's ripped off the design and unless they're going to give that money to The Samaritans, then they've stolen my design and taken that money that would've gone to The Samaritans," he said.
He then posted another message to say the company had removed the fakes.
Teespring has since apologised, saying all designs are created by "independent individuals". It also says the user's account has been "disabled" and that it "doesn't support this behaviour".
The company hasn't said whether it'll be handing over any profits to charity – but fakes are turning up on a number of other sites too.
Newsbeat has contacted several of the sites selling fakes but so far, there has been no comment.
---
If you are affected by any of the issues raised in this article and want help or information you can visit BBC Advice.
Follow Newsbeat on Instagram, Facebook, Twitter and YouTube.
Listen to Newsbeat live at 12:45 and 17:45 weekdays – or listen back here.
Harvey Weinstein accusers welcome rape and sexual assault conviction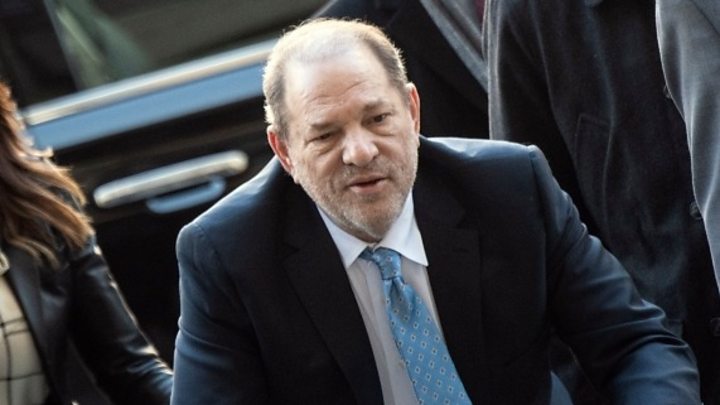 Accusers of Harvey Weinstein have welcomed the guilty verdicts in the rape and sexual assault case against the former Hollywood mogul.
Actress Rose McGowan told the BBC "this is a great day", while others said the ruling brought hope to victims that their voices would be heard.
Weinstein, 67, was convicted in New York City of third-degree rape and a first-degree criminal sexual act.
He was cleared of the most serious count of predatory sexual assault.
Weinstein faces up to 25 years in prison over the guilty verdicts relating to two women. His lawyers say he will appeal.
"I'm innocent. How can this happen in America?" Weinstein's lawyer Arthur Aidala quoted his client as saying.
The former movie executive still faces charges in Los Angeles of assaulting two women in 2013.
In all, at least 80 women had accused him of sexual misconduct stretching back decades, including actresses Gwyneth Paltrow, Uma Thurman and Salma Hayek.
The allegations were at the centre of the #MeToo movement that prompted women to go public with misconduct allegations against powerful men.
Weinstein once enjoyed phenomenal success with Oscar winners such Pulp Fiction, Good Will Hunting, The King's Speech and Shakespeare in Love.
He was taken to New York's Bellevue Hospital reportedly suffering from chest pains after the verdict was announced.
He had been due to be moved to prison on Riker's Island to await sentencing.
What happened in the New York court?
The jury of seven men and five women reached their verdict on Monday morning, the fifth day of deliberations.
Weinstein – who denied all charges – was convicted of sexually assaulting former production assistant Mimi Haleyi in 2006 and raping Jessica Mann, a former aspiring actress, in 2013. The judge ordered him to be sent to jail immediately.
But the jury acquitted him on two counts of predatory sexual assault, which carried a potential life sentence, and first-degree rape of Mann.
In the minutes after the verdict, Weinstein showed no emotion as he talked to his lead lawyer Donna Rotunno.
A third-degree rape charge in New York is defined as engaging in sexual intercourse with a person who is incapable of consent, or under age 17, or who has not given consent for a reason other than the inability to consent.
Prosecutors portrayed Weinstein as a serial predator who used his position of power in Hollywood to manipulate and attack women.
The defence team said sex between the movie executive and the accusers was consensual, and that the accusers used it to advance their careers.
The allegations amounted to "regret renamed as rape", the defence said. Two of the accusers kept in contact with Weinstein and had sex with him after the alleged attacks, they pointed out.
How did we get here?
Allegations against Weinstein began to emerge in October 2017, when the New York Times first reported incidents dating back decades
Weinstein issued an apology acknowledging he had "caused a lot of pain", but disputed the allegations
As dozens more accusations emerged, Weinstein was sacked by the board of his company and all but banished from Hollywood
A criminal investigation was launched in New York in late 2017, but Weinstein was not charged until May 2018, when he turned himself in to police.
How the Harvey Weinstein scandal unfolded
What were the allegations in this case?
Ms Haleyi, who had worked on one of Weinstein's television productions, said she was assaulted by the producer after he invited her to his Lower Manhattan home.
She testified that he backed her into a bedroom, held her down on the bed and forced himself on her.
Ms Mann said that she found herself in an "extremely degrading" relationship with him that did not involve intercourse until he raped her in a New York City hotel room in 2013.
She said he was a "Jekyll and Hyde" figure who could be charming in public but showed his dark side when they were alone.
Another one of Weinstein's accusers, Sopranos actress Annabella Sciorra, told jurors he raped her in her apartment one night in the mid-1990s.
Weinstein accuser: 'No' was a trigger for him
Her allegation was too old to be charged as a separate crime, but prosecutors used it in an attempt to demonstrate that the accused was a repeat sexual offender.
Following the verdict, Ms Sciorra said: "I spoke for myself and with the strength of the 80-plus victims of Harvey Weinstein in my heart."
Three other also women testified they were lured to apparent work meetings with Weinstein, then sexually assaulted.
What more reaction has there been?
Rose McGowan told the BBC's Newshour programme: "The little girl I was when I was hurt, she's ecstatic…This is a great day. The trash has been taken out."
The actress, who was an early Weinstein accuser, added: "The fact that we are white women and attractive and of some means and it still took this many of us to even get him to have one day in court – just tells you…how almost impossible it is to even be heard, period, let alone [get] any kind of conviction."
In a joint letter, actresses Ashley Judd, Lucia Evans and Rosanna Arquette and 19 other Weinstein accusers called it "disappointing that today's outcome does not deliver the true, full justice that so many women deserve," but expressed gratitude towards all the women who came forward to speak out against him.
Meanwhile, Ms Rotunno said that "the fight is not over".
"Harvey is unbelievably strong. He took it like a man and he knows we will continue to fight for him and he knows that this is not over."
Ms Rotunno said her client was disappointed, but "mentally tough".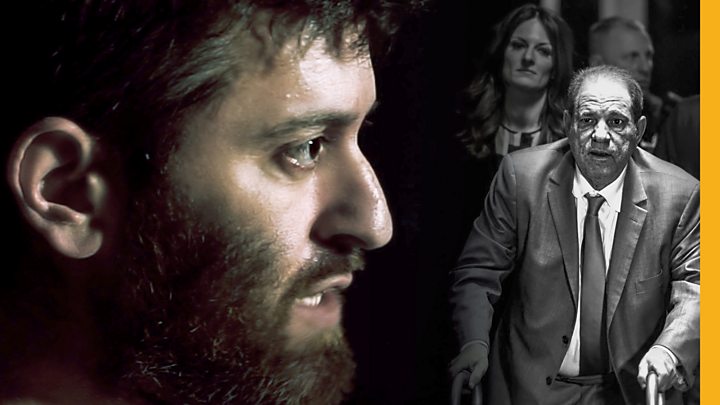 What happens next?
Weinstein will be sentenced on 11 March
He still faces charges of rape and sexual assault in Los Angeles, and there are other cases under review, according to the county district attorney
Civil complaints against Weinstein continue to be fought
In December 2019, lawyers said they reached a tentative $25m (£19m) deal with some accusers
Luke Evans praises Swansea hospital after dad's accident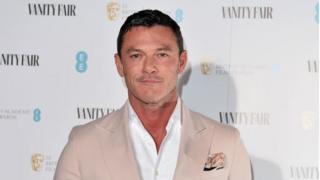 Actor Luke Evans has praised hospital staff who saved his father's hand after an accident with a circular saw.
In an Instagram video Evans described how his father, David Evans, had "sliced his hand open" with the tool.
He praised the "amazing" staff at Morriston Hospital in Swansea who operated on his father.
Beauty and the Beast star Evans, who was brought up in Aberbargoed, said the incident happened on Friday in the garden of his parents' home.
In the video, posted on Monday evening, he said: "Three days ago my dad had an accident in his garden, chopping, slicing wood on a circular saw. It was very bad, he sliced his hand open.
"It was a terrible accident and he almost lost his fingers."
He added: "It took five hours of microsurgery by one of the most incredible people I have ever met.
"What he did to my dad's hand is extraordinary."
The star said his family were looked after by "very kind people" from "the second we got there".
"Nurses, carers, porters, surgeons, anaesthetists, all of which had already worked a very long day when we arrived," he said.
Evans said the surgeon finished after midnight and "came out with a smile on his face and time to give me and my mum all the time to explain what had happened to my dad".
"My dad has been looked after so well by everybody in that hospital and I just wanted to say how lucky I feel and how grateful I am to have a health service that allows my dad to be treated for all these things, and it hasn't needed health insurance or anything, it is just there for us.
"We are a very lucky nation," he said.