How Dan Aykroyd went from battling spirits to selling them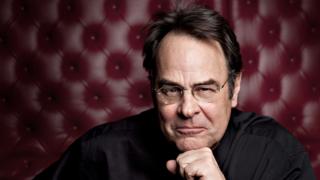 The BBC's weekly The Boss series profiles different business leaders from around the world. This week we speak to Canadian actor and vodka entrepreneur Dan Aykroyd.
As a much-loved Hollywood star, it is fair to say that a great many movie fans would be relieved to know that Dan Aykroyd didn't pursue his initial career plan to become a priest.
Instead of following that path of spirituality, he went into stand-up comedy and then acting, for which he is perhaps best-known for battling evil spirits in the 1984 box office smash Ghostbusters.
In more recent years Aykroyd has delved into the business of another kind of spirits – alcoholic drinks – selling both tequila and vodka.
As warm and friendly in real life as his public persona suggests, he says that his now more than 45 years as a professional actor made him very well prepared to make the step across to also being an entrepreneur.
"The moment I entered the acting trade I was in 'show business'," says the 67-year-old. "I had to market and broker deals for myself.
"Every audition is a sale, then you have to follow it up with a contract, union obligations, tax planning, as well as – if you have a good job as an actor – investment.
"Then, when I was originating my projects, that is selling a piece of material, I had to set a value and broker a deal. So, I've been in show business all the way through. It's not too hard to look at the numbers in another dimension."
Born in Ottawa, the Canadian capital, in 1952, his dad was a policy advisor to Canadian Prime Minister Pierre Trudeau, the father of the current incumbent Justin. Aykroyd's mother was a secretary.
He attended Catholic school, hence the initial plan to become a priest, but changed his mind at the age of 17. He then studied criminology and sociology at Carleton University in Ottawa, only to drop out before completing his degree. Instead of studying he started out as a comedian, and helped to run a bar.
His big break came in 1975 when, aged 22, he was appointed to the writing team of a forthcoming new US comedy sketch show called Saturday Night Live. Aykroyd managed to also get himself a starring role, and he was a key feature of the first four series that ran from that year to 1979.
Film work then followed, and in 1980 he had a major hit starring in The Blues Brothers, for which he also co-wrote the screenplay. The movie remains a much-loved comedy classic, and Aykroyd still occasionally tours with the "The Blues Brothers Band", singing as his character from the film – Elwood Blues.
Ghostbusters arrived four years later, which he again co-wrote, and he was shortlisted for a best supporting actor Oscar for 1989's Driving Miss Daisy. Other film highlights include Trading Places, Spies Like Us, Antz, and Grosse Pointe Blank.
Aykroyd has also directed one movie – 1991's Nothing But Trouble – which he says helped hone his management skills. "The first thing [as a director] is that you have to respect what others are doing for you, respect that they have skills and abilities that you may think you know something about, but you don't, because you don't do that particular function with an organisation," he says. "Let them do their job."
Unfortunately the film was a flop, costing $40m (£31m), but only making $8.5m at the box office. "The studio will kill you if you lose that kind of money," he says. "Your career's hit with a sniper's bullet."
Luckily, however, Aykroyd's film career weathered that storm.
His first business venture came in 1992 when he co-founded the House of Blues live music venue and restaurant chain. The business is now owned by entertainment giant Live Nation, but Aykroyd remains a paid consultant.
The move into the alcohol industry came in 2005, when Aykroyd set up a company to import Patron tequila into Canada. Two years later he launched his pride and joy – Crystal Head vodka.
More The Boss features:
Easy to spot thanks to its human skull-shaped glass bottle, Aykroyd says it is a premium product. It is made in the Canadian province of Newfoundland and Labrador from Canadian corn, and he remains the majority owner.
He adds that the bottle design was chosen as a nod to the legend that ancient tribes across the Americas used crystal skulls in religious ceremonies. The vodka has now sold more than 13 million bottles.
"I go around the world talking about the fluid and how proud I am that it's from Canada, I get to talk up my country," says Aykroyd.
Holly Wyatt, managing partner of Kinetic Brands, a Canadian company that helps promote spirits, says that Crystal Head has certainly benefited from the fact it is owned by a celebrity.
"When Aykroyd launched it, it was cool because it was him," she says. "It is also a great package and a great liquid, so people would go back to it. But him being still being involved is very evidently a reason why some consumers buy the brand."
While the vodka business takes up some of his time, he is still busy with acting work. Not that he needs the money – his net wealth is estimated at $135m.
This summer he stars in the latest Ghostbusters movie, the fourth in the series. He says he is pleased to be wrestling with the supernatural kind of spirits again.
In fact, Aykroyd has had a lifelong interest in the supernatural, something he picked up from his father, and a great grandfather who was a mystic.
"You know, my great grandfather Sam Aykroyd, the psychic researcher and dentist from Kingston, Ontario, would be very happy that Ghostbusters has stimulated such fun and laughter, as well as interest in the paranormal."
Michael Medwin: Shoestring actor dies aged 96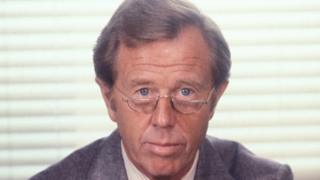 British actor Michael Medwin has died in hospital in Bournemouth at the age of 96.
Best known for playing radio station boss Don Satchley in TV's Shoestring, he was a prolific supporting player who appeared in films with Michael Caine, Sean Connery and Albert Finney.
Alongside Finney, he also produced such films as Lindsay Anderson's If…., O Lucky Man! and Charlie Bubbles.
Born in London in 1923, he was made an OBE for services to drama in 2005.
Theatre producer David Pugh, with whom Medwin produced plays for three decades, was among the first to mark his passing.
Medwin, who trained at the Italia Conti stage school in London, made his film debut as a radio operator in 1946's Piccadilly Incident.
In the six decades that followed, he appeared in such films as A Hill in Korea, Doctor at Large, Carry On Nurse and The Longest Day.
Often cast as cockney spivs at the start of his career, he moved on to authority figures like the doctor who treats Connery's James Bond in 1983's Never Say Never Again.
He also played the nephew of Albert Finney's title character in Scrooge, despite being 12 years Finney's senior.
As Don Satchley, Medwin would occasionally find himself at odds with Trevor Eve's phone-in private investigator Eddie Shoestring.
Based in the West Country, the BBC TV series ran for two series spanning 21 episodes between 1979 and 1980.
"Acting was something I wanted to do, and by good fortune I found I could do it quite well," he told The List in 2009.
The previous year he made one of his final screen appearances as a speechmaker who extols the virtues of Keira Knightley's title character in The Duchess.
Follow us on Facebook, or on Twitter @BBCNewsEnts. If you have a story suggestion email entertainment.news@bbc.co.uk.
Clive Cussler: Dirk Pitt novels author dies aged 88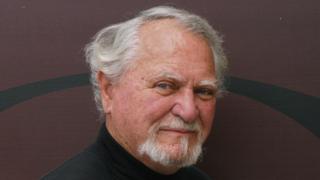 Clive Cussler, the US author of the popular Dirk Pitt novels, has died at the age of 88.
He wrote 25 books in the adventure series, including Sahara and Raise the Titanic, and sold more than 100 million copies of his novels in total.
Writing on Twitter, Cussler's wife said: "It is with a heavy heart that I share the sad news that my husband Clive passed away [on] Monday.
"It has been a privilege to share in his life."
She added: "I want to thank you, his fans and friends, for all the support. He was the kindest most gentle man I ever met. I know, his adventures will continue."
The cause of his death has not been confirmed.
'Soft spot in my heart'
Cussler's 1992 thriller Sahara was adapted for the big screen in a 2005 film starring Matthew McConaughey and Penelope Cruz.
The writer, whose books have been published in more than 40 languages, was married to Barbara Knight for nearly 50 years until her death in 2003, and they had three children, Teri, Dirk, and Dayna.
He later married Janet Horvath. His son Dirk, named after the character, co-wrote his final three novels.
"Dirk will always have a soft spot in my heart because he started if off," Cussler said in an interview with Working Mother in 2013.
"I hope readers see Pitt as a normal, average guy who is down to earth. He likes the Air Force, tequila, and an occasional cigar.
"I used myself as a model for Dirk. We are both 6'3″, have green eyes, and at that time were the same weight and the same age."
He added: "The only differences are that he is better with the girls and he has aged about 10 years while I have aged about 50."
Cussler brands adaptation 'silly'
Movie makers in film 'flop' fight
After selling the Sahara story to the billionaire Philip Anschutz, Cussler later sued, telling a US court in 2007 Hollywood "tore the heart out" of the book.
The movie grossed $119 million (£92.1m) worldwide but was still considered a box-office failure as it failed to recoup its own filmmaking costs.
The novelist said the company broke its contract by changing the story without his consent.
"I thought it was just awful," he said of the film, adding that he considered the re-written dialogue to be silly.
One his earlier works, Raise the Titanic! was also made into a movie in 1980. The film, starring Jason Robards, Richard Jordan, David Selby, Anne Archer, and Sir Alec Guinness, proved to be a similar flop.
Cussler wrote more than 80 books in total, including the Isaac Bell Adventures and Fargo Adventures series.
Known as an expert in shipwrecks, Cussler founded the non-profit National Underwater and Marine Agency.
His non-fiction book Sea Hunters was so extensive in its underwater knowledge the Maritime College in the State of New York gave him a doctorate.
---
Follow us on Facebook or on Twitter @BBCNewsEnts. If you have a story suggestion email entertainment.news@bbc.co.uk.
Why Bob Iger's long goodbye to Disney is a very big deal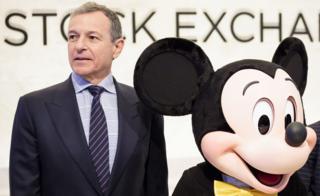 The news that Disney boss Bob Iger is stepping down as the company's CEO has taken the movie world by surprise.
Since becoming chief executive in 2005, Iger led the company through several blockbuster acquisitions and the launch of the Disney+ streaming service.
Viewed by many to be the most powerful man in Hollywood, Iger had previously announced plans to retire only to push back his departure date.
Iger will remain Disney's executive chairman until the end of 2021.
In a statement, the company said Iger would direct its "creative endeavours" while ensuring "a smooth and successful transition".
Bob Chapek, who joined Disney in 1993 and previously ran the company's parks and products division, has been appointed the company's new CEO.
Disney boss Bob Iger steps down as chief executive
During Iger's tenure as CEO, Disney took over animation studio Pixar, comic book company Marvel, Star Wars originator LucasFilm and Rupert Murdoch's 21st Century Fox.
These acquisitions, combined with the launch of Disney+, amusement park openings and other factors, saw the company's market value increase five-fold.
Of the 20 highest-grossing films of the 2010s, 13 were Disney releases. Three of these titles made more than $2 billion (£1.54 billion) worldwide.
The most lucrative of the three, superhero blockbuster Avengers: Endgame, overtook 2009's Avatar in July 2019 to become the highest-grossing film of all time.
Avengers overtakes Avatar at all-time box office
Last year Iger published a memoir, titled The Ride of a Lifetime, in which he wrote about the lessons he had learned from his 15 years as Disney CEO.
While promoting his book he gave his only UK interview to BBC media editor Amol Rajan, during which he reflected on his experiences and accomplishments.
"It would be nice to know that it's going to turn out as well as it has, because I probably would have been just a little bit more relaxed," he mused when asked what advice he would offer his younger self.
"But then again if I had been a little bit more relaxed, I probably wouldn't have worked as hard and it might not have turned out. So because you can't go back and do it over in anyway, I wouldn't change a thing."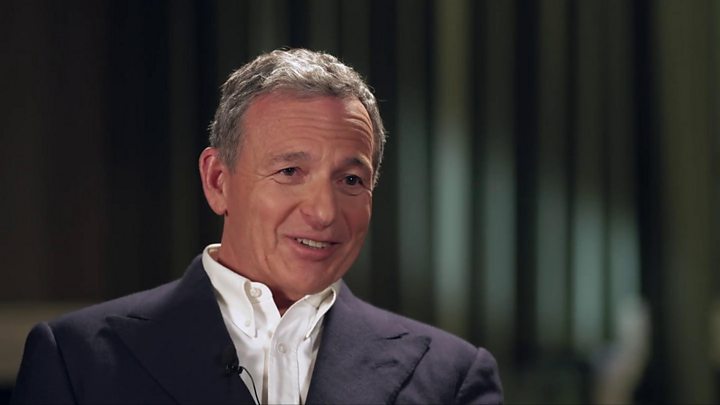 The 69-year-old also expressed pride about the number of jobs he said had been created at the Disney company during his time as CEO.
"I'm proud of our efforts for our employees – for cast members as we call them – around the world. Of which there are now about 230,000," he said.
"There are tens of thousands more of them today, by the way, than they were when I got the job. So we've created a huge number of jobs. And for hourly workers.
"I am proud of their compensation. I'm proud of the benefits that we've bestowed upon them. I'm proud of the opportunities we've created for them.
"There's been huge upward mobility in our company by the very people that start at the bottom – I'm one of them – and enable themselves to not only work their way up, but to work their way up and to earn more."
In other departments, however, Iger did concede mistakes had been made.
"I have said publicly that I think we made and released too many Star Wars films over a short period of time," he told Amol Rajan.
"I have not said that they were disappointing in any way. I've not said that I'm disappointed in their performance.
"I just think that there's something so special about a Star Wars film, and less is more.
"The nice thing about Star Wars is the future is unlimited in terms of the places we can go, the stories we can tell and the characters we can introduce people to," Iger said during a subsequent visit to the UK for the European premiere of the most recent Star Wars film.
Last December's event also saw him reveal that his favourite character from the long-running sci-fi film saga was Chewbacca the Wookiee.
"I've always been a 'Chewie' fan," he told the BBC's Colin Paterson. "I don't understand a word he's saying, but he always makes me laugh."
No doubt Iger's departure would have seen the character utter one of his trademark mournful moans.
Follow us on Facebook, or on Twitter @BBCNewsEnts. If you have a story suggestion email entertainment.news@bbc.co.uk.