Horror film wins first-time director Rose Glass £50,000 award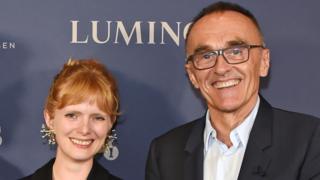 A film-maker who set her first feature in the traditionally male-dominated horror genre has won a £50,000 prize.
Rose Glass, 30, was named the winner of the IWC Schaffhausen Filmmaker Bursary Award at a ceremony held on the eve of this year's London Film Festival.
Her film, Saint Maud, tells of a devout young nurse who becomes the full-time carer of a chronically ill dancer.
Danny Boyle, chair of the jury, called the film "a thrilling cinematic journey through madness, faith and death".
The Oscar-winning director called Essex-born Glass "an extraordinary talent and powerful storyteller" with a "singular vision".
Glass's debut feature, which stars Jennifer Ehle and Welsh actress Morfydd Clark, is one of 10 titles in contention for the festival's best film award.
The bursary, one of the largest arts prizes in the UK, allows film-makers at the start of their careers time to grow and develop.
Now in its fourth year, the award has previously been presented to Richard Billingham, Daniel Kokotajlo and Hope Dickson-Leach.
Though women often play the lead roles in horror films, the men calling the shots have tended to be just that – men.
"There are not a lot of female directors period, and even less who are inclined to do horror," producer Jason Blum said last year.
All of the 10 highest-grossing horror films of all time – a list topped by 2017 Stephen King remake It – were directed by men.
According to one female horror fan, however, the truth is "not that women are disinclined to direct horror, but that they aren't hired to do it".
Soraya Roberts' essay on the Longreads website is borne out by the recent success of The Babadook, Raw and A Girl Walks Home Alone at Night – well-regarded horror films that all had women behind the camera.
(Blum himself later backtracked on his comments when it was pointed out how many eligible women there were who could direct features for his Blumhouse production company.)
"I guess film-making in general has been more male-dominated, and I don't know how specifically it's more the case with the horror genre," Glass told the BBC on Wednesday.
"Gender inequality within the industry has been a high-profile topic for a while. It can feel like things are never going to change, but change is happening."
She continued: "I didn't set out to solely make horror films, but I've always liked dark, messed-up films that are shocking and scary but make you feel something connects you to it.
"There's enough messed-up stuff in Saint Maud to keep die-hard horror fans satisfied, but it's as much a dark, complicated character study as it is a horror film."
Hugh Grant, Gemma Arterton and Dev Patel were among the celebrities in attendance at Tuesday's BFI Luminous fundraising gala.
Patel plays the title role in The Personal History of David Copperfield, a new adaptation of the Charles Dickens novel which officially launches the film festival later.
Timothee Chalamet, Robert De Niro and Keira Knightley are among the other stars expected during the festival, which runs until 13 October.
Follow us on Facebook, or on Twitter @BBCNewsEnts. If you have a story suggestion email entertainment.news@bbc.co.uk.
Love Island: Tributes paid to Caroline Flack as winners are crowned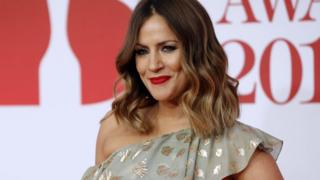 Love Island paid tribute to Caroline Flack as its first winter series drew to a close on Sunday night.
The former host of the show was found dead in her London flat last weekend.
"The past week has been extremely difficult, coming to terms with the loss of our friend and colleague, Caroline," presenter Laura Whitmore told viewers of the ITV2 programme.
"Caroline loved Love Island. She loved love, and that's why tonight's final is dedicated to her."
She added: "We're thinking of her family and everyone who knew her at this time."
The programme then showed a montage of some of Flack's memorable moments from the series in recent years.
The islanders were told about Flack's death off-camera on Saturday, an ITV spokesman confirmed.
Finley Tapp and Paige Turley were crowned the winners of the series as the finale drew to a close.
Two episodes of this series were pulled from the schedules last weekend after Flack was found dead.
The show returned the following Monday with a tribute to Flack from the show's narrator Iain Stirling.
This has been the first series of the show to take place in winter and be filmed in South Africa.
Previous seasons have been filmed on the Spanish island of Mallorca over the summer.
Overall, the winter series has been a ratings hit for ITV2, albeit not as successful as previous summer series.
This series has been attracting around three million viewers per episode, including via catch-up services, compared with the 4.5 million the last summer series generally attracted.
Laura Whitmore is the show's current presenter. She joined the show after Flack was charged with assaulting her boyfriend.
Tapp and Turley were crowned the winners of this series on Sunday night, winning the £50,000 prize, which they chose to share between them.
In a twist that occurs in every series, Turley was given the chance to "steal" the full prize money before she decided to split it evenly.
"It's been such an amazing experience," Turley said earlier in the episode. "It's been filled with challenges, but it's been amazing."
Asked what first attracted him to Turley, Tapp said: "I loved how outgoing she was. I wasn't wrong in picking her because I thought she'd make me laugh and smile all day long. She's made me very happy."
Earlier this series, they became the first pair to become an official couple in the villa.
Turley attracted headlines when the series launched in January because she is the ex-girlfriend of singer Lewis Capaldi.
The Scottish star referred to her while accepting the Brit Award for best single earlier this month, for his song Someone You Loved.
"A lot of people think this song is about my ex-girlfriend, who you can now see every night on Love Island," he said.
"But it's actually about my grandmother, who sadly passed away a few years ago. I hope ITV don't contact her to be a on a reality dating show."
During the finale, Whitmore confirmed the show would return to Mallorca for a new series this summer.
---
Follow us on Facebook or on Twitter @BBCNewsEnts. If you have a story suggestion email entertainment.news@bbc.co.uk.
Earth Harp: The man behind the unique instruments 'epic' sound
William Close is the inventor behind the Earth Harp – the world's longest string instrument which uses architecture and landscapes to create a unique sound.
Mr Close, who has performed the giant harp all over the world, says the audiences are often left feeling like they are "inside the instrument" during his performances.
Verdi opera: Conductor stops performance over 'phone miscreants'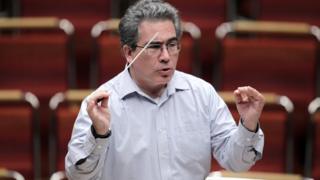 A conductor has twice stopped an opera in Cardiff after mobile phones rang in the audience.
Carlo Rizzi was conducting Welsh National Opera's new production of Verdi's Les Vêpres Sicilienes, at Donald Gordon Theatre at the Wales Millennium Centre on Saturday night.
Audience members said Rizzi twice stopped and spoke to the audience about the distraction it caused.
Verdi's opera is based around true events in Sicily in 1282.
'Phone miscreants'
David Jackson, a BBC employee who was in the audience, said Rizzi was applauded after bemoaning the interruption caused by mobile phones.
He said: "I spoke to Carlo afterwards and congratulated him on the performance, but also on tackling the phone miscreants.
"He got a warm round of applause after he stopped and ticked off the audience member. Both incidents were right at the beginning of the show and all was well after that."
The opera is sung by WNO in French in its new production directed by Sir David Pountney.
Another audience member confirmed the two instances of disruption caused by mobile phones.
It is not the first time a mobile phone has drawn irritation during a high-profile live performance, with the devices falling foul of numerous artists in the past.
Pianist Krystian Zimerman stormed out of a concert in 2013 because a fan was filming with his phone.
And film and stage actors Daniel Craig, Hugh Jackman and Benedict Cumberbatch have all voiced their anger at the use of mobiles while treading the boards in London.
Last year, singer Madonna said she would ban mobile phones from future gigs.
Jackson said his enjoyment of the opera in Cardiff was not affected by the interruptions.
"It was a wonderful performance of a comparatively rarely done piece of Verdi – the mobile phone business didn't detract," he said.
WNO confirmed there were "short pauses" and that Rizzi addressed the audience following the second interruption.