Heather Couper: Broadcaster and astronomer dies at 70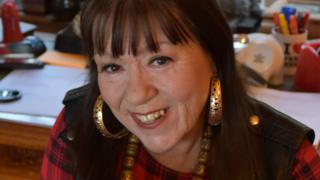 Broadcaster and astronomer Heather Couper has died at the age of 70.
Dr Couper appeared on the BBC's Blue Peter and The Sky At Night programmes, as well as presenting and producing acclaimed science documentaries.
She also hosted radio series including the BBC World Service's long-running Seeing Stars and BBC Radio 4's Cosmic Quest and Starwatch.
Her best friend and business partner, Nigel Henbest, said she had died on Wednesday after a short illness.
She had been a "charismatic… and passionate communicator of science", he said.
"She got people really excited about the Universe and about space – that was her love, her passion in life."
Born in 1949, she fell in love with astronomy as a child and recalled a day, in 1968, when she had realised astronomy was not just "for shambolic old men in tweed jackets any more".
She went home and wrote in her diary: "I want to help knowledge. I want to make known and publicise science."
So she left her management trainee job at Top Shop to become a research assistant at the Institute of Astronomy in Cambridge.
Her big break came when she was asked to appear as a guest on Sir Patrick Moore's The Sky At Night.
Sir Patrick later recalled: "Of course, she wrote to me when she was a little girl and said, 'Is there any future for me in astronomy?' And I said, 'Of course there is.' And I tried to give her a hand."
Astronaut application
She also presented the 1981 ITV children's series Heavens Above and, in 1984, became the first female president of the British Astronomical Association.
Four years later, she co-founded a film and TV production company, then, in 1993, took up the chair of astronomy at Gresham College, a post previously held by Sir Isaac Newton and Sir Christopher Wren.
She and Dr Henbest co-wrote dozens of books as well as monthly astronomy columns for the Independent, the last of which was published on 6 February.
The pair even applied to be the first British astronauts, Dr Couper told the Guardian in 1993, but were quickly rejected.
"They wanted someone technologically on the ball, someone who would know what buttons to press in an emergency," she said.
"If something blew up, I would think, 'Oh Christ! What wire goes where?'"
Minneapolis unrest: CNN reporter arrested live on air
A CNN correspondent and members of his crew were arrested while broadcasting about violent protests in Minneapolis.
There were demonstrations in the city for a third night following the death of George Floyd, an unarmed black man, in police custody on Monday.
The Minneapolis State Patrol confirmed the arrests and said those detained were released "once they were confirmed to be members of the media".
But CNN disputed the police's account of the incident, saying its staff had "identified themselves, on live television, immediately as journalists".
Minnesota Governor Tim Walz later apologised for the arrests.
Watch the full story on CNN YouTube channel.
Harvey Weinstein: Four more women accuse producer of assault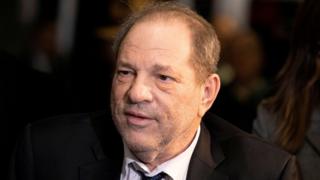 Disgraced film producer Harvey Weinstein has been accused of sexual assault by four further women as he serves a 23-year prison sentence.
Court documents filed in New York on Thursday allege several sexual offences dating from 1984 to 2013.
One of the four anonymous women was 17 at the time of an alleged attack.
Weinstein's legal representative told BBC News: "Mr Weinstein intends to defend against the claims filed anonymously against him yesterday."
The lawyer, Imran H Ansari of Aidala, Bertuna & Kamins PC, added: "Some of these claims, including those alleged to have occurred in the 1980s and 1990s, may be barred by the applicable statute of limitations, and not subject to any exceptions under the law, as these plaintiffs do not appear to be complainants in Mr Weinstein's criminal case."
Weinstein convicted of rape and sexual assault
How the Harvey Weinstein scandal unfolded
The latest legal cases allege multiple sexual offences against four women, who currently reside in Tennessee, New York, Ecuador and Hungary.
Some of the attacks allegedly took place after meetings with Weinstein at the Cannes and Venice Film Festivals.
The new allegations include:
A 43-year-old woman from Tennesee claims that in 1994, when she was 17, Weinstein "falsely imprisoned, sexually assaulted, sexually battered and raped her" in his hotel room. The plaintiff, who wanted to break into the entertainment industry, alleges Weinstein demanded she perform oral sex on him.
A 70-year-old woman from Ecuador claims that in 1984, when she was 34, Weinstein allegedly pinned her against a door and fondled her in his hotel room in Cannes, when she was looking to start a career as a documentary filmmaker.
A 38-year old woman said she met Weinstein in Manhattan in 2008 and he offered to "help take her career to the next level". He allegedly raped her in his Soho apartment a few days later, telling her he would ruin her if she told anyone.
A 35-year-old woman from Hungary claims that in 2013, when she was 26, she met Weinstein at the Venice Film Festival. A few months later, he allegedly forced her to perform oral sex on him when she met him in a hotel room.
Allegations against Weinstein began to emerge in October 2017, when The New York Times first reported incidents dating back decades.
At least 80 women have since accused him of sexual misconduct, including actresses Gwyneth Paltrow, Uma Thurman and Salma Hayek.
The allegations were at the centre of the #MeToo movement that inspired women to go public with misconduct allegations against powerful men.
Weinstein issued an apology acknowledging he had "caused a lot of pain", but denied any allegations of non-consensual sex.
In February, Weinstein was convicted in New York City of third-degree rape and first-degree criminal sexual act, and later sentenced to 23 years in jail.
Follow us on Facebook, or on Twitter @BBCNewsEnts. If you have a story suggestion email entertainment.news@bbc.co.uk.
Remi Wolf on how she makes music videos in lockdown
Music videos are often big budget affairs filmed in glamorous locations with a cast and crew to rival a movie. But what happens when a pandemic strikes and everyone is told to practise social distancing and not leave their home?
Rising star Remi Wolf told the BBC's Sophie van Brugen how she got around the problem, and what coronavirus could mean for the future of the music video.