Harry Potter and the famous name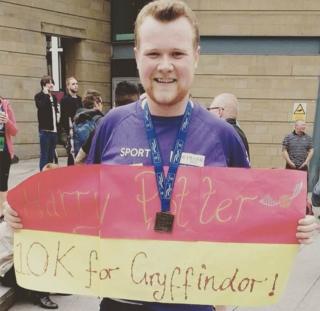 "It's probably a good thing overall, a light-hearted conversation starter," says Harry Potter.
Far from being a wizard, Harry is a neuroscientist from the University of Manchester.
When he responded to a question on Twitter asking, "What piece of pop culture has ruined your first name?" he didn't expect the reaction he got.
"I take your 'first name' and raise you my full name," has conjured up more than 267,000 likes and 33,000 retweets.
"I've tweeted about my name before and it's proved popular amongst people that follow me but that's it. That Twitter account is for work. The stuff about my name is just a side thing."
Among those to tweet Harry in solidarity include a Michael Jackson, a David Cameron and a Meg Griffin, a name made famous by the American series Family Guy.
At work Harry's research looks at how a woman's immune system during pregnancy affects the development of a baby's nervous system later in life.
But some people online have suggested some other academic papers he might have written had he branched out of his field of research.
"People assume it's a bad thing and I might want to change my name but it's not. Mostly people find it funny," Harry adds.
The 25-year-old says he will often use his name as inspiration for a Halloween costume but admits it has caused confusion at work.
While on a placement for his PhD, Harry says he once emailed someone in another room and five minutes later, that person rang another colleague to check the email wasn't spam.
"'Yes, he's real. He's sat next to me,' I heard them say."
Having a famous namesake does have its advantages though. When Harry was six, his family moved to Devon and someone from a local newspaper came to photograph him dressed as the famous wizard and gave him a book.
He and his family were given a trip on the Hogwarts Express as a result of that article.
"I don't really remember the trip other than it being good fun," he says.
'The third Harry Potter in my family'
From one Harry Potter to another now.
This Mr Potter lives in Melbourne, Australia, and says he's been "putting up with the same jokes for 20 years".
"You can imagine being a PE teacher – 'Are we playing Quidditch today sir? What are you doing here, shouldn't you be teaching at Hogwarts?' Students in the corridors humming the theme tune. You have fun with it. It doesn't make me angry."
The 37-year-old is originally from Yorkshire and says he remembers the moment when it struck him how famous his name was going to become.
"I remember getting off a train from Huddersfield to Leeds for my first year at university and there being a huge billboard for the first film. That's when it hit home that this was going to be massive.
"People don't believe you when you tell them your name. They laugh. They don't expect it to be true. All around the world people know who Harry Potter is. I've been to China and Africa and the reaction is the same. It's a very famous name."
Harry is the third Harry Potter in his family with both his great grandfather and great uncle also having the name Harry Potter. "It's sort of a family tradition," he says.
In 2018 he tweeted JK Rowling to tell the author that his two girls named Iris and Ivy were starting to appreciate that their dad has a "very cool and famous name."
However, there was one baby name this Harry Potter ruled out.
"I thought Lily would be too cruel," he says, referring to the fictional Harry's mum. "They get enough questions and fascination about my name, never mind their own."
You might also like:
Katie Price says the first time she can remember realising she shared a name with a famous model was when she was about six or seven.
"It's something I'm used to now. But when I was younger it used to get annoying because I didn't know who she was," says the 21-year-old, from Worksop.
"It's not really affected my life in a negative way but I get laughed at when I book appointments.
"I recently broke my leg while on a hen-do in Dublin. When I went to A&E and mentioned my name to the woman behind the desk she started laughing and said, 'I bet you get it all the time.'"
Hotel upgrade
Last April, Katie went to see The Courteeners in Manchester and the hotel she was staying in had upgraded her because of her name.
"When I checked in they said they didn't know whether they were getting the real Katie Price or not so they'd given me one of their better rooms.
"The room had a mini-bar, a larger bed and there were sound systems everywhere – you could play music in the bathroom!"
The young actors joining an industry on pause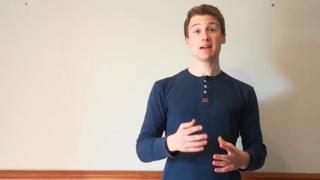 Elliot Swann caught his mum spying through the kitchen window as he practised ballet in their garden.
Despite still being physically closed, ArtsEd, the London-based acting conservatory where Elliot studies musical theatre, has powered on virtually since the start of the coronavirus lockdown.
Alongside classmates on Zoom meetings, Elliot, 21, drills voice practices and dance moves on the garden decking, and taps away in the bathroom of his parents' house in Hampshire. But will there be any work for him and his fellow students after they graduate this summer?
Normally, at this time of year, acting students around the world are making their first foray into the business, performing in person for agents, casting directors and producers, hoping to sign on with a talent agency, or even pick up their first paid work.
But with theatres still closed, and TV and movie filming on hold, the acting world is currently an industry on pause.
"All of our work has stopped," says James Calleri, who casts Broadway and regional theatre in New York as well as film and TV. "Everything has just been cleared."
Mr Calleri, who also runs the graduate acting programme at New York's Columbia University, would normally have taken graduating students on an industry tour of Los Angeles back in April.
They would have performed for some of the big showbiz decision makers. But all Columbia's acting school showcases were cancelled, indefinitely.
"We were going to push to September, but the problem is that theatres are so debilitated right now," Mr Calleri says. "They don't even know what their life is going to be like after lockdown."
Any auditions that are still taking place have moved to home recordings or "self tapes" that are emailed off.
Back in Hampshire, Elliot has made it though five rounds of recalls for a West End show.
"The good thing is you get a second chance," he says. "You can watch it back, and if you want, you can do it again."
Elliot's professors are also happy to give feedback and guidance before the videos are sent out, something that would not be possible with in-person auditions.
"The [movie and TV] businesses have been moving auditions to self tapes for some time, but I think plays and musicals will head that way too, even after the virus," says Chris Hocking, the principal of ArtsEd.
"Everyone is trying to help these graduates. We have worked hard so that the students have industry contact throughout their training."
What continues for Elliot is a waiting game. An actor almost never receives feedback unless they win the job.
"Especially now," he says, "because everything is extended. And many tours have had to cancel because of the lockdown.
"There is every chance you might be auditioning for a show, you could get cast, and then a couple of weeks later they'll say, 'I'm really sorry, it's been cancelled.'"
Elliot knows he is lucky to be getting seen. Many new graduates are not getting any industry face-time.
Racheal Owens, a teacher at Guildford School of Acting, says their graduates were due to have a final day of performance for agents and casting directors back in March. But a day before the show, the lockdown restrictions were announced, and it was cancelled.
"Some students had signed, but others had not, and would have been hoping for more opportunities, as we had two musicals left to perform,"she says.
The staff at Guilford have continued to do everything possible to get self tapes to agents. Luckily the industry in London has been receptive, in an effort to support this year's graduates, but there is very little work available.
"I really feel for these students, whose introduction to the industry is so compromised," says Ms Owens.
A missed in-person performance can make life especially difficult for young actors with an offbeat style, or unusual looks, that might not come across well in a short self tape, plus resumé (CV) and headshot.
Such performers are more likely to win over agents and casting directors in person.
But even if young actors impress, however they are able to audition, how long will it be before the industry can return to some sort of normal?
James Calleri wonders how the practical experience of going to the theatre would work with social distancing.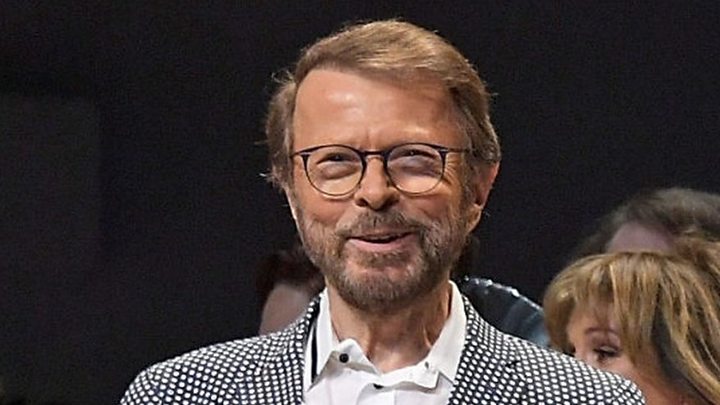 Producers might sell out a 1,200-seat Broadway theatre, but if 600 people sit in every other seat in order to socially distance, shows will fail to recoup costs, he points out. In smaller theatres, social distancing would be impossible.
"The class of 2020 is the injured party right now," he says. "I feel like the industry knows that and hopefully will try and look out for them."
Global Trade
More from the BBC's series taking an international perspective on trade:
Alex Butler, who runs the New York boutique agency Henderson Hogan, warns his recent signings that things aren't going to get better overnight.
"I told them, 'Look, if you are in this for the long haul, come to the city, get your apartment, your day job and your classes set up. Once things go back, we can gear up.'"
But it could be a long wait. Mr Butler says he would love for Broadway to reopen in September but fears curtains may not rise until next year.
Still, he thinks that sometime down the road, if young actors coming out of school this year can hold tight, there will be opportunities to audition for these shows.
"People working on Broadway might decide they are done with the business, or if they are touring, their spouses won't want them to go on the road anymore," he says.
New York casting director Alison Franck, who casts Broadway, touring and regional musical theatre shows, says that actors have always needed to be creative and resilient. Those attributes are needed now more than ever, because many will struggle to get agents straight away.
"These actors have to learn how to hustle on their own," she says. "And I think the ones who figure this out may often end up being more successful in the long run."
Elliot understands how hard the current situation is, but he is ready to dig in. He believes the industry will come back "stronger than ever".
Acting has been his dream for his whole life.
"I'm absolutely in it for the long haul," he says.
Bafta TV Awards: Fleabag and Game of Thrones up for 'must-see moment'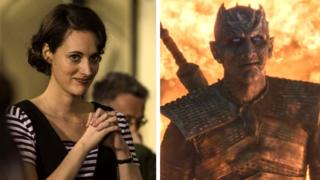 Memorable sequences from Fleabag, Game of Thrones and Line of Duty are in contention for the "must-see moment" prize at this year's Bafta TV Awards.
Scenes from Coronation Street, Love Island and the Christmas Day Gavin and Stacey special are also in the running.
Television viewers have until 15 July to cast their vote for the only Bafta TV award decided by the public.
This year's awards will be broadcast from behind closed doors on 31 July due to the coronavirus pandemic.
Ayoade to host socially-distanced TV Baftas
Richard Ayoade will host the event from a closed studio, with winners giving their acceptance speeches virtually.
The rest of this year's nominations will be announced on Thursday morning.
Last year's prize went to BBC One's Bodyguard for the scene in which Keeley Hawes' Julia Montague character was assassinated.
Writer Caitlin Moran, who helped compile this year's shortlist, said the award was for moments "that truly made everyone gasp".
WARNING: The following reveals plot details about shows you may not yet have had the chance to watch.
1. Coronation Street
Corrie viewers were in bits last October when Sinead Osbourne lost her year-long fight against cervical cancer, quietly slipping away while husband Daniel read to their baby son Bertie.
Katie McGlynn's performance in the role won her a National TV Award in January, which she dedicated to "any woman who is going through cervical cancer right now".
If you're wondering, the book Daniel is reading is We're Going on a Bear Hunt by former Children's Laureate Michael Rosen.
2. Fleabag
The moment when Andrew Scott's "Hot Priest" told Phoebe Waller-Bridge to kneel after she seeks advice in his confessional had thousands of Fleabag fans genuflecting in their living rooms.
"When that priest said 'kneel' my vagina exploded in a way a man has never quite been able to achieve," wrote comedian London Hughes on Twitter.
"That scene is extraordinary, isn't it?" Scott told the New York Times in May last year. "Phoebe's really not afraid of the grand gesture."
3. Gavin and Stacey
There was more kneeling in the Gavin and Stacey Christmas Day special when Nessa (Ruth Jones) got down on hers to pop the question to James Corden's dumbfounded Smithy.
"When I put my hand on my heart and I said, as Nessa, 'I love you. No, I do, I loves you with all my heart' I really meant it," Jones told the Mirror about the cliffhanger moment, which was filmed in the middle of the night in order to keep the proposal secret.
4. Game of Thrones
After eight seasons and nine years, the final episodes of Game of Thrones were bound to split opinion. Yet everyone seemed to love the moment when Arya Stark killed the Night King with a single dagger thrust.
"Huge thank you to the writers of #GOT for making little Arya Stark the biggest badass EVER!" tweeted one impressed viewer after the episode in question aired in April last year.
"It was so unbelievably exciting," Maisie Williams said of her character's most iconic moment. "It's also unexpected and that's what this show does."
The British actress was told a year before filming to get her endurance levels prepared for her big scene.
5. Line of Duty
An even more shocking slaying came during the fifth series of Line of Duty when undercover policeman John Corbett had his throat cut by one of his criminal accomplices.
Like the other nominees, the video clip is available to watch online but features graphic content.
"I thought it was superb," said actor Stephen Graham of a jaw-dropping exit few fans of the BBC One drama had seen coming. "I'm good at dying."
Filming on the sixth series of Line of Duty was suspended in March due to the spread of the coronavirus.
6. Love Island
The only non-scripted nominee on this year's shortlist comes from ITV2's Love Island, which was rocked earlier this year by the suicide of presenter Caroline Flack.
The nominated moment comes from the episode shown last July in which contestant Michael Griffiths chose to "recouple" with Joanna Chimonides and leave Amber Gill single.
Beauty therapist Amber had the last laugh though, eventually being crowned winner of the series alongside Irish rugby player Greg O'Shea.
ITV2 will screen the first series of Love Island: Australia this summer in place of the regular programme, which will not return until 2021.
Details on how to vote for the Virgin Media Must-See Moment award can be found here.
Follow us on Facebook, or on Twitter @BBCNewsEnts. If you have a story suggestion email entertainment.news@bbc.co.uk.
Lea Michele: Glee star apologises 'for any pain caused'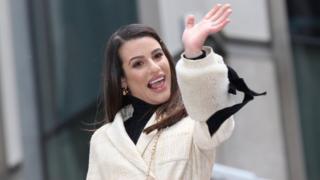 Glee star Lea Michele has apologised after a former co-star said she made her life "a living hell".
Meal-kit firm HelloFresh cut ties with Michele after Samantha Ware accused her of "traumatic microaggressions" when they worked together on the show.
Ware made the comments on social media after Michele posted a tweet about George Floyd's death.
"I apologise for my behaviour and for any pain which I have caused," Michele posted on Instagram on Wednesday.
"We can all grow and change and I have definitely used these past several months to reflect on my own shortcomings."
Michele acknowledged she "clearly acted in ways which hurt other people".
In a three-page statement, the US actress said: "Whether it was my privileged position and perspective that caused me to be perceived as insensitive or inappropriate at times, or whether it was just my immaturity and me being unnecessarily difficult, I apologise."
The actress, who played Rachel Barry on all six seasons of Glee, is currently expecting her first baby with husband Zandy Reich, and added she "wanted to be a real role model" for the child.
The death of Mr Floyd in Minneapolis on 25 May while in police custody has prompted widespread protests and unrest in the US.
Protests began after a video showed the 46-year-old African-American pinned to the ground by a white police officer kneeling on his neck.
"George Floyd did not deserve this," wrote Michele on 29 May. "This was not an isolated incident and it must end. #BlackLivesMatter."
Her tweet prompted a robust response from Ware, who accused Michele of conduct that had made her "question a career in Hollywood".
"Remember when you made my first television gig a living hell?!?!" Ware wrote on Twitter. "Cause I'll never forget."
The actress went on to accuse Michele of stating publicly she would have defecated in Ware's wig had she had the opportunity.
Ware played Jane Hayward in Glee's sixth and final season and has since been seen in Netflix series What/If.
Another co-star, Amber Riley, appeared to acknowledge Ware's claims by posting a gif of herself drinking tea on Twitter.
HelloFresh said they were "disheartened and disappointed" to learn of Ware's claims about Michele, who was paid to promote its services on social media.
"HelloFresh does not condone racism nor discrimination of any kind," it wrote on Twitter after another user questioned its association with the actress.
In Michele's statement, she said she had "never judged others by their background or colour of their skin".
Founded in 2011, HelloFresh is one of the largest meal-kit providers in the US and operates in a number of other countries.
Earlier this year the German company announced plans to expand its UK workforce by 50% to cope with demand.
Michele's other shows include Scream Queens and The Mayor. She has also released two solo albums and a Christmas record.
Follow us on Facebook, or on Twitter @BBCNewsEnts. If you have a story suggestion email entertainment.news@bbc.co.uk.