GEORGETOWN, Guyana, (DPI) – Guyana's construction industry is among the many non-oil sectors that are propelling the country's economy.
On Tuesday, minister of public works, Bishop Juan Edghill outlined a host of investment opportunities available in the construction sector to a visiting Jamaican Trade Mission.
During the breakfast engagement with 60 Jamaican business personnel, led by Jamaica's minister of industry, investment and commerce, senator Aubyn Hill, minister Edghill said Guyana's construction industry is transforming rapidly.
"In this next level of development, which we envisage will bring prosperity to all our people, we are doing very strategic and necessary things, not just for the present, but to build out for the future," he told the delegation at the Guyana Marriott Hotel.
Among the major projects outlined by the minister was the construction of the Corentyne River Bridge which will link Guyana and Suriname.
"The intent is to make that island a tax-free zone that will attract different kinds of businesses. Once we get that bridge in place, it will be opening up a great route of traffic that could move all the way…Guyana, Suriname, French Guiana into Brazil at one end," he explained.
He relayed that construction will begin this year on the new four-lane concrete Demerara River Bridge which will bring more economic activities to Georgetown and the West Bank of Demerara.
Also, the contract for the construction of a 600-metre bridge in Region 10 linking Wismar to Linden will soon be out.
"We are open for proposals and discussions. If you would like to finance and build, the possibility exists there," minister Edghill highlighted.
The Linden to Lethem Road Link is being developed and 45 bridges are under construction along this stretch. This road will eventually form the Guyana to Brazil road link that will be linked to a deep-water harbour in the Berbice River at Palmyra, Region Six.
"The same journey that can take 11 days, using Guyana's deep-water harbour, you can get your supplies out in 72 hours."

A stadium is also being developed, as well as housing areas, and a municipal airport in the Berbice area. "You would realise that there is a greater need for supplies to satisfy these contractual obligations," minister Edghill pointed out. These and several other transformational projects are underway.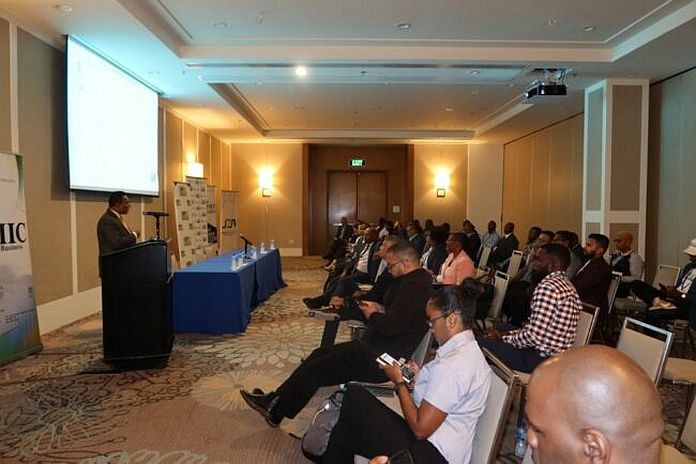 Meanwhile, The Jamaica Promotions Corporation (JAMPRO) and senator Hill, led an inward Jamaica Private Sector delegation, facilitated by the Guyana government, office of investment (Guyana Invest).
Meetings have been held in collaboration with key stakeholders of the government and private agencies with over sixty-nine companies from backgrounds ranging from Construction, Mining, ICT & Cyber Security, Water Management, Education, Agriculture, Financial Services and Labour to name a few are part of this mission.
Key meetings facilitated to address the Jamaican delegation, were led by vice president of Guyana Dr Bharrat Jagdeo, Guyana Invest's Agency head/chief investment officer of Guyana Dr Peter Ramsaroop, and minister of foreign affairs and international cooperation Hugh Todd. These sessions underscored the value of this visit and its impact on international cooperation and investment in Guyana's many sectoral industries.
There were also key addresses from minister of Finance Dr. Ashni Singh, and remarks from minister of public works Juan Edghill and minister of tourism, industry and commerce, Oneidge Walrond.
The Guyana Manufacturing and Services Association (GMSA), Private Sector Commission (PSC) and the Georgetown Chamber of Commerce and Industry (GCCI) also addressed the delegation and organised B2B meetings for the Delegation.
Guyana Invest facilitated meetings with a number of government offices along with companies such as the Technical, Vocation, Education and Training, National Data Management Authority (NDMA), Guyana Shore Base Inc., (GYSBI), Guyana Sugar Corporation (GUYSUCO), National Insurance Scheme, Bureau of Stats, Guyana Oil Company (GUYOIL) to name a few.
This delegation meeting is one of the largest Caribbean private sector delegation mission to Guyana.
Jamaica's 60-member trade delegation heads to Guyana

Credit: Source link