Grilled Pompano Fish – Hands down, one of my favorite fish to grill and eat. Pompano fish is mild and buttery, not overly fishy tasting. Plus, these little beauties are super easy to prepare and enjoy! 🐟
Pompano fish is such a great fish to cook, especially if you have company, because they look and taste amazing. Their silvery skin doesn't need scaling, grilling beautifully with a fine flake and an almost sweet flavor.
Grilled pompano is also super easy to prepare. It is easy to eat off the bone and can go on the grill whole, so it takes hardly any prep time. If you can find pompano at your local grocery store or seafood market, I highly recommend snapping them up for your next cookout. 👌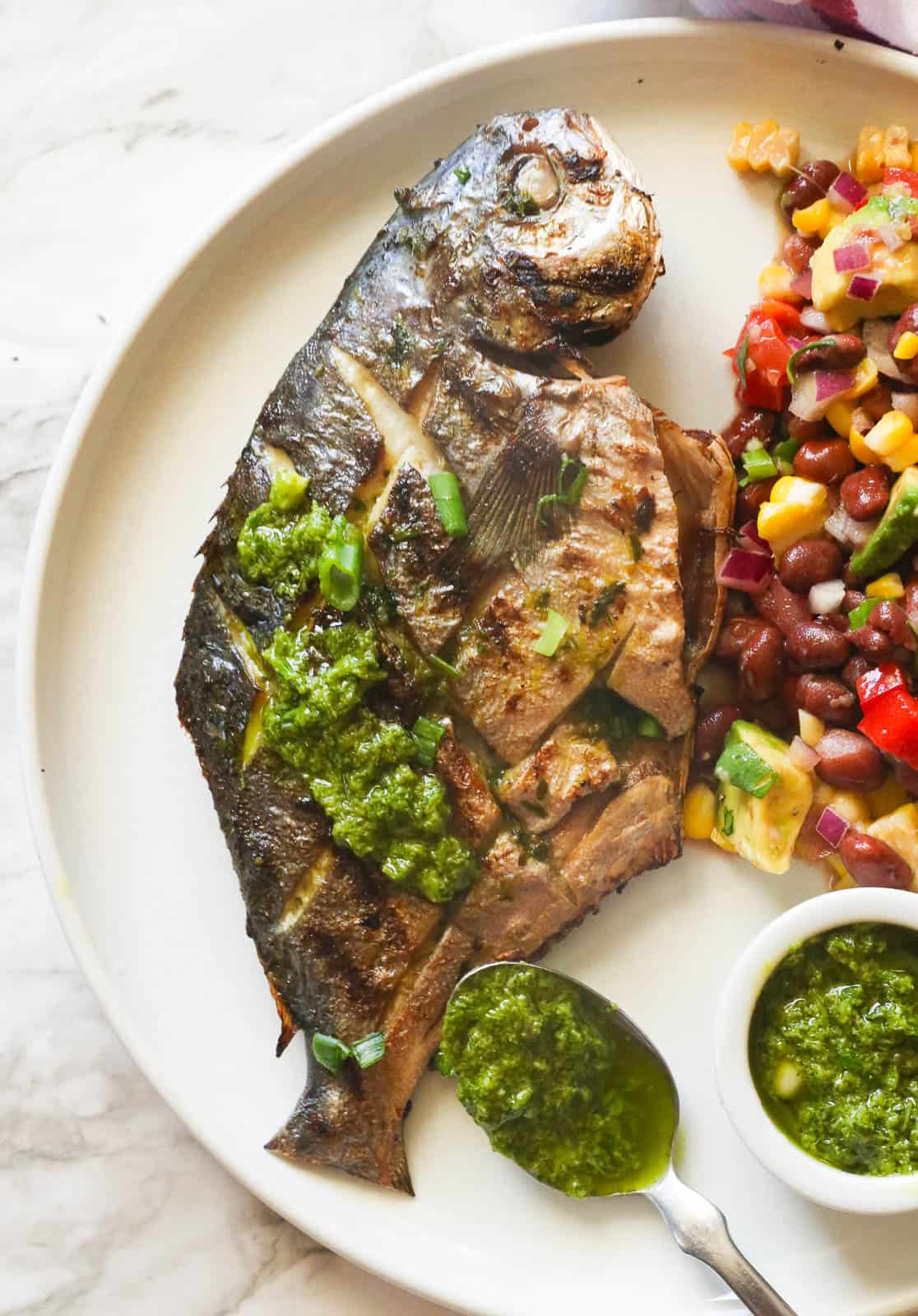 Where Do You Catch Pompano Fish?
Pompano fish are found worldwide, wherever the water is warm enough, making them a popular dish internationally. Many consider the Florida pompano the tastiest variety, and I agree it's pretty delicious. In addition to being scrumptious, its meat is highly versatile. It's not too delicate and can be steamed, fried, baked, broiled, or grilled with no problem.
Recipe Ingredients
Pompano Fish – The fresher, the better. If you live near the ocean and can find wild caught, get them! If not, you may be able to find this treat of a fish frozen.
Lemon – The acidic citrus notes complement grilled fish beautifully.
Herbs and Spices – Garlic, ginger, basil, parsley, and pepper flakes make a simple yet tasty combination of herbs and spices that allow the taste of the pompano fish to shine. ✨
How to Grill Pompano Fish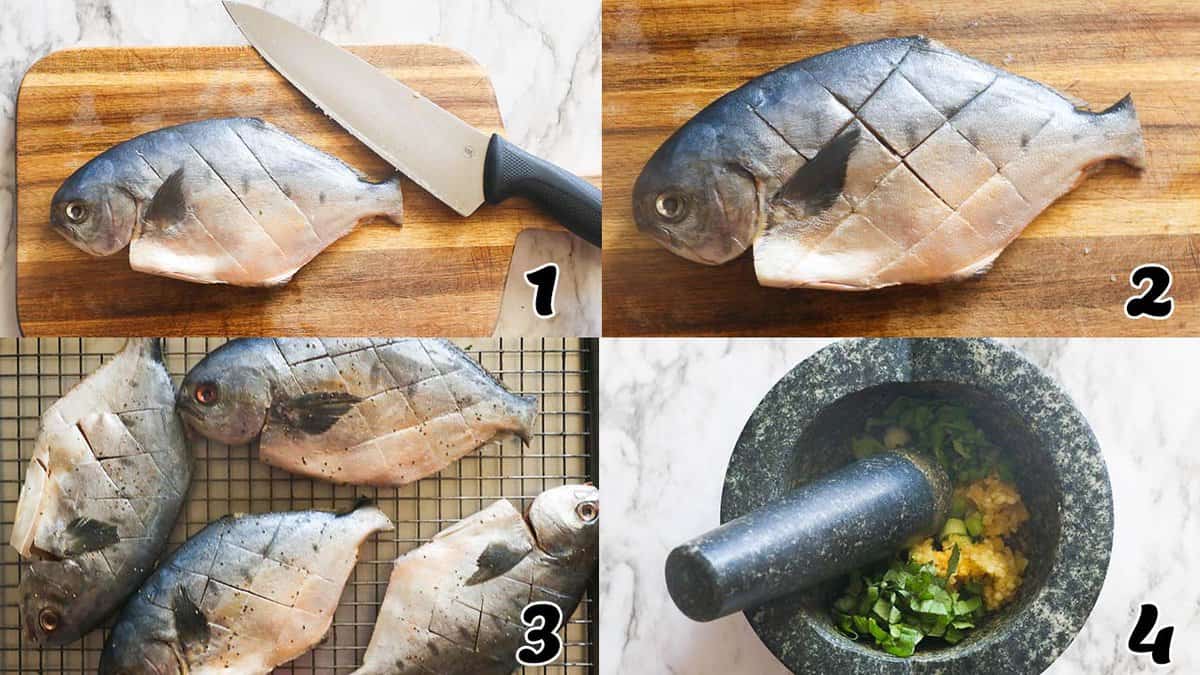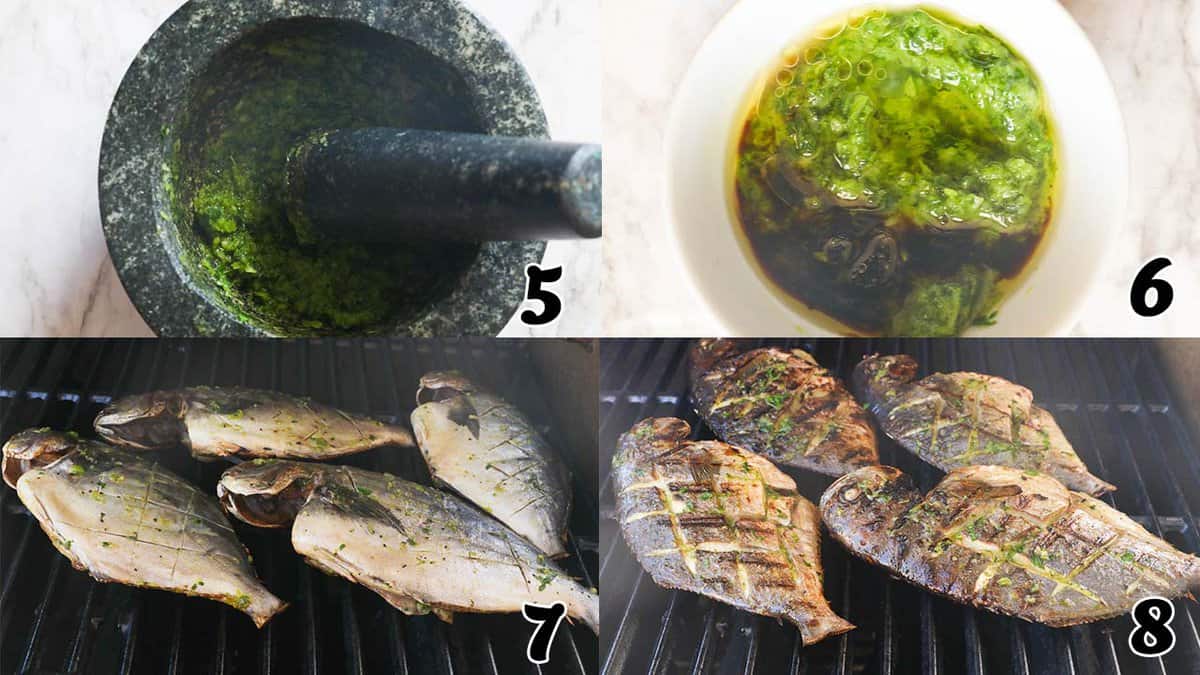 Prepare the Pompano
Clean – First, run water over fish inside and out. Next, dry the fish inside and out with paper towels.
Add Cuts – Then, make 3-4 diagonal cuts on each side of the fish, right through the bone. Add 3-4 cuts in the opposite direction to create a crisscross pattern.
Season the fish with salt and pepper and squeeze some lemon over it. (Photos 1-3)
Chill – Place the fish on a cookie rack uncovered in the fridge while you prepare the marinade.
Marinade – Mix all the spices thoroughly until they come together. You may add vegetable oil or water, whichever you prefer to make a paste. (Photo 4-6)
Marinate Fish – Thoroughly coat the fish with the garlic mixture, gently flipping them back and forth until fully coated inside and out. Marinate the fish in the fridge for at least half an hour and up to 24 hours, if time permits.
Grill the Pompano
Prepare Grill – First, wipe down the grill grates with an oiled paper towel. Next, preheat the grill to medium-high heat.
Grill the Fish – Once the grill is hot, lay the fish on it. Grill them for about 1-2 minutes on each side. (Photos 7-8)
Next Step – Reduce heat, then cover the grill if you have a gas grill or leave it open if it's a charcoal grill.
Baste – As you cook, baste the fish with the spice mixture. Let them grill on each side for 2-3 minutes; you may have to add a minute or two for thicker fish. When the flesh is white and the juices run clear, it's done.
Serve – You can double-check the fish is fully cooked by cutting it near the bone. The fish is ready to eat when the meat closest to the bone is fully cooked!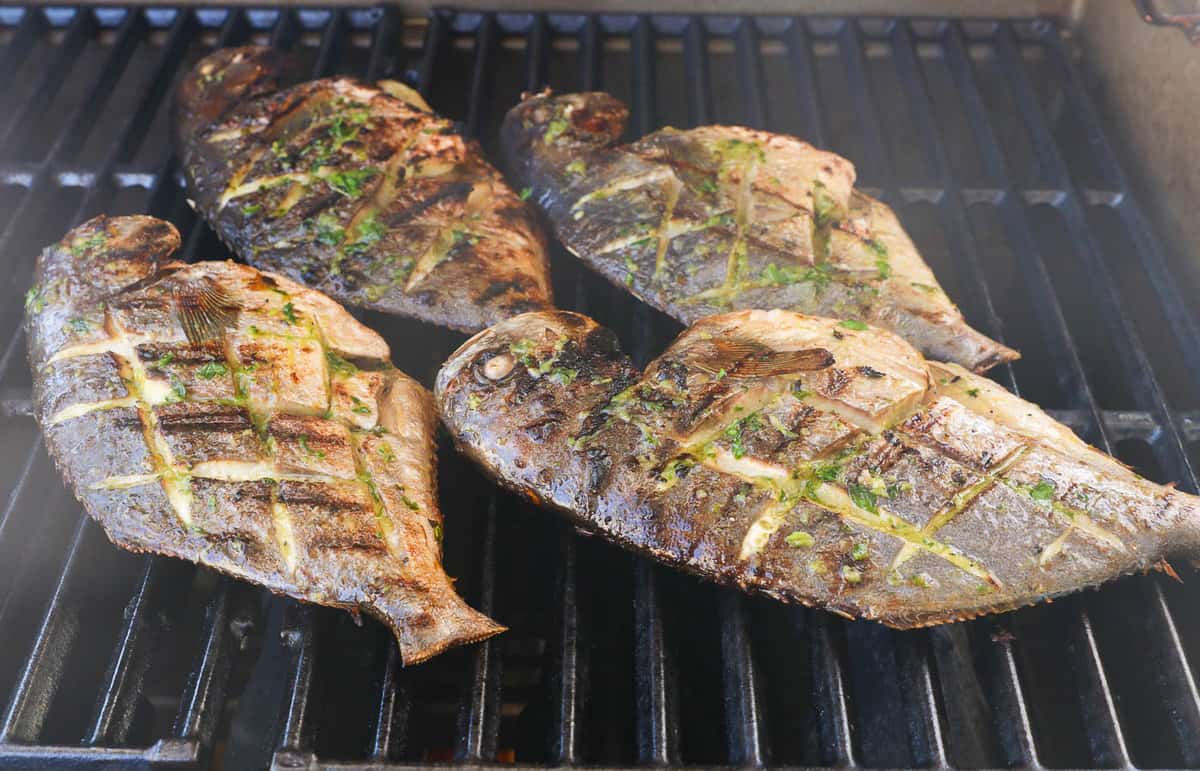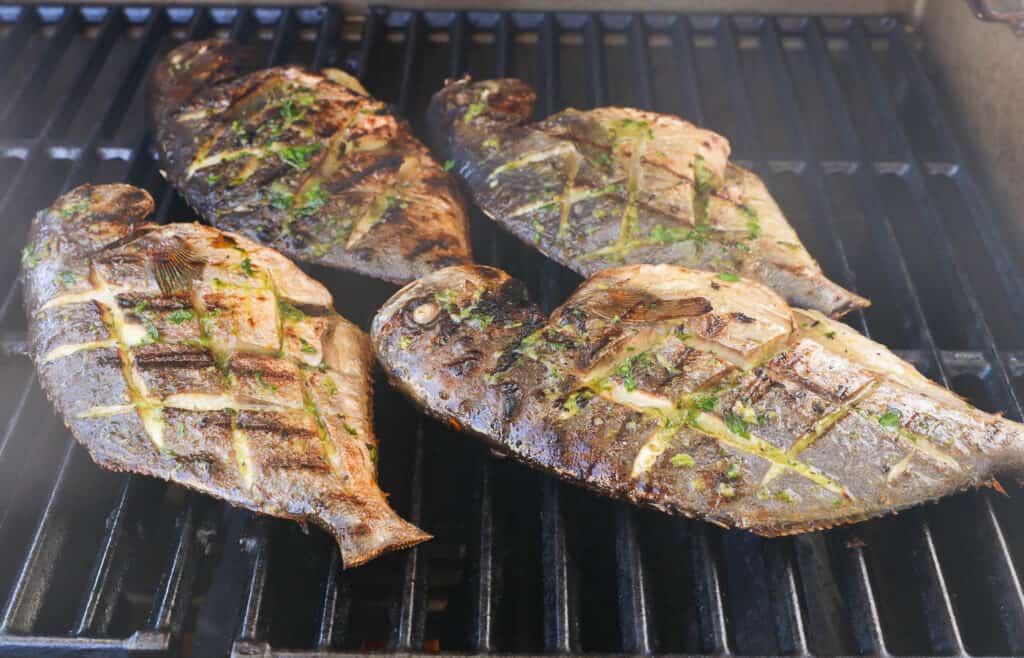 Recipe Variations
This cooking method will work with just about any fish, so you can substitute whatever whole fish you can get your hands on. You may need to descale certain varieties of fish before grilling, and you will need to up the cooking time for larger fish.
If a rainstorm puts the brakes on your plans to grill out, or if you don't have a grill, you can always bake your pompano fish instead. Prepare it just like you would for the grill, then bake it at 375℉/190℃ for about 20 minutes or until the fish flakes easily with a fork.
Smoke these babies for extra rich flavor. Yes, it takes longer, but you'll love it. Preheat your smoker to 175-200°F/80-93℃ and smoke them for 2½-3 hours or until the internal temperature reaches 160°F/71℃. Yum!!!
Tips and Tricks
While you prepare your marinade, place the uncovered fish on a cookie rack in the fridge. This will help the fish dry out and prevent it from sticking to the grill. The longer you can let it sit in the fridge, the better (within reason😉).
A mortar and pestle (or small food processor) will grind the spices if you prefer. They'll turn into a paste that tastes amazing once grilled on the outside of the fish.
Keep a close eye on your pompano as you grill. These fish aren't huge, so they cook really fast. Avoid overcooking them, which would result in dried-out meat. 💔
Make-Ahead Instructions
I highly recommend preparing your pompano fish the day before you plan to grill. That way, it has plenty of time to soak up the marinade flavors. If you do, simply pull the marinating fish out of the fridge after 24 hours and pop it on the grill. Your fish will be ready in just a few minutes. 🙌
Serving and Storage Instructions
Serve grilled pompano fish straight off the grill with a side of salsa verde. You can garnish it with sliced lemon and parsley to make it extra pretty.
Store completely cooled pompano fish in a sealed container in the fridge for up to 3 days.
To reheat grilled pompano fish, you can fire up the grill again and give them a minute or two on each side for that freshly grilled flavor. If you're in a hurry, you can pop leftover fish in the microwave for a minute or two on low. To keep the fish moist, try slathering it with butter before you reheat it. 😋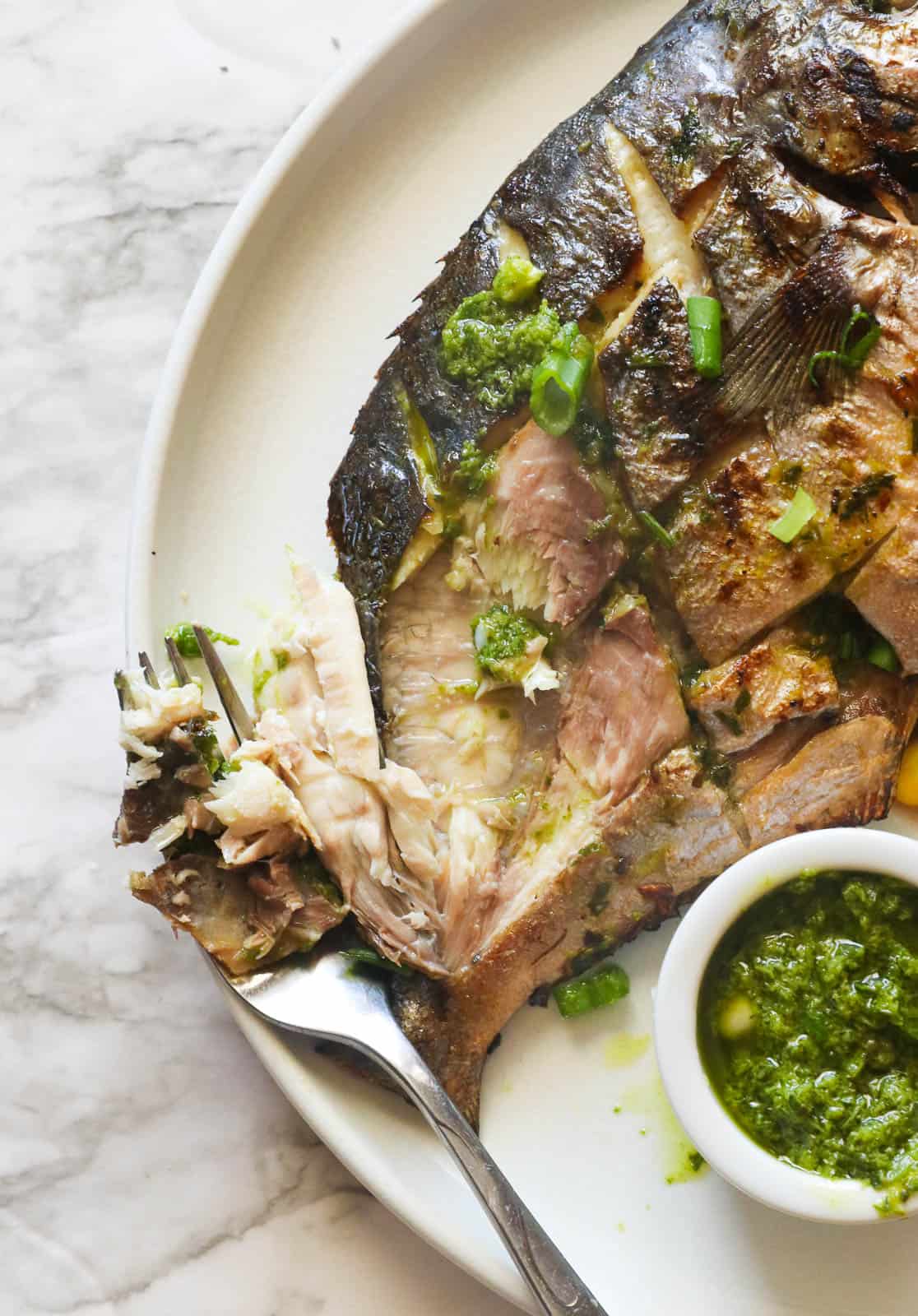 FAQs
Do you leave the skin on pompano?
Pompano skin is edible, and this fish doesn't need to be descaled like some other varieties, so yes! Go ahead and leave the skin on. Whether you eat it or not is up to you. Personally, I eat my grilled pompano fish with the skin on. I like the flavor and the crispy texture it gets from the grill.
Is pompano a bony fish?
Pompano fish definitely have bones, but the bone structure is uncomplicated, so eating around them is pretty straightforward. As saltwater fish go, pompano is one of the easiest fish to eat whole.
Is pompano fish best wild-caught or farm-raised?
They're both excellent! Pompano does well in captivity, so you can find both varieties in the store. I like to buy fresh, wild-caught pompano from my local seafood market when available, but farm-raised is the next best option when they are out of season.
What Goes with Grilled Pompano Fish
Grilled pompano fish tastes fantastic with so many things, but my favorite combination is a steaming bed of coconut rice and black bean and corn salad. I also like to have some salsa on the side, usually chimichurri or peri-peri sauce.
You could also make this dish taste tropical by serving it up with black bean and corn salad, mango salsa, or pineapple salsa. Talk about an island escape on a plate! 🌴
More Drool-Worthy Fish Recipes to Try
Grilled Salmon Recipe
Caribbean Grilled Whole Red Snapper
Southern Fried Catfish
Whole Grilled Mackerel
African Style Grilled Tilapia
Conclusion
Get out your grilling gear and round up some pompano for a fresh and delicious late summer grill-out. This fish tastes so good that you won't want any other variety after you try it. 😉 Have you ever tried pompano fish? Let me know in the comments what you think about it. ❤️
Grilled Pompano Fish
Hands down one of my favorite fish to grill and eat. Pompano fish is mild and buttery tasting, not overly fishy tasting. Plus, these little beauties are super easy to prepare and enjoy! 🐟
Prep: 10 mins
Cook: 15 mins
Marinate Time: 12 hrs
Total: 12 hrs 25 mins
Instructions
Run water over fish inside and out. Dry fish inside out with paper towels .

Make three –four diagonal cuts in each side of the fish, all the way right through the bone. And do another one across to create a criss cross , optional. Season fish with salt, pepper, and squeeze some lemon over it.

Place the fish on a cookie rack and let it dry out, uncovered in the fridge while you prepare the marinate . This helps prevent the fish from sticking to the grill. The longer the better.

In a small bowl mix all the spices thoroughly until all the spices come together.You may add vegetable oil or water- as desired. Or use a mortar and pestle or small food processor to grind the spices..

Thoroughly marinade fish with garlic mixture gently flip them back and forth until coated inside and out. You may let it marinade in the fridge for up to 24hours, if time permits. If not let it marinate for at least 30 minutes and baste and you go.

When you are ready to grill, wipe down grates with oiled paper towell and pre-heat to Medium High u

Lay the fish down on grill. Grill for about 1-2 minutes on each side.

Reduce heat , then cover the grill if you have a gas grill.

If you are using charcoal grill , leave it open

As you cook baste fish with spice mixture .

Let the fish cook for a total of 2-3 minutes on each side, you may have to add a minute or two depending on the thickness of your fish until cooked – Fish is white and the juices run clear.

Check for doneness by making sure the meat closestto the bone is fully cooked –if desired slash with a knife to check

Serve with salsa verde, if desired,
Nutrition Information:
Calories: 371kcal (19%)| Carbohydrates: 18g (6%)| Protein: 3g (6%)| Fat: 34g (52%)| Saturated Fat: 3g (19%)| Polyunsaturated Fat: 8g| Monounsaturated Fat: 18g| Trans Fat: 1g| Cholesterol: 1mg| Sodium: 181mg (8%)| Potassium: 289mg (8%)| Fiber: 5g (21%)| Sugar: 4g (4%)| Vitamin A: 1258IU (25%)| Vitamin C: 68mg (82%)| Calcium: 94mg (9%)| Iron: 2mg (11%)

Credit: Source link