Glastonbury boss Emily Eavis had death threats after booking Kanye West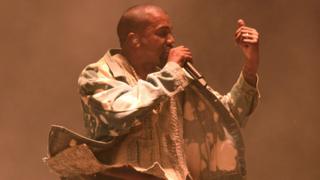 Emily Eavis has said she received death threats after booking Kanye West to headline Glastonbury in 2015.
The festival organiser said she was shocked by the level of criticism she received at the time.
But she directly credits the rapper's set with helping her to book another star – Adele – for the following year.
"I actually had death threats in 2015," she writes in a book, published by The Guardian to mark the festival's Glastonbury's 50th anniversary.
"Which seemed a little harsh – especially given that we had booked what we considered to be one of the most exciting and innovative artists of his generation.
"But it worked out for Kanye in the end."
Eavis recalled how an anti-Kanye petition – "started by someone who had never been to Glastonbury," sprang up as soon as he was announced to performing on the Pyramid Stage.
"The media jumped right on it. That kind of negative story will always get clicks and attention, but the coverage becomes self-fulfilling, too."
She added: "We had to reassure the people around the artist that it would all work, that these stories don't reflect the attitude of people coming to the festival – or in the UK, for that matter. It's just a load of hot air.
"The criticism we got that year was pretty extreme. And a lot of it was quite personal, as people knew I booked the acts.
"I was an obvious target. As the child of the founder of something, you're always going to be criticised, because you're perceived as doing things differently to how it was done before."
The 40-year-old said she's had "had to try to develop a thick skin about it, as it can get pretty unpleasant on social media."
"You can't please everyone, and the haters tend to be the ones shouting the loudest."
Persuading Adele
Emily Eavis, who runs the Worthy Farm event with her dad Michael, explained how she walked Adele – "who'd been coming to Glastonbury since she was a little kid" on to the platform next to the stage just before West came on.
The pair of them "looked out at this huge crowd chanting his name."
"I said: 'Are you ready for it? Come on. Next year?'" recalled Eavis.
"And she looked at me with a twinkle in her eye and said: 'I'm gonna do it.' It was such a brilliant moment."
---
Follow us on Facebook, or on Twitter @BBCNewsEnts. If you have a story suggestion email entertainment.news@bbc.co.uk.
BBC's George Alagiah on living with coronavirus and cancer
BBC newsreader George Alagiah, who is being treated for bowel cancer, has revealed he's had a mild case of coronavirus.
As a cancer patient, he underwent tests after developing a fever – and a few days later his oncologist rang to say he had tested positive for the virus.
The News at Six on BBC One presenter was first diagnosed with cancer in 2014 but revealed in 2017 that the disease had returned.
"In some ways, I think that those of us living with cancer are stronger because we kind of know what it is like to go into something where the outcomes are uncertain," he told colleague Sophie Raworth.
Antony Gormley and Grayson Perry share lockdown ideas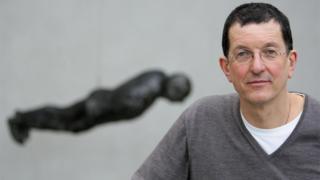 Artists including Sir Antony Gormley, Grayson Perry and Jeremy Deller have shared ideas for activities during the coronavirus lockdown.
The ideas are being put together by art gallery Firstsite in Colchester, Essex, so people can join make art at home.
Activities include paper chain designs from Sir Antony and a toilet paper poetry competition from Jeremy Deller.
The first pack, called Art is Where the Home is, should be available online from Wednesday.
Coronavirus live page: Updates from across the East of England
Sally Shaw, director of Firstsite, said the idea had been inspired by an activity book her mother gave her when she was a child.
"All the ideas were things you could do with paper, some string or glue if you were lucky – it was an amazing thing and would keep me occupied for hours and hours," she said.
"We are an art gallery so I asked the artists we had worked with in the past and have relationships to suggest ideas.
"The first person I asked was Antony [Gormley] and he wrote straight back in half an hour."
Other activities include a series of drawings from Annie Morris for people to colour in at home and a challenge to draw your own hand and display it in order to wave to others, suggested by Mark Wallinger.
Mrs Shaw said 4,000 people had expressed an interested in getting a pack.
She said: "We want to show people that being creative is important and that it can be just as necessary as eating a good meal or going to the gym at times like this."
It is hoped further packs will be created with more artists invited to contribute their ideas.
Find BBC News: East of England on Facebook, Instagram and Twitter. If you have a story suggestion email eastofenglandnews@bbc.co.uk
Van Gogh painting Spring Garden stolen from Dutch museum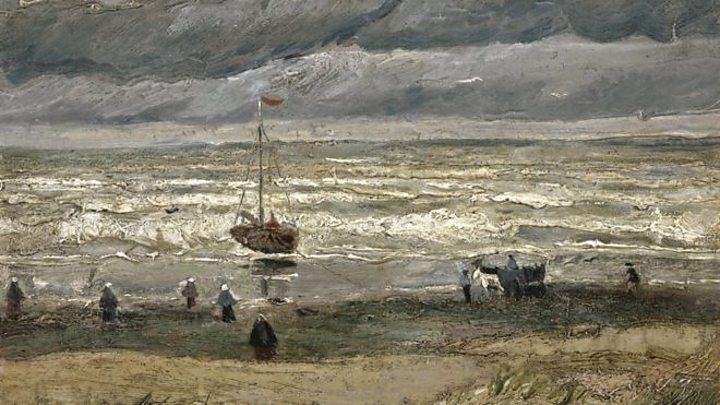 A Van Gogh painting has been stolen from a museum in the Dutch town of Laren.
Police said on Monday there had been a break in at the Singer Laren Museum at 03:15 local time (02:15 GMT).
The museum later announced that Van Gogh's Spring Garden, on loan from the Groninger Museum, was missing.
The Singer Laren Museum is closed due to the coronavirus. Its director, Jan Rudolph de Lorm, told reporters he was "incredibly pissed off" over the theft.
The value of the painting is not currently known.
The museum was created in the 1950s to host the collection of US artist William Henry Singer and his wife Anna.
On Monday the Dutch health ministry reported 11,750 confirmed cases of coronavirus in the country, and a total of 864 deaths.