Glastonbury 2020: Festival axed due to virus concerns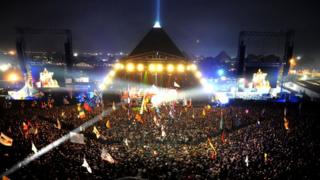 Glastonbury's famous Pyramid Stage will remain dark in June, as the festival becomes the latest event to be cancelled due to coronavirus.
Taylor Swift, Sir Paul McCartney and Kendrick Lamar were due to appear, alongside Diana Ross and Dua Lipa.
"We're so sorry that this decision has been made," a statement said. "It was not through choice."
Just six days ago, organiser Emily Eavis said she had "fingers firmly crossed" the event would go ahead.
But after the government advised people to avoid mass gatherings on Monday, cancellation became increasingly likely.
Organisers took the decision before 1 April, when festival-goers were expected to pay the remaining balance of their £270 tickets.
Fans who had already paid the £50 deposit will be allowed to roll over that sum to next year, guaranteeing "the opportunity to buy a ticket for Glastonbury 2021", organisers said. Refunds will also be available for those who want them.
More than 200,000 people, including 135,000 ticket-holders, would have descended on Worthy Farm in Somerset if the festival had gone ahead from 24 to 28 June.
Other acts on the line-up included Noel Gallagher, Lana Del Rey, Herbie Hancock, the Pet Shop Boys, AJ Tracey and Haim.
"We very much hope that the situation in the UK will have improved enormously by the end of June," said Michael and Emily Eavis in a statement.
"But even if it has, we are no longer able to spend the next three months with thousands of crew here on the farm, helping us with the enormous job of building the infrastructure and attractions."
Saying 2020 would now be an "enforced fallow year" for the festival, they apologised for letting fans down.
"We were so looking forward to welcoming you all for our 50th anniversary with a line-up full of fantastic artists and performers that we were incredibly proud to have booked."
They added: "We look forward to welcoming you back to these fields next year and until then, we send our love and support to all of you."
BBC Radio 2 DJ Jo Whiley echoed many fans' sentiments when she wrote on Twitter: "This is so devastatingly disappointing for so many people on so many levels.
"Next year Glastonbury is going to be off the scale," she added. "But for now much love to Emily Eavis and the Glasto family."
Musician Billy Bragg, who is an annual fixture at the festival, also expressed his disappointment.
Meanwhile, pop culture journalist Natalie Jamieson issued an open call for the BBC to raid its archive of Glastonbury footage to broadcast an "ultimate Glastonbury line-up" on the last weekend of June.
"Am still gonna need a live-music fix & it could bring *such* joy," she wrote.
Lorna Clarke, the BBC's controller of pop music, later said the broadcaster would "look at providing our audiences with a celebration of Glastonbury in June".
Glastonbury's cancellation comes after BBC Radio 1 cancelled plans to host its Big Weekend festival in Dundee in May.
The announcement also calls into doubt the viability of other UK festivals, including BST Hyde Park, All Points East, Lovebox and Latitude.
The Brighton Festival, the Norfolk & Norwich Festival and the Edinburgh Film Festival were among the other arts events that dropped off the calendar on Wednesday.
The Eurovision Song Contest in Rotterdam was also cancelled.
In the US, the Coachella and South By Southwest festivals have already been postponed or called off, while concert giants Live Nation and AEG have halted all forthcoming concert tours, with acts like Celine Dion, The Who and Billie Eilish among the artists postponing dates.
Live Nation's share price finished trading at $33.92 (£28.26) on Tuesday – less than half of its value at this time last month.
But many artists – including Coldplay, Christine and the Queens and Yungblud – have started to live-stream concerts to keep fans' spirits up during self-isolation.
Bruce Springsteen also uploaded a full 2009 concert with the E Street Band to YouTube, telling fans to "practice social distancing and stream" live music "from the comfort of your own home".
Follow us on Facebook, or on Twitter @BBCNewsEnts. If you have a story suggestion email entertainment.news@bbc.co.uk.
Peter Crouch on jumping from planes and 'the ultimate retirement'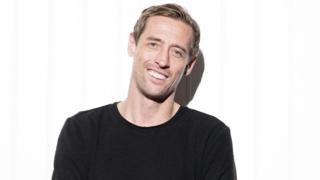 When Peter Crouch made his debut as a TV football pundit in 2014, he got a bit of a shock.
"I went to India for a week to do the World Cup as a pundit. I thought I'd cut my cloth out there," he recalled on That Peter Crouch Podcast last year. "We were in Mumbai, and on my first appearance I was with Mikaël Silvestre and a Bollywood star.
"We had a little rehearsal and [the producer] said, 'Right, so the game's about to start, we'll be live in 10 minutes. Here's the touchscreen, so when you use the touchscreen at half time…' and I was like, 'Excuse me?'"
Crouch was unfamiliar with how to use the device – which allows pundits to freeze-frame moments from the game and draw on-screen graphics to highlight players and analyse strategies.
"I was dropped into that situation thinking, 'How have I got myself into this position where I'm live to two billion people with a Bollywood star and Mikaël Silvestre, with a touchscreen I've never used before?!"
Needless to say, when the show went live "there was a lot of buttons that I didn't use… I went with a couple of bendy arrows and moving players".
Fortunately, Crouchy is feeling better prepared for his new TV series – Peter Crouch: Save Our Summer – which begins on BBC One this Saturday.
He's got some help too, in the shape of co-presenters Maya Jama and comedian Alex Horne. Unusually for a TV show at the moment, all the presenters will be in the same studio – albeit socially distanced.
The show was originally intended to be a post-match series for Euro 2020 but, of course, football matches were among the many events abandoned because of the coronavirus pandemic.
"The Euros got cancelled, Glastonbury got cancelled, the Olympics are cancelled, Wimbledon cancelled… It's not been a great summer has it?" says Crouch.
"So we thought we needed to bring smiles to people's faces, so instead of it being around the Euros, we tried to make it around all those things."
The format has now morphed into a wider Saturday night show fusing sport, music and entertainment.
"Some of the people that were supposed to be at the Olympics have kindly signed up, and we've got a tournament going on," Crouch explains. "We've got people playing live gigs, and some amazing guests.
"I think it'll take people's minds off what's been going on. It's going to be good fun."
In his professional career, Crouch played a total of 468 Premier League matches for Tottenham Hotspur, Aston Villa, Southampton, Liverpool, Portsmouth, Stoke City and Burnley.
Before retiring last July, the striker had scored 108 goals in the top flight, of which 53 were scored with his head – a Premier League record.
But, like many retired footballers before him, he's now transitioning into a successful broadcast career.
While Dion Dublin has been presenting Homes Under The Hammer and Match of the Day host Gary Lineker has become one of the BBC's biggest stars, Crouch has built a hugely successful 5 Live podcast with co-hosts Tom Fordyce and Chris Stark.
That Peter Crouch Podcast is already into its fourth series, and was the most downloaded BBC podcast in the first quarter of this year. In 2019, the show racked up 12 million downloads, despite only releasing 15 new episodes.
'I love Loose Women'
You may have seen the trailers for Save Our Summer, which feature several "two-metre Peters" – cardboard cut-outs of the footballer which came in extremely useful when applying social distancing rules during rehearsals.
Asked what attracted him to the show, Horne jokes it was "mainly Crouchy's beauty", but adds the new format could be an improvement on the original idea.
"I actually think not having the football in it is going to make it a lot better, because we now don't have to talk about the home nations' disappointing performances," he laughs.
"Yeah we've ruined enough summers, to be honest," Crouch admits.
Horne continues: "It's great to have a live band in the studio. There aren't enough shows with actual bands playing live – it's basically Strictly and that's it. So it's a really good atmosphere in there.
"And obviously we don't have an audience but we don't really need it, because there's nine of us before the guests come on. So it feels great in there, really fun and summery."
For Jama, who recently announced her departure from Radio 1, it's a chance to return to her roots.
"I actually started as a football presenter… so I thought we were going to do sporty fun [on the show]," she says.
"But obviously my first love is music and entertainment, so when I found out that it was changing and we were going to be able to have everything in one, and on Saturday night, I was like, 'Obviously. Of course'."
Halfway through the press launch for Save Our Summer, Crouch has to pause briefly to restore order in the house.
"Can you see this?" he asks. "The dog's run in, there's mud all over the carpet, all the kids have come in, Ab [wife Abbey Clancy] is going mental. And I'm in the posh living room. Apologies, carry on."
Back on track – Crouch explains that some elements of the series were filmed pre-lockdown.
"Part of the show is me doing the ultimate retirement," he says. "I've been taking a few ex-team-mates who have retired as well to do things we couldn't do when we were playing, and the first one I did with JJ [Jermaine Jenas] was jumping out of a plane.
"In some ways, I hope this show never gets commissioned again, because I've been close to death on a few occasions. It's not been fun, it's been excruciating at times, and jumping out of a plane was one of them."
One of the main benefits of getting in front of the camera, he adds, has been keeping himself busy at a time when many retired players feel at a loose end.
"I was so scared about retiring from football. You hear stories about people struggling and sitting there not having much to do, watching Loose Women," he says.
"And listen, I love Loose Women, but I didn't want to sit there and have not a lot to do. So I took on a few things, and the things I've taken on are only things I enjoy doing."
Which, in the case of his new TV show, hopefully won't involve too many touchscreens.
Peter Crouch: Save Our Summer begins on BBC One at 21:15 BST on Saturday.
George Floyd death: TV, radio and music industries mark 'Blackout Tuesday'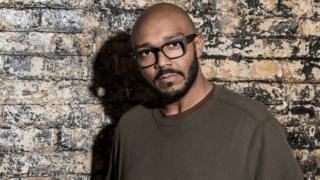 Radio stations and TV channels have changed their programmes to mark "Blackout Tuesday", reflecting on George Floyd's death in police custody.
BBC Radio 1Xtra is hosting a series of discussions and debates in support of the black community, with song choices that reflect black pride and identity.
Many record labels and music stars have stopped work to observe the initiative.
MTV will go silent for eight minutes – the length of time a white police officer knelt on Mr Floyd's neck.
The gesture will be replicated on other channels including VH1 and Comedy Central, while 4 Music will pause its output once an hour throughout the day.
There are also moments of reflection on BBC Radio 1 and Radio 2, while commercial radio stations including Kiss, Magic and Absolute Radio are observing a social media blackout "to show that racism of any kind cannot be tolerated".
ITV daytime show This Morning briefly went dark, showing a black screen with the words "Black Lives Matter".
Presenter Alison Hammond later said Mr Floyd's death "hurt me to the pit of my stomach".
"Firstly, I am a mother of a 15-year-old black boy," she said. "When I saw that image of George Floyd, I saw my brothers, I saw my father and I saw my son, I saw everybody's son and I was disgusted to my core.
"If black lives mattered, we wouldn't be in this situation."
Apple Music's Zane Lowe tweeted that he would skip Tuesday's edition of his radio show, saying he stood "united with his black and brown friends and colleagues".
"I will not be on radio. I will be taking part in Blackout Tuesday, listening, learning and looking for solutions to fight racial inequality," the DJ added.
On Radio 1, Clara Amfo gave a powerful speech about the effects of racism and the recent events on her mental health.
The broadcaster said Mr Floyd's death reinforced a feeling among black people "that people want our culture, but they do not want us".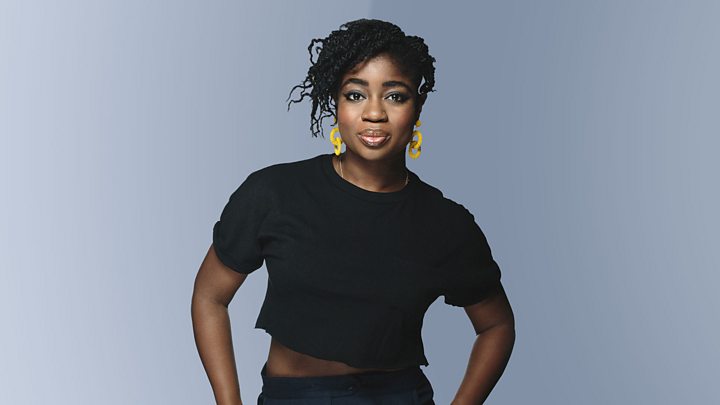 Music companies and musicians around the world adopted Tuesday as a day of reflection and protest in the wake of Mr Floyd's death last week in Minneapolis.
Katy Perry posted a plain black square to her Instagram account with the caption: "I hope that #BlackoutTuesday gives us all (especially in the music industry) an opportunity to take what we're learning and put it into action on Wednesday, and every day going forward."
Rihanna said her Fenty beauty label would not conduct any business on Tuesday.
Apple's iTunes store and its streaming service Apple Music replaced their usual carousels of new music and playlists with a slide stating: "This moment calls upon us all to speak and act against racism and injustice of all kinds."
Listeners were then directed to a livestream of the Beats 1 radio station, where the music is focusing on themes of black empowerment and civil rights. (All of the service's usual tracks were still available through the search function, however.)
Spotify, meanwhile, blacked out the artwork for several of its most prominent playlists, including Today's Hits and Rap Caviar.
The company also inserted a silence of eight minutes and 46 seconds into selected podcasts and playlists "as a solemn acknowledgement for the length of time that George Floyd was suffocated".
'Provoking change'
The movement began last Friday, when a number of companies and artists shared a statement posted under the hashtag #TheShowMustBePaused, calling for "a day to disconnect from work and reconnect with our community" and "an urgent step of action to provoke accountability and change".
The initiative was started by Atlantic Records marketing executives Brianna Agyemang and Jamila Thomas, and spread by hundreds of artists including Billie Eilish, Britney Spears, the Rolling Stones, Radiohead, producer Quincy Jones and Eminem.
"Tuesday, June 2nd is meant to intentionally disrupt the work week," wrote Agyemang and Thomas.
"The music industry is a multi-billion dollar industry. An industry that has profited predominantly from Black art. Our mission is to hold the industry at large, including major corporations + their partners who benefit from the efforts, struggles and successes of black people accountable."
They have subsequently posted several calls to action, including a reading list called Anti-Racism Resources and links to community action groups.
All three major record labels – Universal, Sony and Warner Music, whose combined annual revenues exceed $16bn (£12.75bn) – signed up to the initiative, as did many independent labels, the Glastonbury Festival and event organisers Live Nation.
Interscope Records also vowed to stop releasing new music for a week, while many others donated money to the George Floyd Memorial Fund.
But some people in the music industry criticised the initiative's lack of clarity and direction, dismissing it as "virtue signalling".
"I love you all, but this music industry shutdown thing feels tone deaf to me," wrote indie musician Bon Iver on Twitter, although he later apologised for "calling out people when they are on the same side as you".
Indie labels Father/Daughter Records and Don Giovanni also said they did not plan to observe the blackout.
"If BLM [Blacks Lives Matter] calls for the music industry to take action, we will," wrote the latter on its Twitter page. "But I have no interest in supporting major label record executive white guilt day."
However, Agyemang and Thomas have stressed the blackout is just the beginning of a larger campaign.
"This is not just a 24-hour initiative," they wrote. "We are and will be in this fight for the long haul. A plan of action will be announced."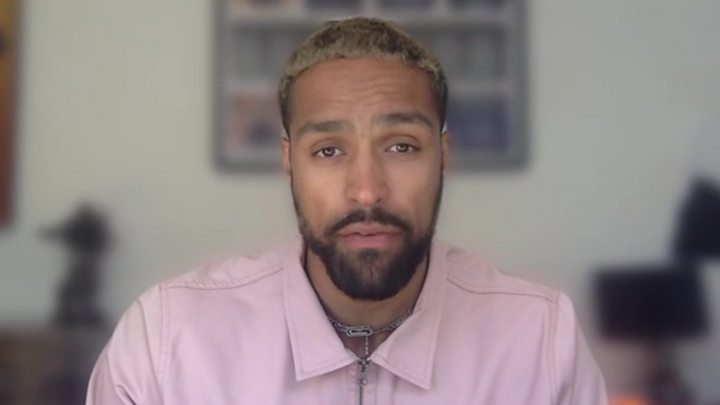 Follow us on Facebook, or on Twitter @BBCNewsEnts. If you have a story suggestion email entertainment.news@bbc.co.uk.
Radio 1 DJ Clara Amfo's emotional speech about George Floyd's death


The broadcaster spoke candidly about George Floyd's death, racism her mental health, live on Radio 1.



Source link