For Sama: Acclaimed Syria documentary wins British Independent Film Awards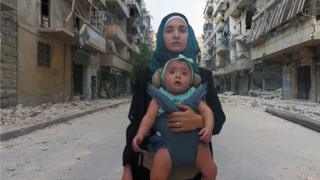 For Sama, a documentary about a young mother's experience of the Syrian civil war, has won the top prize at the British Independent Film Awards.
For Sama picked up four Bifas including best British independent film.
The movies it beat to that prize included Armando Ianucci's Charles Dickens-inspired film The Personal History of David Copperfield.
Ianucci's film, which stars Dev Patel, won five Bifas including best supporting actor for Hugh Laurie.
Speaking at Sunday's ceremony, Patel, who was nominated for best actor, said the film industry was at the "beginning of a movement" regarding colour-blind casting.
"I think wonderful things are happening," he said. "The fact that I get to be in a film like this is amazing."
He was beaten to the best actor award by Only You's Josh O'Connor, who can currently be seen playing Prince Charles in Netflix's The Crown.
Elsewhere at the London event, Renée Zellweger won best actress for her portrayal of Judy Garland in Judy.
Waad al-Kateab and Edwards Watts were jointly awarded best director for For Sama. Al-Kateab shot the footage in Aleppo, where her daughter Sama was born in 2016 and where her husband is a doctor.
The Independent described the documentary as "one of the most profoundly intimate depictions of the Syrian conflict ever put to film", while The Guardian said it was "profoundly moving and unignorable".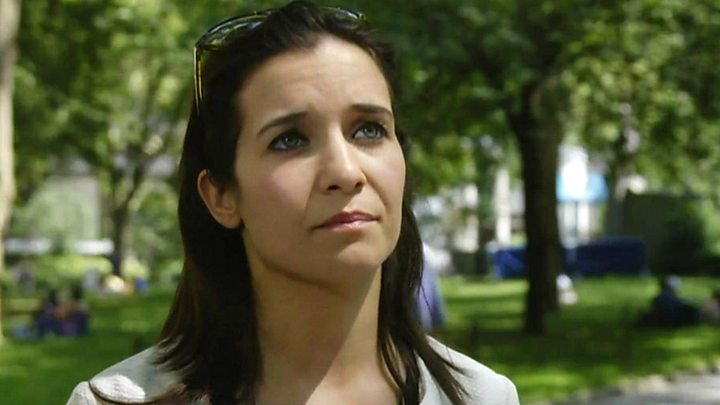 Bifa winners 2019
Best British independent film – For Sama
Best actress -Renee Zellweger (Judy)
Best actor – Josh O'Connor (Only You)
Best supporting actress – Ruthxjiah Bellenea (The Last Tree)
Best supporting actor – Hugh Laurie (The Personal History of David Copperfield)
Best director – Waad al-Kateab, Edward Watts (For Sama)
Best screenplay – Armando Iannucci and Simon Blackwell for The Personal History of David Copperfield
Most promising newcomer – Sam Adewunmi (The Last Tree)
The Richard Harris Award for outstanding contribution by an actor to British film – Kristin Scott Thomas
Special jury prize – Amanda Nevill
The Douglas Hickox Award (debut director) – Harry Wootliff (Only You)
Debut screenwriter – Emma Jane Unsworth (Animals)
Breakthrough producer – Kate Byers, Linn Waite (Bait)
The Raindance Discovery Award – Children Of The Snow Land (Zara Balfour, Marcus Stephenson, Mark Hakansson)
Best casting – Sarah Crowe (The Personal History of David Copperfield)
Best cinematography – Benjamin Kracun (Beats)
Best costume design – Suzie Harman, Robert Worley (The Personal History of David Copperfield)
Best documentary – For Sama
Best editing – Chloe Lambourne, Simon McMahon (For Sama)
Best effects – Howard Jones (A Shaun The Sheep Movie: Farmageddon)
Best make-up and hair design – Jeremy Woodhead (Judy)
Best Music – Jack Arnold (Wild Rose)
Best production design – Cristina Casali (The Personal History of David Copperfield)
Best sound – David Bowtle-Mcmillan, Joakim Sundstrom, Robert Farr (Beats)
Best British short film – Anna
Best international independent film – Parasite
Follow us on Facebook, or on Twitter @BBCNewsEnts. If you have a story suggestion email entertainment.news@bbc.co.uk.
KSI: 'I wanted to make my parents proud through YouTube'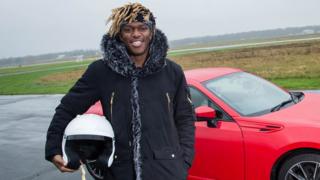 YouTuber KSI has said his parents were initially disappointed with his decision not to go to university.
The 26-year-old explained his mum and dad had put their savings into sending him to private school in the hope he would become a lawyer or doctor.
Speaking to Louis Theroux on Radio 4's Grounded podcast, KSI said he "didn't want to let his parents down".
"But eventually I decided, 'you know what, screw it. I'm going to make them proud through the whole YouTube.'
"As long as I can get rid of all their debts and make their lives comfortable, that's all that matters."
KSI joined YouTube in 2009 and initially uploaded videos of himself playing games such as Fifa.
He grew his following over several years and is now one of the site's most popular personalities, with 21 million subscribers.
In recent years, he has broken into the UK top 10 with his own rap singles and also taken part in boxing matches with other YouTubers such as Logan Paul.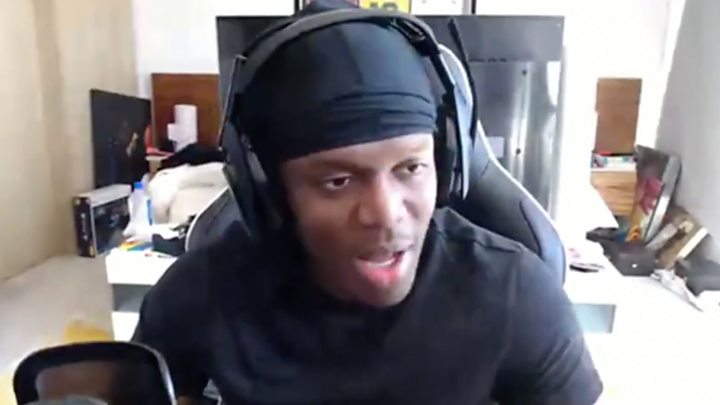 KSI said he struggled "for a couple of years" with the anguish his parents felt about his decision not to go to university.
"My parents saved up, worked hard to put us in private school and to make us go into university to be a lawyer or doctor, for me to just turn my back on them and just go, 'no I want to do this'."
YouTube 'goldmine'
Speaking on an episode of Grounded released on Monday, KSI said his mum "just screamed" after he got a disappointing A-level result.
"I've never heard her scream so loud and she was just throwing glasses everywhere. My dad was just disappointed, my dad just looked on the ground and he just didn't know what to say or do. It was quite hard, it just crushed me.
"So I said that I would try it again but my campus they didn't allow it, so they just kicked me out. My parents decided the next best thing was an international baccalaureate, that I should try that."
The international baccalaureate diploma is a two-year educational programme aimed at 16-to-19-year-olds, which provides a qualification to help with entry into higher education and is recognised by many universities.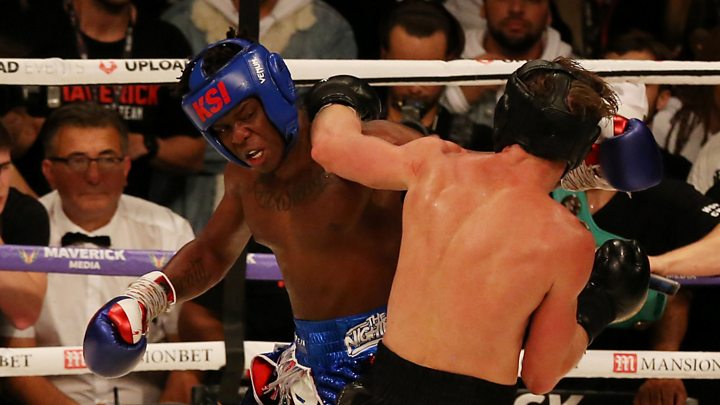 KSI did that for 18 months but said a key turning point was when he found out his YouTube earnings meant he was making more money than one of his college lecturers.
"I remember I asked a teacher, this is how I made this month, it was about £1,500 and I remember him telling me 'that's more than I make'.
"I looked at it and I thought, that's it, YouTube is the one, it is the goldmine. I need to push and push because I know I can become something and make my parents proud."
Asked by Theroux if reports that he is now worth around £16 million are true, KSI said: "I guess, I am wealthy yes. I've been doing YouTube for 10-plus years, I had a lot of money coming from different angles, in different areas so it makes sense for me to be worth eight figures yeah."
Follow us on Facebook, or on Twitter @BBCNewsEnts. If you have a story suggestion email entertainment.news@bbc.co.uk.
Cinema signs become a creative canvas in pandemic times
Normally a space for displaying film times, cinema signs have seen a wave of creativity in the United States during the coronavirus pandemic.
Witty customised signage has appeared reflecting the cinema owners love of films, their humour and concerns.
Talking Movies' Tom Brook reports.
Talking Movies can be seen on BBC World News
Actor Michael Angelis dies aged 76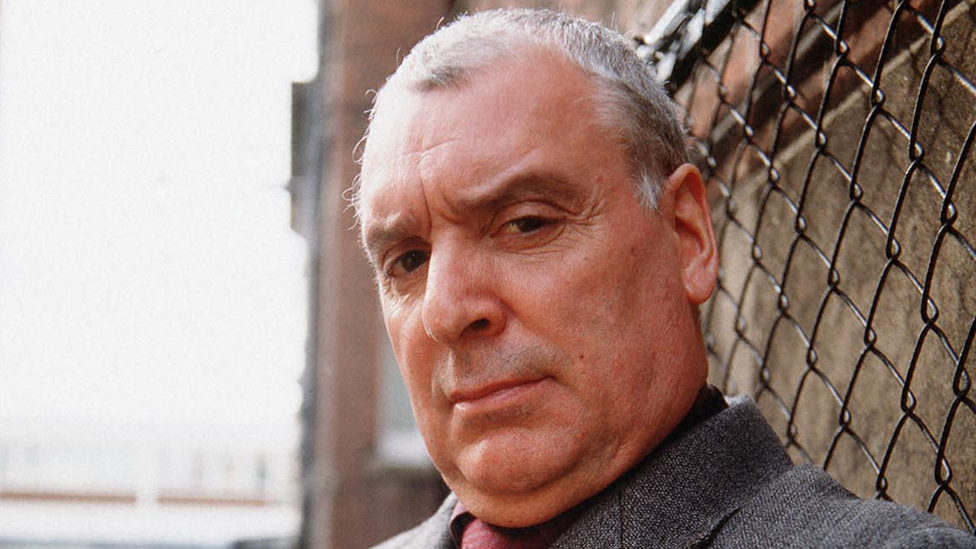 Actor Michael Angelis, known for his role in TV dramas such as Boys from the Blackstuff, and for narrating Thomas The Tank Engine, has died at the age of 76.
He died suddenly while at home with his wife on Saturday, his agent said.
The Liverpool-born actor lent his voice to children's favourite Thomas and Friends for 13 series after taking over from Beatle star Ringo Starr in 1991.
He also appeared as Mickey Startup in Auf Wiedersehen, Pet.
He starred alongside Bernard Hill and Julie Walters in the Bafta-winning 1980s series Boys From The Blackstuff, which highlighted the hardships of unemployment.
Angelis also had roles in Minder, The Liver Birds, Z Cars and Good Cop.
He was married to Coronation Street actress Helen Worth, who plays Gail Platt, from 1991 to 2001, and later married Jennifer Khalastchi.
Paying tribute to him on social media, comedian Matt Lucas described Angelis as "one of the greatest TV actors I've ever seen".
Lucas said: "His work with (screenwriter) Alan Bleasdale was tremendous. What a loss."