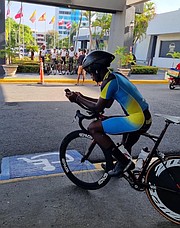 By BRENT STUBBS
Senior Sports Reporter
bstubbs@tribunemedia.net
ON the heels of his trip to the Commonwealth Games in Birmingham, England in August, Felix Neely got a chance to compete against his peers at the Caribbean Under-23 Cycling Championships in the Dominican Republic.
While he turned in a 10th place finish in the time trials on Saturday in a time of 47 minutes and 45 seconds, he came back on Sunday and ended up 46th overall in the gruelling road race in just over three hours and 26 minutes.
"I felt very relaxed sitting the peloton and I felt very strong during the race, although I was the only competitor representing the Bahamas," said Neely, who was accompanied by coach Lee Gibbs from Grand Bahama.
"Most of the other countries had at least five competitors, so it was going to be very difficult for me to win a medal. But I finished both the time trials and the road race, which was the biggest thing for me going to the championships."
Kaden Hopkins of Bermuda won the time trials in 36:41, followed by Raphael Lautone from Guadeloupe in 38:59 for second and Christopher Morales of Puerto Rico in third in 39:08.
In the road race, Edwin Nubul of Martinique won the road race in 3:00.46. Guadeloupe got second and third from Jeremy Deloumeaux and Taino Caillianu in the same times of 3:01:04.
It was the third time for Neely competing in the championships, having participated as a juvenile and a junior.
"I was very pleased with the result," he said.
"I was very pleased with the performance. The competition was what I expected.
"I knew there were some teams that were going to be very strong, so I didn't expect anything outstanding. I felt more confident riding with them. I didn't expect anything other than what they did."
Federation secretary general Barron Musgrove said Neely's progression has inspired him to compete both locally and internationally.
"He finished the event. None of our competitors in the past finished the race," Musgrove said.
"So, we intend to expose him more and more along with some of our younger cyclists like Barron Musgrove Jr and Aiden Bain out of Grand Bahama.
"Felix is still relatively young, so we hope that we can develop a four-to-five-man team that will be able to compete as a team in events like these in the future and hopefully we can get closer to getting a medal on the international scene."
The goal, according to Musgrove, is to have some representation at the Olympics, if not in 2024, by 2028 and they are looking at Neely leading the charge in the future.
Credit: Source link