Edinburgh festivals cancelled due to coronavirus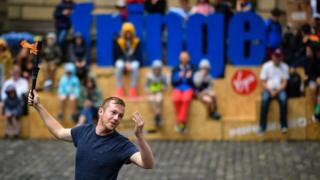 The Edinburgh Fringe and four other major cultural festivals in the city have been cancelled this year due to concerns around the Covid-19 pandemic.
Edinburgh International Festival and the Fringe, the world's biggest arts festival, will not take place for the first time in more than 70 years.
The Military Tattoo, Edinburgh Art Festival and Edinburgh International Book Festival have also been cancelled.
The five events attract audiences of about 4.4 million people each August.
More than 25,000 artists, writers and performers from 70 countries take part in 5,000 events in the Scottish capital each year.
First Minister Nicola Sturgeon said the cancellation was "heartbreaking, but the right decision".
Culture Secretary Fiona Hyslop said the festivals would be "missed greatly".
"But in taking this difficult decision now, everyone involved in the festivals, from staff to spectators, will be able to fully focus on their health and wellbeing which is critical during this time of great uncertainty," she said.
"I am committed to looking into support for seasonal staff who will suffer some of the greatest impact.
"The Scottish government will work with the festivals and all partners to ensure they can build on their previous success and return to the stage in 2021."
What are the five Edinburgh festivals?
Edinburgh International Festival was founded in 1947, in the aftermath of World War Two, in an attempt to reconcile and reunite people and nations through art. Its programme features theatre, dance and music.
The Fringe began that same year when eight theatre groups turned up uninvited to perform on the fringes of the festival. Since then it has grown to become the world's biggest arts festival.
The Royal Edinburgh Military Tattoo dates back to 1950. It attracts 220,000 visitors each August, and television coverage is watched by millions around the world.
Edinburgh International Book Festival has grown since its launch in 1983 and now brings writers from across the world to exchange ideas on major issues.
Edinburgh Art Festival is the newest of the events, being founded in 2004 to bring together galleries, museums and artist-run spaces to present work by international and UK artists.
An unprecedented but inevitable decision
Like so many decisions in the current climate, it's unprecedented.
Since they first began in 1947, a resilient celebration of culture in the aftermath of war, the Edinburgh festivals have flourished and grown.
They've seen off competition from other festivals, and events like the Olympics and the Commonwealth Games. They've adapted around health scares and terrorism – but this is different.
The sheer scale of the combined might of Edinburgh's August festivals is what makes it special, but it's also what made today's joint decision inevitable.
Even if we are out of lockdown in August, it will take some time for Scotland to return to whatever is the new normal. It will happen gradually, with many creative organisations continuing to work online. Emergency services may still be overstretched, or still recovering.
As the director of the Edinburgh Military Tattoo, Brigadier David Allfrey, says it is "impractical and undesirable" to stage a tattoo in anything like its normal form in August.
They, like so many of the other organisations, have recorded performances (which are broadcast to millions more than the 9,500 who sit on the castle esplanade each night).
All five festivals will be exploring new ways to link performers with audiences so that they can maintain some kind of presence in Edinburgh in 2020, even if it's a virtual one.
The last word goes to Fergus Linehan, director of the Edinburgh International Festival, who said: "This festival was born out of adversity – an urgent need to reconnect and rebuild. The current crisis presents all at the festival with a similar sense of urgency."
For the thousands involved, as performers or audience members, stand up comics or orchestras, it will be a blow, but the Edinburgh festivals will return in 2021. That, at least, is not in doubt.
What has the other reaction been to the cancellation?
Shona McCarthy, chief executive of the Edinburgh Festival Fringe Society, said the "heartbreaking" decision had been "the only appropriate response".
"Our thoughts today are with the doctors, nurses, health and social care professionals on the front line, as well as all those affected by this dreadful pandemic.
"Our sympathies too are with the thousands of artists and participants directly affected by today's decision – we will do everything we can to support you over the coming months."
Scottish Secretary Alister Jack said he was "hugely disappointed", but added: "We are facing a unique challenge, and for the festivals this is the right thing to do."
City of Edinburgh Council leader Adam McVey and his depute, Cammy Day, said the decision was the right one – but would leave "a massive gap".
They added: "We'll do everything we can to assist our world-renowned cultural sector to remain at the centre of the city's identity going forward."
Harvey Weinstein: Four more women accuse producer of assault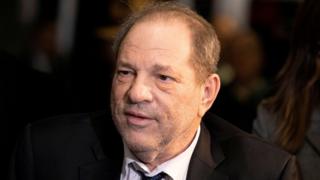 Disgraced film producer Harvey Weinstein has been accused of sexual assault by four further women as he serves a 23-year prison sentence.
Court documents filed in New York on Thursday allege several sexual offences dating from 1984 to 2013.
One of the four anonymous women was 17 at the time of an alleged attack.
Weinstein's legal representative told BBC News: "Mr Weinstein intends to defend against the claims filed anonymously against him yesterday."
The lawyer, Imran H Ansari of Aidala, Bertuna & Kamins PC, added: "Some of these claims, including those alleged to have occurred in the 1980s and 1990s, may be barred by the applicable statute of limitations, and not subject to any exceptions under the law, as these plaintiffs do not appear to be complainants in Mr Weinstein's criminal case."
Weinstein convicted of rape and sexual assault
How the Harvey Weinstein scandal unfolded
The latest legal cases allege multiple sexual offences against four women, who currently reside in Tennessee, New York, Ecuador and Hungary.
Some of the attacks allegedly took place after meetings with Weinstein at the Cannes and Venice Film Festivals.
The new allegations include:
A 43-year-old woman from Tennesee claims that in 1994, when she was 17, Weinstein "falsely imprisoned, sexually assaulted, sexually battered and raped her" in his hotel room. The plaintiff, who wanted to break into the entertainment industry, alleges Weinstein demanded she perform oral sex on him.
A 70-year-old woman from Ecuador claims that in 1984, when she was 34, Weinstein allegedly pinned her against a door and fondled her in his hotel room in Cannes, when she was looking to start a career as a documentary filmmaker.
A 38-year old woman said she met Weinstein in Manhattan in 2008 and he offered to "help take her career to the next level". He allegedly raped her in his Soho apartment a few days later, telling her he would ruin her if she told anyone.
A 35-year-old woman from Hungary claims that in 2013, when she was 26, she met Weinstein at the Venice Film Festival. A few months later, he allegedly forced her to perform oral sex on him when she met him in a hotel room.
Allegations against Weinstein began to emerge in October 2017, when The New York Times first reported incidents dating back decades.
At least 80 women have since accused him of sexual misconduct, including actresses Gwyneth Paltrow, Uma Thurman and Salma Hayek.
The allegations were at the centre of the #MeToo movement that inspired women to go public with misconduct allegations against powerful men.
Weinstein issued an apology acknowledging he had "caused a lot of pain", but denied any allegations of non-consensual sex.
In February, Weinstein was convicted in New York City of third-degree rape and first-degree criminal sexual act, and later sentenced to 23 years in jail.
Follow us on Facebook, or on Twitter @BBCNewsEnts. If you have a story suggestion email entertainment.news@bbc.co.uk.
Remi Wolf on how she makes music videos in lockdown
Music videos are often big budget affairs filmed in glamorous locations with a cast and crew to rival a movie. But what happens when a pandemic strikes and everyone is told to practise social distancing and not leave their home?
Rising star Remi Wolf told the BBC's Sophie van Brugen how she got around the problem, and what coronavirus could mean for the future of the music video.
Coronavirus: Cultural sector "first to suffer and last to come back" – Bjorn Ulvaeus
Bjorn Ulvaeus, one quarter of ABBA and President of the International Confederation of Societies of Authors and Composers (CISAC) said the cultural sector is 'extra vulnerable' due to Coronavirus and urged governments for support.
The musician told the BBC that he hopes to use technology to help creators get payments 'more efficiently and accurately'.