Do critics think Lion King is a 'roaring success'?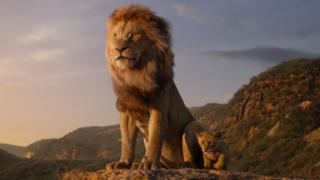 Disney's Lion King remake, starring Donald Glover and Beyonce, has been described equally by pun-tastic critics as both a "roaring success" and "tame".
The original 1994 animation won two Oscars for best music and score, while the stage version is also Broadway's top grossing musical.
Director Jon Favreau, who also remade The Jungle Book, has used photorealistic animation in the film.
Glover and Beyonce are the voices of lions Simba and Nala respectively.
British actor Chiwetel Ejiofor provides the voice for the villainous Scar.
In a four-star review, The Telegraph said "the power of this new Lion King comes from the outside".
"You soak up its astonishing photoreal visuals," wrote Robbie Collin, "and marvel at the extraordinary progress that can occur within a single generation, yet still ache for the beauty and purity of the hand-crafted animation that was lost to make way for it."
He added: "You might imagine that easy-breezy, Hakuna Matata-chanting middle act would only work when drawn by hand. Yet cinematographer Caleb Deschanel's expert command of "natural" spectacle and the sheer exuberance of Rogen and Eichner's performances make it the film's most purely delightful section."
Aladdin: Disney remakes and the power of nostalgia
The Lion King is the latest in a line of big new remakes, following Cinderella, Beauty And The Beast and Guy Ritchie's Aladdin.
The film features songs by Sir Tim Rice and Sir Elton John, 25 years after their original Oscar-winning efforts.
The Guardian, were less impressed with the film, writing that the "deepfake copycat ain't so grrreat".
Peter Bradshaw declared: "This is an anthro-leonine deepfake of impressive proportions, but the new Lion King gains in shock and awe while losing in character and wit."
'Truly timeless'
The Independent was impressed by the way Disney managed to keep "finding new ways to tell old stories". Writer Clarisse Loughrey gave it four stars, praising the movie as a "technological marvel of unprecedented hyperrealism".
"If anything," she added, "The Lion King uses nostalgia as a springboard for experimentation, finding new ways to tell old stories, while reminding us what makes those stories feel truly timeless in the first place."
Variety's Peter Debruge was blown away by the CGI, saying the "animals look utterly convincing", adding that the film would impress old fans and win new ones too.
He said: "By focusing his attention on upgrading the look of the earlier film while sticking largely to its directorial choices and script, Favreau reinforces the strength of the 1994 classic."
Todd McCarthy in The Hollywood Reporter was less gushing with his praise, saying very few remakes had adhered as closely to their original versions as this one.
"Everything here is so safe and tame and carefully calculated as to seem predigested," he said. "There's nary a surprise in the whole two hours."
"If you were never a fan of The Lion King, then nothing here will win you over. On the other hand, for those too young ever to have seen it, this could be a life-changing experience."
The Daily Mail's Brian Viner disagreed and went as far to say this version of The Lion King "might just be the best" Disney remake yet, but with one or two reservations.
He said while the animals' faces were less expressive than they were in the original, and Ejiofor "can't match" his predecessor [original Scar actor] Jeremy Irons "for fruity, baritone menace", the movie was a "terrific film in its own right".
'Internalised and sinister'
Kevin Maher in The Times gave it four stars, and agreed that "it's better than the original". He also preferred Ejiofor's portrayal of Simba's uncle and the jealous younger brother of Mufasa, calling Ejiofor's performance "masterful".
The film-makers, he said, had "swapped the theatrical camp of Jeremy Irons for something far more internalised and sinister".
Website IndieWire concluded Disney's remake was "a disastrous plunge into the uncanny valley." David Ehrlich wrote: "Unfolding like the world's longest and least convincing deepfake, the new Lion King fatally misunderstands what once made Disney special."
The Lion King is out in UK cinemas on 19 July.
Follow us on Facebook, on Twitter @BBCNewsEnts, or on Instagram at bbcnewsents. If you have a story suggestion email entertainment.news@bbc.co.uk.
Pop Smoke: Rapper shot dead in apparent robbery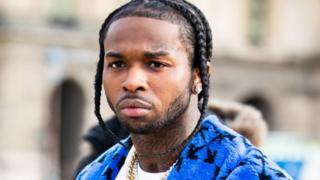 The US rapper Pop Smoke has been killed, after an apparent armed robbery.
Los Angeles Police told Radio 1 Newsbeat a man was shot at his home and later pronounced dead, although didn't confirm his identity.
But his label Republic Records says it's "devastated by the unexpected and tragic loss of Pop Smoke".
Police responded to reports of a robbery – and man was then taken to hospital and later pronounced dead.
Officers confirmed that an unknown number of suspects entered a property in West Hollywood.
They got a call about a robbery at 04:55 PST and were at the scene six minutes later.
Police say no suspects have been identified and no arrests have been made.
They also denied reports that a man was held at the scene but say one suspect is thought to have had a handgun.
Pop Smoke was signed to Republic Records which has said in a statement "our prayers and thoughts go out to his family, friends and fans, as we mourn this loss together."
When reports first appeared in the US tributes began flooding in for Pop Smoke, real name Bashar Barakah Jackson – including from friends.
Pop Smoke had a breakout hit with Welcome to the Party in 2019 – which led to him being singled out as an artist to watch this year by BBC Radio 1Xtra, on the station's Hot For 2020 list.
The station said he "possessed the air and cadence of a rapper who has been in the game for a decade or two longer than his actual age".
The track ended up being remixed by both Nicki Minaj and Skepta.
Just last week Pop Smoke was a guest on DJ Target's show on 1Xtra.
He was in the middle of several US tour dates and was due to come to the UK in April – with shows scheduled in London, Manchester and Birmingham.
50 Cent was one of many rappers, DJs and producers that paid tribute on social media, as did rapper Quavo, who Pop Smoke had collaborated with.
Last year he spoke about wanting to make music that inspires children who are growing up in poverty.
He told The Face: "I make music for that kid in the hood that's gotta share a bedroom with like four kids – the young kids growing up in poverty.
"I make music for kids like that who know they just gotta keep going, that there's a better way. That's who I really make it for."
Follow Newsbeat on Instagram, Facebook, Twitter and YouTube.
Listen to Newsbeat live at 12:45 and 17:45 weekdays – or listen back here.
Jimmy Tarbuck: Comedian reveals prostate cancer diagnosis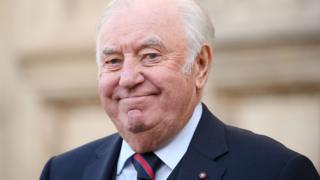 Comedian Jimmy Tarbuck has revealed he has been diagnosed with prostate cancer.
The veteran Liverpudlian comic told ITV's Good Morning Britain he would "try and beat it".
Tarbuck said he received the diagnosis the day after his 80th birthday earlier this month.
"Right now I feel great. I'm on the telly and I'm having a good time," he said, adding that the cancer had not spread.
He was inspired to get checked by Sir Rod Stewart, who announced in September that he had received treatment for prostate cancer.
"All men out there watching, and all wives, get your husbands to go for the tests. I think after 50, just have a test, let them have a look at you," Tarbuck said.
"You will be relieved and be with your families for extra years."
He said men can be too "shy" to get tested, but urged them not to put it off. "Boys, go. It is embarrassing. Especially when the fella said to me 'We're going to give you the thumbs up'. I said 'I hope not'. He roared laughing."
Speaking about his treatment, he added: "I'm having injections and taking tablets and then I take a yearly cycle."
Tarbuck, who rose to fame in the 1960s and was known for hosting variety shows including Sunday Night At The London Palladium and Live From Her Majesty's, is now planning to go on tour.
Follow us on Facebook, or on Twitter @BBCNewsEnts. If you have a story suggestion email entertainment.news@bbc.co.uk.
Brits 2020: Pop meets politics


Highlights from this year's ceremony included performances from Billie Eilish, Dave, Lizzo and Stormzy.



Source link