Did the boy who swore at Five Star really apologise? A needlessly long investigation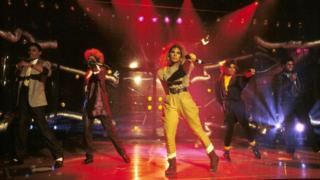 Here's something I've learned over the last two weeks: a lot of people really want to be Eliot Fletcher. A stupidly large number. Too many people, in fact, want to be Eliot Fletcher.
And who is Fletcher, exactly? Let me get you up to speed.
Back in the 1980s, there was a pop group called Five Star. They were shiny and brilliant, and named after a brand of leaded petrol (this is true).
Formed by five singing and dancing siblings from Romford, Essex, the group sold millions of records, won a Brit Award for best group, and were frequently dubbed "Britain's answer to the Jackson Five".
One week in 1989, they visited the BBC kids' programme Going Live to promote their 18th single, With Every Heartbeat. During a live phone-in, a young boy was put through to the band, to whom he asked the immortal question: "Why are Five Star so [expletive] crap?"
That boy said his name was Eliot Fletcher.
About a fortnight ago, a clip of the incident was shared by the (superb) Twitter account @TOTPFacts. Shortly afterwards, someone claiming to be Eliot contacted Five Star singer Doris Pearson to apologise, laying to rest 30 years of hurt.
Doris graciously accepted the apology, inviting Eliot out for a pint – and I cautiously wrote a story summing up the exchange for BBC News.
Why cautious? Because Eliot had ignored all of my attempts to get in touch and verify his identity. In the original article, I made it clear the whole thing could be a hoax.
Sure enough, after the story was published, a second Eliot Fletcher cropped up, claiming an impostor had taken his name. Then I was messaged by a third Eliot; and several BBC colleagues who claimed Eliot had grown up to be a producer on the kids TV show The O-Zone.
On the comments underneath a YouTube clip of the incident, dozens more took credit. "That was actually me! Real name Jim!" wrote John Williams. "My heart was going crazy," recounted Mark Connor, who claimed he'd used the name of "a teacher I hated called Mr Fletcher" for the prank call.
What on earth was going on?
"Eliot's become this urban legend," suggested Doris. "Some people just want to jump in there for the notoriety, for the attention."
I realised I'd have to find out who, if anyone, was telling the truth.
'Still angry'
To get me started, I contacted several members of the Going Live production team (including, but not limited to, Gordon The Gopher's puppeteer, who's now head of editorial compliance for BBC Radio) but none of them could shed light on the mystery. Some, reasonably, argued that further coverage might encourage copy-cat behaviour, and declined to comment.
So I started to unravel the web of "other Eliots" to see if anyone's story checked out.
"It is a bit embarrassing," said one of the alleged culprits, who asked to remain anonymous. He made the call "just to annoy my sister", he explained, as she'd been hogging the TV that morning.
A key detail: Eliot Fletcher wasn't his real name. He'd made up the infamous soubriquet "in a panic" after getting through to the show.
"I always remember, I picked Eliot out of ET, and Dexter Fletcher, the actor out of Press Gang," he said. "I put those things together, then I said what I did, put the phone down, and realised how much trouble I was in.
"My mum's still angry with me about it."
His story sounded plausible, but something troubled me: His accent didn't match up with the original phone call. Accents change, of course, but I kept digging just in case.
Soon, I was speaking to another Eliot (let's call him Eliot Two). He offered to prove his identity by recreating his famous outburst over the phone – which is how I found myself being sworn at, at high volume, in the middle of a perplexed BBC newsroom. Hilarious, but inconclusive.
Cassette clue
A trawl of the newspaper archives didn't provide any leads – although I was surprised to learn how gung-ho the BBC had been about the incident.
"It's alarming, but haven't you ever heard the language when children are playing in the park before?" a spokeswoman told a News of the World journalist who had enquired about the outburst.
"We try to vet calls but unfortunately these nutters slip through. We're sorry."
A few days later, I got a phone number for Eliot Three, the BBC producer. He admitted he'd made a lot of prank calls in his youth, but didn't remember this specific episode.
Then Eliot Two got in touch again. Would it help to hear a cassette recording of the infamous call?
Obviously I said, "yes", so he dug it out and digitised it. A few hours later, the file pinged into my inbox. Not only did his home recording match up with the broadcast (right down to his dog, Tammy, barking in the background) but, crucially, it contained a couple of bonus swears that had been cut off on TV. None of them are printable here. All of them are worse than what actually went out. The tape ends with the teenager bursting into laughter.
It wasn't conclusive proof, but it was persuasive. We spoke on the phone about his memories of the day – and here's an edited transcript, so you can decide for yourself whether Eliot Two was genuinely Five Star's crank caller.
What prompted you to harass Five Star in the first place?
The thing was, I was a big fan of theirs. Then all of a sudden, they were on TV showing off their new Ferraris, and the music started going down hill. So as a young kid who took their music very seriously, I felt like they were selling out.
I didn't know I was going to swear or anything. I just knew I wanted to get on there and give them a piece of my teenage mind.
How did you get through the screening process to make it on air?
They said, "Have you got a question for Five Star?" and I was like, "Well, have they ever thought of splitting up?", which is a pretty generic question. And then, lo and behold, they called me back 20 minutes later.
Then, just before I was due to go on air, the postman turned up and that sent my dog crazy, and I got into this whole conversation with Sarah Greene about my dog, Tammy.
I remember that. The fact you'd just had a light-hearted chat made the swearing even more strange.
That's why it was so funny. The words just came out of my mouth, and then I just rolled around laughing for literally about half an hour.
What happened afterwards?
The phone started ringing – and I thought, "Right, that's it, I'm going to go out". When I came back an hour later, the front door swung open and my mum goes, "Did you ring up the BBC?"
She'd had a very irate conversation with someone from the BBC telling her what a naughty child I was, and she said, "You've got to write the head of the BBC an apology letter".
And did you?
I didn't want to but she made me do it. So I did write an apology letter but the first letter of the first sentence started with 'F'. The first letter of the second sentence started with a 'U'…
So you had no regrets?
No regrets at all. It's funny listening to it now, because I do sound really, really angry. I think that's why it stuck in people's minds.
Your Twitter namesake apologised. Will you?
No. No apologies. What's done is done. As an adult you kind of feel slightly different about it, but the child in me is like, "No".
Hopefully, that seals up this black hole of 80s TV trivia forever.
If you are the real Eliot Fletcher, or you claim to be, please don't get in touch. Ever.
I'll leave the last word to Doris Pearson who, after all, was the target of Eliot's anger all those decades ago.
"You know, it was so many moons ago, and I'm a forgiving gal," she laughs.
"And to be honest, all I thought at the time was, 'Well, we're actually not crap'."
Follow us on Facebook, or on Twitter @BBCNewsEnts. If you have a story suggestion email entertainment.news@bbc.co.uk.
Newly-discovered Rembrandt work to go on display in Oxford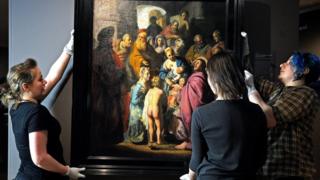 A newly-discovered Rembrandt painting will go on display for the first time, nearly 400 years since it was created.
Let The Little Children Come To Me will be shown at the Ashmolean Museum in Oxford as part of its Young Rembrandt exhibition.
The painting was discovered in 2014 by Amsterdam art dealer and historian Jan Six.
He identified a young man in the painting's background as a self-portrait by Rembrandt.
The exhibition will explore the early years of the artist's work from 1624-34.
Let The Little Children Come To Me is believed to have been painted around 1627-28.
The exhibition will feature 31 paintings by Rembrandt, 13 by his notable contemporaries and a further 90 drawings and prints from international and private collections.
Among those on display will be Rembrandt's earliest known work, The Spectacles Seller (1624-25), which is described by the museum as a "crude, garishly coloured painting by an artist struggling with his medium", as well as Jeremiah Lamenting The Destruction Of Jerusalem (1630), hailed as an "acknowledged masterpiece".
The Young Rembrandt exhibition runs from 27 February until 27 June in the John Sainsbury Exhibition Galleries.
Dot Cotton: Actress June Brown says she has left EastEnders 'for good'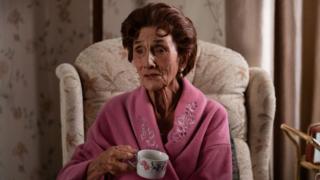 Veteran EastEnders actress June Brown has said she has left her role as much-loved character Dot Cotton after 35 years.
"I've left for good," said the 93-year-old in an interview with podcast Distinct Nostalgia.
She is one of the BBC soap's longest-running characters and has become a firm favourite with viewers.
Her character Dot has not been in an episode since January. An EastEnders spokesman said the "door remains open".
Brown joined the show in 1985, the year it was created.
In the last episode she featured in, aired last month, Dot Cotton – or Dot Branning – left a voicemail message for character Sonia Fowler saying she had moved to Ireland.
Asked by interviewer and former co-star Rani Singh whether EastEnders had put her on a retainer, Brown replied: "I don't want a retainer. I've left. I've left for good.
"I've sent myself to Ireland and that's where she'll stay. I've left EastEnders."
One of EastEnders' best-known stars, Brown was in her late 50s when she joined Albert Square.
Actor Leslie Grantham, who played Dirty Den, suggested her for the role. Until then, Brown's career had incorporated stage, film and television, with appearances in Coronation Street and Doctor Who.
"I think I got it because they thought I was a punctual actress," Brown told the podcast, which aired a special episode to celebrate 35 years of EastEnders.
"I'm not really but I became so. In fact I became so punctual I used to be in an hour before I should be."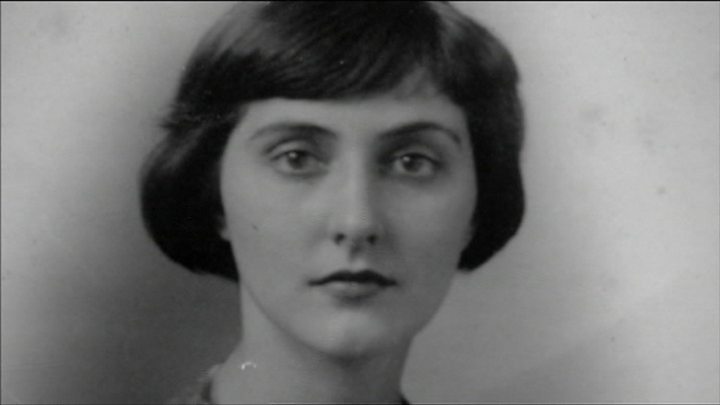 She said it "was a very strange feeling" leaving the soap.
"I was feeling rather down the other day," she said. "I thought, 'what's the matter? Why do I feel so sad?' It's almost as if I've been bereaved.
"I've played two people simultaneously for 35 years. Really Dot wasn't me, but spiritually she probably was."
Brown took a four-year break from the soap between 1993 and 1997
In 2008, Brown became the first actor in a British soap to carry an entire episode alone, with an emotional monologue dictated to a cassette for her screen husband to listen to in hospital following a stroke.
That same year she was made an MBE for services to drama and charity.
Last year, Brown revealed she was losing her sight after being diagnosed with age-related macular degeneration and could no longer recognise her friends.
An EastEnders spokesman said: "We never discuss artists' contracts, however as far as EastEnders are concerned the door remains open for June, as it always has if the story arises and if June wishes to take part."
Caroline Flack: Met refers itself to watchdog over contact with star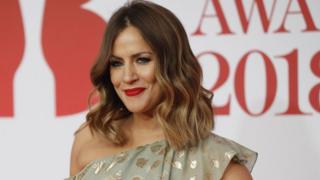 The Metropolitan Police has referred itself to the police watchdog following the death of TV star Caroline Flack.
Scotland Yard's directorate of professional standards (DPS) reviewed all previous contact with Ms Flack, 40, before it made Wednesday's referral.
It was standard practice for a referral to be made when a person who had recent contact with police died, the Met said.
Ms Flack was found dead at her London flat on Saturday as she awaited trial for allegedly assaulting her boyfriend.
An inquest into the former Love Island host's death was opened and adjourned on Wednesday.
A statement from the Met said: "No notice of investigation has been served on any officer and no conduct issues have been identified by the DPS. No officer is on restricted duties or suspended."
An Independent Office for Police Conduct spokesman said: "We will make a decision on the level of our involvement after carefully assessing the information we have received.
"Receipt of a referral does not mean an investigation will necessarily follow."
Ms Flack left her role presenting the ITV2 dating show after being charged with assaulting her partner Lewis Burton in December and was due to stand trial next month.
In an unpublished Instagram post shared by her family, she said her "whole world and future was swept from under my feet" following her arrest.
Ms Flack pleaded not guilty to assault by beating at a court appearance in December, when it was heard her partner did not support the prosecution.
She was released on bail but was ordered to stop any contact with Mr Burton ahead of the trial.
Love Island did not air on Saturday or Sunday but returned on Monday with a tribute to the former X Factor presenter and Strictly Come Dancing winner, who started hosting the programme in 2015.