Did the boy who swore at Five Star really apologise? A needlessly long investigation
Here's something I've learned over the last two weeks: a lot of people really want to be Eliot Fletcher. A stupidly large number. Too many people, in fact, want to be Eliot Fletcher.
And who is Fletcher, exactly? Let me get you up to speed.
Back in the 1980s, there was a pop group called Five Star. They were shiny and brilliant, and named after a brand of leaded petrol (this is true).
Formed by five singing and dancing siblings from Romford, Essex, the group sold millions of records, won a Brit Award for best group, and were frequently dubbed "Britain's answer to the Jackson Five".
One week in 1989, they visited the BBC kids' programme Going Live to promote their 18th single, With Every Heartbeat. During a live phone-in, a young boy was put through to the band, to whom he asked the immortal question: "Why are Five Star so [expletive] crap?"
That boy said his name was Eliot Fletcher.
About a fortnight ago, a clip of the incident was shared by the (superb) Twitter account @TOTPFacts. Shortly afterwards, someone claiming to be Eliot contacted Five Star singer Doris Pearson to apologise, laying to rest 30 years of hurt.
Doris graciously accepted the apology, inviting Eliot out for a pint – and I cautiously wrote a story summing up the exchange for BBC News.
Why cautious? Because Eliot had ignored all of my attempts to get in touch and verify his identity. In the original article, I made it clear the whole thing could be a hoax.
Sure enough, after the story was published, a second Eliot Fletcher cropped up, claiming an impostor had taken his name. Then I was messaged by a third Eliot; and several BBC colleagues who claimed Eliot had grown up to be a producer on the kids TV show The O-Zone.
On the comments underneath a YouTube clip of the incident, dozens more took credit. "That was actually me! Real name Jim!" wrote John Williams. "My heart was going crazy," recounted Mark Connor, who claimed he'd used the name of "a teacher I hated called Mr Fletcher" for the prank call.
What on earth was going on?
"Eliot's become this urban legend," suggested Doris. "Some people just want to jump in there for the notoriety, for the attention."
I realised I'd have to find out who, if anyone, was telling the truth.
'Still angry'
To get me started, I contacted several members of the Going Live production team (including, but not limited to, Gordon The Gopher's puppeteer, who's now head of editorial compliance for BBC Radio) but none of them could shed light on the mystery. Some, reasonably, argued that further coverage might encourage copy-cat behaviour, and declined to comment.
So I started to unravel the web of "other Eliots" to see if anyone's story checked out.
"It is a bit embarrassing," said one of the alleged culprits, who asked to remain anonymous. He made the call "just to annoy my sister", he explained, as she'd been hogging the TV that morning.
A key detail: Eliot Fletcher wasn't his real name. He'd made up the infamous soubriquet "in a panic" after getting through to the show.
"I always remember, I picked Eliot out of ET, and Dexter Fletcher, the actor out of Press Gang," he said. "I put those things together, then I said what I did, put the phone down, and realised how much trouble I was in.
"My mum's still angry with me about it."
His story sounded plausible, but something troubled me: His accent didn't match up with the original phone call. Accents change, of course, but I kept digging just in case.
Soon, I was speaking to another Eliot (let's call him Eliot Two). He offered to prove his identity by recreating his famous outburst over the phone – which is how I found myself being sworn at, at high volume, in the middle of a perplexed BBC newsroom. Hilarious, but inconclusive.
Cassette clue
A trawl of the newspaper archives didn't provide any leads – although I was surprised to learn how gung-ho the BBC had been about the incident.
"It's alarming, but haven't you ever heard the language when children are playing in the park before?" a spokeswoman told a News of the World journalist who had enquired about the outburst.
"We try to vet calls but unfortunately these nutters slip through. We're sorry."
A few days later, I got a phone number for Eliot Three, the BBC producer. He admitted he'd made a lot of prank calls in his youth, but didn't remember this specific episode.
Then Eliot Two got in touch again. Would it help to hear a cassette recording of the infamous call?
Obviously I said, "yes", so he dug it out and digitised it. A few hours later, the file pinged into my inbox. Not only did his home recording match up with the broadcast (right down to his dog, Tammy, barking in the background) but, crucially, it contained a couple of bonus swears that had been cut off on TV. None of them are printable here. All of them are worse than what actually went out. The tape ends with the teenager bursting into laughter.
It wasn't conclusive proof, but it was persuasive. We spoke on the phone about his memories of the day – and here's an edited transcript, so you can decide for yourself whether Eliot Two was genuinely Five Star's crank caller.
What prompted you to harass Five Star in the first place?
The thing was, I was a big fan of theirs. Then all of a sudden, they were on TV showing off their new Ferraris, and the music started going down hill. So as a young kid who took their music very seriously, I felt like they were selling out.
I didn't know I was going to swear or anything. I just knew I wanted to get on there and give them a piece of my teenage mind.
How did you get through the screening process to make it on air?
They said, "Have you got a question for Five Star?" and I was like, "Well, have they ever thought of splitting up?", which is a pretty generic question. And then, lo and behold, they called me back 20 minutes later.
Then, just before I was due to go on air, the postman turned up and that sent my dog crazy, and I got into this whole conversation with Sarah Greene about my dog, Tammy.
I remember that. The fact you'd just had a light-hearted chat made the swearing even more strange.
That's why it was so funny. The words just came out of my mouth, and then I just rolled around laughing for literally about half an hour.
What happened afterwards?
The phone started ringing – and I thought, "Right, that's it, I'm going to go out". When I came back an hour later, the front door swung open and my mum goes, "Did you ring up the BBC?"
She'd had a very irate conversation with someone from the BBC telling her what a naughty child I was, and she said, "You've got to write the head of the BBC an apology letter".
And did you?
I didn't want to but she made me do it. So I did write an apology letter but the first letter of the first sentence started with 'F'. The first letter of the second sentence started with a 'U'…
So you had no regrets?
No regrets at all. It's funny listening to it now, because I do sound really, really angry. I think that's why it stuck in people's minds.
Your Twitter namesake apologised. Will you?
No. No apologies. What's done is done. As an adult you kind of feel slightly different about it, but the child in me is like, "No".
Hopefully, that seals up this black hole of 80s TV trivia forever.
If you are the real Eliot Fletcher, or you claim to be, please don't get in touch. Ever.
I'll leave the last word to Doris Pearson who, after all, was the target of Eliot's anger all those decades ago.
"You know, it was so many moons ago, and I'm a forgiving gal," she laughs.
"And to be honest, all I thought at the time was, 'Well, we're actually not crap'."
Follow us on Facebook, or on Twitter @BBCNewsEnts. If you have a story suggestion email entertainment.news@bbc.co.uk.
Robyn Crawford says relationship with Whitney Houston was 'love – open and honest'
Robyn Crawford was Whitney Houston's best friend. A childhood confidant who became her assistant and creative partner. They were also, briefly, lovers.
For years, their romance has been the subject of rumour and speculation. Two recent films about Houston's life, Whitney: Can I Be Me and the family-sanctioned Whitney, raked over the coals of their relationship – suggesting Crawford was the real love of her life.
Crawford always declined to comment on her life with Houston – appearing in those films via archive footage, but never agreeing to an interview.
But now that everyone else has had their say, Crawford has decided to tell her story. "Why now?" she asks in the introduction to her new memoir, A Song For You.
"Believe me, I've done my best to stay out of the spotlight [but] I believe it is my duty to honour my friend and to clarify the many inaccuracies about myself and about who Whitney was".
She confirms, for the first time, her romantic history with Houston, which began when they were teenagers and lasted two years.
"It wasn't all about our sleeping together," she stresses in the book. "We could trust each other with our secrets, our feelings, and who we were. We were friends, we were lovers. We were everything to each other. We weren't falling in love. We just were. We had each other. We were one: That's how it felt."
Houston broke off the relationship just after she signed her record deal, handing Crawford a Bible and telling her she feared public exposure.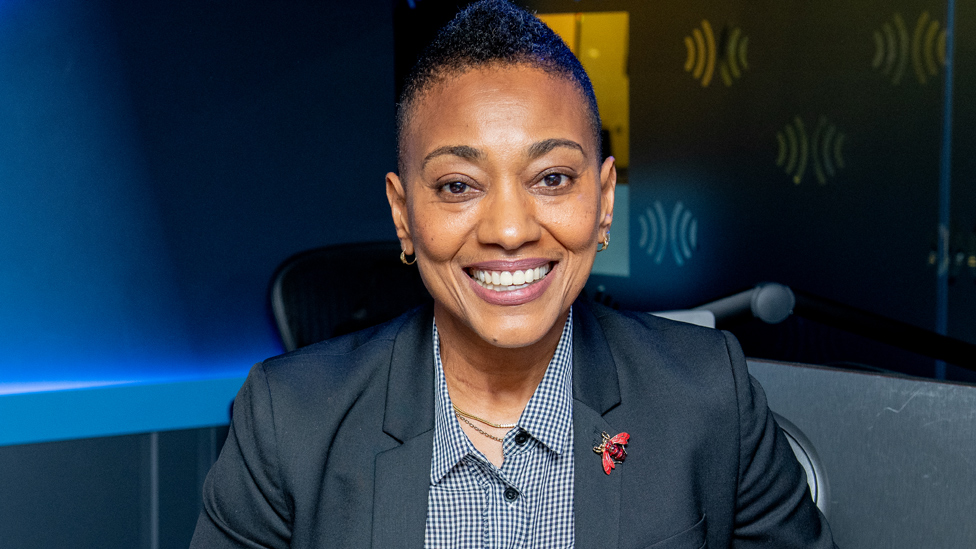 Getty
Whitney shared with me her belief that, if people found out about our relationship, they would use it against us.
Crawford remained a devoted friend and emotional bulwark, anchoring Houston to her past, and steadying the ship of her often-turbulent private life.
She candidly describes their drug use and how she watched, helplessly, as her friend's habit spiral out of control.
"No matter what rules we came up with around responsible drug use, she kept breaking them and using whenever she wanted to," she writes.
By the time Crawford quit Houston's team in 2000, the star was cancelling shows and missing recording sessions. She suspected the singer was being physically abused by her husband, Bobby Brown, and had found burned spoons in her kitchen.
Crawford's own story isn't much happier – she is the daughter of a single mother, who left her husband after years of abuse; and lost two of her closest family members to Aids.
But the book isn't overwhelmingly bleak: After escaping Houston's orbit, Crawford slowly rebuilt her life, and is now happily married with two adopted children. She has worked as a journalist, interviewing the likes of Jessica Biel and Kristen Bell, and is currently a fitness trainer.
Her goal in writing the book was to erase the memory of Houston's tragic death, drowning in a bathtub on the eve of the 2012 Grammy awards, and remind the world she was "bighearted, unselfish, hilarious" and phenomenally talented – whether she was singing at the Super Bowl, learning to act on the set of The Bodyguard, or celebrating in church (where some parishioners were so overwhelmed by her vocals they would faint).
"I want to elevate her. I want to lift her so she can hold her legacy up way high," Crawford tells the BBC, as she recounts the making of her memoir.
What was it like to rekindle all these old memories as you wrote the book?
I spent most of the last two-and-a-half years feeling and reliving the 80s and the 90s to the point that my son said one day, "I'll be glad when mom is finished writing this book, so she can play with me again".
It's really true, you know? Sometimes they would disturb me and I'd be in a thought, so it would be a delayed reaction, or I might snap at them. So I really was not the mommy that I had been, attentive to every little thing.
And the process of writing was like a roller coaster of emotions. The beginning, where we were bright-eyed, adventurous, fearless; then all the wild years achieving all the things we had talked about; and then my family and the challenges there. So there were tears of joy, tears of sadness, strain.
You speak about watching Whitney in the studio, and how she could breathe life into a song; but I wondered what it was like to hear her sing in private, at home or in the car?
I used to call that the pre-concert! We had this house in New Jersey and, in the great room, there was a dome. She would go into that room and just sing – gospel, jazz, Al Jarreau, whatever came to her – because the acoustics were like brilliant. I remember one night she was in that room singing Fly Me To The Moon, it was so effortless that it sounded like she really was flying.
In those early days, it sounded like you had a lot of fun. Having water gun fights in hotel corridors and exploring the world together.
The one thing about Whitney is she was like a kid. She wanted to have as much fun as she possibly could.
I remember Whitney would rent out Lehigh University's arena in Pennsylvania to prepare for tours, and we'd always play football outside on their field. One time, for the last play, we told her, 'OK, the entire line is going to go right and we're going to block for you. You pause for a second, one second, and shoot to the right behind us.
"She said, 'OK, OK, OK'. But when we all went to the right, she went to the left. She ran right into one guy, they clipped knees and she toppled over. For the rest of the dress rehearsal, she couldn't wear her heels. So no more touch football for us. They killed it for everybody. After that, it was ping pong instead.
People will be interested to read about your romantic relationship with Whitney. The way you describe it is very tender and moving – but at the same time it's no big deal. You say you "never talked about labels, like lesbian or gay," it just was what it was.
Mmm-hmm, that's just how it was.
People pull it out as a relationship – but we met and we clicked and we became friends. We built that friendship on being open and honest with each other about everything. She told me she was going to sign this [record] deal and she was going to take me with her all around the world. And along the way, we had an intimate, loving, physical experience of friendship within our friendship. It was love and it was open and honest.
Whitney ended the relationship shortly after signing her record deal, telling you "it would make our journey even more difficult". How hard was it to put those feelings to one side and just be friends?
Well, we were friends – and we knew each other very well.
The focus was always where we were going. Nothing could stand in the way of that. Whitney shared with me her belief that, if people found out about our relationship, they would use it against us. And it was the 80s. You were either this or that. And women were treated in a way where they were rivals and not comrades. So it was a lot and we were young. We were young, but we were fearless.
In a way, you protected each other.
That was very important. Whitney said "I want you right here. You know me. You knew me before we got where we were going." So we were a team. She knew me and she trusted me.
I was struck by your mum's first meeting with Whitney, where she says, "You look like an angel, but I know you're not". And then, a few days later, Whitney presents you with a joint for the first time.
My mother had her right! Whitney had this angelic radiance about her and And then she pulled a joint out of her breast pocket as if to say, "Yeah, I do this too, OK?"
The two of you did drugs together often, but eventually you tried to talk her out of kicking the habit. Do you think she ever made a serious attempt at giving up?
We never believed cocaine was a good thing; and in the early years she'd say to me: "This cannot go where we're going". So I believe for sure that Whitney knew she needed to help herself and wanted to do that.
I write about it in the book that she called someone for help.
Yes, this is in 2001 – she called a doctor to discuss rehab.
Yes, Dr Richard Frances. She called him herself. And she said she was not someone who wanted to die. She was someone who wanted to live. She meant that.
The public perception is that things took a dark turn when Bobby Brown turned up on the scene. That seems to be a dividing line in her life and her career.
Well, I think people feel that way because it was covered so wildly and consistently in the tabloids in the mainstream media, so I believe that's where the public gets that over-reaching narrative.
Do you agree with that narrative?
Well… Obviously, I was still there at that time. And there were, let me say, a lot of 'distractions' during that time. But Whitney was still working and achieving during those times of career. I mean, she had film projects…
She made The Bodyguard and Waiting To Exhale when she was with Bobby, right?
Right. But what I will say is that she was exhausted.
I guess when you're working hard, and home life is turbulent, there's no respite.
Yeah. Everything came back to her. She was dealing with all of it and she wasn't getting the rest and the quiet she needed.
But the same was true for you. At the same time as you were working for Whitney, you were caring for two family members with Aids. Did you ever have enough time for yourself?
No, and you do lose your identity. I really didn't know who I was. So when it was all said and done, I write in the book about how I had to find Robyn again.
Lisa Hintelmann, who is now your wife, said she couldn't start a relationship with you unless you agreed to have therapy. She sounds incredibly wise.
Oh yeah. Lisa has been my Rock of Gibraltar. She let me know that she loved and cared about me, but that I needed to help myself.
She gave me shelter and a place to hide, because when you feel like that, you just want to be alone. So it was a dark time for me, but she got out of my way, and just let me crawl until I climbed back up.
You consciously left the entertainment industry, and went to work in a tennis club and on a farm, where you picked fruit. What was that like?
Manning the desk at the tennis club wasn't for me, you know? But I loved the farm. No-one knew me, and I loved being outdoors. I stayed the entire that summer season and I got a lot of asparagus. I love asparagus to this day!
Shortly before Whitney died, you gave away some of the mementoes of your time together. I wondered what you parted with, and what you decided to keep?
I presented a lot of gold and platinum discs to the Whitney Houston Academy of Performing Arts, which is the grammar school that she attended. But I kept the plaques for The Star Spangled Banner and her first single, You Give Good Love. And I kept letters from people around the world, heads of state like Nelson Mandela. All my tour books I kept, you know, different notes, And the Bible Whitney gave me, I kept.
Do you still listen to her music?
After I left the company, I didn't listen to her music for a while. And then one day I listened to Exhale. which was one of my mother's favourites. And then I played The Greatest Love Of All for my daughter and she she loved it. I mean, I found her playing it in her room on her Alexa. And so, lately, you know, I have a couple of favourites including the Preacher's Wife.
So it's mainly the gospel songs?
Oh, yeah. I mean, I listen to a lot of gospel music, and even if it's not the Preacher's Wife, it is the gospel music that Whitney played – like Fred Hammond, Yolanda Adams, Persuaded, Through The Storm. She loved gospel music. It's the music she loved to sing most.
Follow us on Facebook, or on Twitter @BBCNewsEnts. If you have a story suggestion email entertainment.news@bbc.co.uk.
The art of hunting down stolen treasures
Only a day after it was plumbed into one of Blenheim Palace's grand rooms, a solid gold toilet created by artist Maurizio Cattelan was ripped out and stolen.
More than two months later, police are seemingly no closer to bringing charges over the raid, described as being like something from a "heist movie".
Renowned art detective Charley Hill explains the complexities of solving such crimes.
Mr Hill knows what he's talking about, having helped solve one of the most high-profile art crimes of the 20th Century – the 1994 theft from an Oslo museum of an 1893 version of Edvard Munch's The Scream.
The Norwegian authorities called in Mr Hill's then employers, the Metropolitan Police, for help in finding the painting, which was taken with embarrassing ease. Posing as a "slightly dodgy, mid Atlantic-accented art dealer", the undercover detective sergeant managed to make contact with the criminals responsible.
Beforehand, Mr Hill had done his homework. "In that particular version, the original version, he [Munch] blew a candle out on it. I made a particular point of memorising exactly how those candle wax drops looked."
Having persuaded the thieves he was willing to buy the painting, they took him to a summerhouse where the artwork was stored in a basement. "I knew the picture was right straight away because I checked the wax."
Before his involvement in the recovery of The Scream in May 1994, Mr Hill's most successful case was leading the 1993 investigation that found paintings by Vermeer and Goya, which had been stolen seven years earlier from Russborough House in County Wicklow.
His "eye" for such cases led to him heading up his own art theft squad at the Met. "I look at things and I can see whether they are real, unreal, or old or new. I can do things like that," he says.
He left the police in 1997, but his global reputation means he is never short of clients. Mr Hill is usually contacted by victims and he then decides whether he wants to take on the case.
His days of creating fake identities are over and he doesn't conduct undercover operations any more. Now Mr Hill's central tactic is a simple one – "talking to people".
"It's the only way, effectively; you'll find out what's going on, who's done what and in my case where things are." He says he doesn't "deal in ransoms" or "engage in 'art-napping'" but relies on his "very useful" reputation to recover stolen treasures.
"When I talk to people, like the convicted criminal I spoke to a couple of nights ago… she knows about me and is interested in meeting me and talking to me," the 72-year-old says.
Speaking to those "who have access" but are "generally quite far down the line from the actual thieves" is one important tactic. Mr Hill says those who supply information to complete the jigsaw can include informants, experts and in some cases, convicted criminals.
Mr Hill loves art, a passion that started as a child in the US, where, because of his American father, he spent his school years. While he accepts there's a "romantic view of art theft", he actually finds it a "depressing" crime.
"I believe these are works of creation by human beings, that these inanimate objects have lives of their own… they are worth preserving, protecting and keeping for us and future generations."
You might also be interested in:
Since going freelance, the Vietnam veteran says his perspective has changed somewhat.
"I have got no interest at all in arresting people, however with this kind of crime you want to get these things back, and sticking somebody up in front of a court is pointless – it doesn't actually recover these things.
"I do a lot of research but my main tool in my kitbag is my capacity to talk to people and go back later and talk to them again."
In the course of getting the information he needs, Mr Hill says he sometimes turns a blind eye when "people tell me about things I can do nothing about".
He admits some see his work as meddling – or even something that's "outrageous and shouldn't be done".
"I never break the law, but I do [annoy] the police," he adds. "I wouldn't say I'm a rogue because I am not dishonest. I'm not doing it for some ideological or commercial gain."
So what does he think has happened to the gold toilet?
A month before it was stolen, Edward Spencer-Churchill – half-brother of the Duke of Marlborough – said the artwork was "not going to be the easiest thing to nick". The thieves thought differently.
Mr Hill, who lives in Richmond in south-west London, doesn't believe the toilet was taken to order for a rich client – "the stuff in movies is by and large rubbish" – and is doubtful whether the piece even exists any more.
Because as a work of art it will have been "meaningless" to the thieves, his view is a mob of low-level criminals will have destroyed it. "All they know is that it's made of gold and they have a few bob coming if they cut it up, melt it down and flog the gold," he says.
It's safe to say the owner of the toilet is unlikely to call in Mr Hill to crack this crime, but he isn't short of work.
He says he's close to solving the theft of 13 artworks from the Isabella Stewart Gardner Museum in Boston in 1990 – a case he's been working on for more than 25 years.
The museum is offering a reward of $10m (£7.75m) for information leading directly to the recovery of all 13 works in good condition, but for Mr Hill – who says these days he only asks for his clients to cover his expenses – it isn't about the money.
"I love art and I know the important thing is to get the stuff back," he says. "Someone has got to do it; who else is going to get these things back if I don't try?"
I'm A Celebrity: ITV ends 'bushtucker trials' that include eating live bugs
Live insects will not be eaten in this year's I'm A Celebrity, in a "permanent" change to the reality TV show.
I'm A Celebrity has previously been criticised for using live bugs in its 'bushtucker trials'.
Some tasks on the ITV show have included insects being eaten alive or dumped onto contestants.
The stars could still be covered in bugs during filming in Australia but any eaten will already be dead.
"Producers have taken a look at the trials and decided that no live critters would be eaten in the trials this year," BBC Radio 1 Newsbeat has been told.
An ITV source said: "They have been planning this for some time and actually last year beach worms were the only critters eaten live but this time around they've decided to implement the change fully and permanently."
This year's line-up includes former Girls Aloud singer Nadine Coyle, ex-footballer and broadcaster Ian Wright and Radio 1 DJ Adele Roberts.
'Eating live invertebrates was abuse'
The move has been welcomed by wildlife presenter Chris Packham, who says he's "very pleased" at ITV's decision, but describes it as "a first step."
"I hope this is the start of some significant change," he told BBC Radio 5 Live.
"What's long concerned me about the programme is that is portrays animals in the wrong way.
"There was never any ambiguity that eating live invertebrates was abuse and also exploitation for entertainment."
Chris also criticised the show for stereotyping animals like rats and snakes as "bad organism."
He also said he thought ITV's decision was part of a change in global thinking due to the current climate crisis.
"We're going to have to make changes," he added.
"That means you and I making changes in our lives, that means TV producers making changes in the way they make their programmes."
I'm A Celebrity starts on ITV on Sunday evening.
Follow Newsbeat on Instagram, Facebook, Twitter and YouTube.
Listen to Newsbeat live at 12:45 and 17:45 weekdays – or listen back here.