Emmy Griffiths

Ralf Little has opened up about making history on Death in Paradise – and we're amazed!

Death in Paradise star Ralf Little has made history on the hit murder mystery show as the longest-serving detective! The actor, who plays DI Neville Parker on the BBC show, has been the detective for four seasons and two Christmas specials – from joining in season nine to the upcoming season 12.
MORE: Kris Marshall is back as DI Humphrey Goodman in first look at Beyond Paradise
He is followed closely behind by Kris Marshall, who played Humphrey Goodman for four seasons, while Ardal left the show mid-way through season nine, also with four seasons under his belt. The first detective, Ben Miller, starred in the show for two series.
WATCH: Death in Paradise's Ralf Little stuns fans with very revealing video
Speaking about becoming the longest-running detective, Ralf told HELLO! and other reporters: "I think officially I am now which I didn't expect and it does mean a lot to me, actually. It does.
MORE: Josephine Jobert shares nostalgic Death in Paradise 'souvenir' after quitting show
MORE: Ralf Little gives warning about character in Death in Paradise season 12 
"I think it's really, really fulfilling and flattering to have been able to do it for as long as I have. Like Neville, I joked about him having his feet under the table but still having his challenges, this is a challenging job. It is beautiful, but it does have its challenges. It's exhausting. It's physically demanding. It's relentless in terms of every day you're out there and it's hot and tiring and mentally tiring. Like when you work hard. We do. But I just love it."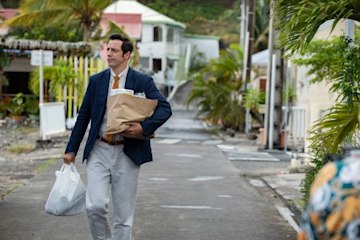 Ralf opened up about the 'honour' 
The Two Pints of Lager actor continued: "This island is fully home for me now as well, because I spend so much time between England and America as well in my actual life because of my other half, by a huge margin the place I spend most time at during the year now is Guadeloupe so this is more my home than anywhere, and I just love it."
Ralf will return as Neville for the upcoming Christmas special and season 12, where it appears that love is finally on the horizon for the detective. We can't wait to tune in!
Like this story? Sign up to our What to Watch newsletter and get the heads-up on the shows and films everyone's talking about.

Credit: Source link