David Beckham sleeping film plays at hospital he was born in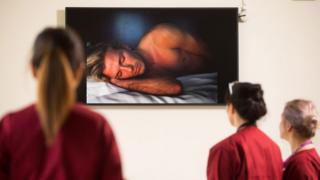 An hour-long video of former footballer David Beckham sleeping has gone on show at the London hospital he was born in.
Sam Taylor-Johnson's artwork has been loaned to the ultrasound department at Whipps Cross Hospital in Leytonstone, east London, until March 2020.
Unveiled in 2004, David shows England's then-football captain getting 40 winks after a Real Madrid training session.
The National Portrait Gallery's Sarah Tinsley said both artist and subject were "very happy" with the loan.
Sleeping Beckham makes art debut
Beckham, now 44, was born in the hospital's maternity unit in 1975 and grew up nearby.
Taylor-Johnson was commissioned to create a portrait of him in 2002, when she was known as Sam Taylor-Wood.
The Fifty Shades of Grey director has previously called the piece, which plays on a continuous loop, a "meditation on celebrity".
"We looked at a number of different venues with a relationship to David Beckham, including a railway station, a school and a football ground," said Tinsley.
"In the end, the hospital seemed to provide the best environment for showing the work.
"What this space provides is a moment of quietness while people are waiting for appointments or coming out," she continued.
"The work is a very peaceful, very intimate, different kind of portrait [that] provides people with something very quiet [and] peaceful to look at."
The loan is part of the National Portrait Gallery's Coming Home project, which involves portraits of 50 individuals travelling to places which which they are closely associated.
Follow us on Facebook, or on Twitter @BBCNewsEnts. If you have a story suggestion email entertainment.news@bbc.co.uk.
Heather Couper: Broadcaster and astronomer dies at 70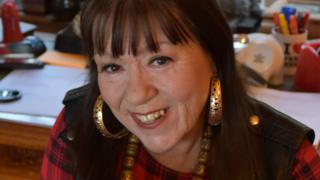 Broadcaster and astronomer Heather Couper has died at the age of 70.
Dr Couper appeared on the BBC's Blue Peter and The Sky At Night programmes, as well as presenting and producing acclaimed science documentaries.
She also hosted radio series including the BBC World Service's long-running Seeing Stars and BBC Radio 4's Cosmic Quest and Starwatch.
Her best friend and business partner, Nigel Henbest, said she had died on Wednesday after a short illness.
She had been a "charismatic… and passionate communicator of science", he said.
"She got people really excited about the Universe and about space – that was her love, her passion in life."
Born in 1949, she fell in love with astronomy as a child and recalled a day, in 1968, when she had realised astronomy was not just "for shambolic old men in tweed jackets any more".
She went home and wrote in her diary: "I want to help knowledge. I want to make known and publicise science."
So she left her management trainee job at Top Shop to become a research assistant at the Institute of Astronomy in Cambridge.
Her big break came when she was asked to appear as a guest on Sir Patrick Moore's The Sky At Night.
Sir Patrick later recalled: "Of course, she wrote to me when she was a little girl and said, 'Is there any future for me in astronomy?' And I said, 'Of course there is.' And I tried to give her a hand."
Astronaut application
She also presented the 1981 ITV children's series Heavens Above and, in 1984, became the first female president of the British Astronomical Association.
Four years later, she co-founded a film and TV production company, then, in 1993, took up the chair of astronomy at Gresham College, a post previously held by Sir Isaac Newton and Sir Christopher Wren.
She and Dr Henbest co-wrote dozens of books as well as monthly astronomy columns for the Independent, the last of which was published on 6 February.
The pair even applied to be the first British astronauts, Dr Couper told the Guardian in 1993, but were quickly rejected.
"They wanted someone technologically on the ball, someone who would know what buttons to press in an emergency," she said.
"If something blew up, I would think, 'Oh Christ! What wire goes where?'"
Pop Smoke: Rapper shot dead in apparent robbery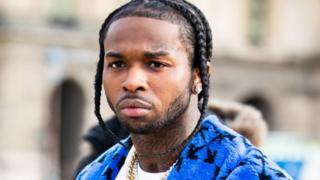 The US rapper Pop Smoke has been killed, after an apparent armed robbery.
Los Angeles Police told Radio 1 Newsbeat a man was shot at his home and later pronounced dead, although didn't confirm his identity.
But his label Republic Records says it's "devastated by the unexpected and tragic loss of Pop Smoke".
Police responded to reports of a robbery – and man was then taken to hospital and later pronounced dead.
Officers confirmed that an unknown number of suspects entered a property in West Hollywood.
They got a call about a robbery at 04:55 PST and were at the scene six minutes later.
Police say no suspects have been identified and no arrests have been made.
They also denied reports that a man was held at the scene but say one suspect is thought to have had a handgun.
Pop Smoke was signed to Republic Records which has said in a statement "our prayers and thoughts go out to his family, friends and fans, as we mourn this loss together."
When reports first appeared in the US tributes began flooding in for Pop Smoke, real name Bashar Barakah Jackson – including from friends.
Pop Smoke had a breakout hit with Welcome to the Party in 2019 – which led to him being singled out as an artist to watch this year by BBC Radio 1Xtra, on the station's Hot For 2020 list.
The station said he "possessed the air and cadence of a rapper who has been in the game for a decade or two longer than his actual age".
The track ended up being remixed by both Nicki Minaj and Skepta.
Just last week Pop Smoke was a guest on DJ Target's show on 1Xtra.
He was in the middle of several US tour dates and was due to come to the UK in April – with shows scheduled in London, Manchester and Birmingham.
50 Cent was one of many rappers, DJs and producers that paid tribute on social media, as did rapper Quavo, who Pop Smoke had collaborated with.
Last year he spoke about wanting to make music that inspires children who are growing up in poverty.
He told The Face: "I make music for that kid in the hood that's gotta share a bedroom with like four kids – the young kids growing up in poverty.
"I make music for kids like that who know they just gotta keep going, that there's a better way. That's who I really make it for."
Follow Newsbeat on Instagram, Facebook, Twitter and YouTube.
Listen to Newsbeat live at 12:45 and 17:45 weekdays – or listen back here.
Jimmy Tarbuck: Comedian reveals prostate cancer diagnosis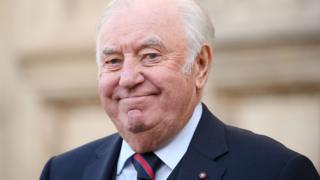 Comedian Jimmy Tarbuck has revealed he has been diagnosed with prostate cancer.
The veteran Liverpudlian comic told ITV's Good Morning Britain he would "try and beat it".
Tarbuck said he received the diagnosis the day after his 80th birthday earlier this month.
"Right now I feel great. I'm on the telly and I'm having a good time," he said, adding that the cancer had not spread.
He was inspired to get checked by Sir Rod Stewart, who announced in September that he had received treatment for prostate cancer.
"All men out there watching, and all wives, get your husbands to go for the tests. I think after 50, just have a test, let them have a look at you," Tarbuck said.
"You will be relieved and be with your families for extra years."
He said men can be too "shy" to get tested, but urged them not to put it off. "Boys, go. It is embarrassing. Especially when the fella said to me 'We're going to give you the thumbs up'. I said 'I hope not'. He roared laughing."
Speaking about his treatment, he added: "I'm having injections and taking tablets and then I take a yearly cycle."
Tarbuck, who rose to fame in the 1960s and was known for hosting variety shows including Sunday Night At The London Palladium and Live From Her Majesty's, is now planning to go on tour.
Follow us on Facebook, or on Twitter @BBCNewsEnts. If you have a story suggestion email entertainment.news@bbc.co.uk.