Danny Aiello, Do The Right Thing actor, dies at 86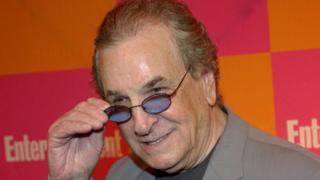 Veteran film actor Danny Aiello, known for his roles in the movies Do The Right Thing The Godfather Part II, has died aged 86.
He also played Madonna's father in the 1986 video for Papa Don't Preach.
His family said with "profound sorrow" in a statement that he died after a short illness.
A veteran of stage and film, Aiello was best known for playing the pizza parlour owner Sal in Spike Lee's 1989 Do the Right Thing.
The role earned him a best supporting actor Oscar nomination. He also played the hesitant fiancé of Cher's character, Loretta, in Moonstruck in 1987.
"It is with profound sorrow to report that Danny Aiello, beloved husband, father, grandfather, actor and musician passed away last night after a brief illness," the family said, in a statement to the BBC from his literary agent Jennifer De Chiara.
"The family asks for privacy at this time. Service arrangements will be announced at a later date."
Film maker Kevin Smith paid tribute to Aiello for his role in Do the Right Thing.
In The Godfather Part II, Aiello had a relatively small part as small-time gangster Tony Rosato but he made the role his own by uttering the famous line, "Michael Corleone says hello!" during a raid on gang rival Frank Pentangel.
Aiello's big acting break came in the early 1970s in the baseball drama Bang the Drum Slowly, starring Robert De Niro.
His other credits include Fort Apache the Bronx, Once Upon a Time in America, again with Robert de Niro, The Purple Rose of Cairo and Hudson Hawk.
Full Metal Jacket actor Matthew Modine paid tribute to his "love, wisdom, talents and grace", while Mia Farrow said he was a "lovely person".
Aiello also had a stage career on Broadway, appearing in shows including Gemini, The Floating Light Bulb, Hurlyburly, and The House of Blue Leaves and Wheelbarrown's Close.
In July 2011, he appeared Off Broadway in the two-act drama The Shoemaker, written by Susan Charlotte and directed by Antony Marsellis.
As well as acting, Aiello had a singing career, he released several big -and style albums including Live from Atlantic City in 2008.
In 1990 he told People magazine: "You know, I've only been in this business 17 years.
"For actors, that's no time at all. Everything is happening so damn fast. It's like a beautiful dream that never seems to end."
Baggage clerk and bouncer
Aiello, the fifth of six children, was born on West 68th Street, Manhattan
At the age of 16, he lied about his age to enlist in the US Army. After serving for three years, he returned to New York City and did various jobs in order to support himself and later his family.
With limited education and few skills, Aiello jumped at the chance offered by his wife's uncle to become a baggage clerk for Greyhound.
Later however he worked as a bouncer in a string of tough after-hours clubs in Queens and Manhattan.
To support his wife and four children, he would take any odd job going.
So for Aiello, the theatre was pretty much a shot in the dark gamble – one which paid off.
Directors began to respond to the Aiello's raw intensity and when Robert De Niro turned down the role of Sal in Lee's film, he was recommended to take his place.
The roles continued to come his way. He had bit parts in feature films and won and Emmy in 1980 for the TV show A Family of Strangers.
Later Woody Allen offered him the role in Purple Rose of Cairo, and then he was asked to be in Madonna's video, followed by stage success as a drug-taking TV actor in Hurlyburly.
High salary
After Do the Right Thing, Aiello worked in the TV movie The Preppie Murder, then took some time out for his family.
In the early 1990s, he was still one of the highest-paid character actors in Hollywood, commanding at least $750,000 a film, he told People magazine.
He went on to do the films Once Around with Holly Hunter and Hawk with Bruce Willis, and he also made a Broadway appearance with Harvey Keitel in Those the River Keeps.
He is survived by his wife, Sandy Cohen, and their three children.
---
Follow us on Facebook or on Twitter. If you have a story suggestion email entertainment.news@bbc.co.uk.
Billie Eilish lands number one with James Bond theme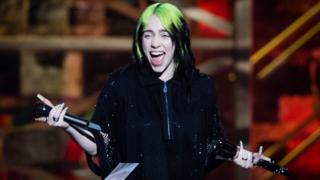 No Time To Die by Billie Eilish has become only the second-ever James Bond theme song to reach the top of the UK singles chart.
Sam Smith had the only other 007 chart success, when Writing's On The Wall from Spectre went top in 2015.
Eilish, who turned 18 in December, is the youngest artist ever to record a track for the Bond franchise.
The star performed No Time to Die live for the first time this week, at the Brit Awards in London.
She also picked up the prize for best international female at the ceremony.
Billie Eilish's Bond theme is dramatic and audacious
The Brits mark turning 40 by refusing to look back
No Time To Die racked up 90,000 equivalent chart sales in its first week; including 10.6 million streams.
That makes it the biggest track of the year so far and also the fastest-selling Bond song (Smith's shifted 70,000 in its first week).
'Insane writer's block'
Speaking to BBC Breakfast this week, Eilish said that her and brother/musical partner Finneas O'Connell had suffered an "intense amount of writer's block" as soon as they were given the nod to produce the track.
Having made an unsuccessful attempt at writing it in a traditional recording studio, they eventually came up with the goods while on the road.
"We wrote and recorded the Bond song on a tour bus in Texas," explained O'Connell.
A meeting with the Bond film boss Barbara Broccoli in Ireland, following one of their live shows, helped the writing process as she gave then "a little hint of the first scene".
Broccoli followed that up by sending the pair the script for the opening sequence.
"It was so cool to read that," said Eilish. "It was really helpful, it really wrote the song for us, I think".
The finished song is a dramatic, unsettling ballad that hints the plot will centre around the secret agent's betrayal, the BBC's Mark Savage noted last week.
The lyrics to No Time To Die reference lies and deceit, as Eilish sings: "You were never on my side."
Daniel Craig's final outing as the world's most famous British secret agent arrives in cinemas in April, and Eilish said the actor had a "big say" in who wrote the film's opening track.
She admitted they'd already seen a "half-done" version of version of the film (minus their track), which looked "amazing".
The star performed the new song alongside an orchestra, Smiths guitarist Johnny Marr and composer Han Zimmer at Tuesday's Brit Awards.
Speaking to the BBC's Colin Paterson backstage, she dedicated the performance to her fans.
"It was really nice that there were fans right up front that I could look at and smile at. I feel like that was the peak of it for me," she said.
"They always prove to me every time I doubt myself that I don't need to, because they are there."
She added: "They really make me feel better about myself and make me feel like everything I do is worth it… I'm human, man!"
Eilish also revealed that her own favourite ever Bond song is… Adele's Skyfall.
"I dunno, Adele is just Adele," she laughed. "You've gotta give it to her."
How have other Bond themes fared in the charts?
While Eilish and Smith reached the chart summit, two other official songs from the movie have taken the number two spot.
Duran Duran's A View To A Kill peaked at number two in 1985, as did Adele's Skyfall in 2012.
Despite winning an Oscar and a Golden Globe, Adele's effort was denied top spot by Swedish House Mafia's Don't You Worry Child.
Shirley Bassey's Goldfinger, in 1964, could only reach number 21 and when the Welsh singer returned in 1971 declaring Diamonds Are Forever, she went to number 38.
Sir Paul McCartney and his post-Beatles band Wings faired slightly better two years later with Live and Let Die reaching ninth place.
The worst performing Bond song was Rita Coolidge's All Time High which reached 75th place in the charts in 1983.
---
Eilish's 2019 album, When We All Fall Asleep Where Do We Go?, went to number one on its release in April last year, making her the youngest-ever female solo artist to top the album chart.
Almost a year on, the indefatigable record is still hanging around in fourth spot in the album charts, where this week Justin Bieber snatched his second number one with Changes.
Renewed interest in Lewis Capaldi following his Brits double win ensured he pushed Bieber all the way, while Tame Impala's new album The Slow Rush – the week's best-selling album on vinyl – went in at number three.
Fewer than 1,200 chart sales separated the top three.
---
Follow us on Facebook or on Twitter @BBCNewsEnts. If you have a story suggestion email entertainment.news@bbc.co.uk.
Newly-discovered Rembrandt work to go on display in Oxford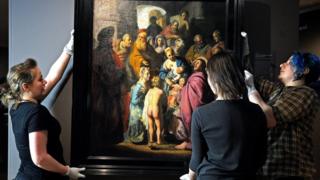 A newly-discovered Rembrandt painting will go on display for the first time, nearly 400 years since it was created.
Let The Little Children Come To Me will be shown at the Ashmolean Museum in Oxford as part of its Young Rembrandt exhibition.
The painting was discovered in 2014 by Amsterdam art dealer and historian Jan Six.
He identified a young man in the painting's background as a self-portrait by Rembrandt.
The exhibition will explore the early years of the artist's work from 1624-34.
Let The Little Children Come To Me is believed to have been painted around 1627-28.
The exhibition will feature 31 paintings by Rembrandt, 13 by his notable contemporaries and a further 90 drawings and prints from international and private collections.
Among those on display will be Rembrandt's earliest known work, The Spectacles Seller (1624-25), which is described by the museum as a "crude, garishly coloured painting by an artist struggling with his medium", as well as Jeremiah Lamenting The Destruction Of Jerusalem (1630), hailed as an "acknowledged masterpiece".
The Young Rembrandt exhibition runs from 27 February until 27 June in the John Sainsbury Exhibition Galleries.
Dot Cotton: Actress June Brown says she has left EastEnders 'for good'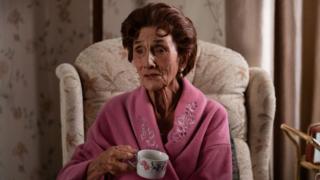 Veteran EastEnders actress June Brown has said she has left her role as much-loved character Dot Cotton after 35 years.
"I've left for good," said the 93-year-old in an interview with podcast Distinct Nostalgia.
She is one of the BBC soap's longest-running characters and has become a firm favourite with viewers.
Her character Dot has not been in an episode since January. An EastEnders spokesman said the "door remains open".
Brown joined the show in 1985, the year it was created.
In the last episode she featured in, aired last month, Dot Cotton – or Dot Branning – left a voicemail message for character Sonia Fowler saying she had moved to Ireland.
Asked by interviewer and former co-star Rani Singh whether EastEnders had put her on a retainer, Brown replied: "I don't want a retainer. I've left. I've left for good.
"I've sent myself to Ireland and that's where she'll stay. I've left EastEnders."
One of EastEnders' best-known stars, Brown was in her late 50s when she joined Albert Square.
Actor Leslie Grantham, who played Dirty Den, suggested her for the role. Until then, Brown's career had incorporated stage, film and television, with appearances in Coronation Street and Doctor Who.
"I think I got it because they thought I was a punctual actress," Brown told the podcast, which aired a special episode to celebrate 35 years of EastEnders.
"I'm not really but I became so. In fact I became so punctual I used to be in an hour before I should be."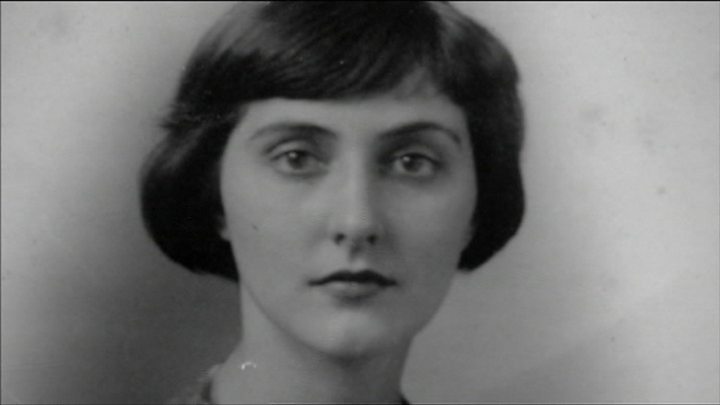 She said it "was a very strange feeling" leaving the soap.
"I was feeling rather down the other day," she said. "I thought, 'what's the matter? Why do I feel so sad?' It's almost as if I've been bereaved.
"I've played two people simultaneously for 35 years. Really Dot wasn't me, but spiritually she probably was."
Brown took a four-year break from the soap between 1993 and 1997
In 2008, Brown became the first actor in a British soap to carry an entire episode alone, with an emotional monologue dictated to a cassette for her screen husband to listen to in hospital following a stroke.
That same year she was made an MBE for services to drama and charity.
Last year, Brown revealed she was losing her sight after being diagnosed with age-related macular degeneration and could no longer recognise her friends.
An EastEnders spokesman said: "We never discuss artists' contracts, however as far as EastEnders are concerned the door remains open for June, as it always has if the story arises and if June wishes to take part."