Danny Aiello, Do The Right Thing actor, dies at 86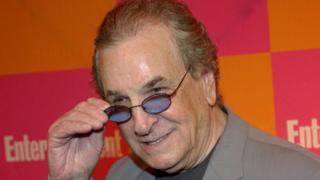 Veteran film actor Danny Aiello, known for his roles in the movies Do The Right Thing The Godfather Part II, has died aged 86.
He also played Madonna's father in the 1986 video for Papa Don't Preach.
His family said with "profound sorrow" in a statement that he died after a short illness.
A veteran of stage and film, Aiello was best known for playing the pizza parlour owner Sal in Spike Lee's 1989 Do the Right Thing.
The role earned him a best supporting actor Oscar nomination. He also played the hesitant fiancé of Cher's character, Loretta, in Moonstruck in 1987.
"It is with profound sorrow to report that Danny Aiello, beloved husband, father, grandfather, actor and musician passed away last night after a brief illness," the family said, in a statement to the BBC from his literary agent Jennifer De Chiara.
"The family asks for privacy at this time. Service arrangements will be announced at a later date."
Film maker Kevin Smith paid tribute to Aiello for his role in Do the Right Thing.
In The Godfather Part II, Aiello had a relatively small part as small-time gangster Tony Rosato but he made the role his own by uttering the famous line, "Michael Corleone says hello!" during a raid on gang rival Frank Pentangel.
Aiello's big acting break came in the early 1970s in the baseball drama Bang the Drum Slowly, starring Robert De Niro.
His other credits include Fort Apache the Bronx, Once Upon a Time in America, again with Robert de Niro, The Purple Rose of Cairo and Hudson Hawk.
Full Metal Jacket actor Matthew Modine paid tribute to his "love, wisdom, talents and grace", while Mia Farrow said he was a "lovely person".
Aiello also had a stage career on Broadway, appearing in shows including Gemini, The Floating Light Bulb, Hurlyburly, and The House of Blue Leaves and Wheelbarrown's Close.
In July 2011, he appeared Off Broadway in the two-act drama The Shoemaker, written by Susan Charlotte and directed by Antony Marsellis.
As well as acting, Aiello had a singing career, he released several big -and style albums including Live from Atlantic City in 2008.
In 1990 he told People magazine: "You know, I've only been in this business 17 years.
"For actors, that's no time at all. Everything is happening so damn fast. It's like a beautiful dream that never seems to end."
Baggage clerk and bouncer
Aiello, the fifth of six children, was born on West 68th Street, Manhattan
At the age of 16, he lied about his age to enlist in the US Army. After serving for three years, he returned to New York City and did various jobs in order to support himself and later his family.
With limited education and few skills, Aiello jumped at the chance offered by his wife's uncle to become a baggage clerk for Greyhound.
Later however he worked as a bouncer in a string of tough after-hours clubs in Queens and Manhattan.
To support his wife and four children, he would take any odd job going.
So for Aiello, the theatre was pretty much a shot in the dark gamble – one which paid off.
Directors began to respond to the Aiello's raw intensity and when Robert De Niro turned down the role of Sal in Lee's film, he was recommended to take his place.
The roles continued to come his way. He had bit parts in feature films and won and Emmy in 1980 for the TV show A Family of Strangers.
Later Woody Allen offered him the role in Purple Rose of Cairo, and then he was asked to be in Madonna's video, followed by stage success as a drug-taking TV actor in Hurlyburly.
High salary
After Do the Right Thing, Aiello worked in the TV movie The Preppie Murder, then took some time out for his family.
In the early 1990s, he was still one of the highest-paid character actors in Hollywood, commanding at least $750,000 a film, he told People magazine.
He went on to do the films Once Around with Holly Hunter and Hawk with Bruce Willis, and he also made a Broadway appearance with Harvey Keitel in Those the River Keeps.
He is survived by his wife, Sandy Cohen, and their three children.
---
Follow us on Facebook or on Twitter. If you have a story suggestion email entertainment.news@bbc.co.uk.
Coronavirus lockdown: Clubbers go online for music


With the coronavirus lockdown bringing normal nightlife to an end, some enterprising DJs are going online.



Source link
You'll Never Walk Alone tops coronavirus 'lockdown chart'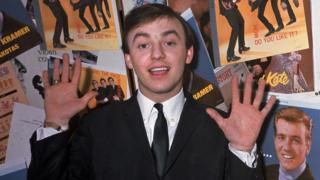 You'll Never Walk Alone by Gerry and the Pacemakers has topped a chart of classic songs that are enjoying renewed popularity amid the coronavirus crisis.
The Official Charts Company's "lockdown listening list" is based on the tunes that have seen the biggest increases in plays on streaming services this week.
You'll Never Walk Alone was up 150% after dozens of radio stations came together to play it last Friday.
Tracks by Akon, Frank Ocean and The Police also featured in the top five.
The UK is tuning in to a mixture of "uplifting classics, 'apocalyptic' isolation songs and kids' favourites", the OCC said.
Akon takes two spots in the top five with with his newly relevant hits Locked Up and Lonely.
The Police's Don't Stand So Close To Me is in third place, while Frank Ocean's Lost is at number four.
Elsewhere, REM's It's the End of the World as We Know It is at eight, just behind John Lennon's Imagine, which recently inspired Wonder Woman actress Gal Gadot to co-ordinate a star-studded sing-along.
Official UK Charts Company's Lockdown List
1.
You'll Never Walk Alone
Gerry and the Pacemakers
2.
Locked Up
Akon
3.
Don't Stand So Close To Me
The Police
4.
Lost
Frank Ocean
5.
Lonely
Akon
6.
Move Your Feet
Junior Senior
7.
Imagine
John Lennon
8.
It's the End of the World as We Know It
REM
9.
Reach
S Club 7
10.
Everybody Hurts
REM
The Official Charts Company used Spotify, Apple Music, YouTube and other services to track the fastest-growing catalogue songs this week.
You'll Never Walk Alone originally featured in the 1945 stage musical Carousel, before Gerry and the Pacemakers' Merseybeat cover version topped the UK chart in 1963.
This week's popular children's songs include I Am Your Gummy Bear by German cartoon character Gummy Bear, and Disney soundtrack songs like Under the Sea and Hakuna Matata, from The Little Mermaid and The Lion King respectively.
Official Charts Company chief executive Martin Talbot said: "The music that we are listening to reflects how we are all coping in different ways – using it to lift our spirits, give us a laugh or bring us together with our families."
However, figures released earlier this week suggested use of music-streaming apps had declined during the pandemic while radio listening has increased, as fewer people commute and more stay at home.
8 new TV shows for life on lockdown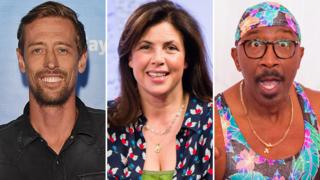 In light of our current predicament, UK broadcasters have been hastily coming up with ideas for new TV shows to make life indoors a bit more bearable.
After some lengthy Zoom brainstorms, TV executives have dreamed up new formats (or rehashed those already in the pipeline) to respond to the coronavirus pandemic.
They have lined up Peter Crouch to Save Our Summer, Kirstie Allsopp to make do and mend, and Gareth Malone to assemble socially-distanced singers – among other ideas.
1. Peter Crouch: Save Our Summer – BBC One
Not for the first time, Peter Crouch has been called upon to serve his country. This time it's not on the football field, but as host of a new primetime entertainment show.
The former England international and newfound podcaster has been given the unenviable task of saving a summer that we might have to spend largely behind closed doors, and which no longer includes Euro 2020, the Olympics, or Glastonbury.
Crouch will be joined by BBC Radio 1 presenter Maya Jama and comedian Alex Horne for a series that is billed as "an entertainment show like no other for a time like no other".
It promises to "remotely bring audiences live music, replacement sports action, exclusive comedy, celebrity guests, interactive audience fun".
2. Kirstie's House of Craft – Channel 4
Cometh the hour, cometh the woman and her Lockdown Craft Club.
Kirstie Allsopp will, according to a press release, "be helping the nation get through lockdown by offering creative ideas and crafty projects for the whole family".
Her daily show will give us tips, tricks and skills for making stuff with simple materials that are lying around the house.
3. Lockdown Wedding Live – Channel 4
Like a bouquet thrown by the bride, many people's summer wedding plans are up in the air.
One bride and groom whose nuptials were in doubt will go ahead with their big day – except with the nation watching live and with Fred Sirieix (pictured) overseeing proceedings.
4. Museums In Quarantine – BBC Four
With museums and galleries having shut their doors, this four-part series promises a glimpse at what you could have seen.
There will be episodes on the Andy Warhol exhibition at Tate Modern (pictured) – which lasted less than a week before being shut – as well as Young Rembrandt at the Ashmolean in Oxford and tours of the British Museum and Tate Britain treasures.
5. Breakfast At Garraway's – ITV
Kate Garraway, the Good Morning Britain and Smooth Radio host and self-styled wellbeing guru, is hoping to bring a ray of sunshine to our Saturday mornings.
The show was actually announced a month ago, but like the rest of us it has had to adapt.
With "her trademark warmth", she now promises to "bring cooped up viewers top tips from what to cook and eat, what to watch, read and exercise".
6. Grayson's Art Club – Channel 4
Grayson Perry will soon be on hand to teach you how to sculpt, draw and create.
The Turner Prize winner will be speaking to other famous artists and encouraging the nation to get creative while in quarantine.
A collection of "visual representations of the unique time we are living through as a community" will then be displayed in an exhibition.
7. HealthCheck UK Live – BBC One
From Monday on BBC One, Michelle Ackerley, Dr Xand van Tulleken, Angela Rippon and Mr Motivator (pictured) will bring "much needed advice and companionship during the coronavirus crisis".
Rippon will appear live from her home self-isolation. Together, they promise to give tips on how to boost immunity, beat boredom and stay active.
In a statement, Mr Motivator explained: "Now more than ever it is important to keep our bodies and minds healthy. Everybody say yeah, let's get happy and be wicked at home!"
8. The Choir: Britain In Lockdown – BBC Two
Choirmaster Gareth Malone has made a success of getting people singing in schools, prisons, workplaces and military barracks.
Now he's putting together The Great British Home Chorus, uniting the nation's best shower singers to bring "uplifting joy amidst these uncertain times".
More than 160,000 people joined the first YouTube rehearsal on Tuesday.
Follow us on Facebook, or on Twitter @BBCNewsEnts. If you have a story suggestion email entertainment.news@bbc.co.uk.