Daddy Yankee, Stormzy and Billie Eilish are YouTube's most-watched of 2019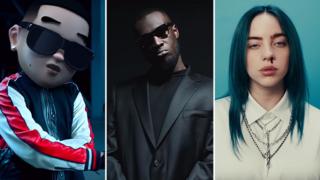 Stormzy's infectious single Vossi Bop was the most-watched music video of 2019 in the UK, YouTube has revealed.
Based around a viral dance craze, the video sees the star rapping on Westminster Bridge and features a cameo from Idris Elba.
Sam Smith and Normani's Dancing With A Stranger was the second-biggest video. Billie Eilish's Bad Guy came third.
Outside the UK, Latin music dominated, accounting for all of YouTube's top five music videos.
Top of the list is Daddy Yankee's Con Calma – which interpolates Snow's 1990s rap classic Informer; while electro-flamenco singer Rosalía takes second place with the earworm groove of Con Altura.
It's the third year in a row that a Latin song has topped YouTube's global chart. In 2018, the honour went to Nio García's Te Boté; while in 2017, it was Luis Fonsi and Daddy Yankee's Despacito (which is the most-viewed video in the site's history, with 6.5bn views).
The figures reflect Latin America's increasing importance to the music industry: It's the world's fastest-growing music market – revenues increased by 16.8% last year, with Brazil the largest contributor.
YouTube users can't stop streaming Latin Pop
Spotify reveals decade's most-streamed songs
"Without any doubt, there was always huge music consumption in Brazil – it's a country that truly has music at its heart – but, due to copyright infringement, this was never recognised," said Afo Verde, chairman of Sony Music Latin Iberia, earlier this year.
"When consumption began to take the form of streaming, the results were impressive."
"I think it has been a sleeping giant for years and years, and the reality is that it's a country with more than 200 million people. And it's a country that loves music," added Jesus López, chairman of Universal Music Latin America.
However, the spectre of piracy still looms over the market. It's notable that Latin artists thrive on YouTube, an advertising-supported platform, but have a lesser impact on services like Spotify and Apple, which generate larger revenues through monthly subscriptions.
Both Spotify and Apple Music released their own most-streamed charts this week, and artists like Daddy Yankee were conspicuously absent; with Western stars like Camila Cabello, Lil Nas X and Post Malone populating the countdown.
You can compare the various charts below:
Most-streamed songs of 2019 (UK)
Spotify
Apple Music
YouTube
1) Someone You Loved – Lewis Capaldi
1) Someone You Loved – Lewis Capaldi
1) Vossi Bop – Stormzy
2) Bad Guy – Billie Eilish
2) Old Town Road – Lil Nas X
2) Dancing With A Stranger – Sam Smith & Normani
3) I Don't Care – Ed Sheeran & Justin Bieber
3) Thank U, Next – Ariana Grande
3) Bad Guy – Billie Eilish
4) Vossi Bop – Stormzy
4) Location – Dave ft Burna Boy
4) 7 Rings – Ariana Grande
5) 7 Rings – Ariana Grande
5) Sweet But Psycho – Ava Max
5) Old Town Road – Lil Nas X
Most-streamed songs of 2019 (Global)
Spotify
Apple Music
YouTube
1) Senorita – Camila Cabello & Shawn Mendes
1) Old Town Road – Lil Nas X
1) Con Calma – Daddy Yankee & Snow
2) Bad Guy – Billie Eilish
2) Sunflower – Post Malone & Swae Lee
2) Con Altura – Rosalia & J Balvin
3) Sunflower – Post Malone & Swae Lee
3) Thank U, Next – Ariana Grande
3) Secreto – Anuel AA, Karol G
4) 7 Rings – Ariana Grande
4) 7 Rings – Ariana Grande
4) China – Anuel AA, Daddy Yankee, Karol G
5) Old Town Road – Lil Nas X
5) Bad Guy – Billie Eilish
5) No Me Concoce – Jhay Cortez, J Balvin, Bad Bunny
Apple also released data about the year's most searched-for songs on the music discovery app Shazam – with Lewis Capaldi's Someone You Loved coming out on top.
Meanwhile, Joel Corry's sad-banger Sorry broke the record for the most Shazams in a single day. A total of 41,000 people looked the song up after it featured in an episode of ITV 2's Love Island on 24 July.
"My phone went into meltdown when it happened," the producer said at the time. "It's got everyone talking, and helped launch the single up the Official Charts. I'm just buzzing everyone is loving Sorry!"
Most-Shazammed songs of 2019
UK
Global
1) Someone You Loved – Lewis Capaldi
1) Bad Guy – Billie Eilish
2) Piece Of Your Heart – Meduza ft. Goodboys
2) Someone You Loved – Lewis Capaldi
3) Dance Monkey – Tones And I
3) Dance Monkey – Tones And I
4) Giant – Calvin Harris & Rag 'N' Bone Man
4) Calma (Remix) – Pedro Capó & Farruko
5) Sorry – Joel Corry
5) Piece Of Your Heart – Meduza ft. Goodboys
Follow us on Facebook, or on Twitter @BBCNewsEnts. If you have a story suggestion email entertainment.news@bbc.co.uk.
Dubs or subs? Parasite renews debate on how to watch foreign films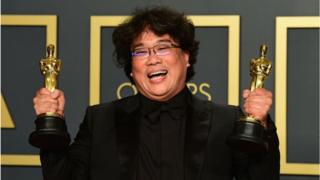 The South Korean dark comedy film Parasite had a historic awards season sweep – and in the process, reignited the debate over whether subtitles or dubbing is the best way to watch a movie that isn't in your native language.
As director Bong Joon Ho accepted the first-ever best foreign language picture Golden Globe for a South Korean film, he said: "Once you overcome the one-inch tall barrier of subtitles, you will be introduced to so many more amazing films."
Fast forward a month, and he was making history again, accepting the best picture award once more at the Oscars. Parasite's Oscar win introduced it to a broad US audience – but not everyone was in favour of watching the award winner in its original language.
Dubbing takes the stress out of enjoying a foreign film, some argued, and performances are meant to be heard, not read. The angered response from subtitle fans ranged from accusations of racism to pointing out the needs of deaf viewers.
How you watch a foreign film is a clearly personal matter, tangled in pet peeves and accessibility. But as foreign flicks are gaining more screen time before American audiences, here's a deeper dive into how we got here, and where the industry is headed.
In the early days of film, on-screen text was far from a "one-inch barrier" – it was the only way to express dialogue. Title cards were the precursor to subtitles, and they, too, were controversial in a way that mirrors the modern debate.
Stage actors would try to hide their work in silent film as many felt the lack of sound diminished the quality of the performance, Professor Marsha McKeever, academic director of New York University's Tisch School of the Arts, told the BBC.
But when conversations took place through cards instead of sound, adapting films to other languages was straightforward. As "movies" turned into "talkies", subtitling emerged as a way to hold onto a lucrative foreign market.
It has since become the preferred way for film critics and connoisseurs to view foreign language features. NYU faculty, for example, would be unlikely to show a dub in class, the university's graduate film department said.
For Prof McKeever, who is also a sound and picture editor, much of enjoying a movie boils down to what you hear.
"We react so emotionally to sound. That's why films are scored, that's why dialogue is important."
If a dub has sub-par voice acting or doesn't properly sync with what you see on screen, it can negatively affect your perception, Prof McKeever says. With subtitles, the audience both sees the original performance and hears the original emotion.
"Your brain is so used to hearing emotion in language that it will get the meaning behind the subtitle through the performance by the actor in the original language. You hear if they're sad, if they're happy."
Regardless of what film purists say, however, dubbing is on the rise.
For that, you can blame Netflix.
In October, Netflix reported it had more subscribers outside the US – nearly 100 million – than domestically, where just over 60 million pay for the service.
The streaming giant is driving the dubbing business by producing content around the world and localising it for a number of markets, says Jeff Howell, a vocal coach and director who works with Netflix.
To "localise" a production, the original studio hires professionals to analyse scenes and translate them to a new language.
Mr Howell has worked both as a vocal director and an "adapter" who works on casting and direction. "We spend quite a bit of time casting, sometimes we have to read-to-picture to make sure the voice sounds like it's coming out of that mouth," he says.
Dubbing has a bad reputation because, for years, it was badly done, he says – there was a lack of attention to detail to the voice acting and post-production processes.
But today, professionals are focusing on ways to make it better, carefully interpreting scripts and taking into consideration things like "lip flap" – when the mouth movement and dubbed-over voice do not sync up.
Dubbing defenders say that modern viewing habits make it superior to subtitles.
Mr Howell argues that dubbing is better for audiences as they increasingly view films and series on small, portable screens. "You can't read subtitles on a phone or iPad, really," he says.
And dubbing is easier on the brain. Getting information from a caption requires eye movements across a screen, cognitive input to interpret the words while also paying attention to the action on the screen.
An educated US adult can do all three fluently, says Prof Charles Perfetti, a cognitive science professor at the University of Pittsburgh, but a less skilled reader will find it taxing.
For viewers with visual impairments, those cannot read or have conditions like dyslexia, dubbing is the only way they can enjoy media in non-native languages.
Outside the English-speaking world, dubbing has been less controversial. Much of Europe opts for dubbing in lieu of subtitles, though the latter is cheaper. Germany, Italy and France have dubbed foreign films since the 1930s – even as early critics blasted the process as "witchcraft" and an "amputation" of the original. China has also consistently dubbed films into Standard Mandarin.
Netflix's dubbing efforts seem to be converting some Americans to the cause. Most US viewers preferred the dubbed versions of its most popular foreign shows, the streaming service told the New York Times.
As a dubbing director in this new streaming-heavy world, Mr Howell emphasises that he works to respect the original content – "to protect it", not change it- though he admits some alterations are unavoidable.
"There are cultural nuances in language that we can't possibly recreate," he says. "We can have the greatest adaptation and it could line up almost perfectly but there are going to be subtle differences that don't translate.
"It's not 100% but I'd say we get as close as we possibly can, directing it in such a way that we're protecting the creative integrity of the culture that created the material."
And to be fair, alterations happen with subtitles too – language can be simplified to allow for quick reading in time with the action on screen.
Debates aside, outside of the streaming realm, foreign-language films still struggle to reach US markets.
As of 2020, only 12 have ever been released in more than 1,000 American theatres, according to data viewed by Quartz. Before Parasite, the last was Jet Li's Fearless in 2006. When it debuted in October, the 2020 Best Picture Oscar winner was screened in only three theatres.
Yet, as its awards success has shown, a good film will captivate audiences no matter in what language. Subtitled films have rarely grossed over $100m (£77m), but Parasite has already surpassed $200m worldwide.
The biggest foreign language film to find success in the US to date is the Chinese drama Crouching Tiger Hidden Dragon, which grossed $128m in 2000 and won the Oscar and Golden Globe awards for best foreign language film.
"What it speaks to more than anything is we're looking at filmmaking as the craft, not being bogged down in where it's made and who is saying what in what language," says Prof McKeever. "Is it a good story, is it done well, are we there emotionally with the actors?
"Regardless of language, that's the heart of moviemaking."
Hip-hop's iconic photos go on display
The International Center of Photography in New York is showcasing photos of hip-hop's greatest stars.
The ICP's Vikki Tobak describes the exhibition as watching your favourite musical icons grow up in front of your eyes.
Included in the project is the photographer behind the famous image of The Notorious B.I.G wearing a crown.
'Riverdance has been a part of my everyday life'


It's 25 years since Riverdance first burst onto screens during the 1994 Eurovision Song Contest.



Source link