Coronavirus: The Archers to reflect global outbreak in May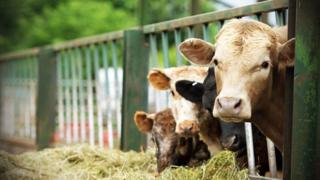 The BBC has revealed that its long-running BBC Radio 4 soap The Archers will have its first coronavirus-related storyline in early May.
Recording is typically done weeks in advance of broadcast, meaning writers have so far been unable to reflect the rapidly evolving pandemic on the show.
Producers said they wanted listeners to be able "to go to Ambridge in the usual way for as long as possible" .
Episodes from 4 May will reflect the coronavirus outbreak in Ambridge.
Producers said the soap will feature fewer interacting characters "sharing more of their private thoughts with the listener" – a reflection of the social distancing taking place across the UK.
Tough measures to tackle the spread of coronavirus across the UK, including a ban on public gatherings of more than two people and the closure of shops selling non-essential goods, were introduced last week.
The number of people who have died with the virus in the UK has reached 1,228 – an increase of 209 since Saturday.
Temporary changes to The Archers will see the show cut back to four episodes a week and a shorter weekend omnibus.
Voice actors will record the forthcoming episodes from their homes, rather than busy studios, in order to protect the numerous cast and crew.
Jeremy Howe, editor of The Archers – which has been running for 70 years – said the production team had "worked tirelessly" to keep the show on air and reflect the current global crisis.
He added: "Whilst coronavirus might be coming to Borsetshire, listeners can still expect The Archers to be an escape, and the residents to be bickering and as playful and witty as ever.
"The Archers will sound different and will be simpler, but I think keeping the show running and giving us all an opportunity to hear from beloved characters will be a treat loyal listeners will want and need."
Lady Gaga's Chromatica is the fastest-selling album of 2020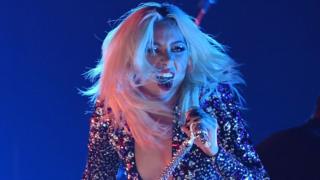 Lady Gaga's new album, Chromatica, has entered the UK charts at number one, after outselling the rest of the top 10 combined.
The record, which sees Gaga return to the rocket-powered pop of her debut, sold 53,000 copies, the biggest opening week of the year so far.
It is also the star's fastest-selling album since 2013's Artpop.
The album follows Gaga's performance in A Star Is Born, for which she won an Oscar for best song in 2019.
Critics have called the record a return to form, after the country-leaning acoustics of her fifth album Joanne and the misfiring experiments of her Artpop project.
"Song for song, it's her best yet," wrote Variety magazine, adding: "She sounds like she knows exactly who she is, what she wants to say and how she wants to say it."
"Her pop renaissance couldn't come at a better time," agreed Rolling Stone, while The Independent praised the star's "anthems of self-doubt, self-reflection, self-destruction and self-reclamation".
Gaga, who has suffered with chronic illness and depression, said the record was intended to be an antidote to hard times.
"I'm making a dance record again and this dance floor… it's mine, I earned it, and all that stuff that I went through," she told Zane Lowe in a recent interview.
"The beginning of the album really symbolises, for me, what I would call the beginning of my journey to healing," she added, "and what I would hope would be an inspiration for people that are in need of healing through happiness, through dance."
Top 5 albums – 5 June 2020
According to the Official Charts Company, Chromatica was the week's most popular album in every format – physical, streaming and downloads – as well as the year's fastest-seller on vinyl, with 8,500 copies sold.
Three of the tracks also made it into the singles chart, led by the Ariana Grande duet Rain On Me at number two.
Sour Candy, a collaboration with K-pop band Blackpink, debuted at 17; while Alice, inspired by Lewis Carroll's Alice In Wonderland, was at 29.
Gaga is also expected to top the US Billboard charts next week, with projected sales of 250,000.
Top 5 Singles – 5 June 2020
Follow us on Facebook, or on Twitter @BBCNewsEnts. If you have a story suggestion email entertainment.news@bbc.co.uk.
Abbey Road Studios re-opens after 10 weeks of closure
Abbey Road Studios, the recording venue made famous by The Beatles, has re-opened.
It was forced to close ten weeks ago due to the coronavirus pandemic, the first time it has closed in its 89 year history.
Special measures were taken, to allow for a recording of an album by jazz musician Melody Gardot.
The BBC's arts editor Will Gompertz listened in.
Alan Partridge to return with podcast from Norwich shed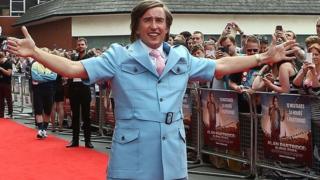 Alan Partridge is set to return with a podcast produced from his shed.
Steve Coogan will again take on the role of the Norwich-based DJ for an 18-part series titled From the Oasthouse: The Alan Partridge Podcast.
The podcast will unveil a "more reflective Alan" as he tries to attract a young and diverse audience.
"All national treasures have a podcast", Partridge said. "If David Dimbleby has one, then of course I needed to make one."
"With this series, I want to give my fans an intimate view of who I really am," said Partridge.
"You may think you know me, but trust me, you have no idea what goes on behind closed doors at my podcast innovation studio."
The Bafta award-winning character, born in King's Lynn, Norfolk, made his debut appearance in 1991 as a sports presenter on BBC Radio 4's On the Hour.
He moved on to to television with programmes including The Day Today, Knowing Me Knowing You and I'm Alan Partridge.
Partridge had his big screen break in 2013 with the film Alpha Papa before in 2019 returning to TV with This Time with Alan Partridge.
The full series will be on Audible from 3 September while a free episode will be available on Amazon Alexa between 6 and 12 June.