Coronavirus: Mariah Carey, Billie Eilish to play home-made benefit concerts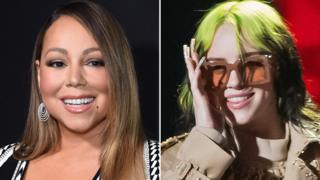 Billie Eilish, Mariah Carey and Alicia Keys will play a benefit concert with a difference to raise funds for those facing hardship as coronavirus spreads.
The socially-distanced stars will sing live from their own living rooms in a one-hour charity special to be hosted by Sir Elton John on Sunday.
The following day, Eilish will appear alongside BTS, Dua Lipa and others on another televised fundraising show.
They will star on a special edition of James Corden's Late Late Show.
Broadcasting from his garage, the British host will link up with BTS in South Korea, Dua Lipa in London, Andrea Bocelli in Italy, and Eilish, her brother Finneas O'Connell and John Legend in Los Angeles.
"Shooting from James' garage may be far from perfect, but under the circumstances we hope it can help someone, somewhere, who needs some cheer right now," executive producers Ben Winston and Rob Crabbe said.
The event, dubbed Homefest, will be aired on CBS and will raise funds for The CDC [Centers for Disease Control] Foundation and Feed the Children charities.
Corden's talk show has been off air since mid-March because of the spread of the disease.
The previous day's benefit will raise funds for Feeding America and the First Responders Children's Foundation, and will air on Fox TV and iHeart radio stations in the US.
The iHeart Living Room Concert for America will take the place of the iHeartRadio Music Awards, which had been scheduled for Sunday evening – also to be screened on Fox – and which was postponed as a result of the pandemic.
The replacement will be used to thank and celebrate the health workers and others on the front line of efforts to cope with the pandemic.
It will also feature Tim McGraw, the Backstreet Boys and Green Day frontman Billie Joe Armstrong.
Since the disease spread, many performers have cancelled live concerts and tours and moved from the stage to home-made broadcasts online.
Follow us on Facebook, or on Twitter @BBCNewsEnts. If you have a story suggestion email entertainment.news@bbc.co.uk.
Coronavirus: Ofcom 'assesses' David Icke TV interview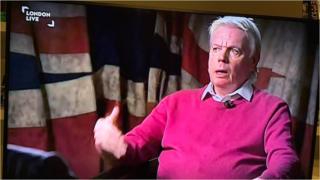 The UK's media watchdog is looking into a TV network's broadcast of an interview with conspiracy theorist David Icke about coronavirus.
Ofcom said it was "assessing this programme as a priority", following London Live's screening of the programme on Wednesday evening.
It follows YouTube's introduction of stricter misinformation rules after a later interview with Mr Icke by the same team was streamed on its platform.
The government has expressed concern.
'Inaccurate claims'
"Clearly that station is regulated by Ofcom. And I would be expecting Ofcom to take appropriate action," said Culture Secretary Oliver Dowden on BBC Radio 4's Today programme.
"Clearly they are independent but I will be in touch with them to understand what action they are taking in respect to that."
A tweet by London Live to promote the programme – produced by an independent company that also offers training services – prompted a backlash ahead of the broadcast.
But Ofcom is able to intervene only after a programme has been broadcast.
And it has now received 19 complaints about the programme from the public.
Last week, the watchdog sanctioned a community radio network for having broadcast a discussion that "contained potentially harmful views about coronavirus".
"During the current pandemic, it's important that potentially misleading information about the coronavirus is not broadcast on radio or TV," Ofcom said at the time.
"This includes inaccurate claims about potential causes, symptoms, and treatments for the virus."
On Tuesday, YouTube deleted copies of a later interview with Mr Icke – embedded into the production company's site and hosted on YouTube's platform – and announced it would wipe any other videos that also falsely linked Covid-19 to 5G mobile networks.
The production company, however, has since reuploaded this interview to another US-based service – Vimeo – to allow it to continue to be seen.
Mr Icke does not mention 5G by name in the interview broadcast by London Live, although at one point he does refer to an "electro-magnetic technologically generated soup of radiation toxicity", which he claims has damaged old people's immune systems. Scientists have previously rubbished suggestions mobile networks cause such harm.
London Live is owned by the Russian businessman Evgeny Lebedev, who also owns the Evening Standard and Independent newspapers.
It screened a notice during advert breaks, saying the views expressed in the programme were "not necessarily those" of the network and displayed the address of the government's Covid-19 website.
BBC News has asked the network for comment.
Paul Lambert: Ex-BBC producer who was 'fixture of politics' dies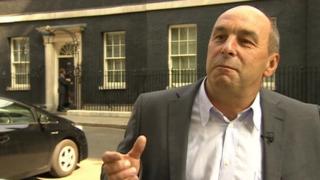 A former BBC producer described as a central character at Westminster and master of interviewing politicians on the street has died aged 61.
Paul Lambert, affectionately known as "Gobby", was often heard on TV shouting questions at ministers.
He left the BBC in 2014 to become communications director of UKIP.
His daughter Danni said on Facebook the family were "devastated". BBC political editor Laura Kuenssberg described Mr Lambert as a "fixture of politics".
Writing on Twitter, she added he was a "friend of everyone for so long – such sad, sad news".
'Master of the doorstep'
Based on Downing Street, Mr Lambert's voice was heard on countless news reports putting ministers on the spot as they went about their business.
The nickname "Gobby" was a reference to Mr Lambert's booming voice, which he used to project awkward questions towards politicians as they entered cars or walked down the street, known in broadcasting as a "doorstep".
"The point really is to fill in the pieces of the TV bulletin piece that you haven't got pictures to fill in. You know someone isn't going to say anything, you just need something to happen," Mr Lambert explained in 2013.
Others paying tribute on Twitter included political journalist Michael Crick, who said Mr Lambert was a "master of the political doorstep".
Trade Minister Conor Burns said: "I remember the first time he shouted questions at me as I walked into Parliament. Went inside with a feeling I'd properly arrived."
Former leader of UKIP Nigel Farage said Mr Lambert was a "unique man and great fun to work with".
Craig Oliver, a former editor of flagship BBC News bulletins and ex-director of communications at No 10, said: "The start of a thousand TV news reports was Gobby shouting, 'Are you going to resign?'"
Robert Peston, ITV's political editor, said Mr Lambert was a "gent of the old school" who had "the best nose for a story", while Sky News presenter Sophy Ridge described him as a "legend".
BBC health editor Hugh Pym said Mr Lambert "always went the extra mile and asked the right question", and BBC news presenter Reeta Chakrabarti said he was "such a central character in our Westminster newsroom for years… and a thoroughly nice man".
Mr Lambert – who started his working career as an electrician – left the BBC ahead of the 2015 general election to lead communications for the UK Independence Party.
Disney Plus racks up 50m subscribers in five months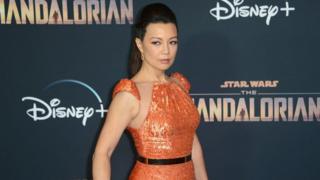 Disney's new video streaming service has hit more than 50 million subscribers since its launch five months ago.
When Disney Plus last announced viewing figures in February it had reached 26.5 million subscribers.
Since then, this has almost doubled as more people are online and stuck at home due to virus clampdowns.
Disney Plus, which rivals Netflix and Amazon Prime, rolled out to the UK and other parts of Europe last month.
All three streaming platforms are enjoying a huge boost in viewing figures as cinemas remain closed and people are forced to stay indoors.
Disney Plus originally set a target of 60 million to 90 million subscribers by the end of fiscal 2024, when it was first launched in the US in November.
"We're truly humbled that Disney Plus is resonating with millions around the globe," said Kevin Mayer, a Disney spokesman.
Its subscription figures were given a boost by its audience in India, where Disney Plus was launched last week. Disney reported eight million new subscribers in India.
After the announcement on Wednesday evening, shares in Disney jumped 7% on Wall Street. The entertainment group has been hit hard by the coronavirus pandemic, having to close its theme parks across the globe.
It has also had to stop production on new content and delay releases for potential blockbusters like Mulan and Black Widow.
Disney Plus is still behind both Netflix and Amazon Prime Video in terms of global subscriptions. Netflix added almost nine million net global subscribers during the fourth quarter of 2019. At the end of last year, it had over 167 million paying subscribers globally. Amazon now has more than 150 million viewers.
But Disney Plus, which includes films and TV shows from Disney, Pixar, Star Wars and National Geographic, has grown much faster than its rivals.
"What Disney Plus has achieved in five months took Netflix seven years," said Chris Fenton, a movie industry analyst. "Disney Plus possesses all the ammunition needed to surpass Netflix, and it also has the potential bazooka of China. If any American streaming service can gain access to the 1.4 billion people of China, it's Disney Plus."