13:07
More than half of countries in the EU, plus the UK, were on Thursday labelled red in a new map issued by the bloc's disease control agency aimed at guiding decisions on travel restrictions.
The map was issued after EU member states decided on Tuesday to coordinate their approach to travel restrictions on other countries in response to Covid-19 outbreaks.
Seventeen of 31 countries covered by the European Centre for Disease Prevention and Control (ECDC) were labelled red or mostly red, meaning average daily cases over the previous 14-day period were 50 or higher per 100,000 inhabitants coupled with a test positivity rate of over 4%.
The red rating is if the 14-day notification rate is 150 cases or higher per 100,000.
In addition to the 27 EU countries, the ECDC covers the UK, Norway, Iceland and Liechtenstein.
A green rating means the 14-day notification rate is lower than 25 cases per 100,000 and the test positivity rate below 4%, and orange are those that fall between red and green.
Member states agreed not to impose travel restrictions on travellers from regions rated "green", but none achieved that level nationwide.
For countries that are red and orange, members states are free to decide what measures, if any, they wish to impose but could, for instance, require travellers coming from those countries to undergo quarantine or a Covid-19 test.
Five countries – Austria, Germany, Sweden, Denmark and Iceland – did not receive a rating, with the agency citing a lack of information.
12:29
As Switzerland sees record high Covid-19 infection numbers on a daily basis, the health minister warned Thursday that the situation is "deteriorating" at an alarming rate.
"We have in recent days faced a new dynamic, which is very negative and very strong," Alain Berset told reporters.
For the past week, he said: "The situation in Switzerland is deteriorating faster than elsewhere."
At first glance, the Swiss figures may not seem that impressive compared with the soaring infection numbers in neighbouring countries.
The wealthy Alpine nation of 8.5 million people registered 2,600 new cases Thursday – the highest daily number since the start of the pandemic.
Since the beginning, 71,140 cases have been reported in Switzerland and 1,817 deaths, amounting to 832 cases and 21 deaths per 100,000 people.
The proportion of positive tests in the country has meanwhile jumped from 5.4 to 10.2% in the past week.
Swiss President Simonetta Sommaruga warned Thursday that a full-blown second wave was looming.
12:16
Eleven million girls face being unable to return to school even after coronavirus restrictions are lifted around the world, UNESCO head Audrey Azoulay said Thursday during a visit to the Democratic Republic of Congo.
"We worry that in many countries the closure of schools has unfortunately led to losses," Azoulay said as she visited a high school in the capital Kinshasa, three days after the country's 2020-21 school year began.
"We estimate that 11 million girls will be unable to go back to school around the world."
Accordingly, "we have launched an awareness campaign on the need for schools to go back to school," the former French culture minister said.
Education "unfortunately remains very unequal" for girls, Azoulay said, noting that their access to schooling is a priority for the UN Educational, Scientific and Cultural Organisation (UNESCO).
Congolese Education Minister Willy Bakonga, accompanying Azoulay, urged her to support the country's programme of free public primary education launched by President Felix Tshisekedi in September last year.
He said the programme had allowed more than four million children to join or rejoin the education system in the poor but mineral-rich Central African country.
Hailing the reform as "very ambitious", Azoulay recognised the "enormous challenges" at hand in terms of infrastructure, teacher training and budgeting.
12:15
In Bulgaria, Roma communities were sprayed with disinfectant from crop dusters this spring as coronavirus cases surged in the country. In Slovakia, their villages were the only ones where the army conducted testing. And across Central and Eastern Europe, reports of police using excessive force against Roma spiked as officers were deployed to enforce lockdowns in their towns.
Human rights activists and experts say local officials in several countries with significant Roma populations have used the pandemic to unlawfully target the minority group, which is Europe's largest and has faced centuries of severe discrimination. With Covid-19 cases now resurging across the continent, some experts fear the repression will return, too.
To make matters worse, activists say such discrimination often draws little opposition from other Europeans and the Roma are reluctant to speak about it, fearing repercussions.
12:12
US president Donald Trump on Thursday said he is willing to raise his offer of $1.8 trillion for a Covid-19 relief package to get a deal with House of Representatives Democratic Speaker Nancy Pelosi, a move likely to raise concern among his fellow Republicans in the Senate.
The White House proposed the $1.8 trillion in stimulus last week in negotiations with Pelosi, who rejected the offer and continues to demand a $2.2 trillion deal. The talks appear unlikely to produce an agreement before the Nov. 3 election.
Trump, who is running for reelection in the vote next month, told Fox Business Network he has already directed Treasury Secretary Steven Mnuchin to put a bigger stimulus offer on the table, saying additional money would go to help U.S. workers. Pelosi and Mnuchin were expected to speak again on Thursday.
"We like stimulus, we want stimulus and we think we should have stimulus," Trump said.
The president ruled out accepting Pelosi's proposal outright "because she's asking for all sorts of goodies. She wants to bail out badly-run Democrat states and cities. She wants money for things … that just your pride couldn't let it happen."
11:51
Three Jewish congregations on Thursday filed a lawsuit claiming that New York's coronavirus restrictions on public gatherings violate their First Amendment religious rights under the US Constitution.
The lawsuit, filed in US District Court in Manhattan by Congregations Oholei Shem D'nitra, Netzach Yisroel and Yesheos Yakov asks the state's measures, which restrict religious gatherings to as few as 10 people, be overturned.
11:48
Italy's coronavirus infections reached 8,804 on Thursday, up by almost 1,500 in a day, while deaths almost doubled to 83.
Daily records were registered in Lombardy, where there were over 2,000 new cases, Campania and Piedmont. Cases in the southern Campania region, which was relatively unscathed by the first wave of the pandemic, eclipsed 1,000 in a day for the first time.
The Italian government has so far excluded the prospect of new national lockdown, saying any further restrictions would be targeted. However, prime minister Giuseppe Conte appeared to backtrack slightly on Thursday, saying that much would depend on the behaviour of Italians.
"If the number of infections and people in hospital increases, and in particular in intensive care, we will be in difficulty again," he said.
The number of people hospitalised for Covid-19 increased by over 300 to 5,796 within the last 24 hours, with 586 people in intensive care.
11:40
The Czech Republic will start building capacity for Covid-19 patients outside of hospitals, officials said on Thursday, as the country faces the fastest rate of infections in Europe.
Coronavirus cases have nearly doubled in October alone to a total of 139,290. The Health Ministry reported 9,544 new Covid-19 cases on Wednesday, its highest one-day tally.
The central European country has the continent's fastest per capita rise in infections and deaths from the disease, forcing hospitals to scramble to free up space.
The Foreign Ministry said it had working agreements with the German states of Bavaria and Saxony in case hospitals get overloaded.
"We hope it will not be necessary but we want to be prepared for everything," Foreign Minister Tomas Petricek told news site idnes.cz.
The number of patients needing care has more than doubled since Oct. 4 to 2,678, of whom a fifth need intensive care. Covid-related deaths have climbed to 1,172, up 75% this month.
The head of the Czech Medical Chamber urged doctors who have left to work abroad to return home as the number of infections among healthcare workers rises.
11:28

Sarah Marsh
Hello everyone!
Thanks for following the Guardian's global live feed, updating you on all the latest developments on Covid-19 from around the world.
If you want to get in touch with me while I work then please do drop me a message through any of the channels below. I will try to respond to as many people as possible.
Twitter: @sloumarsh
Instagram: sarah_marsh_journalist
Email: sarah.marsh@theguardian.com
10:29
President of European commission self-isolating
The president of the European commission says she is going into self-isolation with immediate effect after a colleague tested positive for Covid-19.
Updated

10:02
In the US, Joe Biden's presidential campaign has said that the vice-presidential nominee, Kamala Harris, is to suspend in-person events until Monday after two people associated with the campaign tested positive for coronavirus, AP reports.
The campaign said Biden had no exposure, though he and Harris spent several hours campaigning together in Arizona on 8 October.
Harris was scheduled to travel to North Carolina today for events encouraging voters to cast early ballots.
The campaign told reporters this morning that Harris's communications director and a traveling staff member for her travel to Arizona tested positive after that 8 October trip.
Harris and Biden spent several hours together that day, through multiple campaign stops, private meetings and a joint appearance in front of reporters at an airport. They were masked at all times in public and aides said they were masked in private as well. Biden and Harris have each had multiple negative tests since then.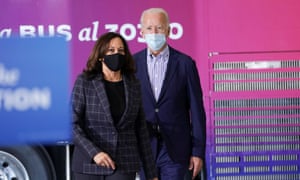 You can read the Guardian's US politics blog here.
Updated


Credit: Source link