Chris Mason: BBC Brexitcaster to be new host of Radio 4's Any Questions?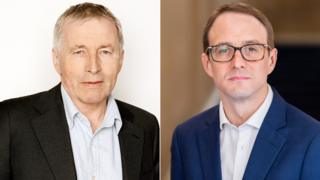 BBC political correspondent Chris Mason is to take over from Jonathan Dimbleby as the presenter of Any Questions?, BBC Radio 4's political debate show.
Dimbleby announced in March that he would be stepping down after 32 years hosting the weekly programme.
Mason has worked at the BBC since 2002, and has been a political correspondent for the last seven years.
He is also one of the presenters of the Brexitcast podcast and TV show, on which he will continue to appear.
Broadcasters who congratulated Yorkshire-born Mason on the role on Twitter included Shelagh Fogarty, Mishal Husain, Ken Bruce, and Emily Maitlis.
Follow us on Facebook, on Twitter @BBCNewsEnts, or on Instagram at bbcnewsents. If you have a story suggestion email entertainment.news@bbc.co.uk.
Bafta TV Awards: Fleabag and Game of Thrones up for 'must-see moment'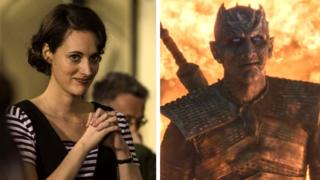 Memorable sequences from Fleabag, Game of Thrones and Line of Duty are in contention for the "must-see moment" prize at this year's Bafta TV Awards.
Scenes from Coronation Street, Love Island and the Christmas Day Gavin and Stacey special are also in the running.
Television viewers have until 15 July to cast their vote for the only Bafta TV award decided by the public.
This year's awards will be broadcast from behind closed doors on 31 July due to the coronavirus pandemic.
Ayoade to host socially-distanced TV Baftas
Richard Ayoade will host the event from a closed studio, with winners giving their acceptance speeches virtually.
The rest of this year's nominations will be announced on Thursday morning.
Last year's prize went to BBC One's Bodyguard for the scene in which Keeley Hawes' Julia Montague character was assassinated.
Writer Caitlin Moran, who helped compile this year's shortlist, said the award was for moments "that truly made everyone gasp".
WARNING: The following reveals plot details about shows you may not yet have had the chance to watch.
1. Coronation Street
Corrie viewers were in bits last October when Sinead Osbourne lost her year-long fight against cervical cancer, quietly slipping away while husband Daniel read to their baby son Bertie.
Katie McGlynn's performance in the role won her a National TV Award in January, which she dedicated to "any woman who is going through cervical cancer right now".
If you're wondering, the book Daniel is reading is We're Going on a Bear Hunt by former Children's Laureate Michael Rosen.
2. Fleabag
The moment when Andrew Scott's "Hot Priest" told Phoebe Waller-Bridge to kneel after she seeks advice in his confessional had thousands of Fleabag fans genuflecting in their living rooms.
"When that priest said 'kneel' my vagina exploded in a way a man has never quite been able to achieve," wrote comedian London Hughes on Twitter.
"That scene is extraordinary, isn't it?" Scott told the New York Times in May last year. "Phoebe's really not afraid of the grand gesture."
3. Gavin and Stacey
There was more kneeling in the Gavin and Stacey Christmas Day special when Nessa (Ruth Jones) got down on hers to pop the question to James Corden's dumbfounded Smithy.
"When I put my hand on my heart and I said, as Nessa, 'I love you. No, I do, I loves you with all my heart' I really meant it," Jones told the Mirror about the cliffhanger moment, which was filmed in the middle of the night in order to keep the proposal secret.
4. Game of Thrones
After eight seasons and nine years, the final episodes of Game of Thrones were bound to split opinion. Yet everyone seemed to love the moment when Arya Stark killed the Night King with a single dagger thrust.
"Huge thank you to the writers of #GOT for making little Arya Stark the biggest badass EVER!" tweeted one impressed viewer after the episode in question aired in April last year.
"It was so unbelievably exciting," Maisie Williams said of her character's most iconic moment. "It's also unexpected and that's what this show does."
The British actress was told a year before filming to get her endurance levels prepared for her big scene.
5. Line of Duty
An even more shocking slaying came during the fifth series of Line of Duty when undercover policeman John Corbett had his throat cut by one of his criminal accomplices.
Like the other nominees, the video clip is available to watch online but features graphic content.
"I thought it was superb," said actor Stephen Graham of a jaw-dropping exit few fans of the BBC One drama had seen coming. "I'm good at dying."
Filming on the sixth series of Line of Duty was suspended in March due to the spread of the coronavirus.
6. Love Island
The only non-scripted nominee on this year's shortlist comes from ITV2's Love Island, which was rocked earlier this year by the suicide of presenter Caroline Flack.
The nominated moment comes from the episode shown last July in which contestant Michael Griffiths chose to "recouple" with Joanna Chimonides and leave Amber Gill single.
Beauty therapist Amber had the last laugh though, eventually being crowned winner of the series alongside Irish rugby player Greg O'Shea.
ITV2 will screen the first series of Love Island: Australia this summer in place of the regular programme, which will not return until 2021.
Details on how to vote for the Virgin Media Must-See Moment award can be found here.
Follow us on Facebook, or on Twitter @BBCNewsEnts. If you have a story suggestion email entertainment.news@bbc.co.uk.
Lea Michele: Glee star apologises 'for any pain caused'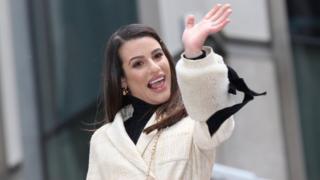 Glee star Lea Michele has apologised after a former co-star said she made her life "a living hell".
Meal-kit firm HelloFresh cut ties with Michele after Samantha Ware accused her of "traumatic microaggressions" when they worked together on the show.
Ware made the comments on social media after Michele posted a tweet about George Floyd's death.
"I apologise for my behaviour and for any pain which I have caused," Michele posted on Instagram on Wednesday.
"We can all grow and change and I have definitely used these past several months to reflect on my own shortcomings."
Michele acknowledged she "clearly acted in ways which hurt other people".
In a three-page statement, the US actress said: "Whether it was my privileged position and perspective that caused me to be perceived as insensitive or inappropriate at times, or whether it was just my immaturity and me being unnecessarily difficult, I apologise."
The actress, who played Rachel Barry on all six seasons of Glee, is currently expecting her first baby with husband Zandy Reich, and added she "wanted to be a real role model" for the child.
The death of Mr Floyd in Minneapolis on 25 May while in police custody has prompted widespread protests and unrest in the US.
Protests began after a video showed the 46-year-old African-American pinned to the ground by a white police officer kneeling on his neck.
"George Floyd did not deserve this," wrote Michele on 29 May. "This was not an isolated incident and it must end. #BlackLivesMatter."
Her tweet prompted a robust response from Ware, who accused Michele of conduct that had made her "question a career in Hollywood".
"Remember when you made my first television gig a living hell?!?!" Ware wrote on Twitter. "Cause I'll never forget."
The actress went on to accuse Michele of stating publicly she would have defecated in Ware's wig had she had the opportunity.
Ware played Jane Hayward in Glee's sixth and final season and has since been seen in Netflix series What/If.
Another co-star, Amber Riley, appeared to acknowledge Ware's claims by posting a gif of herself drinking tea on Twitter.
HelloFresh said they were "disheartened and disappointed" to learn of Ware's claims about Michele, who was paid to promote its services on social media.
"HelloFresh does not condone racism nor discrimination of any kind," it wrote on Twitter after another user questioned its association with the actress.
In Michele's statement, she said she had "never judged others by their background or colour of their skin".
Founded in 2011, HelloFresh is one of the largest meal-kit providers in the US and operates in a number of other countries.
Earlier this year the German company announced plans to expand its UK workforce by 50% to cope with demand.
Michele's other shows include Scream Queens and The Mayor. She has also released two solo albums and a Christmas record.
Follow us on Facebook, or on Twitter @BBCNewsEnts. If you have a story suggestion email entertainment.news@bbc.co.uk.
Coronavirus: TV and film sectors 'need government help'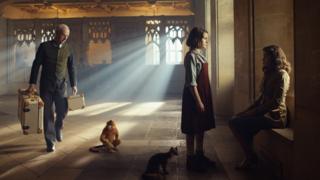 Independent drama production in Wales will be unable to restart after the pandemic without UK government support, industry leaders have said.
Bad Wolf Studios in Cardiff, which produced His Dark Materials, said resuming would be expensive, with questions over the affordability of insurance.
The firm said "it's going to be tough".
The UK government said it was "working closely" with the film and TV industry to address concerns about insurance.
The Welsh Government said it was "committed to doing everything possible" to support the sector.
Bad Wolf was in the middle of filming the last episode of the second series of His Dark Materials when lockdown struck.
"It was a real shock. It got to a situation where due to social distancing we couldn't carry on filming," said Natasha Hale, Bad Wolf's chief operating officer.
"We were kind of forced into that decision we had to keep our crew safe, and our cast safe. We had to stop filming, which was hugely, hugely disappointing for everybody, and extremely costly."
She said the company were able to furlough half of the 150 freelancers working on the show, but the other half were given their notice.
"It was a huge blow," she said.
Bad Wolf is aiming to restart filming in September, with health and safety being the top priority, but accommodating social distancing will not come cheap.
However, the biggest concern for Bad Wolf and other independent companies is insurance to protect them from another lockdown.
Ms Hale added: "If we have to stop production or if we have to leave the production totally, there is no insurance and who is going to take responsibility for that? We don't know yet.
"I think really the government are going to have to do something because I'm not sure how productions are really going to get back on their feet without some kind of support on the lack of insurance."
Teledwyr Annibynnol Cymru (TAC), a body which represents independent television companies in Wales, said the extra cost of implementing safety procedures would fall on small, independent companies.
Chief executive, Luned Whelan said: "As guidelines are put in place for safety on set there will be additional costs and those costs are going to be considerable and they're going to fall on the producer."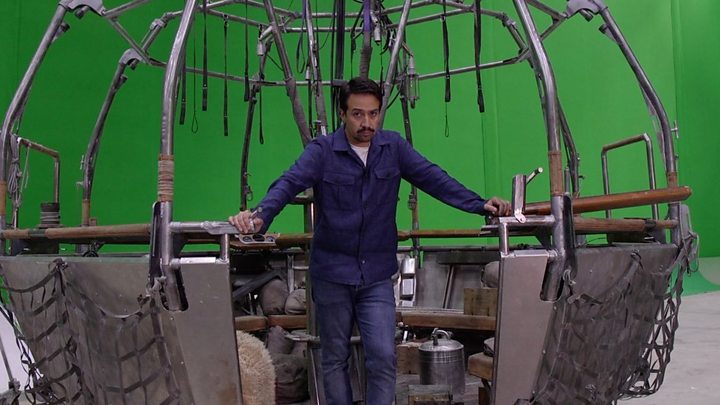 Simon Curtis from the actors' union, Equity, said most of its members "would love to be back at work" but the biggest difficulty was "making sure that it's safe to return".
On the set of Pobol y Cwm, the BBC's longest-running TV soap, discussions are ongoing about how to return to filming.
The series' producer, Nest Gwenllian Roberts, wants production to restart as quickly as restrictions allow, but accepts recreating the intimacy of drama will be challenging.
"A soap is births, deaths and marriages and we're still striving to achieve all that within the Covid restrictions and by keeping social distance," she said.
A set of guidelines have been drawn up by broadcasters and Pact, the media trade association, in order to help production companies get back on set.
These include keeping everyone two metres apart, cast members applying their own make-up, equipment being sanitised between uses and reducing the number of people on set.
Mr Curtis said for some production companies, particularly in Wales, the cost of putting these measures in place may be prohibitive.
"It's an area that the [Welsh] government has already heavily invested in, but it does bring a huge amount of return to Wales.
"So, a relatively small amount of investment now will see return in the future… I think that's the argument we have to make", he said.
How much money do creative industries make in Wales?
The creative industries as a whole is one of the fastest-growing sectors of the economy, according to the Welsh Government.
It has an annual turnover of more than £2.2bn and employs more than 56,000 people – an increase of 40% from 10 years ago.
The Welsh Government said its Creative Wales unit had been working with the film and TV sector during these "uncertain times".
It said it had recently offered £300,000 development funding so "good projects can continue to be developed whilst there is a hiatus in production".
"We have established a screen recovery group to discuss the challenges the sector is facing and we will continue to speak to the sector as the guidance is developed," a spokesman added.
"We are committed to doing everything possible to support the resilience, creativity and partnership which is being shown by the sector."
A spokesman from the UK government's Department of Sport, Media and Culture said: "We are working closely with the screen sector to understand the full extent of concerns about insurance and explore ways they can be effectively addressed."