Cher Lloyd: 'I'm not on the conveyor belt any more'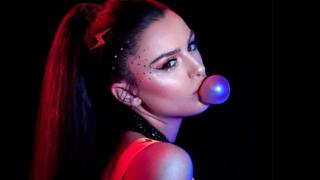 Cher Lloyd was a breath of fresh air when she stepped onto the X Factor stage nine years ago.
Striding around in ripped jeans, with a curl in her lip and eyebrows drawn in the shape of Sydney Harbour Bridge, her performance of Soulja Boy's Turn My Swag On was nothing like the syrupy, safe singers the contest had become known for.
She went into the live shows as the bookies' favourite, doubling down on her signature style by performing hits by Eminem and Run DMC amidst the endless parade of power ballads.
But it was a tough year – fellow contestants included Rebecca Ferguson and One Direction (and, er, Wagner). Lloyd eventually came fourth, as the public crowned painter-decorator Matt Cardle the overall winner.
Her profile hadn't been helped by some unnecessarily vicious press, which branded the teenager a "chav" and a "gypsy", and accused her of being a "hard-faced diva" who had "lashed out at a crew member and waved a spoon in her face".
The criticism stung, says the singer. But, looking back, she understands that a show like the X Factor needed its heroes and villains to sustain a narrative.
"There's a fine line between reality TV and creating artists," says the star. "I realise that you need all your separate characters to play different roles. But you also have to remember that those people are all there for the same reason, the love of creating music.
"When you go on a show like that, it gives you such a fantastic platform, but it's what you choose to do with that platform after that really counts."
'Too many cooks'
In Lloyd's case, the story is complicated.
Simon Cowell, who called her "his favourite brat", signed the singer to his SyCo record label and put her to work on a debut album. But you have to wonder what he was thinking when he chose Swagger Jagger – a bizarre mix of electro-house and the US folk ballad Oh My Darling, Clementine – as her debut single.
It entered the charts at number one, but one critic called it "the worst song in the history of pop". Catastrophically, the song framed Lloyd as a novelty act, rather than the talented, charismatic singer the public had grown to know on TV.
"I think there were a lot of cooks in the kitchen at that time," the singer says. "It's difficult when you've got a lot of people with a lot of opinions on what you should sound like, even what you should look like, especially when you're trying to find your identity yourself.
"I don't think that you can pre-plan and guess what people want you to sound like. And I think there was a lot of that going on."
Subsequent releases were better, but the damage had already been done. Her second single, With Ur Love, peaked at number four; The third, Want U Back, only got to 25.
In the US, however, it was a different matter. There, Lloyd was launched without the reality show baggage, and Swagger Jagger was consigned to the dustbin of history.
When Want U Back made the Top 20, Lloyd moved to the States and concentrated on her career there, focusing on her song-writing and taking more creative control over the recording process.
Now 26, and mother to an 18-month old girl, she's back with a single called (appropriately enough) MIA. An expressive, playful R&B banger, it finally captures the singer's unique blend of pop smarts and urban attitude.
"I feel like I've finally entered this new phase of my career where it's totally authentic," she says.
"When you enter the music industry at such a young age as I did, you haven't found your feet as a young adult, let alone as an artist. So I think I had grow up and discover who I was and how I want to be heard."
It seems to be working. Last year, Lloyd tested the waters with a "warm-up track" called None Of My Business – picking up 22 million streams on Spotify; and 32 million views on YouTube without any promotion.
MIA, meanwhile, launches the campaign for her upcoming third studio album, which has been four years in the making. The infectious song finds the singer abandoning her friends at a terrible house party and finding a better way to spend her night (hint: it's with a boy).
So what's her go-to excuse if she wants to escape a toxic Christmas do, or a crushingly boring dinner party?
"Well, I've got really, really good excuse now, because I've got a little girl," laughs the singer.
"But I've always been quite an honest person – sometimes to a fault – so I probably wouldn't have an issue saying, 'This is rubbish. I've got better things to do'."
It's an philosophy she's applying to her career these days, too.
"I've got nothing to hide any more. My music is 100% me," she says.
"It's been me going into sessions and me writing the songs. I'm not from a big machine, and I'm not stuck on the conveyor belt that I used to be on. I've jumped off, and that's really scary. But at the same time, super empowering."
Cher Lloyd's single, MIA, is out now. An album will follow in 2020.
Follow us on Facebook, or on Twitter @BBCNewsEnts. If you have a story suggestion email entertainment.news@bbc.co.uk.
Lewis Capaldi's teacher proud of 'cheeky chappy' Brits winner
Singer Lewis Capaldi's former music teacher has spoken of her pride at his Brit award triumph.
Kirsty Moore, who teaches music and drama at St Kentigern's Academy in Blackburn, East Lothian, said he was "really laid back" and quite a "cheeky chappy" in the classroom.
She added that his talent came to the fore at the school's annual talent contest.
"This massive voice came out of this little boy and it was amazing at the time and I thought he's going places."
Heather Couper: Broadcaster and astronomer dies at 70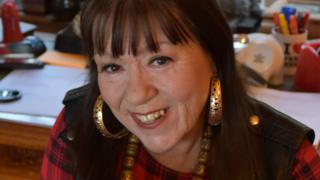 Broadcaster and astronomer Heather Couper has died at the age of 70.
Dr Couper appeared on the BBC's Blue Peter and The Sky At Night programmes, as well as presenting and producing acclaimed science documentaries.
She also hosted radio series including the BBC World Service's long-running Seeing Stars and BBC Radio 4's Cosmic Quest and Starwatch.
Her best friend and business partner, Nigel Henbest, said she had died on Wednesday after a short illness.
She had been a "charismatic… and passionate communicator of science", he said.
"She got people really excited about the Universe and about space – that was her love, her passion in life."
Born in 1949, she fell in love with astronomy as a child and recalled a day, in 1968, when she had realised astronomy was not just "for shambolic old men in tweed jackets any more".
She went home and wrote in her diary: "I want to help knowledge. I want to make known and publicise science."
So she left her management trainee job at Top Shop to become a research assistant at the Institute of Astronomy in Cambridge.
Her big break came when she was asked to appear as a guest on Sir Patrick Moore's The Sky At Night.
Sir Patrick later recalled: "Of course, she wrote to me when she was a little girl and said, 'Is there any future for me in astronomy?' And I said, 'Of course there is.' And I tried to give her a hand."
Astronaut application
She also presented the 1981 ITV children's series Heavens Above and, in 1984, became the first female president of the British Astronomical Association.
Four years later, she co-founded a film and TV production company, then, in 1993, took up the chair of astronomy at Gresham College, a post previously held by Sir Isaac Newton and Sir Christopher Wren.
She and Dr Henbest co-wrote dozens of books as well as monthly astronomy columns for the Independent, the last of which was published on 6 February.
The pair even applied to be the first British astronauts, Dr Couper told the Guardian in 1993, but were quickly rejected.
"They wanted someone technologically on the ball, someone who would know what buttons to press in an emergency," she said.
"If something blew up, I would think, 'Oh Christ! What wire goes where?'"
Pop Smoke: Rapper shot dead in apparent robbery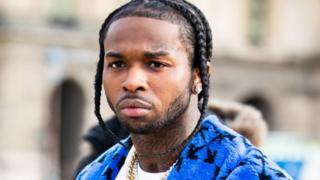 The US rapper Pop Smoke has been killed, after an apparent armed robbery.
Los Angeles Police told Radio 1 Newsbeat a man was shot at his home and later pronounced dead, although didn't confirm his identity.
But his label Republic Records says it's "devastated by the unexpected and tragic loss of Pop Smoke".
Police responded to reports of a robbery – and man was then taken to hospital and later pronounced dead.
Officers confirmed that an unknown number of suspects entered a property in West Hollywood.
They got a call about a robbery at 04:55 PST and were at the scene six minutes later.
Police say no suspects have been identified and no arrests have been made.
They also denied reports that a man was held at the scene but say one suspect is thought to have had a handgun.
Pop Smoke was signed to Republic Records which has said in a statement "our prayers and thoughts go out to his family, friends and fans, as we mourn this loss together."
When reports first appeared in the US tributes began flooding in for Pop Smoke, real name Bashar Barakah Jackson – including from friends.
Pop Smoke had a breakout hit with Welcome to the Party in 2019 – which led to him being singled out as an artist to watch this year by BBC Radio 1Xtra, on the station's Hot For 2020 list.
The station said he "possessed the air and cadence of a rapper who has been in the game for a decade or two longer than his actual age".
The track ended up being remixed by both Nicki Minaj and Skepta.
Just last week Pop Smoke was a guest on DJ Target's show on 1Xtra.
He was in the middle of several US tour dates and was due to come to the UK in April – with shows scheduled in London, Manchester and Birmingham.
50 Cent was one of many rappers, DJs and producers that paid tribute on social media, as did rapper Quavo, who Pop Smoke had collaborated with.
Last year he spoke about wanting to make music that inspires children who are growing up in poverty.
He told The Face: "I make music for that kid in the hood that's gotta share a bedroom with like four kids – the young kids growing up in poverty.
"I make music for kids like that who know they just gotta keep going, that there's a better way. That's who I really make it for."
Follow Newsbeat on Instagram, Facebook, Twitter and YouTube.
Listen to Newsbeat live at 12:45 and 17:45 weekdays – or listen back here.