Caroline Flack death: Hairdressers bin gossip magazines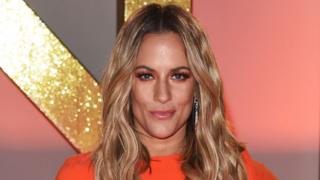 Hair salons have said they have stopped stocking celebrity gossip magazines after the death of Caroline Flack.
Some hairdressers posted the decision on social media after the former Love Island host was found dead.
Among them was salon owner Anita Donoghue whose Facebook post about binning "pages of fat shaming, slut shaming, celebs without make-up" was shared thousands of times.
A press regulator said it had received complaints over headlines about Caroline Flack following her death.
The Independent Press Standards Organisation (IPSO) said it was investigating a number of complaints in line with its normal procedure.
Ms Flack was found dead weeks before she was due to stand trial for assaulting her boyfriend – a prosecution he did not support.
She wrote in an unpublished Instagram post: "I am suddenly on a different kind of stage and everyone is watching it happen."
Ms Donoghue, salon director of Hair Cafe in Dublin, said hairdressers had been posting about their dislike of gossip magazines for years.
"I'm by no means the first to do this," she said. "But I think I was one of the first to react in this way to the sad news about Caroline," said the 41-year-old.
"I was unconsciously going out and buying these magazines because it was the norm to see them in salons, cafes, dentists' waiting rooms.
"When I thought about Caroline and the impact these magazines have had on her life I wanted to make a change."
Ms Donoghue's post has been liked and shared thousands of times and other hairdressers have composed similar messages.
"It's unbelievable how it's been picked up," she said. "It's the right thing to do. I want to cry I'm so proud," she said.
Josie Kent, salon owner of Caribou Hair Ltd in Par Cornwall, said the star's death made her rethink celebrity gossip culture.
"We came back into the salon after the news over the weekend and the first thing I did was go through our magazines," said the 28-year-old.
"Every one had horrible things across the front about what Caroline was going through. These were stories written about her private life prior to her passing.
"It seemed wrong to have them in the salon and when I thought about it that's exactly what drove her to do it."
Ms Kent said she swapped the magazines for health and fashion publications.
"Our clients absolutely loved having something refreshing to read instead of pointless rubbish always putting other people down," she said.
---
How are magazines regulated?
The Independent Press Standards Organisation (IPSO) regulates newspapers and magazines under a set of rules called the Editors' Code of Practice.
All members of IPSO follow the same code whether they are a national newspaper, local paper or magazine.
Anyone can make a complaint to IPSO over a potential breach of the code.
If after investigation, IPSO's complaints committee finds that the code has been breached it can order a correction or a longer form ruling to be published.
IPSO publishes its list of members here and its rulings here.
---
Social media has also come under scrutiny in the search for explanations and blame since Ms Flack took her life – as have the mainstream media, and the Crown Prosecution Service for pressing ahead with a trial.
An inquest will be held in August to investigate the causes behind Ms Flack's death but the Samaritans maintain the reasons for any suicide are usually numerous and complex.
'Be kind'
Amelia Herbert at Watkins Wright in Great Ayton, North Yorkshire, joined in after seeing other salons sharing similar statements.
"This weekend I felt really sad," she said. "I felt like I needed a break from social media so I deleted my apps on my phone.
"I didn't want to see magazines tearing celebrities down.
"If we can learn anything from this it's that you've got to be nice to other people," she said.
"It's so important in the hair and beauty industry to promote wellbeing.
"It's all well and good having your hair and make-up done but our ethos here is to make you feel good on the inside too."
Jennie Galligan, owner of Jennifer Ashley Hair in Reddish, Stockport, said she wanted to be part of a shift in culture.
"I've never been one for gossip magazines but within hairdressers they're just a given," said the 28-year-old.
"My salon ethos is all about empowering women so actually we don't want them," she said.
"Lots of our clients have said we would rather look at home and wedding magazines.
"Half of them don't even know who most of the reality TV stars in these magazines are."
Information and support
If you or someone you know needs support for issues about emotional distress, these organisations may be able to help.
Edinburgh festivals cancelled due to coronavirus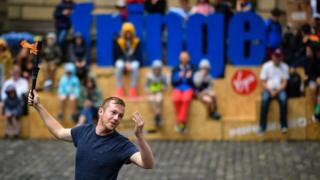 The Edinburgh Fringe and four other major cultural festivals in the city have been cancelled this year due to concerns around the Covid-19 pandemic.
Edinburgh International Festival and the Fringe, the world's biggest arts festival, will not take place for the first time in more than 70 years.
The Military Tattoo, Edinburgh Art Festival and Edinburgh International Book Festival have also been cancelled.
The five events attract audiences of about 4.4 million people each August.
More than 25,000 artists, writers and performers from 70 countries take part in 5,000 events in the Scottish capital each year.
First Minister Nicola Sturgeon said the cancellation was "heartbreaking, but the right decision".
Culture Secretary Fiona Hyslop said the festivals would be "missed greatly".
"But in taking this difficult decision now, everyone involved in the festivals, from staff to spectators, will be able to fully focus on their health and wellbeing which is critical during this time of great uncertainty," she said.
"I am committed to looking into support for seasonal staff who will suffer some of the greatest impact.
"The Scottish government will work with the festivals and all partners to ensure they can build on their previous success and return to the stage in 2021."
What are the five Edinburgh festivals?
Edinburgh International Festival was founded in 1947, in the aftermath of World War Two, in an attempt to reconcile and reunite people and nations through art. Its programme features theatre, dance and music.
The Fringe began that same year when eight theatre groups turned up uninvited to perform on the fringes of the festival. Since then it has grown to become the world's biggest arts festival.
The Royal Edinburgh Military Tattoo dates back to 1950. It attracts 220,000 visitors each August, and television coverage is watched by millions around the world.
Edinburgh International Book Festival has grown since its launch in 1983 and now brings writers from across the world to exchange ideas on major issues.
Edinburgh Art Festival is the newest of the events, being founded in 2004 to bring together galleries, museums and artist-run spaces to present work by international and UK artists.
An unprecedented but inevitable decision
Like so many decisions in the current climate, it's unprecedented.
Since they first began in 1947, a resilient celebration of culture in the aftermath of war, the Edinburgh festivals have flourished and grown.
They've seen off competition from other festivals, and events like the Olympics and the Commonwealth Games. They've adapted around health scares and terrorism – but this is different.
The sheer scale of the combined might of Edinburgh's August festivals is what makes it special, but it's also what made today's joint decision inevitable.
Even if we are out of lockdown in August, it will take some time for Scotland to return to whatever is the new normal. It will happen gradually, with many creative organisations continuing to work online. Emergency services may still be overstretched, or still recovering.
As the director of the Edinburgh Military Tattoo, Brigadier David Allfrey, says it is "impractical and undesirable" to stage a tattoo in anything like its normal form in August.
They, like so many of the other organisations, have recorded performances (which are broadcast to millions more than the 9,500 who sit on the castle esplanade each night).
All five festivals will be exploring new ways to link performers with audiences so that they can maintain some kind of presence in Edinburgh in 2020, even if it's a virtual one.
The last word goes to Fergus Linehan, director of the Edinburgh International Festival, who said: "This festival was born out of adversity – an urgent need to reconnect and rebuild. The current crisis presents all at the festival with a similar sense of urgency."
For the thousands involved, as performers or audience members, stand up comics or orchestras, it will be a blow, but the Edinburgh festivals will return in 2021. That, at least, is not in doubt.
What has the other reaction been to the cancellation?
Shona McCarthy, chief executive of the Edinburgh Festival Fringe Society, said the "heartbreaking" decision had been "the only appropriate response".
"Our thoughts today are with the doctors, nurses, health and social care professionals on the front line, as well as all those affected by this dreadful pandemic.
"Our sympathies too are with the thousands of artists and participants directly affected by today's decision – we will do everything we can to support you over the coming months."
Scottish Secretary Alister Jack said he was "hugely disappointed", but added: "We are facing a unique challenge, and for the festivals this is the right thing to do."
City of Edinburgh Council leader Adam McVey and his depute, Cammy Day, said the decision was the right one – but would leave "a massive gap".
They added: "We'll do everything we can to assist our world-renowned cultural sector to remain at the centre of the city's identity going forward."
K-Pop star sorry for coronavirus April fool's joke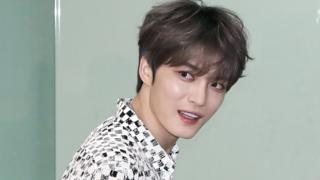 K-pop star Kim Jaejoong has apologised for posting on Instagram that he was in hospital having contracted Covid-19, admitting it was an April fool's joke.
The singer told fans he had caught the virus after "ignoring" government warnings and "living carelessly".
In a subsequent post, he claimed he had simply wanted to raise awareness of the virus.
But the now-deleted joke appears to have backfired with many of his 1.9m followers voicing their disapproval.
"How can you pull a prank like this when the situation right now is so serious?" one fan responded. "It's really disappointing."
South Korea was one of the first countries hit by coronavirus, and it is believed to have killed 165 people there so far.
According to some experts the government's "rapid, intrusive measures," including strict quarantine and testing have helped to curb the spread.
Coronavirus: South Korea seeing a 'stabilising trend'
Coronavirus: What can the world learn from South Korea?
'So scared'
Jaejoong, who is best known as a member of the Korean pop groups JYJ and TVXQ, wrote he wanted to "sincerely apologise" for his offensive post, saying he was simply scared that another wave of the virus could yet hit his country.
"It was not right – I know that," wrote Jaejoong.
"I just wanted to deliver a message that we should all be aware of the risk to minimise the number of victims.
"I'm so scared that there might come the second, the third corona-panics caused by outdoor activities and contact in closed spaces."
He added: "So, I think we all need to be alert. I just wanted to tell the people who don't care about the virus: 'Please listen up, people. Don't get sick'."
The 34-year-old, whose real name is Kim Jae-joong, has a long history of pranking fans.
His previous April fool's jokes have included pretending to faint during a concert and announcing false marriage plans.
Follow us on Facebook, or on Twitter @BBCNewsEnts. If you have a story suggestion email entertainment.news@bbc.co.uk.
How Matt Lucas' Baked Potato Song will help feed NHS workers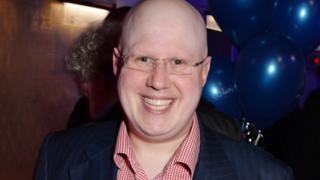 When Matt Lucas updated a 20-year-old comedy song with lyrics giving advice about avoiding coronavirus, he expected about 500 people to watch it.
"That's probably as many people as would normally look at my Twitter," the Little Britain star says.
But the video for his revised Baked Potato Song has now had three million views, and he is about to release it to raise funds for his FeedNHS campaign.
"When the idea was put to me, it was a no brainer," he tells BBC News.
Lucas first duetted with a baked potato on madcap comedy quiz Shooting Stars, where the singing vegetable delivered some sensible life lessons – from "Do be early, don't be late" to "Always eat what's on your plate".
"Sometimes people write to me about that song because it appeared on Shooting Stars about 20 years ago, and it's something that people still remember," Lucas says.
He was inspired to revisit it after seeing footage of people socialising last Tuesday, when he was already in isolation.
"I was just trying to think of a way of helping to spread the message rather than the virus, and I thought, if I can connect with kids, then maybe the kids can tell their parents," he says.
"I was sat at my piano and I just remembered the baked potato song."
In its new incarnation, the baked potato instructs people to wash their hands, stay indoors and not touch their faces.
"I watched over the next 48 hours as it went viral, and three million people have viewed it on Twitter," says Lucas.
"And then people started doing their own versions and their own animations. And kids were filming themselves singing it and sending it to me, and it sort of took on a life of its own."
Feeding doctors and nurses
As that was happening, Lucas was speaking to actors Damian Lewis and Helen McCrory, as well as the boss of food chain Leon, to set up a campaign that would provide hot meals to NHS workers.
FeedNHS is aiming to take food from the thousands of cafes, restaurants and canteens that have been forced to shut down and send it to hospitals. A fundraising page has already raised almost £600,000.
"I have an aunt who's in hospital at the moment with the virus. I know two people who've passed away from it," Lucas explains.
"People message me on social media to say they work in the NHS and they're completely oversubscribed. So it was pretty plain and simple to all of us that we should try and get them at least one hot meal a day, and it's good quality food as well."
So a singing baked potato will be helping to feed doctors and nurses.
Lucas is about to become the new co-host of The Great British Bake Off and is rumoured to be working on new Little Britain material with David Walliams. But he says he's not using the time afforded by isolation to work on comedy scripts.
"The only creative thing I've done in the last two and a half weeks is rewrite the lyrics to this song," he says.
"I've only been focused on this charity, my family and my friends.
"I want to be able to look back and think that I tried to do something to help some people during this particular crisis. I have asthma so I have to isolate. But many people are literally risking their lives to help people."
Follow us on Facebook, or on Twitter @BBCNewsEnts. If you have a story suggestion email entertainment.news@bbc.co.uk.