Breaking Bad: Netflix releases trailer for El Camino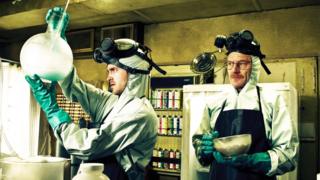 Fans of Breaking Bad will only have to wait until October for the movie – El Camino.
Netflix teased fans with a trailer for the film and tweeted it will be on the streaming service on 11 October.
It will see Aaron Paul returning as crystal meth cook Jesse Pinkman and it has been written by the show's creator, Vince Gilligan.
We still don't know if Bryan Cranston, who played Walter White, will return to star in the film.
Earlier this week Bob Odenkirk, who plays lawyer Saul Goodman in the series, revealed the whole movie had already been shot.
Speaking to The Hollywood Reporter, he says he's surprised the "secret" never got out.
But now fans know a little bit more about about it.
According to Netflix, El Camino will see Jesse escape from captivity and "come to terms with his past in order to forge some kind of future".
(By the way – if you plan on bingeing the TV series before the movie comes out, here's your spoiler warning.)
So… what do we know?
One thing that's not changing is the director Vince Gilligan, who's putting the movie together.
It's reportedly a sequel to the series. A prequel, Better Call Saul, has already run for four seasons on Netflix and a fifth is planned for next year.
Which characters are coming back?
So the finer details might still be up in the air – even for Bob:
"I've heard so many different things about it, but I am excited about the Breaking Bad movie. I can't wait to see it.
"I don't know what people know and don't know. I find it hard to believe you don't know it was shot.
"They did it. How is that a secret? But it is. They've done an amazing job of keeping it a secret."
As for one of the leading characters, Jesse Pinkman, it's fairly certain he'll be a central part of the film.
Actor Aaron Paul certainly hinted to Variety magazine he'd be involved, pointing out "in case you haven't caught up on the TV series, Walter dies, so it has to star Jesse.
"When it comes together I'd love to be a part of it. I would love to do it."
A bigger question is whether Bryan Cranston will return as Walter White – despite him and Aaron posting the single word "soon" on social media at the same time in July.
Bryan's Breaking Bad character might be dead in the series but he's told Entertainment Tonight, "rigor mortis has a way of allowing that to happen".
"Could be in a flashback, or a flash forward. I'm still dead, Walter White, I don't know what could happen."
A risky reverse in the era of streaming?
Analysis from Scott Bryan, TV critic and co-host of BBC 5 Live's Must Watch podcast.
Even a few years ago a television turning into a film would be seen as a huge step upwards, right now it seems to be the other way around.
Television has become the place for so many deep and interesting stories to be fleshed out over many chapters, something that we could not have predicted a few years ago, shows that are usually at a pace that suits the creators (Mindhunter just last week on Netflix, for example, or Orange is the New Black).
It used to be a real coup to get a Hollywood actor in a television show, now we barely even flinch.
But turning it into a film is tricky, because it has be simplistic enough to get in new viewers who may not have seen the show, plus fit within the context of what made the show so successful in the first place.
How do you deal with multiple story arcs? How can you provide so much depth in two hours? How can you leave viewers feeling satisfied?
Follow Newsbeat on Instagram, Facebook, Twitter and YouTube.
Listen to Newsbeat live at 12:45 and 17:45 weekdays – or listen back here.
Harvey Weinstein: Four more women accuse producer of assault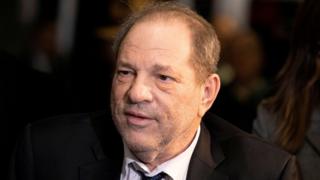 Disgraced film producer Harvey Weinstein has been accused of sexual assault by four further women as he serves a 23-year prison sentence.
Court documents filed in New York on Thursday allege several sexual offences dating from 1984 to 2013.
One of the four anonymous women was 17 at the time of an alleged attack.
Weinstein's legal representative told BBC News: "Mr Weinstein intends to defend against the claims filed anonymously against him yesterday."
The lawyer, Imran H Ansari of Aidala, Bertuna & Kamins PC, added: "Some of these claims, including those alleged to have occurred in the 1980s and 1990s, may be barred by the applicable statute of limitations, and not subject to any exceptions under the law, as these plaintiffs do not appear to be complainants in Mr Weinstein's criminal case."
Weinstein convicted of rape and sexual assault
How the Harvey Weinstein scandal unfolded
The latest legal cases allege multiple sexual offences against four women, who currently reside in Tennessee, New York, Ecuador and Hungary.
Some of the attacks allegedly took place after meetings with Weinstein at the Cannes and Venice Film Festivals.
The new allegations include:
A 43-year-old woman from Tennesee claims that in 1994, when she was 17, Weinstein "falsely imprisoned, sexually assaulted, sexually battered and raped her" in his hotel room. The plaintiff, who wanted to break into the entertainment industry, alleges Weinstein demanded she perform oral sex on him.
A 70-year-old woman from Ecuador claims that in 1984, when she was 34, Weinstein allegedly pinned her against a door and fondled her in his hotel room in Cannes, when she was looking to start a career as a documentary filmmaker.
A 38-year old woman said she met Weinstein in Manhattan in 2008 and he offered to "help take her career to the next level". He allegedly raped her in his Soho apartment a few days later, telling her he would ruin her if she told anyone.
A 35-year-old woman from Hungary claims that in 2013, when she was 26, she met Weinstein at the Venice Film Festival. A few months later, he allegedly forced her to perform oral sex on him when she met him in a hotel room.
Allegations against Weinstein began to emerge in October 2017, when The New York Times first reported incidents dating back decades.
At least 80 women have since accused him of sexual misconduct, including actresses Gwyneth Paltrow, Uma Thurman and Salma Hayek.
The allegations were at the centre of the #MeToo movement that inspired women to go public with misconduct allegations against powerful men.
Weinstein issued an apology acknowledging he had "caused a lot of pain", but denied any allegations of non-consensual sex.
In February, Weinstein was convicted in New York City of third-degree rape and first-degree criminal sexual act, and later sentenced to 23 years in jail.
Follow us on Facebook, or on Twitter @BBCNewsEnts. If you have a story suggestion email entertainment.news@bbc.co.uk.
Remi Wolf on how she makes music videos in lockdown
Music videos are often big budget affairs filmed in glamorous locations with a cast and crew to rival a movie. But what happens when a pandemic strikes and everyone is told to practise social distancing and not leave their home?
Rising star Remi Wolf told the BBC's Sophie van Brugen how she got around the problem, and what coronavirus could mean for the future of the music video.
Coronavirus: Cultural sector "first to suffer and last to come back" – Bjorn Ulvaeus
Bjorn Ulvaeus, one quarter of ABBA and President of the International Confederation of Societies of Authors and Composers (CISAC) said the cultural sector is 'extra vulnerable' due to Coronavirus and urged governments for support.
The musician told the BBC that he hopes to use technology to help creators get payments 'more efficiently and accurately'.