Big Bang Theory finally bows out from TV
This story does not contain spoilers.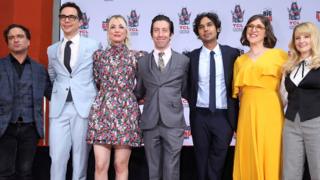 Fans of the hugely popular sitcom have said their final farewell to the show after it aired in the US.
Since first hitting screens in 2007, The Big Bang Theory has become one of the most successful comedies in TV history – winning seven Emmy Awards.
It initially centred around a group of awkward male scientists and their interactions with their new female neighbour.
The cast paid tribute to the show, with Johnny Galecki posting on Instagram.
Galecki, who played physicist Leonard Hofstadter, posted a video showing Big Bang Theory creator Chuck Lorre snapping the clapboard for the final take of the final live scene of the series.
Kaley Cuoco, who played neighbour Penny, who lives opposite Leonard and Sheldon (Jim Parsons) posted a video of the cast hugging, while fellow cast member Melissa Rauch said being in the show was "one of the greatest experiences of my life".
In its review [contains spoilers], CNN said the series, "closed with a big dose of heart" while website Indiewire said the finale "delivers an ending true to itself".
One time child actress Mayim Bialik, who plays neuroscientist Amy Farrah Fowler added her voice, along with Jim Parsons, who posted a photo of the cast. Parsons has earned four Emmy wins and a Golden Globe for his portrayal of Sheldon Cooper, a theoretical physicist.
The cast were among the highest paid actors on television and last summer, Parsons reportedly walked away from a two-season deal worth around $50m (£39m).
In 2017, the primary cast took pay cuts in order to boost the wages of Rauch and Bialik, who were earning a fifth of their salary.
Simon Helberg also posted an image of the cast hugging, while Kunal Nayyar's post on Instagram simply showed empty rows of audience seats.
Deadline's senior editor Dominic Patten tweeted an image of the series end's final card.
Another fan remembered some of the series' touching moments, while one said it had ended well.
The Big Bang Theory airs on E4 in the UK.
Follow us on Facebook, on Twitter @BBCNewsEnts, or on Instagram at bbcnewsents. If you have a story suggestion email entertainment.news@bbc.co.uk.
Cinema signs become a creative canvas in pandemic times
Normally a space for displaying film times, cinema signs have seen a wave of creativity in the United States during the coronavirus pandemic.
Witty customised signage has appeared reflecting the cinema owners love of films, their humour and concerns.
Talking Movies' Tom Brook reports.
Talking Movies can be seen on BBC World News
Actor Michael Angelis dies aged 76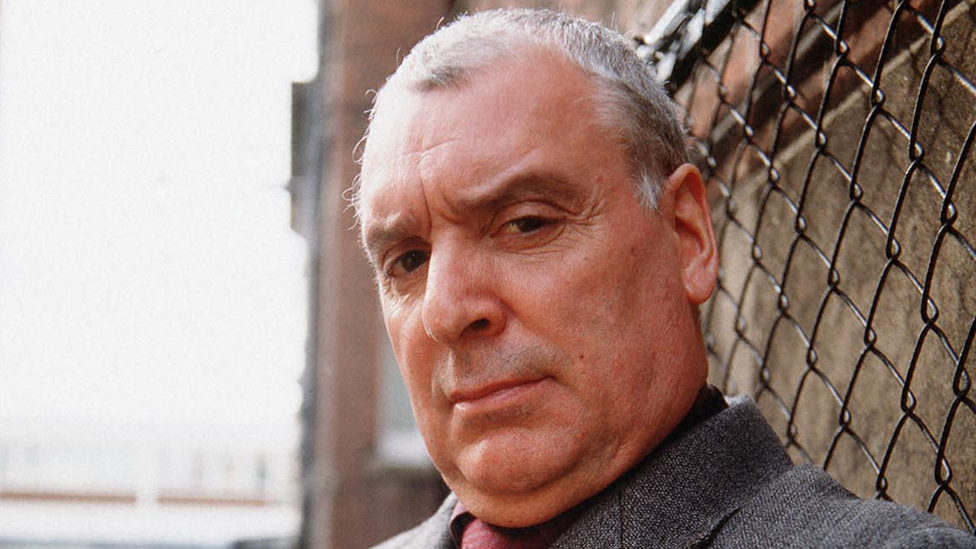 Actor Michael Angelis, known for his role in TV dramas such as Boys from the Blackstuff, and for narrating Thomas The Tank Engine, has died at the age of 76.
He died suddenly while at home with his wife on Saturday, his agent said.
The Liverpool-born actor lent his voice to children's favourite Thomas and Friends for 13 series after taking over from Beatle star Ringo Starr in 1991.
He also appeared as Mickey Startup in Auf Wiedersehen, Pet.
He starred alongside Bernard Hill and Julie Walters in the Bafta-winning 1980s series Boys From The Blackstuff, which highlighted the hardships of unemployment.
Angelis also had roles in Minder, The Liver Birds, Z Cars and Good Cop.
He was married to Coronation Street actress Helen Worth, who plays Gail Platt, from 1991 to 2001, and later married Jennifer Khalastchi.
Paying tribute to him on social media, comedian Matt Lucas described Angelis as "one of the greatest TV actors I've ever seen".
Lucas said: "His work with (screenwriter) Alan Bleasdale was tremendous. What a loss."
Coronavirus: The self-isolation choir with worldwide members
We've all missed being with friends, families and colleagues over the last few weeks, but the two million people in the UK who belong to choirs have missed the experience of singing together.
This weekend thousands of them will gather online for a singalong of Handel's Messiah, which lasts hours.