Be More Chill: The word-of-mouth hit musical now heading to London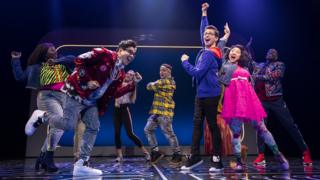 A new musical which became a word-of-mouth hit in the US is set to open in London after a successful Broadway run.
Be More Chill, which has been praised for attracting a new teen audience to the theatre, will open at The Other Palace in February, the BBC can reveal.
The pop-rock, sci-fi musical tells the story of an anxious teenager who takes a pill in order to become more popular.
The soundtrack has played a large part in making the show a sleeper hit – racking up 300 million streams.
"Ever since its sellout off-Broadway run, the show has become a hit with the best kind of social-media word of mouth powering its progress to Broadway," wrote Tim Teeman in The Daily Beast.
"It has brought, so observers have noted, a younger audience to the theatre. It has caused great excitement and created extreme fandom."
Be More Chill originally premiered in 2015 at the Two River Theatre in Red Bank, New Jersey. It had a limited run there and little was made of the cast soundtrack which was quietly released on streaming services.
In 2017, the number of online listeners to the recording started growing, and the show began to attract a cult following, particularly among young people – most of whom hadn't seen the show, but still created Tumblr pages, YouTube videos, blogs and art fiction in tribute to it.
As a result, the show was revived by its creators the following year, first as an off-Broadway production before it transferred to the Lyceum Theatre for a run on Broadway.
"I'm a little older and so I'm used to word-of-mouth being telling my friends about an amazing show or movie," Be More Chill's producer Jerry Goehring tells BBC News. "And in the old days we had radio that would play a song and it would be popular. Word of mouth would happen in different ways.
"Well today, clearly it happens online. When I first heard about this show from Joe Iconis [who wrote the music], there was something like 10 million streams of a CD that had just been released. Now fast forward to the off-Broadway run, and suddenly there were 100 million streams, and now we're well over 300 million streams."
Describing the storyline, he explains: "It starts out as a standard boy-has-a-crush-on-a-girl story. And he really wants to date this girl but he's kind of the nerd who doesn't fit in, and she's quite a quirky young lady, she doesn't quite fit in in her world.
"And then we go into a little bit of sci-fi, where now this guy says 'hey I've got this pill here, and if you take it, it's basically a super computer that will implant itself in your brain and tell you how to act the right way and see the right things so that you fit in.
"It's kind of like your alter-ego is going into your head, and it will tell you how to get that girl, how to dress right, how do you become the cool guy?"
From the premise, it's not hard to see why the show has found a young audience. The more traditional theatre critics, however, weren't so convinced.
"For much of the two-and-a-half hours this critic was dreaming of future Broadway shows, where producers did away with all these familiar ingredients, the safe white face with their nerd/outsider/not-so outsider-actually problems and safe and predictable story and character tropes," said AD Amorosi in Variety.
Mashable's Erin Strecker added: "Be More Chill doesn't grapple with the issues right in front of its face. It wants to say something profound about the pressures of being a young person in 2019, but instead settles for a stereotype-filled retrograde story straight out of the '80s."
Goehring responds: "Maybe some of the older, more staunch industry reviewers, felt like 'you can't tell me what's good and not good just because you like it'.
"We brought a piece of theatre which was brought to the stage ultimately by the people that responded to it, and who would've thought a show that's so not in the mainstream of commercial musicals, but a small musical that has heart, actually made it to the Broadway stage?"
He adds that the themes of the musical resonate with a young audience in a way that might be missed by more traditional theatre reviewers.
"Young people for some people don't have the same filters that older people have," Geohring says. "They can look under the hood a little bit and look at all the issues that this show has that it doesn't wear on its sleeve. We don't talk about suicide or bullying – that's all there, but we don't preach it. It's not written that way, you have to look just under the surface to see these things.
"And I think younger people who have a more keen sense of writing that is not on your sleeve, they got it right away. Those that come in and take it at face value and don't look a little under the surface at those issues, I think it's easy to take that point of view if that is your inclination."
Composer and lyricist Joe Iconis has previously said musical theatre is the perfect language for teens to explore themes such as this.
"Teenage characters are going through the same things adults are, they just don't have the vocabulary to express themselves, or they haven't built up the walls adults do," he told The Guardian last year.
"There's this idea in musical theatre that you sing when your emotions are too big to do anything else but sing. For me, that's the teenage experience."
Be More Chill opens at The Other Palace in February 2020.
Brian May says he was 'very near death' after a heart attack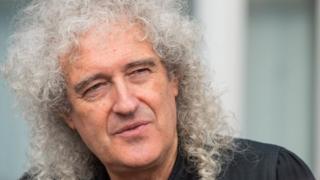 Queen guitarist Brian May has revealed he "could have died" after being rushed to hospital following a heart attack.
The 72-year-old said he was "shocked" to discover he needed surgery after what he described as a "small" heart attack earlier this month.
The star's heart scare came a few days after a separate medical issue, when he thought he had ripped his glutes during a gardening accident.
He explained his latest health problem in a video posted to Instagram.
"I thought I was a very healthy guy," he said.
"But I turned out to have three arteries that were congested and in danger of blocking the supply of blood to my heart."
May was subsequently fitted with three stents – tiny tubes that can hold open blocked arteries – and says he is back in full health.
"I walked out with a heart that's very strong now, so I think I'm in good shape for some time to come."
The star made headlines earlier this month when he posted that he had torn a muscle in his gluteus maximus during a gardening accident.
The injury left him in "relentless pain," which he later discovered was due to another injury.
"I told you I had a ripped muscle," he said in the seven-minute video he posted titled "Sheer Heart Attack" – a reference to the title of Queen's third album, released in 1974.
Brian May criticises 'horrendous' lack of PPE
Brian May on 40 years of Bohemian Rhapsody: 'I still listen to it in the car'
"That was the way I was diagnosed and we thought it was like a bizarre gardening accident.
"I didn't realise that was amusing, really. I kind of forgot anything to do with the bum people find amusing… but anyway, it turned out to be not really the case.
"Now a week later I'm still in agony. I mean real agony. I wanted to jump at some points. I could not believe the pain. And people were saying, 'That's not like a ripped muscle, you don't get that amount of pain,' so eventually I had another MRI.
'But this time I had one of the lower spine and, sure enough, what did we discover but I had a compressed sciatic nerve, quite severely compressed, and that's why I had the feeling that someone was putting a screwdriver in my back the whole time. It was excruciating.
"So finally we started treating the thing for what it was. I'd been putting the ice packs in the wrong place for about 10 days.
Chest pains
'That's one side of the story, and I'm a lot better now… But the rest of the story is a little more bizarre and a bit more shocking.
"I thought I was a very healthy guy. Everyone says, 'You've got a great blood pressure, you've got a great heart rate'. And I keep fit, I bike, good diet, not too much fat.
"Anyway, I had – in the middle of the whole saga of the painful backside – I had a small heart attack.
"It's not something that did me any harm. It was about 40 minutes of pain in the chest and tightness, and that feeling in the arms and sweating."
Having realised he was having a heart attack, he called his doctor, who drove him to hospital for tests that exposed his underlying health problems.
Given the choice between open heart surgery and having stents fitted, the musician chose the latter, and said the operation was remarkably straightforward.
The star added that his experience should be a lesson to other people in their "autumn years".
"What seems to be a very healthy heart may not be, and I would get it checked if I were you," he said.
"I was actually very near death [but] I didn't die. I came out and I would have been full of beans if it hadn't been for the leg."
May's health scare came shortly after Queen released a new version of We Are The Champions to raise money for the World Health Organization's Covid-19 fund.
The single was renamed You Are The Champions as a tribute to medical staff, and was recorded under lockdown.
Follow us on Facebook, or on Twitter @BBCNewsEnts. If you have a story suggestion email entertainment.news@bbc.co.uk.
Coronavirus: Singer Niamh McAllister says 'keep your passion alive' in lockdown
A young singer and publican has urged people to keep their "passion alive" to protect their mental health in lockdown, after dealing with the loss of her two sources of income.
Niamh McAllister said she had only just been able to pick up her guitar again after feeling "quite low" with her gigs drying up and her pub and music venue – the Banham Barrel in Norfolk – having to shut.
The 21-year-old, who has struggled with her mental health since she was a young teenager, said she was worried about the impact the coronavirus crisis was having on people in similar situations.
She said: "Try to remember that you're not in this alone. Just try to find new hobbies or things that distract you. Just something to interest you and keep your passion alive."
Lord Hall: People have turned to BBC 'in their droves' during pandemic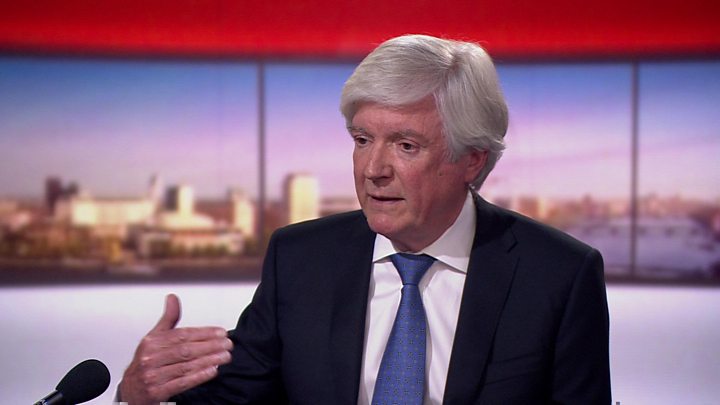 People have "turned to the BBC in their droves" in recent weeks, according to the BBC's director general.
Speaking to the BBC's Andrew Marr, Tony Hall said 94% of the UK accessed the BBC for "information, entertainment or education" during the pandemic.
He said he "took his hat off" to staff who had created "excellent" content, even though 92% of the workforce were now working from home.
The BBC could lose £125m in revenue because of coronavirus, he added.
Lord Hall also said he recognised the need for a "big debate" about the future of the BBC and the way it is funded.
The director general, who is set to leave his role in the summer, said younger audiences had been coming back to the BBC during the lockdown, with shows such as Normal People becoming huge hits.
The corporation said that 94% of the British public used the BBC in the third week of March when social distancing began in the UK – with 86% of younger people between the ages of 16-34 also accessing BBC content.
Lord Hall also credited this success to its "biggest ever educational programme", as well the launch of Culture in Quarantine – an arts and culture service which Lord Hall says keeps "the arts alive in people's homes and support the arts sector during challenging times".
He was pressed on plans to bring back BBC Three as a regular TV channel, four years after it was taken off air and moved online to save costs.
Lord Hall said the initial plans had been a "fantastic, creative success" and showed "the importance of developing our iPlayer, developing our sounds and making sure that our new services are in tip top position for young audiences to come to".
However, he acknowledged that the broadcaster could potentially lose £125m as a result of coronavirus, meaning it would have to spend "wisely" in future.
The BBC is facing financial pressure after being forced to delay the end of the free TV licence scheme for all over-75s.
It also had to postpone plans to cut 450 jobs, and said there was uncertainty around commercial revenues.
Lord Hall said that he hopes in future, there will be a "big debate" about how the BBC should be funded post 2027, when the current charter comes to an end.
He said: "The question is, what's the best way of funding that universally so that everybody, this great democratic idea, gets something we can all share.
"I hope even when I've left I can take part in that debate and we should look at the easiest way to pay, learn from what happens in other countries, are there fairer ways to pay, but the underpinning for all that is the idea of a BBC which is providing something for everyone."
It comes after a public consultation was launched by the government on whether failure to pay for a TV licence should stop being a criminal offence, with the BBC warning it would cost the corporation more than £1bn over five years.