BBC Sound of 2020: Indescribable indie band Easy Life are the runners-up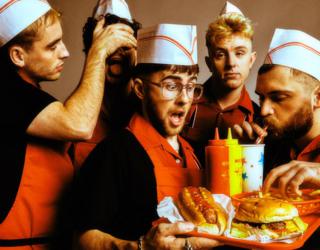 Hard to describe, but easy to love, Leicester's Easy Life have been named runners-up in the BBC's Sound of 2020.
The genre-hopping quintet formed "on a whim" in a pub two years ago, after earning their stripes in an assortment of swing and reggae bands around the city.
Fronted by singer/trumpeter Murray Matravers, they've "bodged together" (their words) an incongruous mix of wonky hip-hop beats, gossamer jazz guitar, afro-beat optimism, wavy pop melodies, psychedelic electronica and witty lyrics, all filtered through the lens of "rainy middle England".
"We've been in lots of projects before and this was very much for ourselves," says Matravers. "Very self-indulgent, going down rabbit holes with the sound.
"I thought no-one would care, that they would be like, 'What are you doing? Write some pop music'. But that wasn't the way it was, and I'm very grateful for that."
The band's music is inspired "almost exclusively by personal experience" with Matravers' discussing everything from anxiety-induced insomnia (Nightmares) and money problems (Pockets) to environmental catastrophe (Earth).
"The song isn't all 'save the whales', it just sort of alludes to it – but I felt like loads of my mates were talking about it, so why not put it in a song?" says the singer.
Easy Life's early songs have already earned the band support from BBC Radio 1 and a headline slot on the BBC Introducing Stage at Glastonbury.
Coming second on the BBC Sound of 2020 puts them alongside previous years' runners-up, including Frank Ocean, James Blake, Franz Ferdinand and Rag 'N' Bone Man.
"It feels good to be with those lot," says Matravers as he settles down to chat about the band's origins and his penchant for performing in his underwear. "There's some amazing talent in there."
Easy Life were chosen for the BBC Sound of 2020 list by a panel of 170 music critics, broadcasters, festival bookers and previous nominees – including Lewis Capaldi, Chvrches and Billie Eilish. The winner will be announced on Thursday, 9 January.
Your official biography says you got together "on a whim," which makes it sound almost accidental.
The story of how we met is quite long and boring, I'm afraid. A couple of us went to school together and the rest of us met in Leicester through music.
We were were touring as a little four-piece, playing gigs in pubs to our mates, and then one night we were out and saw Jordan Birtles, the keyboard extraordinaire, in the smoking area of a club. He used to be in another band called By The Rivers, which was quite a successful reggae band – they supported The Specials and The Wailers – so we stumbled over to him and went, 'You've got to join our band, bro', And he was like, 'Oh, go on then'.
And that was it: He was in Easy Life and six months later, we got signed!
The first single you put out was Pockets and it picked up a huge amount of buzz straight away.
We were so lucky. I'd basically written this EP but, at the time, I was kind of done with the music industry. Then Chess Club records got in touch and saying, 'Look, we want to put Pockets out as a single.' That was a massive deal for us, because we were just five dudes from Leicester rehearsing on an industrial estate.
Why were you disillusioned with the music industry?
Since I left school when I was 18, this is all I've done – and I'm 24 now. I've been working terrible jobs, horrific work all over the place, just to try and pay the rent while I pursue music. It's not a very original story but I felt I'd been chewed up and spat out.
What made Easy Life different?
It's strange because we did this very much for ourselves. Pockets is four-and-a-half minutes long and it's not very commercial, but ironically it was that song that got a moderate commercial seal of approval.
What was the worst job you had to do in those early years?
Do you know what? I said it was awful but I had the best time at work. I worked on a jacket potato van on a market for three years and my boss was incredible. He gave me so much support. I love him to bits, I really do.
What was your most popular filling?
Beans and cheese.
Classic.
We called that "the classic," in fact! But then we did beef chilli, and bolognese and garlic butter. I still make homemade garlic butter now. I've got some in my fridge. It's pretty good.
The other lads had funny jobs, too. Jordan was a music teacher in this school for troubled kids. He used to come into rehearsal after having to restrain kids who'd tried to beat him up. Sam [Hewitt – bass] did clinical trials, where he'd be given the flu for a week for £1,000 and he'd come back like completely ragged. And Cass [Oliver Cassidy – drums] was an electrician, so he took a bit of a pay cut to be in a band!
At least you've got someone to rig the stage.
Honestly, he's amazing. He wired our whole studio. And when my grandma needed some lights doing six months ago, he came through on it. He's great.
One thing I hear repeatedly in your lyrics is that life can be a struggle – but there's optimism and beauty in the small moments.
Absolutely. The overarching thing is the idea that life can get a bit crap, but everything's going to be OK. It's quite a British outlook to grit your teeth and smile – but I can't help it, that's my general outlook.
Bad stuff does happen to me and I feel sad and all the rest of it, but I always have to smile at the end of the song and think, 'You know what? I've got running water'.
There's also a thread of escaping reality by getting into altered states…
I don't want to go too deep into that. I'm pretty clean now. I've quit smoking and I'm pretty tee-total. But I write from experience – so I think back to when I was really trying to push the boundaries. The world looked different through a different lens.
But that's not to say I would recommend that myself, or even get involved with that any more, really. I was actually hit by a van once when I was on acid. I was in hospital, broke my collar bone, both my hands.
That's not good for a trumpeter.
No, no… I was ok after a while but it knocked me back into reality.
On a completely different tangent, Earth is a song that deals with climate change. Why was it important to make that statement?
WelI, I was brought up on an organic farm, and we've had to change the way we farm completely in the last 10 years because of the weather. We can't plant certain crops at the same time we used to because it rains, or it's too hot or it's too cold. And this is England – we have a moderate climate. If you're already facing an extreme climate, and then you add global warming and climate change on top of it, it becomes almost impossible to farm.
So my parents were pumping me with environmental ethics from quite a young age and it just felt like a good time to sing about it. In an interesting way it unites people – because if we don't sort it, we're doomed. This really is our problem to solve.
Was it eye-opening to film the video in a junk yard?
So that was in Morocco, literally in the middle of the desert. You drive out of Marrakech for maybe 20 or 30 minutes and there's this recycling centre in the middle of nowhere and they had acres and acres of plastic. Most of the rubbish didn't have Arabic writing on it, it's mostly been imported from England. You realise we're shunting our problem to someone else; and this beautiful environment was completely destroyed by plastic. It really hit the message home.
Is that the biggest problem – that we can choose to ignore it?
It's easy to ignore it. When you put something in the bin, it's done. You never see that piece of rubbish again. But realistically, someone comes along, picks it up and drives it off to a landfill, where it lives for decades or centuries. It's out of sight, out of mind.
Your new EP has a song called Dead Celebrities. What inspired that?
We played Coachella last April, and that was my first time in LA. Mate, honestly it's amazing, for so many reasons but they're completely obsessed with death and celebrities. There's the museum of celebrity death, the dearly departed museum, and even a hotel we were staying in which was supposed to be haunted by Marilyn Monroe. So that inspired the song.
We shot the video in LA, too, and it's very very funny. We got lots of celebrity look-a-likes and they chased me down Hollywood Boulevard. There's one moment where I'm holding Paris Hilton and my mum over a cliff; and I'm not sure which one to drop. It's really out there.
And should we expect an album this year, too?
Yeah. I've just started work on the album; and I've been lucky to work with some incredible producers. Some heroes of mine, actually.
Can you name them?
Not really, sorry! But it'll all come out in the wash.
When you say 'I've started work on the album,' does that mean you're the chief writer?
Sometimes it's all of us together but I write a lot of the music on my own. I'd say 80% of it.
I'm a recluse, really. I don't like to get out much. When we do the gigs, it's all very extroverted and a big show, but for me that takes quite a lot of doing. I need the rest of the week to sit and read or listen to music.
That surprises me… You've got a reputation for stripping down to your underwear on stage!
Being fully-clothed on stage is difficult when you play for an hour and a half! We might be under those lights for a long time and it's nice to get naked, man, it feels liberating.
Clothes are, you know… we become institutionalised. A million years ago we would all be running around naked eating berries. Things were simpler back then.
Follow us on Facebook, or on Twitter @BBCNewsEnts. If you have a story suggestion email entertainment.news@bbc.co.uk.
Michael Medwin: Shoestring actor dies aged 96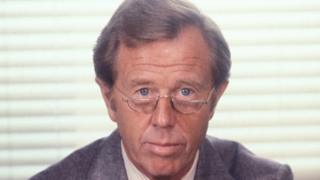 British actor Michael Medwin has died in hospital in Bournemouth at the age of 96.
Best known for playing radio station boss Don Satchley in TV's Shoestring, he was a prolific supporting player who appeared in films with Michael Caine, Sean Connery and Albert Finney.
Alongside Finney, he also produced such films as Lindsay Anderson's If…., O Lucky Man! and Charlie Bubbles.
Born in London in 1923, he was made an OBE for services to drama in 2005.
Theatre producer David Pugh, with whom Medwin produced plays for three decades, was among the first to mark his passing.
Medwin, who trained at the Italia Conti stage school in London, made his film debut as a radio operator in 1946's Piccadilly Incident.
In the six decades that followed, he appeared in such films as A Hill in Korea, Doctor at Large, Carry On Nurse and The Longest Day.
Often cast as cockney spivs at the start of his career, he moved on to authority figures like the doctor who treats Connery's James Bond in 1983's Never Say Never Again.
He also played the nephew of Albert Finney's title character in Scrooge, despite being 12 years Finney's senior.
As Don Satchley, Medwin would occasionally find himself at odds with Trevor Eve's phone-in private investigator Eddie Shoestring.
Based in the West Country, the BBC TV series ran for two series spanning 21 episodes between 1979 and 1980.
"Acting was something I wanted to do, and by good fortune I found I could do it quite well," he told The List in 2009.
The previous year he made one of his final screen appearances as a speechmaker who extols the virtues of Keira Knightley's title character in The Duchess.
Follow us on Facebook, or on Twitter @BBCNewsEnts. If you have a story suggestion email entertainment.news@bbc.co.uk.
Clive Cussler: Dirk Pitt novels author dies aged 88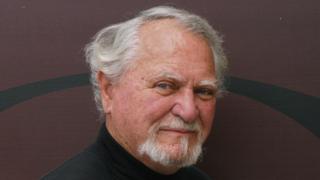 Clive Cussler, the US author of the popular Dirk Pitt novels, has died at the age of 88.
He wrote 25 books in the adventure series, including Sahara and Raise the Titanic, and sold more than 100 million copies of his novels in total.
Writing on Twitter, Cussler's wife said: "It is with a heavy heart that I share the sad news that my husband Clive passed away [on] Monday.
"It has been a privilege to share in his life."
She added: "I want to thank you, his fans and friends, for all the support. He was the kindest most gentle man I ever met. I know, his adventures will continue."
The cause of his death has not been confirmed.
'Soft spot in my heart'
Cussler's 1992 thriller Sahara was adapted for the big screen in a 2005 film starring Matthew McConaughey and Penelope Cruz.
The writer, whose books have been published in more than 40 languages, was married to Barbara Knight for nearly 50 years until her death in 2003, and they had three children, Teri, Dirk, and Dayna.
He later married Janet Horvath. His son Dirk, named after the character, co-wrote his final three novels.
"Dirk will always have a soft spot in my heart because he started if off," Cussler said in an interview with Working Mother in 2013.
"I hope readers see Pitt as a normal, average guy who is down to earth. He likes the Air Force, tequila, and an occasional cigar.
"I used myself as a model for Dirk. We are both 6'3″, have green eyes, and at that time were the same weight and the same age."
He added: "The only differences are that he is better with the girls and he has aged about 10 years while I have aged about 50."
Cussler brands adaptation 'silly'
Movie makers in film 'flop' fight
After selling the Sahara story to the billionaire Philip Anschutz, Cussler later sued, telling a US court in 2007 Hollywood "tore the heart out" of the book.
The movie grossed $119 million (£92.1m) worldwide but was still considered a box-office failure as it failed to recoup its own filmmaking costs.
The novelist said the company broke its contract by changing the story without his consent.
"I thought it was just awful," he said of the film, adding that he considered the re-written dialogue to be silly.
One his earlier works, Raise the Titanic! was also made into a movie in 1980. The film, starring Jason Robards, Richard Jordan, David Selby, Anne Archer, and Sir Alec Guinness, proved to be a similar flop.
Cussler wrote more than 80 books in total, including the Isaac Bell Adventures and Fargo Adventures series.
Known as an expert in shipwrecks, Cussler founded the non-profit National Underwater and Marine Agency.
His non-fiction book Sea Hunters was so extensive in its underwater knowledge the Maritime College in the State of New York gave him a doctorate.
---
Follow us on Facebook or on Twitter @BBCNewsEnts. If you have a story suggestion email entertainment.news@bbc.co.uk.
Why Bob Iger's long goodbye to Disney is a very big deal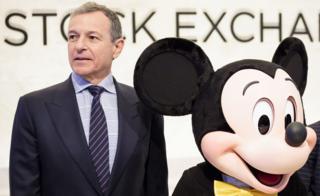 The news that Disney boss Bob Iger is stepping down as the company's CEO has taken the movie world by surprise.
Since becoming chief executive in 2005, Iger led the company through several blockbuster acquisitions and the launch of the Disney+ streaming service.
Viewed by many to be the most powerful man in Hollywood, Iger had previously announced plans to retire only to push back his departure date.
Iger will remain Disney's executive chairman until the end of 2021.
In a statement, the company said Iger would direct its "creative endeavours" while ensuring "a smooth and successful transition".
Bob Chapek, who joined Disney in 1993 and previously ran the company's parks and products division, has been appointed the company's new CEO.
Disney boss Bob Iger steps down as chief executive
During Iger's tenure as CEO, Disney took over animation studio Pixar, comic book company Marvel, Star Wars originator LucasFilm and Rupert Murdoch's 21st Century Fox.
These acquisitions, combined with the launch of Disney+, amusement park openings and other factors, saw the company's market value increase five-fold.
Of the 20 highest-grossing films of the 2010s, 13 were Disney releases. Three of these titles made more than $2 billion (£1.54 billion) worldwide.
The most lucrative of the three, superhero blockbuster Avengers: Endgame, overtook 2009's Avatar in July 2019 to become the highest-grossing film of all time.
Avengers overtakes Avatar at all-time box office
Last year Iger published a memoir, titled The Ride of a Lifetime, in which he wrote about the lessons he had learned from his 15 years as Disney CEO.
While promoting his book he gave his only UK interview to BBC media editor Amol Rajan, during which he reflected on his experiences and accomplishments.
"It would be nice to know that it's going to turn out as well as it has, because I probably would have been just a little bit more relaxed," he mused when asked what advice he would offer his younger self.
"But then again if I had been a little bit more relaxed, I probably wouldn't have worked as hard and it might not have turned out. So because you can't go back and do it over in anyway, I wouldn't change a thing."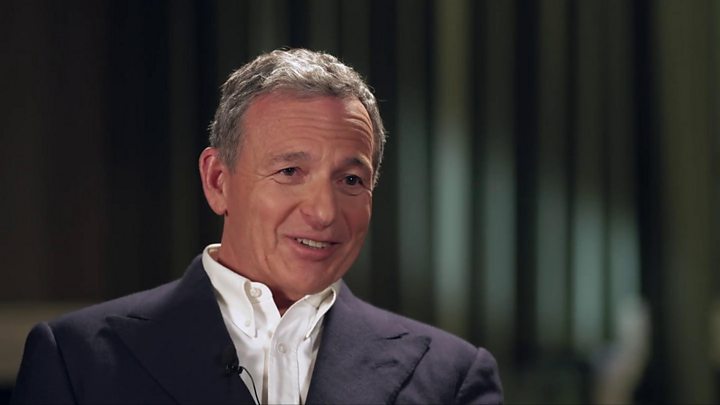 The 69-year-old also expressed pride about the number of jobs he said had been created at the Disney company during his time as CEO.
"I'm proud of our efforts for our employees – for cast members as we call them – around the world. Of which there are now about 230,000," he said.
"There are tens of thousands more of them today, by the way, than they were when I got the job. So we've created a huge number of jobs. And for hourly workers.
"I am proud of their compensation. I'm proud of the benefits that we've bestowed upon them. I'm proud of the opportunities we've created for them.
"There's been huge upward mobility in our company by the very people that start at the bottom – I'm one of them – and enable themselves to not only work their way up, but to work their way up and to earn more."
In other departments, however, Iger did concede mistakes had been made.
"I have said publicly that I think we made and released too many Star Wars films over a short period of time," he told Amol Rajan.
"I have not said that they were disappointing in any way. I've not said that I'm disappointed in their performance.
"I just think that there's something so special about a Star Wars film, and less is more.
"The nice thing about Star Wars is the future is unlimited in terms of the places we can go, the stories we can tell and the characters we can introduce people to," Iger said during a subsequent visit to the UK for the European premiere of the most recent Star Wars film.
Last December's event also saw him reveal that his favourite character from the long-running sci-fi film saga was Chewbacca the Wookiee.
"I've always been a 'Chewie' fan," he told the BBC's Colin Paterson. "I don't understand a word he's saying, but he always makes me laugh."
No doubt Iger's departure would have seen the character utter one of his trademark mournful moans.
Follow us on Facebook, or on Twitter @BBCNewsEnts. If you have a story suggestion email entertainment.news@bbc.co.uk.