BBC News to close 450 posts as part of £80m savings drive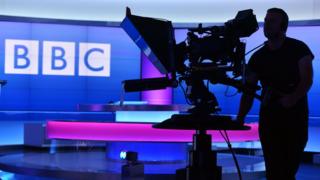 Around 450 jobs will be cut from BBC News under plans to complete its £80m savings target by 2022.
Outlets to be hit by job closures include BBC Two's Newsnight, BBC Radio 5 Live and the World Update programme on the World Service.
BBC News boss Fran Unsworth said there had to be a move away from traditional broadcasting and towards digital.
But broadcasting union Bectu said the changes would mean staff will be "under even more pressure to deliver".
The job cuts announced on Wednesday include the previously announced closure of BBC Two's Victoria Derbyshire programme.
BBC News currently employs around 6,000 people, including 1,700 outside the UK. Its budget after the changes will be around £480m per year.
Unsworth, who is director of BBC News, said: "The BBC has to face up to the changing way audiences are using us.
"We need to reshape BBC News for the next five to 10 years in a way which saves substantial amounts of money. We are spending too much of our resources on traditional linear broadcasting and not enough on digital."
What will be cut?
The corporation announced in 2016 that it needed to save £800m, with around £80m of that figure coming from News.
Just over £40m – around half – of the savings required in BBC News have already been found over the past four years.
The remaining savings will be found in large part by restructuring the newsroom to adopt a "story-led" model, which will see planned stories each rolled out across a greater number of programmes and outlets.
The BBC said this would avoid the duplication that occurs from several programmes putting resources into the same news stories.
However, the changes mean there will be a reduction in the overall number of stories covered, and Newsnight will produce fewer films.
Unsworth said there would be a review of the number of presenters BBC News has and how they work.
While Victoria Derbyshire and World Update will be closed, Unsworth said there are unlikely to be any further closures of entire programmes or services.
The savings are expected to result in post closures across BBC News as the planning and commissioning of stories is centralised.
The BBC News website will be largely, although not entirely, protected, as the corporation prepares to invest further in digital, including the launch of a new version of the BBC News app.
The 450 job cuts include around 50 post closures at the World Service that were announced at the end of 2019.
The BBC announced in 2016 it needed to save £800m by 2020; BBC News was to provide £80m of those savings, and it is only half way.
The BBC is struggling to connect with many British people – especially those from poorer socio-economic backgrounds, and – even more so – those under 35.
The licence fee, which accounts for around 75% of the BBC's revenue, is under unprecedented political and structural pressure.
These three facts have driven the changes announced today.
The first made pain inevitable; the second has determined the nature of the cuts announced; the third means the audience the BBC has in mind when making these changes isn't just licence fee payers – it's the inhabitants of 10 Downing Street.
A radical experiment, at an uncertain time, for BBC News – read Amol's full blog
Writing on Twitter after the latest announcement, Victoria Derbyshire took issue with the reasons behind the decision to close her programme.
"We were NEVER asked to grow the linear TV audience. Ever," she tweeted in response to a journalist who suggested the viewing figures for her programme were low.
"We were asked to grow our digital audience – we did," she said.
Michelle Stanistreet, general secretary of the National Union of Journalists, responded to the announcement by saying: "These damaging cuts are part of an existential threat to the BBC, and a direct consequence of the last disastrous, secret licence fee deal the BBC agreed with the government."
Bectu national secretary Noel McClean said: "The unprecedented constraints faced by the BBC will leave our members under even more pressure to deliver the output and service that has made this essential public service the envy of the international broadcasting community and risks its future viability."
Damian Collins MP, who is standing for re-election as chair of the House of Commons culture select committee, said there would be "concerns" about the plans.
"They should explain how it'll impact the BBC's ability to reach people," he wrote on Twitter.
TalkRadio host Julia Hartley Brewer and former Newsnight economics editor Paul Mason were among those offering their views on the plans on Twitter.
Meanwhile, the BBC has suspended the closure of its Red Button text service after protests, a day before it was due to have started being phased out.
On Monday, a petition calling for it to be saved, organised by the National Federation of the Blind of the UK (NFBUK), was handed in to the BBC and Downing Street.
Follow us on Facebook, or on Twitter @BBCNewsEnts. If you have a story suggestion email entertainment.news@bbc.co.uk.
Pop Smoke: Rapper shot dead in apparent robbery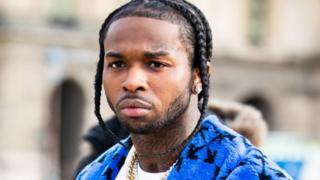 The US rapper Pop Smoke has been killed, after an apparent armed robbery.
Los Angeles Police told Radio 1 Newsbeat a man was shot at his home and later pronounced dead, although didn't confirm his identity.
But his label Republic Records says it's "devastated by the unexpected and tragic loss of Pop Smoke".
Police responded to reports of a robbery – and man was then taken to hospital and later pronounced dead.
Officers confirmed that an unknown number of suspects entered a property in West Hollywood.
They got a call about a robbery at 04:55 PST and were at the scene six minutes later.
Police say no suspects have been identified and no arrests have been made.
They also denied reports that a man was held at the scene but say one suspect is thought to have had a handgun.
Pop Smoke was signed to Republic Records which has said in a statement "our prayers and thoughts go out to his family, friends and fans, as we mourn this loss together."
When reports first appeared in the US tributes began flooding in for Pop Smoke, real name Bashar Barakah Jackson – including from friends.
Pop Smoke had a breakout hit with Welcome to the Party in 2019 – which led to him being singled out as an artist to watch this year by BBC Radio 1Xtra, on the station's Hot For 2020 list.
The station said he "possessed the air and cadence of a rapper who has been in the game for a decade or two longer than his actual age".
The track ended up being remixed by both Nicki Minaj and Skepta.
Just last week Pop Smoke was a guest on DJ Target's show on 1Xtra.
He was in the middle of several US tour dates and was due to come to the UK in April – with shows scheduled in London, Manchester and Birmingham.
50 Cent was one of many rappers, DJs and producers that paid tribute on social media, as did rapper Quavo, who Pop Smoke had collaborated with.
Last year he spoke about wanting to make music that inspires children who are growing up in poverty.
He told The Face: "I make music for that kid in the hood that's gotta share a bedroom with like four kids – the young kids growing up in poverty.
"I make music for kids like that who know they just gotta keep going, that there's a better way. That's who I really make it for."
Follow Newsbeat on Instagram, Facebook, Twitter and YouTube.
Listen to Newsbeat live at 12:45 and 17:45 weekdays – or listen back here.
Jimmy Tarbuck: Comedian reveals prostate cancer diagnosis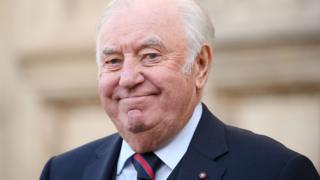 Comedian Jimmy Tarbuck has revealed he has been diagnosed with prostate cancer.
The veteran Liverpudlian comic told ITV's Good Morning Britain he would "try and beat it".
Tarbuck said he received the diagnosis the day after his 80th birthday earlier this month.
"Right now I feel great. I'm on the telly and I'm having a good time," he said, adding that the cancer had not spread.
He was inspired to get checked by Sir Rod Stewart, who announced in September that he had received treatment for prostate cancer.
"All men out there watching, and all wives, get your husbands to go for the tests. I think after 50, just have a test, let them have a look at you," Tarbuck said.
"You will be relieved and be with your families for extra years."
He said men can be too "shy" to get tested, but urged them not to put it off. "Boys, go. It is embarrassing. Especially when the fella said to me 'We're going to give you the thumbs up'. I said 'I hope not'. He roared laughing."
Speaking about his treatment, he added: "I'm having injections and taking tablets and then I take a yearly cycle."
Tarbuck, who rose to fame in the 1960s and was known for hosting variety shows including Sunday Night At The London Palladium and Live From Her Majesty's, is now planning to go on tour.
Follow us on Facebook, or on Twitter @BBCNewsEnts. If you have a story suggestion email entertainment.news@bbc.co.uk.
Brits 2020: Pop meets politics


Highlights from this year's ceremony included performances from Billie Eilish, Dave, Lizzo and Stormzy.



Source link