BBC 'must reflect nation' says new culture secretary Oliver Dowden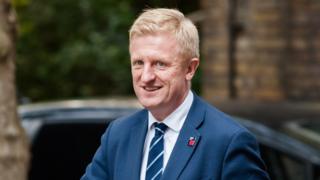 New UK Culture Secretary Oliver Dowden has said the BBC needs to do more to reflect the country's "genuine diversity of thought and experience".
Mr Dowden, who recently succeeded Nicky Morgan, made the comments in his first speech in the role on Thursday.
He also warned that the broadcaster must "guard its unique selling point of impartiality in all of its output".
And he questioned whether the BBC is "ready to embrace proper reform to ensure its long-term sustainability".
His comments come amid a debate about the future funding of the corporation.
The government is currently consulting on proposals to decriminalise TV licence fee evasion, while negotiations for the next licence fee settlement are due to take place.
Mr Dowden told Thursday's Media and Telecoms 2020 & Beyond conference that audiences should "cherish" the unique contribution made by public service broadcasters.
The 41-year-old compared the BBC to the NHS in terms of its national cultural importance, but point out the need for it to change in order to stay relevant.
"If we're honest, some of our biggest institutions missed, or were slow to pick up, key political and social trends in recent years," Mr Dowden he said.
"The BBC needs to be closer to, and understand the perspectives of, the whole of the United Kingdom and avoid providing a narrow urban outlook.
'Genuine diversity of thought'
"By this, I don't just mean getting authentic and diverse voices on and off screen – although this is important," he added.
"But also making sure there is genuine diversity of thought and experience."
Mr Dowden pointed out the importance of safeguarding impartiality, citing research that suggested some viewers trust other broadcasters such as Sky and CNN more than the BBC.
"Ultimately, if people don't perceive impartiality, then they won't believe what they see and read and they'll feel it is not relevant to them.
"In an age of fake news and self reinforcing algorithms, the need for genuine impartiality is greater than ever."
While saying it needs to re-find its place in the age of streaming and subscription sites like YouTube and Netflix, he will conclude that "the BBC is an institution to be cherished".
"We would be crazy to throw it away but it must reflect all of our nation, and all perspectives."
BBC News announced in January it will cut around 450 jobs in line with its £80m savings target by 2022.
'Happy to exploit'
The BBC had no direct response to Mr Dowden's comments, but writing in the Daily Mail on Tuesday, director general Tony Hall noted "the BBC has always been the first to embrace change".
He pointed out that the BBC attempted to launch a Netflix-style model a decade ago.
"More than 10 years ago, back when Netflix was still delivering DVDs through the front door, the BBC joined forces with other public service broadcasters to set up a British video-on-demand service," wrote Lord Hall.
"It was blocked by the regulators, opening up a gap that Netflix and others were only too happy to exploit."
He added that the BBC had "worked hard to modernise our organisation".
He said the organisation had been: "Driving down efficiencies to industry-leading levels. Cutting jobs and management layers. Streamlining our news operation. Reshaping what we do to meet the needs of today's audiences.
"We know we have to do more to serve young people in particular."
---
Follow us on Facebook or on Twitter @BBCNewsEnts. If you have a story suggestion email entertainment.news@bbc.co.uk.
Minneapolis unrest: CNN reporter arrested live on air
A CNN correspondent and members of his crew were arrested while broadcasting about violent protests in Minneapolis.
There were demonstrations in the city for a third night following the death of George Floyd, an unarmed black man, in police custody on Monday.
The Minneapolis State Patrol confirmed the arrests and said those detained were released "once they were confirmed to be members of the media".
But CNN disputed the police's account of the incident, saying its staff had "identified themselves, on live television, immediately as journalists".
Minnesota Governor Tim Walz later apologised for the arrests.
Watch the full story on CNN YouTube channel.
Harvey Weinstein: Four more women accuse producer of assault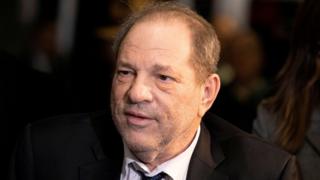 Disgraced film producer Harvey Weinstein has been accused of sexual assault by four further women as he serves a 23-year prison sentence.
Court documents filed in New York on Thursday allege several sexual offences dating from 1984 to 2013.
One of the four anonymous women was 17 at the time of an alleged attack.
Weinstein's legal representative told BBC News: "Mr Weinstein intends to defend against the claims filed anonymously against him yesterday."
The lawyer, Imran H Ansari of Aidala, Bertuna & Kamins PC, added: "Some of these claims, including those alleged to have occurred in the 1980s and 1990s, may be barred by the applicable statute of limitations, and not subject to any exceptions under the law, as these plaintiffs do not appear to be complainants in Mr Weinstein's criminal case."
Weinstein convicted of rape and sexual assault
How the Harvey Weinstein scandal unfolded
The latest legal cases allege multiple sexual offences against four women, who currently reside in Tennessee, New York, Ecuador and Hungary.
Some of the attacks allegedly took place after meetings with Weinstein at the Cannes and Venice Film Festivals.
The new allegations include:
A 43-year-old woman from Tennesee claims that in 1994, when she was 17, Weinstein "falsely imprisoned, sexually assaulted, sexually battered and raped her" in his hotel room. The plaintiff, who wanted to break into the entertainment industry, alleges Weinstein demanded she perform oral sex on him.
A 70-year-old woman from Ecuador claims that in 1984, when she was 34, Weinstein allegedly pinned her against a door and fondled her in his hotel room in Cannes, when she was looking to start a career as a documentary filmmaker.
A 38-year old woman said she met Weinstein in Manhattan in 2008 and he offered to "help take her career to the next level". He allegedly raped her in his Soho apartment a few days later, telling her he would ruin her if she told anyone.
A 35-year-old woman from Hungary claims that in 2013, when she was 26, she met Weinstein at the Venice Film Festival. A few months later, he allegedly forced her to perform oral sex on him when she met him in a hotel room.
Allegations against Weinstein began to emerge in October 2017, when The New York Times first reported incidents dating back decades.
At least 80 women have since accused him of sexual misconduct, including actresses Gwyneth Paltrow, Uma Thurman and Salma Hayek.
The allegations were at the centre of the #MeToo movement that inspired women to go public with misconduct allegations against powerful men.
Weinstein issued an apology acknowledging he had "caused a lot of pain", but denied any allegations of non-consensual sex.
In February, Weinstein was convicted in New York City of third-degree rape and first-degree criminal sexual act, and later sentenced to 23 years in jail.
Follow us on Facebook, or on Twitter @BBCNewsEnts. If you have a story suggestion email entertainment.news@bbc.co.uk.
Remi Wolf on how she makes music videos in lockdown
Music videos are often big budget affairs filmed in glamorous locations with a cast and crew to rival a movie. But what happens when a pandemic strikes and everyone is told to practise social distancing and not leave their home?
Rising star Remi Wolf told the BBC's Sophie van Brugen how she got around the problem, and what coronavirus could mean for the future of the music video.