BBC apologises after Andrew Marr suggested Priti Patel was 'laughing'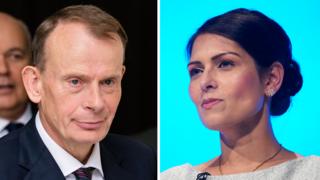 The BBC has apologised after Andrew Marr accused Priti Patel of laughing during an interview about Brexit.
While discussing the subject with the home secretary on his Sunday morning politics show on 13 October, Marr said: "I can't see why you're laughing."
Patel appeared to ignore his comment and continued with her answer.
The corporation received 222 complaints and now accepts Patel was not "smiling" but displaying her "natural expression".
During the interview, Marr read out a list of industry bodies who had expressed concern about the impact Brexit would have on their businesses.
Patel, who was appearing via video link, did not speak as Marr then recited a letter one group had sent to the government, but her facial expressions prompted him to suggest she was laughing.
In a statement, the BBC wrote: "Guests who appear on the Andrew Marr show expect robust interviewing that includes back and forth between themselves and Mr Marr.
"Andrew Marr commented on Priti Patel laughing after he glanced up while reading a list of business leaders concerned about the impact of Brexit on their industries.
"He thought he saw the home secretary smile but now accepts this was in fact her natural expression and wasn't indicating amusement at his line of questioning."
The statement concluded: "There was no intention to cause offence and we are sorry if viewers felt this to be the case."
The Daily Mail quoted a source close to the home secretary as saying: "Priti is grateful to Andrew for correcting his mistake and looks forward to appearing on his show in future."
Follow us on Facebook, on Twitter @BBCNewsEnts, or on Instagram at bbcnewsents. If you have a story suggestion email entertainment.news@bbc.co.uk.
Sport Relief: Nick Grimshaw back after break due to heat exhaustion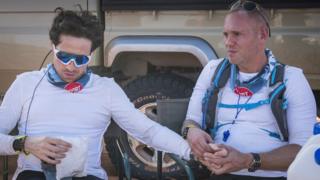 Radio 1 presenter Nick Grimshaw is set to climb the tallest dunes in the world for Sport Relief, after taking a day off with heat exhaustion.
Nick sat out of Tuesday's The Heat Is On challenge after advice from medics, and told Radio 1 he was feeling "fighting fit".
In an Instagram video he says his body temperature had reached 40 degrees at the end of Monday's event.
Nick said: "It was really scary. It was horrible."
He's travelling across the Namib desert in Namibia, alongside other celebrities like Frankie Bridge and Rob Rinder to raise money for mental health services.
The challenge, which started on Monday, will see them cross the desert by walking, cycling and skiing.
Nick says he "felt great" when they set off, but as soon as he was stopped by a medic for a temperature check just two kilometres before the finish line, he felt "really, really bad".
"It was horrible, I've never experienced that before."
The presenter was told he couldn't finish the day's challenge, and had to take time out to recover.
He saw doctors and received treatment for heat exhaustion, but said not being able to participate was "really hard to deal with".
The challenge lasts over four days, and ends at a shipwreck on the Skeleton Coast of Namibia.
It was originally supposed to be in the freezing temperatures of Mongolia, but was moved to Namibia because of Coronavirus fears.
Nick says he hopes he will be on "top form, ready to continue" to the next stage.
The celebrities are set to climb the "highest sand dunes in the world" which Nick says he doesn't want to miss.
Follow Newsbeat on Instagram, Facebook, Twitter and YouTube.
Listen to Newsbeat live at 12:45 and 17:45 weekdays – or listen back here.
Michael Medwin: Shoestring actor dies aged 96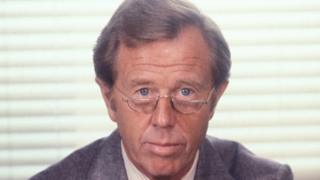 British actor Michael Medwin has died in hospital in Bournemouth at the age of 96.
Best known for playing radio station boss Don Satchley in TV's Shoestring, he was a prolific supporting player who appeared in films with Michael Caine, Sean Connery and Albert Finney.
Alongside Finney, he also produced such films as Lindsay Anderson's If…., O Lucky Man! and Charlie Bubbles.
Born in London in 1923, he was made an OBE for services to drama in 2005.
Theatre producer David Pugh, with whom Medwin produced plays for three decades, was among the first to mark his passing.
Medwin, who trained at the Italia Conti stage school in London, made his film debut as a radio operator in 1946's Piccadilly Incident.
In the six decades that followed, he appeared in such films as A Hill in Korea, Doctor at Large, Carry On Nurse and The Longest Day.
Often cast as cockney spivs at the start of his career, he moved on to authority figures like the doctor who treats Connery's James Bond in 1983's Never Say Never Again.
He also played the nephew of Albert Finney's title character in Scrooge, despite being 12 years Finney's senior.
As Don Satchley, Medwin would occasionally find himself at odds with Trevor Eve's phone-in private investigator Eddie Shoestring.
Based in the West Country, the BBC TV series ran for two series spanning 21 episodes between 1979 and 1980.
"Acting was something I wanted to do, and by good fortune I found I could do it quite well," he told The List in 2009.
The previous year he made one of his final screen appearances as a speechmaker who extols the virtues of Keira Knightley's title character in The Duchess.
Follow us on Facebook, or on Twitter @BBCNewsEnts. If you have a story suggestion email entertainment.news@bbc.co.uk.
Clive Cussler: Dirk Pitt novels author dies aged 88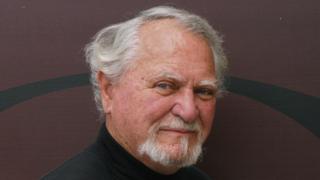 Clive Cussler, the US author of the popular Dirk Pitt novels, has died at the age of 88.
He wrote 25 books in the adventure series, including Sahara and Raise the Titanic, and sold more than 100 million copies of his novels in total.
Writing on Twitter, Cussler's wife said: "It is with a heavy heart that I share the sad news that my husband Clive passed away [on] Monday.
"It has been a privilege to share in his life."
She added: "I want to thank you, his fans and friends, for all the support. He was the kindest most gentle man I ever met. I know, his adventures will continue."
The cause of his death has not been confirmed.
'Soft spot in my heart'
Cussler's 1992 thriller Sahara was adapted for the big screen in a 2005 film starring Matthew McConaughey and Penelope Cruz.
The writer, whose books have been published in more than 40 languages, was married to Barbara Knight for nearly 50 years until her death in 2003, and they had three children, Teri, Dirk, and Dayna.
He later married Janet Horvath. His son Dirk, named after the character, co-wrote his final three novels.
"Dirk will always have a soft spot in my heart because he started if off," Cussler said in an interview with Working Mother in 2013.
"I hope readers see Pitt as a normal, average guy who is down to earth. He likes the Air Force, tequila, and an occasional cigar.
"I used myself as a model for Dirk. We are both 6'3″, have green eyes, and at that time were the same weight and the same age."
He added: "The only differences are that he is better with the girls and he has aged about 10 years while I have aged about 50."
Cussler brands adaptation 'silly'
Movie makers in film 'flop' fight
After selling the Sahara story to the billionaire Philip Anschutz, Cussler later sued, telling a US court in 2007 Hollywood "tore the heart out" of the book.
The movie grossed $119 million (£92.1m) worldwide but was still considered a box-office failure as it failed to recoup its own filmmaking costs.
The novelist said the company broke its contract by changing the story without his consent.
"I thought it was just awful," he said of the film, adding that he considered the re-written dialogue to be silly.
One his earlier works, Raise the Titanic! was also made into a movie in 1980. The film, starring Jason Robards, Richard Jordan, David Selby, Anne Archer, and Sir Alec Guinness, proved to be a similar flop.
Cussler wrote more than 80 books in total, including the Isaac Bell Adventures and Fargo Adventures series.
Known as an expert in shipwrecks, Cussler founded the non-profit National Underwater and Marine Agency.
His non-fiction book Sea Hunters was so extensive in its underwater knowledge the Maritime College in the State of New York gave him a doctorate.
---
Follow us on Facebook or on Twitter @BBCNewsEnts. If you have a story suggestion email entertainment.news@bbc.co.uk.