Back to the Future musical sets date for world premiere in Manchester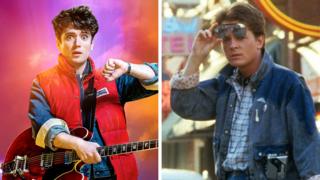 Great Scott! The Back to the Future musical has finally set a date for its world premiere – 20 February 2020 in Manchester, before a West End run.
The show had originally been scheduled to open in 2015. But it was delayed, and unlike Doc Brown, the production team didn't possess a time machine.
"Good things take time," writer Bob Gale said. Actor Olly Dobson will fill Michael J Fox's shoes as Marty McFly.
Fox starred in the three hit Back to the Future films between 1985-90.
The musical, which will run at Manchester Opera House for 12 weeks before moving to London, will include songs from the films including The Power of Love and Johnny B Goode.
There will also be new music and lyrics by Alan Silvestri, who composed for the original film trilogy as well as movies including Avengers: Endgame; and Glen Ballard, who has co-written songs for Michael Jackson and Alanis Morissette.
Bob Gale, who co-wrote the films and is penning the script, said he and the trilogy's director Robert Zemeckis had been "trying to get this project off the ground for years".
"But good things take time and finally, the time is right," he said. "Our cast is outstanding, the songs are fantastic, and director John Rando is doing an amazing job ensuring the show truly captures the magic of the movie."
The original film, in which a teenager is accidentally transported from 1985 to 1955 in a time-travelling DeLorean car invented by the eccentric 'Doc' Emmett Brown, was one of the biggest hits of the decade.
Gale said the musical would "retell our story on stage in a brand new way".
Christopher Lloyd, who played Doc Brown, said in a statement: "Ever since Bob Gale told me about this, I've been eagerly anticipating it and, in particular, wondering what it will be like to hear Doc Brown sing.
"So I'm really looking forward to attending the opening in Manchester to experience our wonderful movie as a musical. I'm only sorry I don't have a real time machine so that I could see it tomorrow!"
Follow us on Facebook, on Twitter @BBCNewsEnts, or on Instagram at bbcnewsents. If you have a story suggestion email entertainment.news@bbc.co.uk.
Bafta Games Awards: Outer Wilds wins Best Game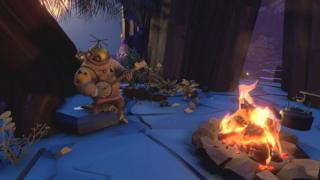 Action-adventure game Outer Wilds has won the prestigious Best Game prize at the 16th annual Bafta Games Awards.
The title's writer Kelsey Beachum credited its players saying: "Word of mouth has been essential in getting people to play the game, you're all really beautiful"'
The game where you explore a distant galaxy under threat from an exploding star claimed three awards in total.
It also won in the best design and original property categories.
It was a successful night for role-playing detective game Disco Elysium which also picked up three awards – winning in the best music, debut game and best narrative categories.
This year's award ceremony had to be pre-recorded because of coronavirus restrictions.
Host Dara O'Briain pulled the strings from his house with every nominee required to submit a winners speech – just in case they won.
There was disappointment for mysterious adventure game Control.
It had 11 nominations going into the event and only won once.
Martti Suosalo was rewarded for his role in the supernatural title – he picked up a golden mask in the performer in a supporting role category.
Call of Duty: Mobile won the EE Mobile Game of the Year, the only award to be voted for by the public.
Best British Game was awarded to sci-fi thriller Observation. Jon McKellan, its creative director, spoke to Newsbeat after the ceremony saying: "Winning a BAFTA is a huge thing.
"What it's done for us is give us the confidence to know that we're doing something right. To have that seal of approval after being judged by your peers is a big confidence booster."
Jon also discussed how the coronavirus crisis could impact gaming in the near future: "Pre-recording an acceptance speech is probably one of the weirdest things I've ever done!
"This industry is kind of lucky because we can do the majority of our work from home, but there are some aspects of it that will be impacted.
"But things like motion capture and voiceover recordings can't really happen at the moment.
"We can't get around some things which I think will have quite a big ripple effect over the next six months".
'I devote myself to creating for others'
Japanese game designer Hideo Kojima, creator of the Metal Gear franchise, was honoured with the Bafta Fellowship – the highest accolade the organisation can give.
The fellowship recognises exceptional contributions to the gaming industry.
In an emotional video message he dedicated the prize to his parents saying: "My determination is stronger than ever.
"For the rest of my life I will continue to devote myself to creating for others.
"Games are holding their own next to films, or perhaps fusing together with them, evolving into a huge medium of digital entertainment".
His latest release, Death Stranding, was nominated for 11 awards and won only one award for technical achievement.
The game was Kojima's first release since leaving his former employer Konami to set up his own studio.
Last year Radio 1 Newsbeat went behind-the-scenes to see the final hours of the game's creation.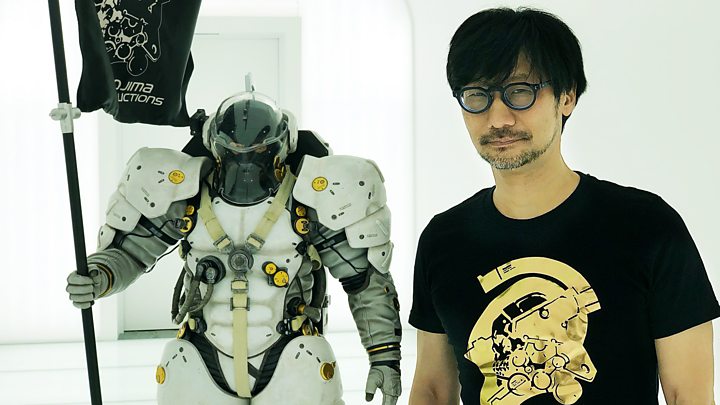 The Bafta winners in full were:
Animation: Luigi's Mansion 3
Artistic Achievement: Sayonara Wild Hearts
Audio Achievement: Ape Out
British Game: Observation
Debut Game: Disco Elysium
Evolving Game: Path of Exile
Family Game: Untitled Goose Game
Game Beyond Entertainment: Kind Words (Lo Fi Chill Beats To Write To)
Game Design: Outer Wilds
Multiplayer: Apex Legends
Music: Disco Elysium
Narrative: Disco Elysium
Original Property: Outer Wilds
Performer in a Leading Role: Gonzalo Martin (Life is Strange)
Performer in a Supporting Role: Martti Suosalo (Control)
Technical Achievement: Death Stranding
Mobile Game of the Year (Audience Vote): Call of Duty Mobile
Best Game: Outer Wilds
There are many people across the world living in lockdown at the moment and it's thought that as a result more people are turning to gaming as a way to pass the time.
There are reports that games platform Steam is seeing record figures, streaming sites Twitch and YouTube Gaming have increased viewership and Animal Crossing has become the fastest selling single game in the history of Nintendo's Switch console.
The Games Awards were an opportunity for the industry to showcase the variety of experiences gaming offers as a way to appeal to a broader audience.
With big blockbuster franchises like Call of Duty and niche independent titles like Untitled Goose Game winning golden masks , the industry will no doubt feel like it's made the most of that opportunity.
---
Follow Newsbeat on Instagram, Facebook, Twitter and YouTube.
Listen to Newsbeat live at 12:45 and 17:45 weekdays – or listen back here.
Coronavirus: Brighton Pride 2020 cancelled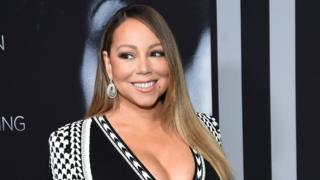 Brighton Pride has announced that "with a heavy heart" the festival has been cancelled this year due to the coronavirus pandemic.
Mariah Carey had been due to headline festival this summer, playing Pride in the Park on Saturday 1 August.
The three-day event was due to run from 31 July to 2 August. On Sunday, The Pussycat Dolls – who recently reformed – were the headline act.
Brighton Pride said the decision "had not been taken lightly"
A Pride spokesman said: "It is with a heavy heart that Brighton and Hove Pride have taken the difficult decision to postpone our landmark 30th anniversary celebrations."
He said the organisers had decided to cancel after evaluating the additional pressure the event would put on the emergency services.
Paul Kemp, director of Brighton Pride, said: "It's been inevitable.
"We are postponing the anniversary celebration to next year and [for] anyone who has got a ticket for the park we'll roll that ticket over.
"Pride is a celebration for the whole city and brings lots of people in, and of course the emergency services, the police, the NHS and all the other key workers who are often part of that parade," he said.
"Our focus is on supporting them and supporting people who are going through tough times."
Alan Robbins, chairman of Brighton and Hove City Council's tourism, equalities, communities and culture committee, said: "It's a great shame.
"The message is going out 'Don't come to Brighton' and we very much want to make sure when this is over everybody does come back to Brighton.
"We're doing everything we can to make sure these things go ahead next year."
Last year, Kylie Minogue headlined the festival, and in 2018 Britney Spears wowed a crowd of 57,000 with the more than 250,000 people visiting the city.
Follow BBC South East on Facebook, on Twitter, and on Instagram. Send your story ideas to southeasttoday@bbc.co.uk.
Coronavirus: Christopher Eccleston reads a poetic tribute to the NHS
Matthew Kelly from Salford has written a poem paying tribute to the staff of the NHS fighting the coronavirus.
Mr Kelly said he was inspired to write after hearing the challenges his partner faces as a district nurse.
BBC Radio 5 Live asked actor Christopher Eccleston, a fellow Salfordian, to read Matt's words.
This clip is from Chiles on Friday on 3 April 2020