American Music Awards: Taylor Swift puts feud to one side as she beats Michael Jackson's record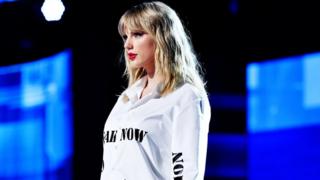 Going into the American Music Awards, Taylor Swift became embroiled in a feud with her former record label over whether she had the right to play her old hits.
In the end, she did get to perform songs like Blank Space and Love Story, while making a subtle nod to the spat.
The star took to the stage in a prison-style white shirt, stencilled with the names of the six albums her old label owns, and sang The Man: A song about women's struggle to be taken seriously in the music industry.
But the moment passed quickly; and Swift shed the outfit to reveal a more characteristic gold sequinned one-piece outfit, before launching into a 13-minute medley of her biggest songs.
She was joined by Camila Cabello and Halsey to duet on an energetic performance of Shake It Off, and ended behind a pink piano, playing her recent single Lover as ballet dancers Misty Copeland and Craig Hall pirouetted in front of her.
After standing for applause, Swift was presented with the Artist of the Decade award by legendary singer-songwriter Carole King, whose hits include I Feel The Earth Move and (You Make Me Feel Like) A Natural Woman.
King commended Swift for the strength of her lyrics, and the relatability of her music before predicting: "The best is yet to come."
In turn, Swift acknowledged the impact King's music had had on her parents and her family, saying it was every musician's goal "to create something that will last".
Was Taylor Swift really banned from playing her hits?
Addressing her fans, Swift continued: "This is an award that celebrates a decade of hard work and of art and of fun and memories, all that matters to me is the memories that I've had with you guys, with you the fans, over the years.
"We've had fun, incredible, exhilarating, extraordinary times together and may it continue."
The career-spanning honour wasn't Swift's only award at the ceremony – she picked up another five competitive awards, including artist of the year.
That brings her total tally of AMA trophies to 28 – breaking a record held by Michael Jackson, who received 24 American Music Awards.
But the show, held at LA's Microsoft Theater, wasn't just about Swift.
Billie Eilish made her award show debut, surrounded by pyrotechnics as she performed the brooding All The Good Girls Go To Hell.
The 17-year-old went on to win two prizes – best new artist and favourite alternative rock artist, the latter of which seemed to take her by surprise.
"I'm shaking," she told the audience, holding a half-sucked lollipop in her left hand. "To even be mentioned in this category is insane to me.
"I grew up being in love with all of you – everybody in this row, everybody in that row, everybody in this room. And the fact you guys are looking at me right now? That's crazy!"
Going into the night, the most nominated artist was Post Malone, who had seven nods, including artist of the year, collaboration of the year and favourite male artist.
In the end, he took home one prize, favourite hip-hop album, for his latest release Hollywood's Bleeding.
Six-time nominee Ariana Grande, who missed the show to play a concert in Orlando, failed to win any of her categories; while K-Pop sensations BTS won tour of the year, favourite group and favourite social artist.
The ceremony had a few awkward moments – Jamie Lee Curtis stood on Camila Cabello's dress, almost causing a wardrobe malfunction, while Selena Gomez suffered pitching issues while performing Lose You To Love Me, a song that contains a lyric about singing off-key.
But there were show-stopping performances from Dua Lipa, Lizzo and Toni Braxton, who celebrated the 25th anniversary of her career by performing the multi-platinum hit Unbreak My Heart, accompanied by a string orchestra.
Ozzy Osbourne joined Post Malone and Travis Scott to play Take What You Want; and Shawn Mendes got steamy with Camila Cabello during their performance of Senorita.
The show closed with Shania Twain, who sang acoustic versions of Drake's God's Plan and Twenty One Pilots' Stressed Out, before launching into a medley of her greatest hits, including Still The One, That Don't Impress Me Much, and Man! I Feel Like a Woman.
The performance marked her first AMA appearance since 2001. In the intervening years, she developed debilitating vocal problems that forced her to temporarily give up recording and performing – and her celebratory return brought the crowd to their feet.
The full list of winners is as follows:
Artist of the year – Taylor Swift
New artist of the year – Billie Eilish
Collaboration of the year – Shawn Mendes & Camila Cabello, Senorita
Tour of the year – BTS
Favourite music video – Taylor Swift, You Need to Calm Down
Favourite social artist – BTS
Favourite male artist (pop/rock) – Khalid
Favourite female artist (pop/rock) – Taylor Swift –
Favourite duo or group (pop/rock) – BTS
Favourite album (pop/rock) – Taylor Swift, Lover
Favourite song (pop/rock) – Halsey, Without Me
Favourite male artist (country) – Kane Brown
Favourite female artist (country) – Carrie Underwood
Favourite duo or group (country) – Dan + Shay
Favourite album (country) – Carrie Underwood, Cry Pretty
Favourite song (country) – Dan + Shay, Speechless
Favourite artist (rap/hip-hop) – Cardi B
Favourite album (rap/hip-hop) – Post Malone, Hollywood's Bleeding
Favourite song (rap/hip-hop) – Lil Nas X ft. Billy Ray Cyrus, Old Town Road
Favourite male artist (soul/r&b) – Bruno Mars
Favourite female artist (soul/r&b) – Beyoncé
Favourite album (soul/r&b) – Khalid, Free Spirit
Favourite song (soul/r&b) – Khalid, Talk
Favourite artist (alternative rock) – Billie Eilish
Favourite artist (adult contemporary) – Taylor Swift
Favourite artist (Latin) – J Balvin
Favourite artist (contemporary inspirational) – Lauren Daigle
Favourite artist (dance) – Marshmello
Favourite soundtrack – Queen, Bohemian Rhapsody
Follow us on Facebook, or on Twitter @BBCNewsEnts. If you have a story suggestion email entertainment.news@bbc.co.uk.
The Gruffalo author Julia Donaldson shows her characters social distancing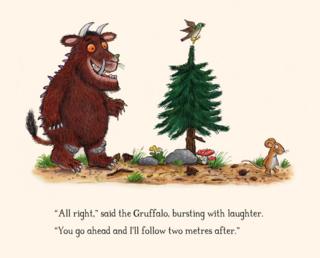 The makers of the children's book The Gruffalo have drawn their characters practising social distancing to help children understand the regulations.
Author Julia Donaldson and illustrator Axel Scheffler created the panels as a "light-hearted" way of spreading the message.
They feature The Gruffalo, Stickman and The Smeds and The Smoos – all keeping a safe distance from one another.
The characters are also seen helping the vulnerable with their shopping.
When am I allowed to go outside?
Exclusive Hockney drawings offer 'respite from news'
The Gruffalo was first published in 1999, and tells the story of a mouse taking a walk in the woods – where he out-smarts a terrifying creature with terrible teeth and a "posionous wart on the end of his nose".
It went on to sell 13 million copies, and had been turned into a stage play and an Oscar-nominated animation.
One of the new sketches shows the Gruffalo walking behind the mouse, accompanied by the couplet:
"Alright said The Gruffalo bursting with laughter / You go ahead, I'll follow two metres after."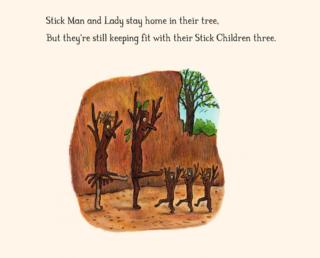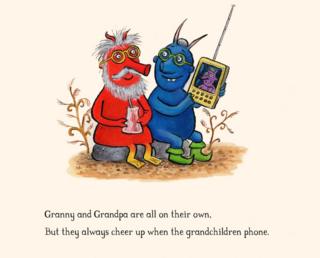 "Axel had this idea of doing some witty sketches, each based on one of our books and each kind of incorporating a tip about coronavirus," Donaldson told BBC Breakfast on Friday.
Scheffler started the process by saying to himself, "what can I do as an illustrator?" during these troubled times.
"I'm currently working on a digital, free non-fiction book about coronavirus, which is serious and informative and probably more important than this and is coming out next week," he said.
"[But] I wanted to do something light-hearted and cheer people up and I thought, 'what if I imagine our characters in corona situations?'"
"It's really more about entertainment than serious information," he added.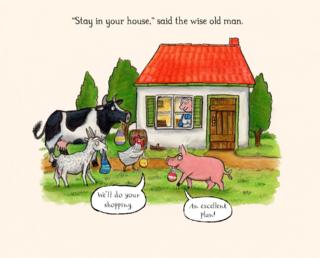 As well as social distancing, the characters stress the importance of exercise and making video calls to their family members.
Donaldson hopes the images will emphasise best practices and help with home schooling, without being seen as "preaching".
While on lockdown, the author is also producing a weekly broadcast on The Gruffalo Facebook page, reading stories, poems and singing songs.

Follow us on Facebook, or on Twitter @BBCNewsEnts. If you have a story suggestion email entertainment.news@bbc.co.uk.
Matt Lucas reveals the strange way he was hired for Bake-Off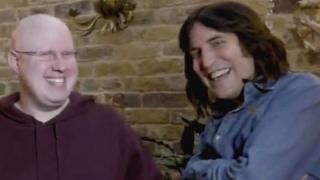 New Great British Bake-Off presenter Matt Lucas says he got the job after appearing in one of Noel Fielding's dreams.
The Little Britain star is to replace Sandi Toksvig as Fielding's co-host for the 11th series of the cooking show.
Speaking to Capital Radio on Friday, Lucas said it was a "strange" set of events that led to his appointment.
"They were looking for a new host, and Noel had a dream that I was the co-host," he told presenter Roman Kemp.
"And instead of saying to the producers, 'I dreamt Matt Lucas was the co-host', he just said, 'Matt Lucas would be a good co-host I think' and then I got an audition.
"I got a call on a Friday, I had the audition on the Tuesday and it was announced on the Thursday."
Matt Lucas to replace Sandi Toksvig on Bake Off
They had been due to start filming the programme this spring but Lucas confirmed that production has been delayed due to Covid-19.
However, he said, "it's fine" as the lockdown period "gives all of our bakers more time to practice and it means I'll have an even bigger appetite for all those cakes".
'Busy boys'
He also suggested Little Britain could return in full, after a one-off radio special in October – saying that he and fellow star David Walliams "message each other pretty much every day".
Little Britain returns for Brexit special
"We would like to do something again with Little Britain," he told Capital Radio's Roman Kemp. "We're both busy boys, for us it's about just finding the time [but] yeah, we want to do something.
"We just don't know 100% what it would be, whether it would be a TV show again or would it be a stage show, I don't know. But yeah we would like to do some more Little Britain definitely."
Lucas has had enough on his plate of late anyway, and today released the official music video for his new song, Thank You Baked Potato.
The novelty track, which is aiming to raise money for NHS workers, offers advice on how to "have a better day" during the coronavirus crisis.
How Matt Lucas' potato song is feeding NHS workers
Speaking to another radio breakfast show host on Friday, Radio 2's Dermot O'Leary, Lucas said he initially wrote the song for the TV show Shooting Stars, but he gave it a re-write after the virus began to take hold in the UK, as he was "feeling a bit anxious as someone at home with asthma".
He did not expect people to devour it in the manner they have.
"I wrote the lyrics to this baked potato song just in an idle moment thinking 'well I'll just put it on Twitter, I don't think anything will happen with that.' And I was a bit wrong!" he laughed.
Follow us on Facebook, or on Twitter @BBCNewsEnts. If you have a story suggestion email entertainment.news@bbc.co.uk.
Lean On Me singer Bill Withers dies at 81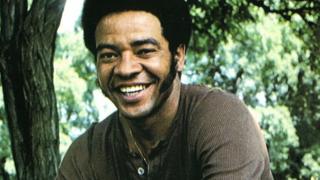 Bill Withers, the acclaimed 1970s soul singer behind hits Ain't No Sunshine and Lean On Me has died from heart complications aged 81, his family said.
The singer died on Monday in Los Angeles, the family told the Associated Press.
They described him in a statement as a "solitary man with a heart driven to connect to the world".
"He spoke honestly to people and connected them to each other," the statement said.
Known for his smooth baritone vocals and sumptuous soul arrangements, he wrote some of the 70s best-remembered songs, including Just The Two Of Us, Lovely Day and Use Me.
Although he stopped recording in 1985, his songs remained a major influence on R&B and hip-hop.
His track Grandma's Hands was sampled on Blackstreet's No Diggity, and Eminem reinterpreted Just The Two Of Us on his hit 1997 Bonnie And Clyde.
"We are devastated by the loss of our beloved, devoted husband and father," said his family.
"With his poetry and music, he spoke honestly to people and connected them to each other.
"As private a life as he lived, close to intimate family and friends, his music forever belongs to the world. In this difficult time, we pray his music offers comfort and entertainment as fans hold tight to loved ones."
The star's signature song Lean On Me has recently become associated with the Coronavirus pandemic, with many people posting their own versions to support health workers and other essential services.
Born in 1938, Withers was the youngest of six children. His father died when he was a child and he was raised by his mother and grandmother.
His entry to the music world came late – at the age of 29 – after a nine-year stint in the Navy
He taught himself to play guitar between shifts at his job making toilet seats for the Boeing aircraft company, and used his wages to pay for studio sessions in LA.
"I figured out that you didn't need to be a virtuoso to accompany yourself," he told Rolling Stone magazine in 2015.
He recorded his first album, Just As I Am, with Booker T Jones in 1970. It included the mournful ballad Ain't No Sunshine, which earned him his first Grammy award the subsequent year.
He scored another million-selling hit with Lean On Me in 1972.
Gospel-tinged and inspirational, it was based his experiences growing up in a West Virginia coal mining town. When times were hard, neighbours would lend each other help and assistance.
It was later performed at the inaugurations of both Barack Obama and Bill Clinton.
But Withers quit at the top, walking away from his career after scoring a pop hit with Just The Two of Us, although he occasionally toured with Grover Washington Jr in the 1990s.
Despite his influence on generations of musicians, he did not keep track of music after his career ended.
"These days," he said in 2015, "I wouldn't know a pop chart from a Pop-Tart."