Actor Stephen Graham vows to help under-represented film and TV talent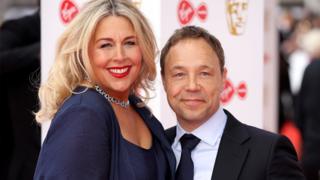 Line of Duty and The Irishman actor Stephen Graham has set up his own production firm to give a platform to under-represented voices and stories.
Graham founded Matriarch Productions with his wife, actress Hannah Walters.
"We hope to develop stories that give young and first-time writers and directors an opportunity," he said.
He told Variety the new company would "try to develop good stories that will be a broader representation of the cultural aspects of our society".
The Liverpudlian star is adding the production role to his status as one of Britain's most sought-after actors. His credits span Hollywood hits like Pirates of the Caribbean and gritty TV dramas including The Virtues and ITV's current White House Farm.
He told Variety he wants to improve representation both in front of and behind the camera.
"We want to give opportunities to people who wouldn't otherwise," he said. "For example, someone who would never be [considered for a role as] the head of a department, but is an amazing make-up artist. So, to then say, 'How about you step up on this one?'."
The film and TV company will be based in Leicestershire, where the couple live.
In November, Graham told Hunger magazine he worried that a lot of budding actors were falling through the cracks because they could not afford to go to drama school.
"My fear is how many people lose out on those opportunities because they are not given the opportunity to at least have a go at it, which is very sad," he said.
Graham, who grew up admiring the work of Merseyside dramatists like Alan Bleasdale and Alan Clarke, added that storytellers from different regions and backgrounds also need to be given a chance.
"I feel it's not just with acting though, I feel it's with the directors, and predominantly the writers. I think writers from those areas need to be given the opportunity to tell their stories and stories that they know."
Follow us on Facebook, or on Twitter @BBCNewsEnts. If you have a story suggestion email entertainment.news@bbc.co.uk.
Earth Harp: The man behind the unique instruments 'epic' sound
William Close is the inventor behind the Earth Harp – the world's longest string instrument which uses architecture and landscapes to create a unique sound.
Mr Close, who has performed the giant harp all over the world, says the audiences are often left feeling like they are "inside the instrument" during his performances.
Verdi opera: Conductor stops performance over 'phone miscreants'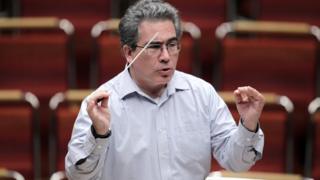 A conductor has twice stopped an opera in Cardiff after mobile phones rang in the audience.
Carlo Rizzi was conducting Welsh National Opera's new production of Verdi's Les Vêpres Sicilienes, at Donald Gordon Theatre at the Wales Millennium Centre on Saturday night.
Audience members said Rizzi twice stopped and spoke to the audience about the distraction it caused.
Verdi's opera is based around true events in Sicily in 1282.
'Phone miscreants'
David Jackson, a BBC employee who was in the audience, said Rizzi was applauded after bemoaning the interruption caused by mobile phones.
He said: "I spoke to Carlo afterwards and congratulated him on the performance, but also on tackling the phone miscreants.
"He got a warm round of applause after he stopped and ticked off the audience member. Both incidents were right at the beginning of the show and all was well after that."
The opera is sung by WNO in French in its new production directed by Sir David Pountney.
Another audience member confirmed the two instances of disruption caused by mobile phones.
It is not the first time a mobile phone has drawn irritation during a high-profile live performance, with the devices falling foul of numerous artists in the past.
Pianist Krystian Zimerman stormed out of a concert in 2013 because a fan was filming with his phone.
And film and stage actors Daniel Craig, Hugh Jackman and Benedict Cumberbatch have all voiced their anger at the use of mobiles while treading the boards in London.
Last year, singer Madonna said she would ban mobile phones from future gigs.
Jackson said his enjoyment of the opera in Cardiff was not affected by the interruptions.
"It was a wonderful performance of a comparatively rarely done piece of Verdi – the mobile phone business didn't detract," he said.
WNO confirmed there were "short pauses" and that Rizzi addressed the audience following the second interruption.
Exploring contemporary dance in Botswana
Contemporary dance is making its mark in Botswana, where funding for arts is slowly growing.
Mophato Dance Theatre is a contemporary dance company and the country's first dance studio to focus on Afro fusion and contemporary dance.
"There's a lot of traditional dance in Botswana and we wanted to bring something different into the industry," Andrew Letso Kola, artistic director of Mophato Dance Theatre told the BBC.