8 new TV shows for life on lockdown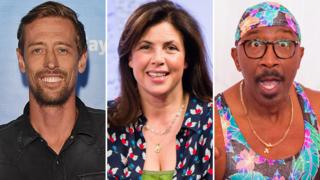 In light of our current predicament, UK broadcasters have been hastily coming up with ideas for new TV shows to make life indoors a bit more bearable.
After some lengthy Zoom brainstorms, TV executives have dreamed up new formats (or rehashed those already in the pipeline) to respond to the coronavirus pandemic.
They have lined up Peter Crouch to Save Our Summer, Kirstie Allsopp to make do and mend, and Gareth Malone to assemble socially-distanced singers – among other ideas.
1. Peter Crouch: Save Our Summer – BBC One
Not for the first time, Peter Crouch has been called upon to serve his country. This time it's not on the football field, but as host of a new primetime entertainment show.
The former England international and newfound podcaster has been given the unenviable task of saving a summer that we might have to spend largely behind closed doors, and which no longer includes Euro 2020, the Olympics, or Glastonbury.
Crouch will be joined by BBC Radio 1 presenter Maya Jama and comedian Alex Horne for a series that is billed as "an entertainment show like no other for a time like no other".
It promises to "remotely bring audiences live music, replacement sports action, exclusive comedy, celebrity guests, interactive audience fun".
2. Kirstie's House of Craft – Channel 4
Cometh the hour, cometh the woman and her Lockdown Craft Club.
Kirstie Allsopp will, according to a press release, "be helping the nation get through lockdown by offering creative ideas and crafty projects for the whole family".
Her daily show will give us tips, tricks and skills for making stuff with simple materials that are lying around the house.
3. Lockdown Wedding Live – Channel 4
Like a bouquet thrown by the bride, many people's summer wedding plans are up in the air.
One bride and groom whose nuptials were in doubt will go ahead with their big day – except with the nation watching live and with Fred Sirieix (pictured) overseeing proceedings.
4. Museums In Quarantine – BBC Four
With museums and galleries having shut their doors, this four-part series promises a glimpse at what you could have seen.
There will be episodes on the Andy Warhol exhibition at Tate Modern (pictured) – which lasted less than a week before being shut – as well as Young Rembrandt at the Ashmolean in Oxford and tours of the British Museum and Tate Britain treasures.
5. Breakfast At Garraway's – ITV
Kate Garraway, the Good Morning Britain and Smooth Radio host and self-styled wellbeing guru, is hoping to bring a ray of sunshine to our Saturday mornings.
The show was actually announced a month ago, but like the rest of us it has had to adapt.
With "her trademark warmth", she now promises to "bring cooped up viewers top tips from what to cook and eat, what to watch, read and exercise".
6. Grayson's Art Club – Channel 4
Grayson Perry will soon be on hand to teach you how to sculpt, draw and create.
The Turner Prize winner will be speaking to other famous artists and encouraging the nation to get creative while in quarantine.
A collection of "visual representations of the unique time we are living through as a community" will then be displayed in an exhibition.
7. HealthCheck UK Live – BBC One
From Monday on BBC One, Michelle Ackerley, Dr Xand van Tulleken, Angela Rippon and Mr Motivator (pictured) will bring "much needed advice and companionship during the coronavirus crisis".
Rippon will appear live from her home self-isolation. Together, they promise to give tips on how to boost immunity, beat boredom and stay active.
In a statement, Mr Motivator explained: "Now more than ever it is important to keep our bodies and minds healthy. Everybody say yeah, let's get happy and be wicked at home!"
8. The Choir: Britain In Lockdown – BBC Two
Choirmaster Gareth Malone has made a success of getting people singing in schools, prisons, workplaces and military barracks.
Now he's putting together The Great British Home Chorus, uniting the nation's best shower singers to bring "uplifting joy amidst these uncertain times".
More than 160,000 people joined the first YouTube rehearsal on Tuesday.
Follow us on Facebook, or on Twitter @BBCNewsEnts. If you have a story suggestion email entertainment.news@bbc.co.uk.
Minneapolis unrest: CNN reporter arrested live on air
A CNN correspondent and members of his crew were arrested while broadcasting about violent protests in Minneapolis.
There were demonstrations in the city for a third night following the death of George Floyd, an unarmed black man, in police custody on Monday.
The Minneapolis State Patrol confirmed the arrests and said those detained were released "once they were confirmed to be members of the media".
But CNN disputed the police's account of the incident, saying its staff had "identified themselves, on live television, immediately as journalists".
Minnesota Governor Tim Walz later apologised for the arrests.
Watch the full story on CNN YouTube channel.
Harvey Weinstein: Four more women accuse producer of assault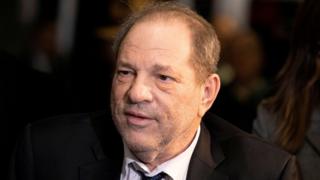 Disgraced film producer Harvey Weinstein has been accused of sexual assault by four further women as he serves a 23-year prison sentence.
Court documents filed in New York on Thursday allege several sexual offences dating from 1984 to 2013.
One of the four anonymous women was 17 at the time of an alleged attack.
Weinstein's legal representative told BBC News: "Mr Weinstein intends to defend against the claims filed anonymously against him yesterday."
The lawyer, Imran H Ansari of Aidala, Bertuna & Kamins PC, added: "Some of these claims, including those alleged to have occurred in the 1980s and 1990s, may be barred by the applicable statute of limitations, and not subject to any exceptions under the law, as these plaintiffs do not appear to be complainants in Mr Weinstein's criminal case."
Weinstein convicted of rape and sexual assault
How the Harvey Weinstein scandal unfolded
The latest legal cases allege multiple sexual offences against four women, who currently reside in Tennessee, New York, Ecuador and Hungary.
Some of the attacks allegedly took place after meetings with Weinstein at the Cannes and Venice Film Festivals.
The new allegations include:
A 43-year-old woman from Tennesee claims that in 1994, when she was 17, Weinstein "falsely imprisoned, sexually assaulted, sexually battered and raped her" in his hotel room. The plaintiff, who wanted to break into the entertainment industry, alleges Weinstein demanded she perform oral sex on him.
A 70-year-old woman from Ecuador claims that in 1984, when she was 34, Weinstein allegedly pinned her against a door and fondled her in his hotel room in Cannes, when she was looking to start a career as a documentary filmmaker.
A 38-year old woman said she met Weinstein in Manhattan in 2008 and he offered to "help take her career to the next level". He allegedly raped her in his Soho apartment a few days later, telling her he would ruin her if she told anyone.
A 35-year-old woman from Hungary claims that in 2013, when she was 26, she met Weinstein at the Venice Film Festival. A few months later, he allegedly forced her to perform oral sex on him when she met him in a hotel room.
Allegations against Weinstein began to emerge in October 2017, when The New York Times first reported incidents dating back decades.
At least 80 women have since accused him of sexual misconduct, including actresses Gwyneth Paltrow, Uma Thurman and Salma Hayek.
The allegations were at the centre of the #MeToo movement that inspired women to go public with misconduct allegations against powerful men.
Weinstein issued an apology acknowledging he had "caused a lot of pain", but denied any allegations of non-consensual sex.
In February, Weinstein was convicted in New York City of third-degree rape and first-degree criminal sexual act, and later sentenced to 23 years in jail.
Follow us on Facebook, or on Twitter @BBCNewsEnts. If you have a story suggestion email entertainment.news@bbc.co.uk.
Remi Wolf on how she makes music videos in lockdown
Music videos are often big budget affairs filmed in glamorous locations with a cast and crew to rival a movie. But what happens when a pandemic strikes and everyone is told to practise social distancing and not leave their home?
Rising star Remi Wolf told the BBC's Sophie van Brugen how she got around the problem, and what coronavirus could mean for the future of the music video.