2022 Route du Rhum Destination Guadeloupe – Rhum Multi, Rhum Mono fleets rekindle history
by Route du Rhum-Destination Guadeloupe 4 Oct 08:31 PDT
6 November 2022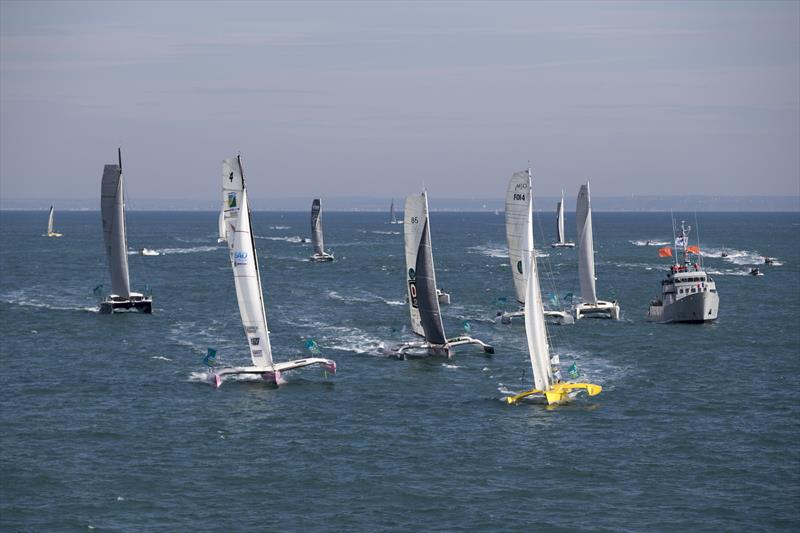 Route du Rhum – Destination Guadeloupe © Alexis Courcoux

The 30 skippers in the Rhum Mono and Rhum Multi categories who are due to compete in the Route du Rhum – Destination Guadeloupe 2022 are preparing to set off on the famous solo course across the Atlantic.

It is these core classes which feature many of the real adventurers and amateur solo skippers. The tussle for victory promises to be just as hotly contested whilst their craft are being closest to the origins of the race.

The legend of the Rhum begins in 1978 and since that very first edition boats of all categories take part. On a diminutive 11m yellow trimaran Canadian Mike Birch beat Michel Malinovksy on a 21m monohull after over 3,500 miles of racing by just 98 seconds at the finish line. Now 44 years on there are 30 solo racers – 16 in the Rhum Monohull and 14 in the Rhum Multi – classes making ready to challenge in what are always the classes with the most diverse range of designs and sizes and skippers with the broadest range of experience and ambitions.

The Monos

Visitors to Saint Malo during the build up period will be able to go to the Rhum Mono dock and admire Pen Duick III which will be sailed by Arnaud Pennarun, Kriter VIII (Wilfrid Clerton, Cap au Cap Location) or the famous Red Cigar of Catherine Chabaud (Fomatives ESI Business Schoof for Ocean As Common). Among the faces familiar to offshore racing enthusiasts will be Vendée Globe racer Jean-Pierre Dick will race his JP54 renamed 'Notre Méditerranée – Ville de Nice'.

The Rhum Multis, "the most eclectic class"

In the Rhum Multi division, the race promises to be both exciting and competitive. Charlie Capelle, is preparing to compete on his sixth Route du Rhum in this most eclectic division which has boats between 39 and 63 feet. Capelle, skipper of ACAPELLA-La Chaîne de l'espoir says: "There is a nice line-up with former racers and enlightened amateurs". Among them, is the legendary Philipe Poupon who won in 1986 and has four participations under his belt. He is going to race Pierre-1er, the boat that Florence Arthaud raced to win in 1990.

Also in the Rhum Multi class are Marc Guillemot (Metarom MG5), Halvard Mabire (GDD) and Gwen Chapalain (Guyader – Savéol). Roland Jourdain, twice winner of the Route du Rhum (2006 and 2010), competes with a catamaran launched only this year. His boat, We Explore, is made of 50% flax fiber, a sustainable, eco-friendly innovation. Etienne Hochedé will be extra pleased to make it to the start after capsizing his trimaran PIR2 near Cornwall in July. He has worked night and day to be ready on time.

And from particular regions or territories of France, from Saint Malo there is Julien Reemmers (Fédération du commerce en pays de St Malo) in Mono Rum, Loïc Escoffier (Lodigroup) and Fabrice Payen (Ille-et-Vilaine Cap vers l'inclusion) in Rum Multi. And from Guadeloupe Willy Bissainte (Tradisyon Gwadloup) will take on the race for the third time.

Quotes

Catherine Chabaud (Formatives ESI Business Schoof for Ocean As Common): "Since I stopped racing 20 years ago, I have devoted myself to sustainable development, energy transition and all issues related to the sea. But the more I talk about the sea, the less I have the chance to go sailing. And so I want to rediscover my love of sea, my intimacy with the ocean and the happiness of being solo on my boat. This will help me shine the spotlight on all the initiatives that I take to the European Parliament. As I celebrate my 60th birthday at the end of November I really want to set myself this new challenge".

Roland Jourdain (We Explore): "It is very moving to come back to the Route du Rhum that has been part of my life for a long time. The idea is not to be the fastest but the cleanest possible in environmental matters and to hope to show what can be done and to open the way. The world is changing and it seems essential that offshore racing is a beacon in this arena. The boat is therefore built at 50% from flax fiber, i.e. one hectare of flax, which does not has never been done for such a sizeable boat. It's a bit of a journey into unknown territory but the challenge is very exciting. And I find it nice to find in the category chums and acquaintances that I have known for many years.

Charlie Capelle (ACAPELLA-La Chaîne de l'espoir): "I am about to compete in the Route du Rhum – Destination Guadeloupe for the sixth time. And it's always very special, a dream first and an investment in every other way, both personal, financial and physical. There is always a bit of apprehension at the start with these huge crowds around and the boats around us. The field is particularly nice within the Rhum Multi, there are enlightened amateurs and former racers. I don't have more pressure than the others but I know that the risk is a little more on board a 38-footer, it's always more complicated when you have to deal with bad weather. I have the chance to leave every year with the same boat. In terms of carbon footprint, I am one of the best!"




Credit: Source link