Chicken thighs are inexpensive midweek meal lifesavers, which is why you need these 15 juicy, flavor-packed chicken thigh recipes in your life ASAP. Whether you like your chicken thighs baked with a crispy exterior or tender and smothered in sauce, there's something for everyone on this list. 
I mean, if we're totally honest, chicken thighs don't sound like the most exciting main course meal, but believe me when I say there is literally 👏 so 👏 much 👏 you can do with them. Personally, I'm a sucker for chicken thigh recipes that involve saucing things up with international flavors.
Still, I must admit there is something really comforting about a perfectly baked chicken thigh straight out of the oven too. With so many scrumptious ways to prepare them, get yourself ready to get excited about chicken thighs, maybe for the very first time.
FAQs
How long does it take chicken thighs to cook?
Boneless, skinless chicken thighs cook pretty quickly. They only need about 15-20 minutes, depending on their size. Bone-in thighs take a bit longer, usually 25-30 minutes. Whatever kind of thighs you cook, they're done when the internal temperature reaches 160℉/71℃.
Are chicken thighs red meat or white meat?
And the answer to this question is…neither! The breast, breast, tenders, and wings are white meat. Chicken thighs, along with the legs or drumsticks, are considered dark meat. Red meat usually refers to beef, lamb, pork, venison, and goat.
Is a chicken thigh part of the leg?
Chicken legs actually have two parts; the thigh and the drumstick. So, yes! Chicken thighs are part of chicken legs. The top part of the leg starts above the knee joint and connects to the chicken's body.
Baked Chicken Thigh Recipes
1. Baked Crispy Chicken Thighs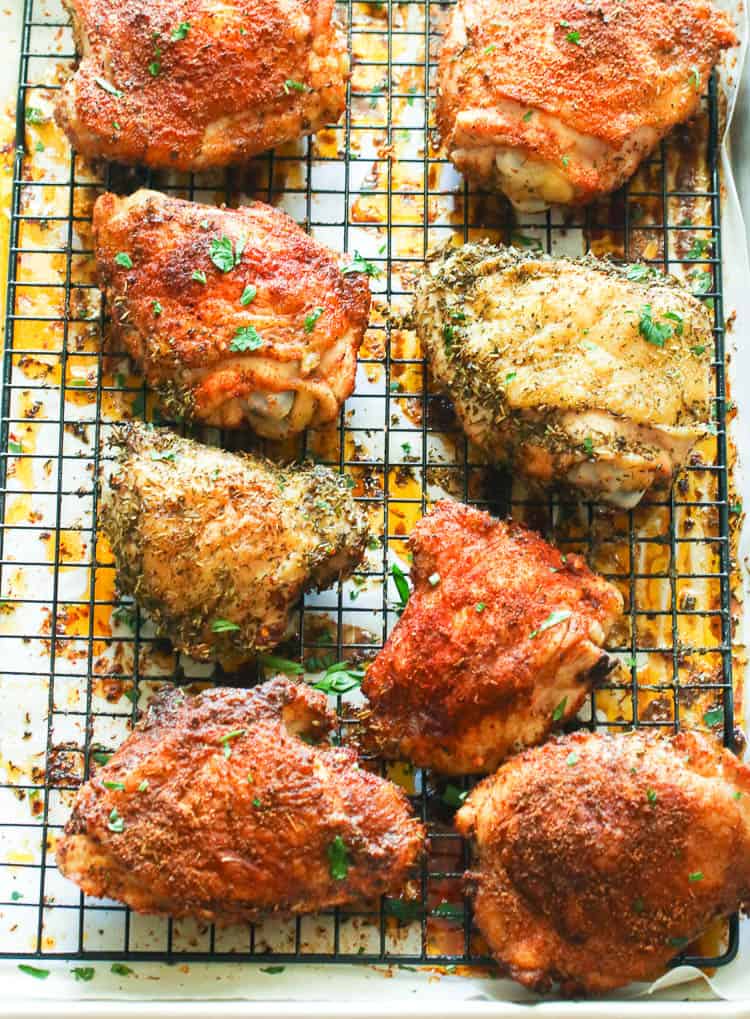 Crispy on the outside, tender and juicy on the inside, these baked chicken thighs only take 10 minutes to prep, but oh my word, are they delicious. You can try multiple homemade seasoning combinations to keep things interesting if you decide to make this a weekly feature on your dinner menu.
Baked crispy chicken thighs pair well with almost any side. I love pairing them with potatoes, like these oven-roasted red potatoes, because the oven is already hot, and we can pop them in at the same time the chicken is cooking! The options are limitless when it comes to veggies, but I especially love baked chicken thighs with a side of green beans and bacon.
Store leftover chicken thighs in an airtight container in the fridge for 2-4 days. Reheat in the microwave or pop them back in a preheated oven for about 10 minutes when you're ready for seconds. 
Baked Crispy Chicken Thighs
loaded with flavor and super easy to make with only 10 minutes prep time PLUS other homemade seasoning variation to try. You won't believe they are baked! Dinner couldn't be any easier.
Check out this recipe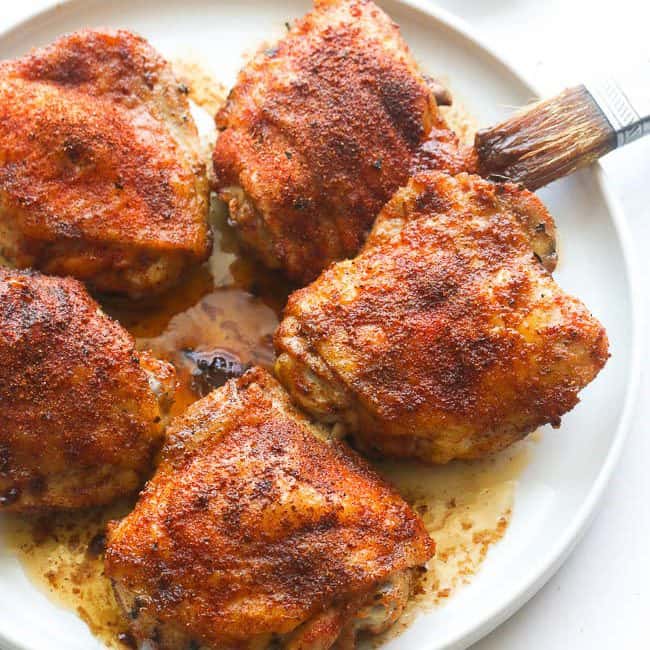 2. Chicken Vesuvio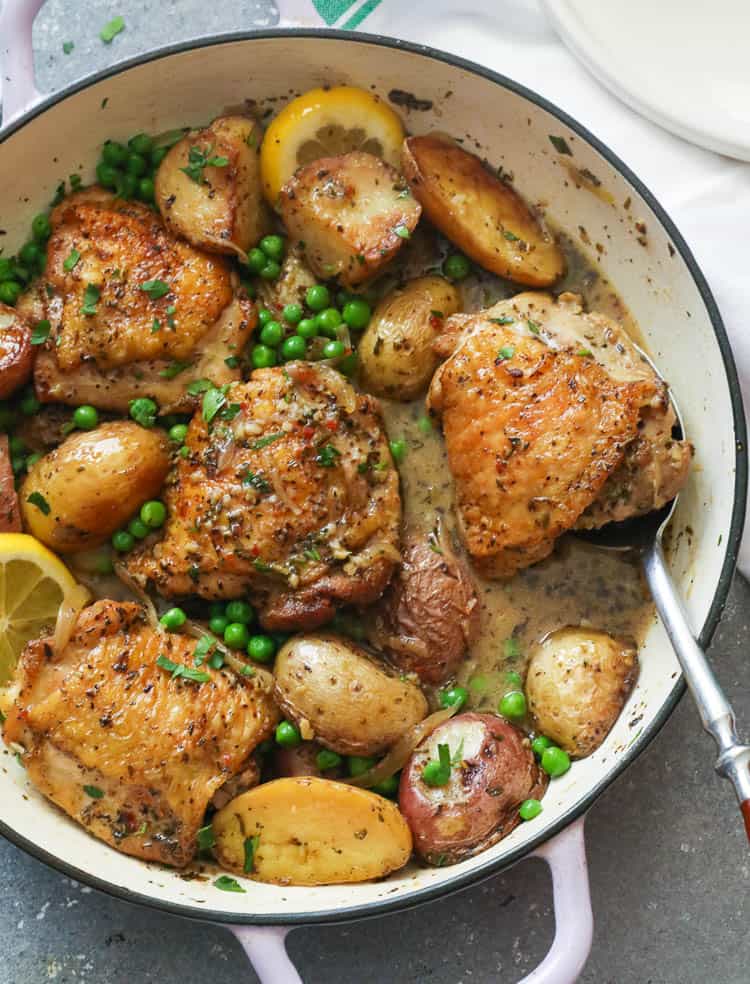 High fives all around for easy, one-pot chicken dinners! Chicken Vesuvio really ticks all the boxes when it comes to easy, delicious meals. Crispy chicken, baked potatoes, and a dash of colorful peas make this one of my favorite one-dish wonders. 
Serve this lovely dish up with some homemade garlic bread because you know I'm all about sopping up the sauce. And if you feel like a side salad, try this kale salad, which is just as delicious as healthy.
3. Jollof Rice and Chicken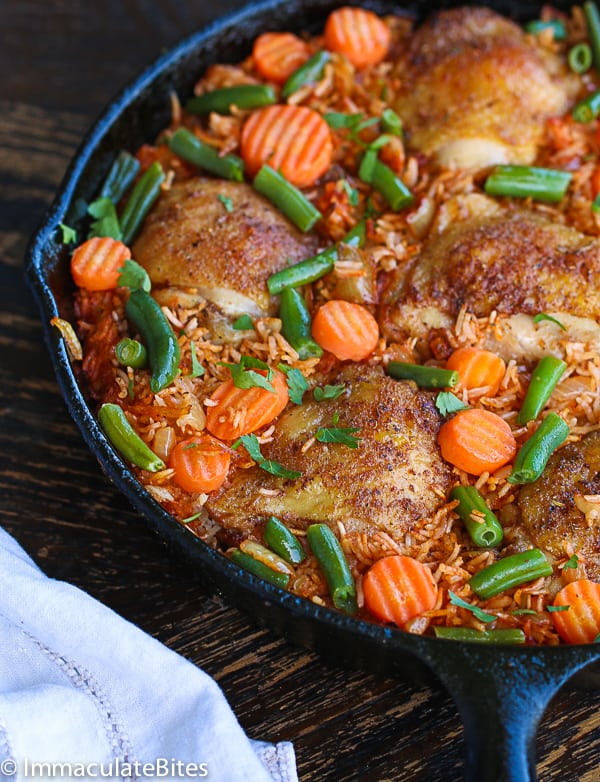 Tomato sauce, paprika, scotch bonnet, and juicy chicken thighs make this West African dish one of my faves. I even like serving this dish for special occasions like holiday dinners. 
This dish has it all: rice, chicken, and veggies. But in my humble opinion, adding a loaf of freshly made bread to the mix never hurts! Try this easy no-knead bread, and you'll see why saucy chicken dishes and bread are a perfect pair.
Store jollof rice and chicken in an airtight container in the fridge for up to four days or in the freezer for three months.
Jollof Rice and Chicken
This JOLLOF RICE and CHICKEN is an easy yet tasty one-pan meal enjoyed in West African countries. It's bursting with flavors from the tomato sauce, paprika, scotch bonnet, and the juices coming off from the well-seasoned chicken thighs. Serve it over regular nights or as a main course during the holidays!
Check out this recipe
4. Honey Mustard Chicken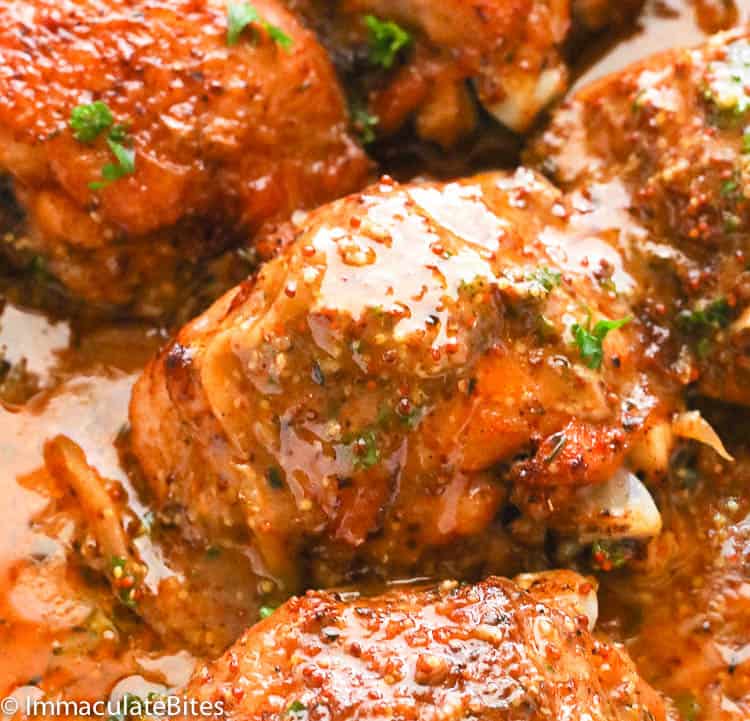 Pan-seared chicken thighs doused in a tangy sauce with just a touch of a kick make for an unforgettable family dinner. Moreover, you only need a handful of ingredients to bring this flavor explosion to life. 
Serve honey mustard chicken thighs with a wedge salad and some creamy chicken pasta. Adding some easy dinner rolls to the menu doesn't hurt. Can you tell I'm a bread girl yet? 😆
Store leftovers in an airtight container in the fridge. You can enjoy them for 2-4 days.
Honey Mustard Chicken
Honey Mustard Chicken – succulent pan-seared chicken thighs simmered in a sweet tangy with a nice little kick sauce and finished in the oven for an incredibly tasty dinner option!
Check out this recipe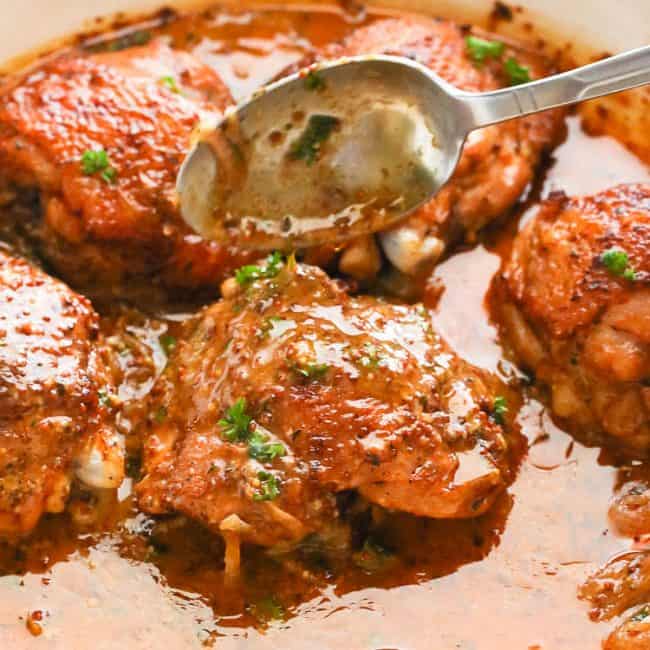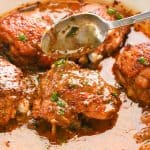 5. Coq au Vin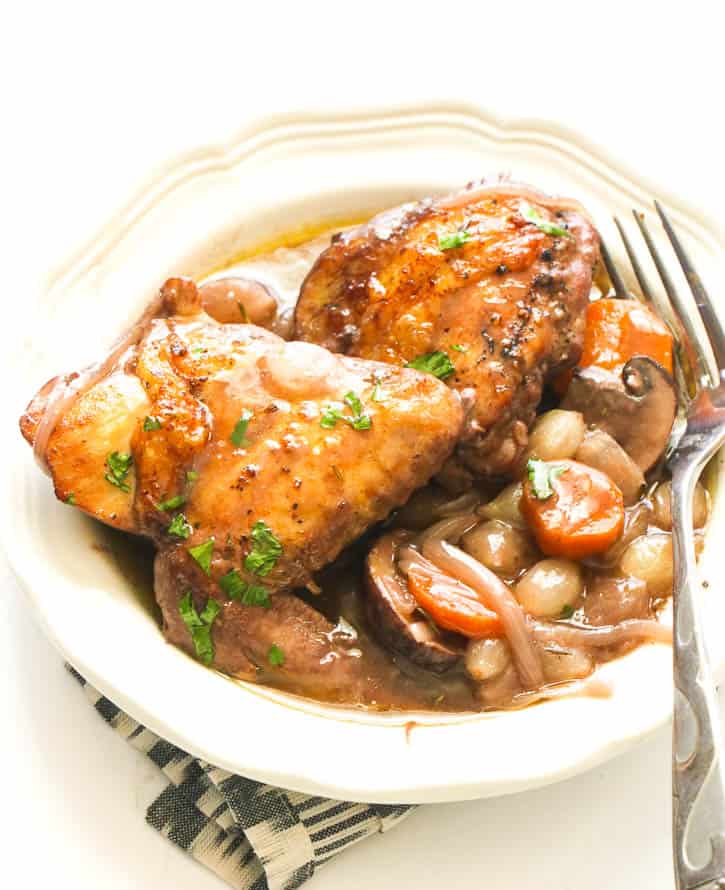 This classic French recipe tastes as bougie as it sounds. Rich red wine sauce, mushrooms, carrots, bacon, pearl onions – ok, let me stop there; my mouth is already watering. Of course, you will definitely go back for seconds. 
Coq au vin pairs perfectly with mashed potatoes or even grits. Also, don't forget the French bread and a nice bottle of wine to complete a cozy, French evening at home. 
Store coq au vin leftovers in the fridge. Make sure to use an airtight container and finish up your leftovers in four days or less.
Coq Au Vin
Coq au Vin – classic French rustic dinner with tender chicken braised in a rich red wine sauce with mushrooms, carrots, bacon and pearl onions. Truly one of the most delectable braised recipes in the world!
Check out this recipe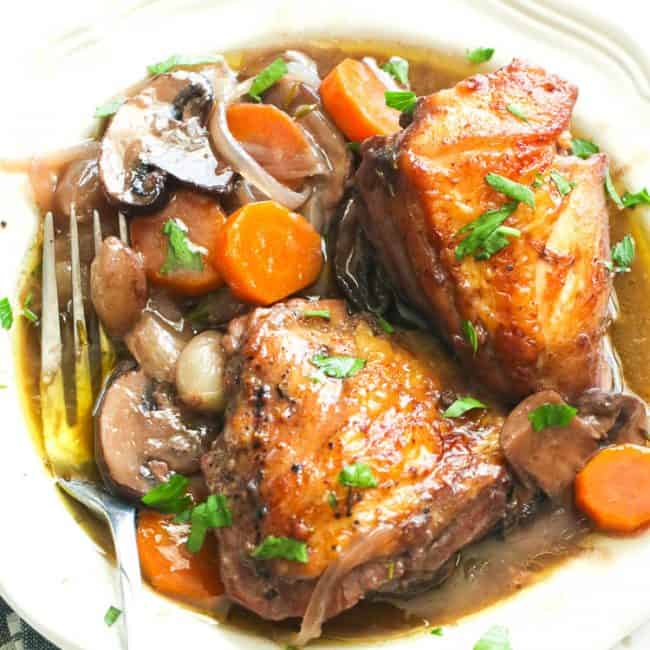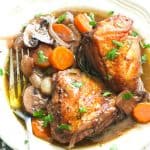 6. Nashville Hot Chicken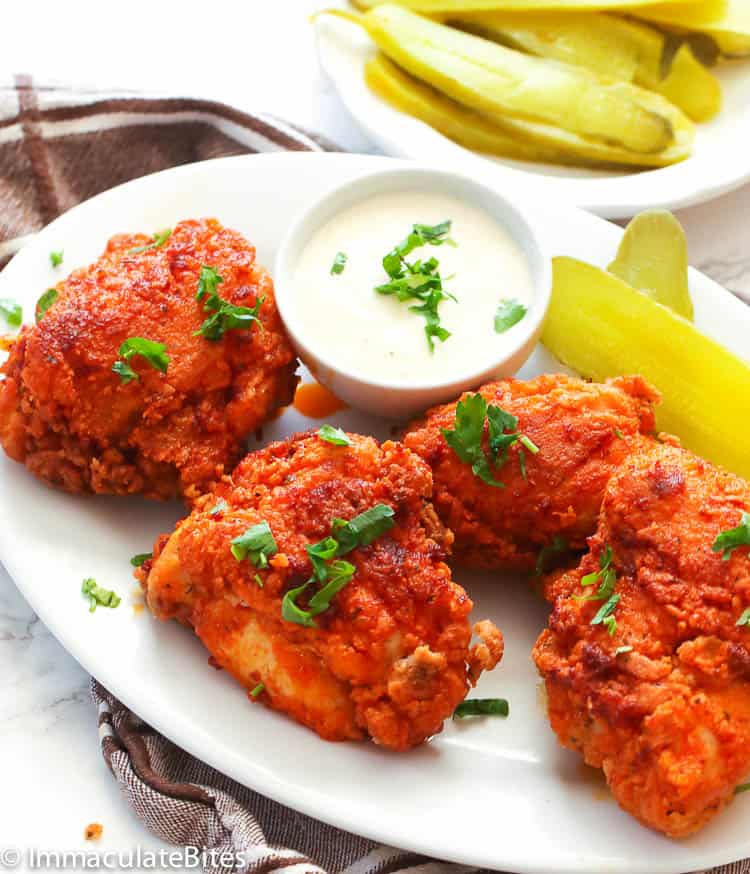 Nashville hot chicken is sweet, spicy, crunchy, juicy, and just everything a good piece of chicken should be. You don't have to travel all the way to Nashville, though; it comes together easily right at home. And, of course, these lovelies are perfect for game night, so you might need to cancel that order of wings. 
Nashville hot chicken goes amazingly with pickles and your favorite dip to balance out the spiciness. If you're feeling fancy, try remoulade sauce because it's always a party favorite. You could also use this recipe to give a spicy kick to your chicken and waffles if you're feeling extra adventurous.   
Nashville chicken will stay fresh in the fridge for 2-4 days. As always, store it in an airtight container. 
Nashville Hot Chicken
Nashville Hot Chicken – juicy, crunchy, crazy delicious fried chicken brushed with a sweet and spicy Cayenne-based sauce for an explosion of flavor! You'll be clamoring for more!
Check out this recipe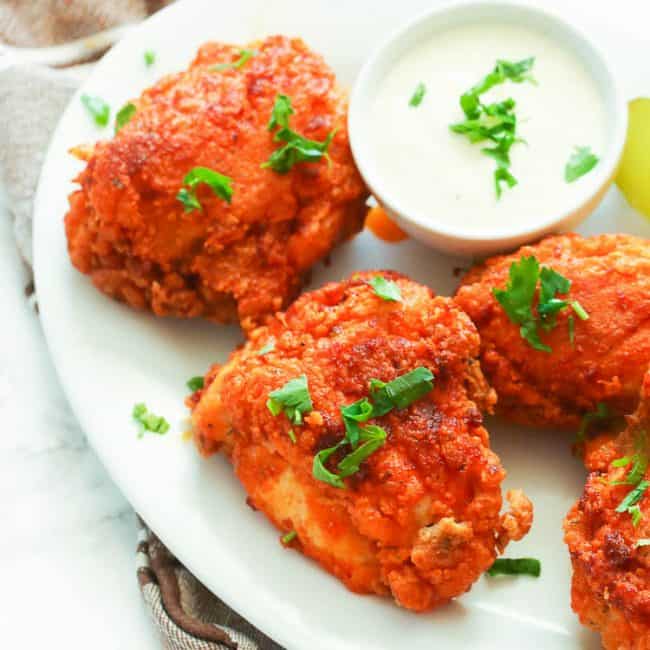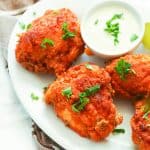 Grilled and Smoked Chicken Thighs
7. Hawaiian Grilled Chicken Thighs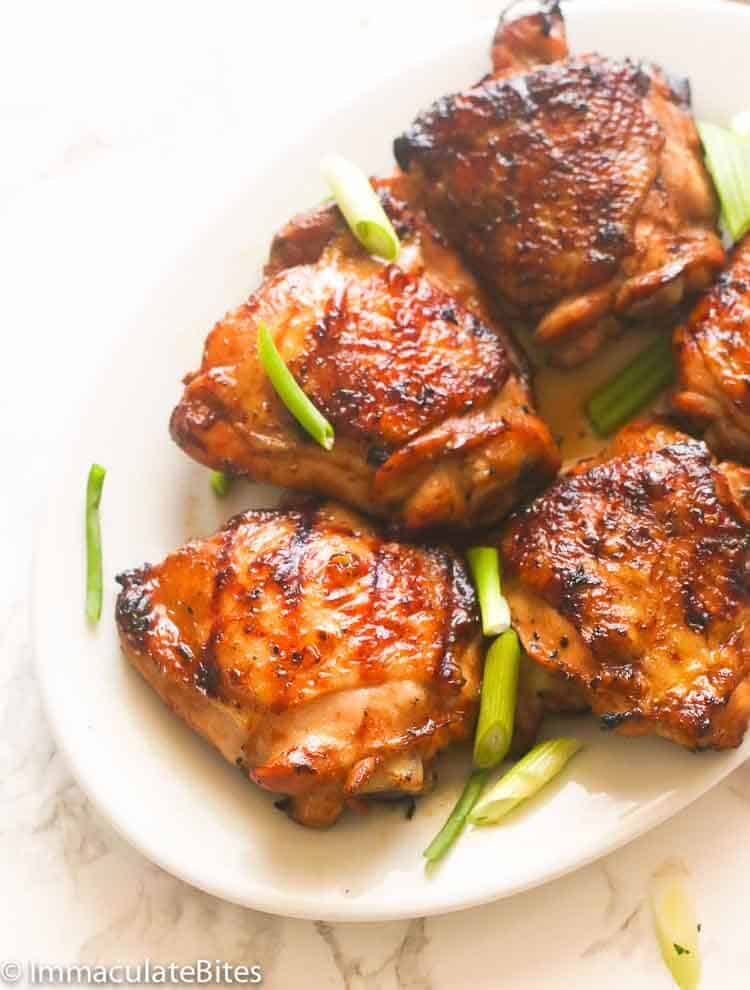 Hawaiian grilled chicken thighs will take your taste buds on vacation. They are so sweet, spicy, super delicious, and flavored with pineapple juice, soy sauce, sriracha, and ginger lemon sauce. Moreover, these chicken thighs are literally finger-licking good. 
To me, these chicken thighs taste best when paired with my super easy cucumber tomato salad, warm white rice, and some peach iced tea.
Store grilled chicken thighs in an airtight container in the fridge. They'll stay fresh for 2-4 days.
Hawaiian Grilled Chicken Thighs
Hawaiian Grilled Chicken Thighs – smokey, succulent grilled chicken thighs marinated in a sweet pineapple juice, soy sauce, sriracha, ginger lemon sauce. Grill meat packed with so much flavors. It's sweet, spicy and super delicious!

Check out this recipe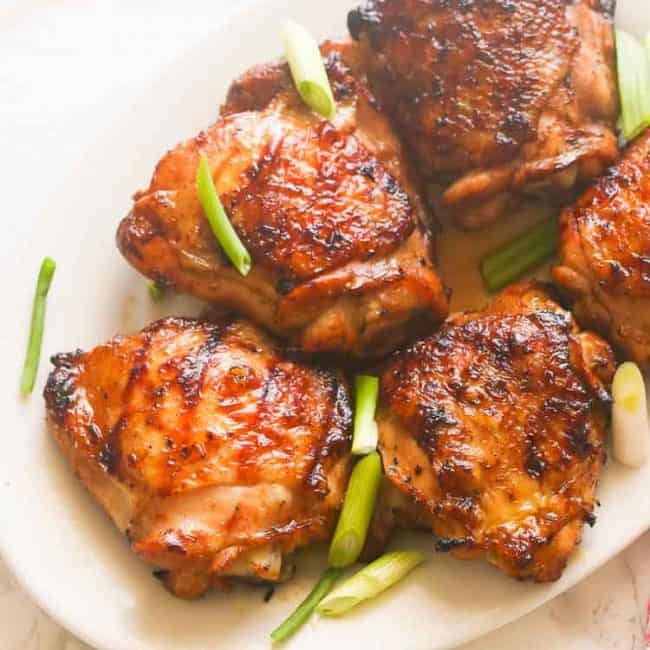 Stovetop or Slow-Cooker Chicken Thigh Recipes
8. Chicken Thighs with Mushroom Garlic Sauce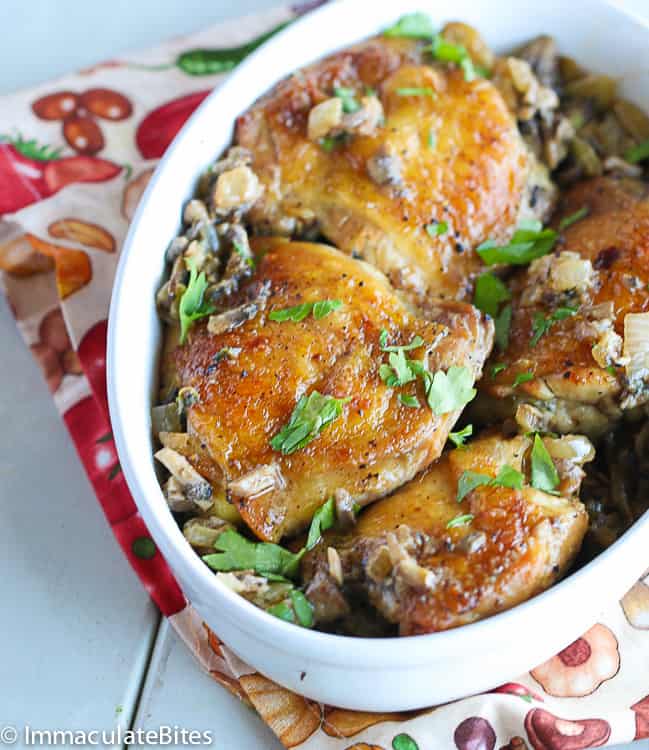 When I said chicken thighs are a midweek meal lifesaver, I meant it. These saucy thighs come together in under 30 minutes! They are super quick to make and still feel really elegant with a luxurious sauce featuring mushrooms and garlic.
White rice goes great with this meal, especially since it tastes amazing when you drizzle some chicken sauce over it. 🤤 I also like to add some greenery to my meal with an easy tossed salad.
An airtight container in the fridge is the perfect place for these leftovers. Or keep them refrigerated and consume them within 2-4 days. 
Chicken in Mushroom Onion and Garlic Sauce
Crispy and tender Chicken thigh with mushroom, onion and garlic sauce- ready in under 30 minutes.
Check out this recipe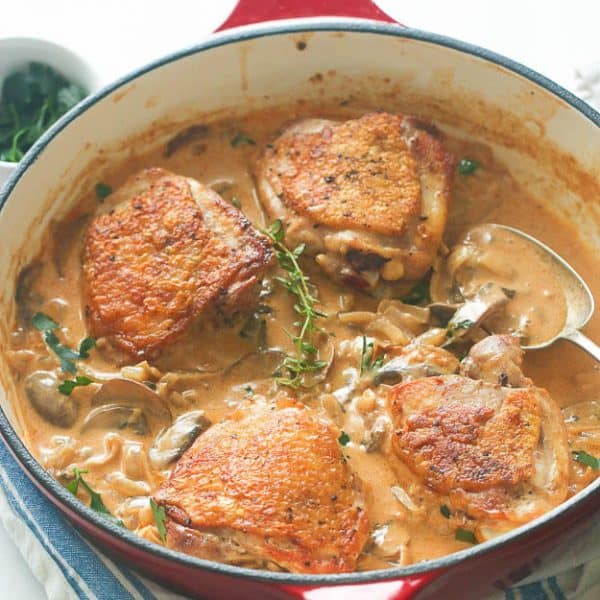 9. Moroccan Slow Cooker Chicken Thighs
Who doesn't love a good slow cooker meal? This simple Moroccan recipe is easy but seriously tasty. Chicken thighs come together with chickpeas, olives, and herb couscous for an unforgettable dinner that can break up your regular recipe routine if you find yourself in a rut. 
Definitely pair this meal with Moroccan couscous to keep the exotic theme going. It also pairs perfectly with Mediterranean salads like this chickpea salad.
As always, store leftover chicken thighs in an airtight container in the fridge. Finish off your leftovers in 2-4 days to keep things fresh. 
Moroccan Slow Cooker Chicken Stew with Chick peas
Moroccan slow cooker chicken thighs with chickpeas, olives and herb couscous that is easy to put together yet full of flavor and spice.
Check out this recipe
10. Chicken Tagine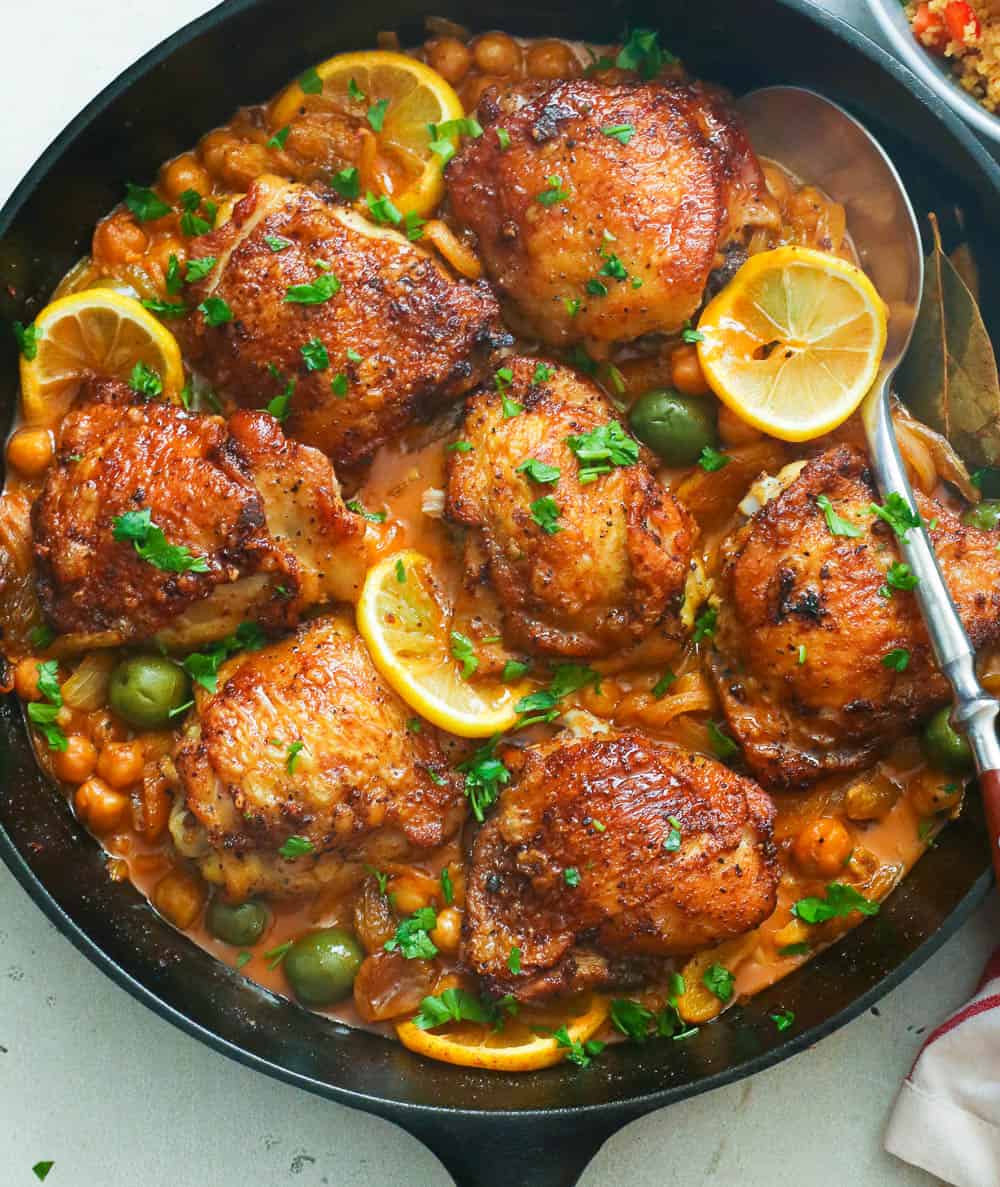 This recipe is another Morrocan-inspired dish with chicken thighs, olives, onions, plenty of spices, and preserved lemons. This recipe will make your kitchen smell heavenly, and the salty umami flavor will soothe your soul.
To complete your meal, serve chicken tagine with some steaming white rice, Moroccan Couscous, and flatbread. Oh yes, you'll need the flatbread to mop up all the delicious juices left on your plate – and yes, I'm speaking from experience. 😅
You can freeze chicken tagine in an airtight container for three months or so or refrigerate it for 3-4 days. Reheat this dish on low heat on your stovetop to make sure it's just as delicious as the first go-round. 
Chicken Tagine
Chicken Tagine is a traditional slow-cooked Moroccan dish with juicy chicken thighs, onions, olives, spices, and preserved lemons. The aroma wafting from your kitchen will have the entire family crowding around. And don't panic! You can do this surprisingly simple dish without a tagine.
Check out this recipe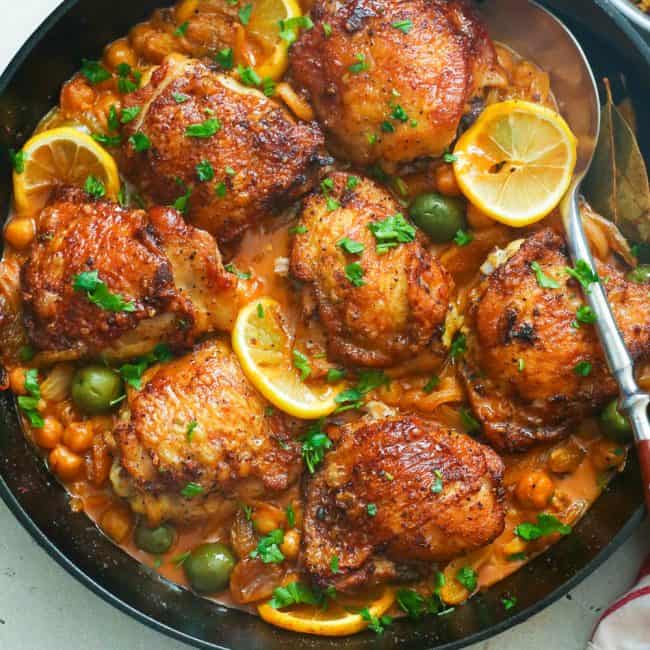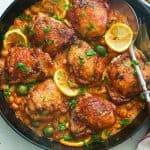 11. Chicken Paprikash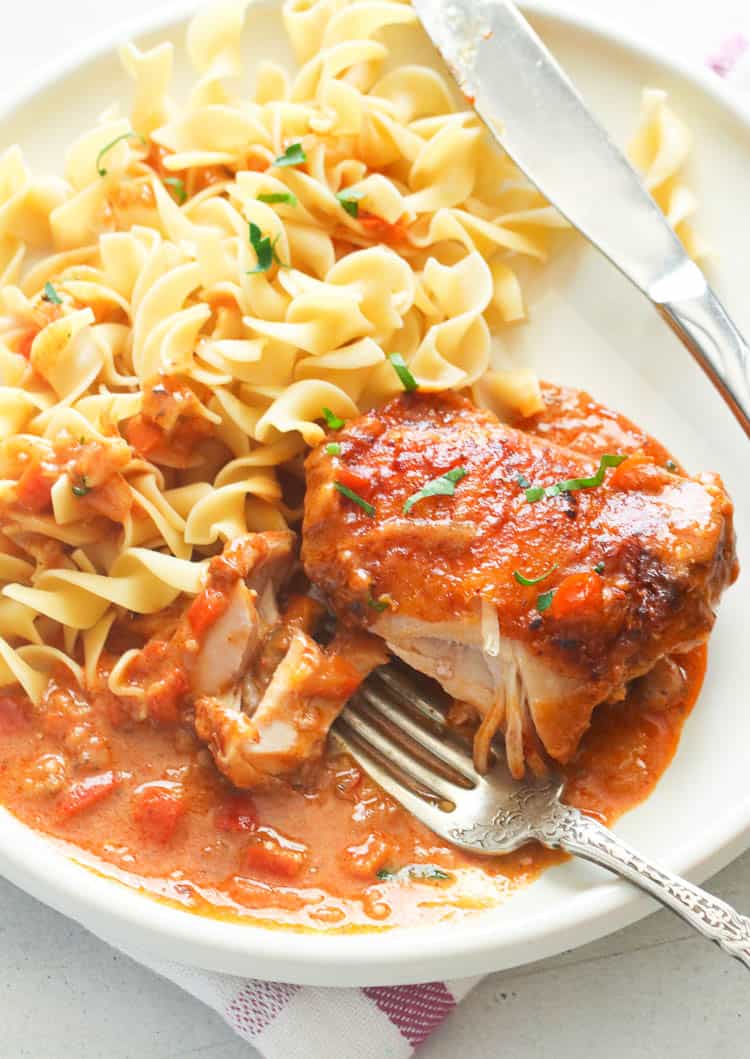 I've got this chicken paprikash recipe on my weekly rotation because it's just that darn delicious. A sour cream paprika-infused sauce makes this dish absolutely delightful.
Serve it up with egg noodles for a stroganoff feel or warm white rice. It also pairs wonderfully with cream cheese mashed potatoes.
You can keep leftover paprikash in an airtight container in the refrigerator. It'll stay fresh for up to four days.
Chicken Paprikash
Chicken Paprikash – a classic one-pot meal that features tender well-seasoned chicken pieces bathed in a creamy fragrant sour cream paprika-infused sauce. Serve it with some egg noodles, rice or potatoes for an unforgettable flavorful chicken dinner. A must-have on weekly rotation!
Check out this recipe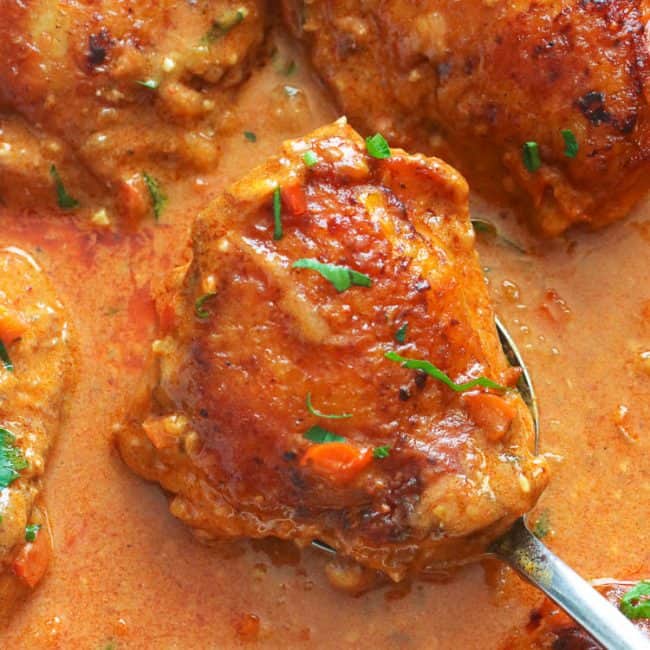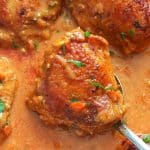 12. Teriyaki Chicken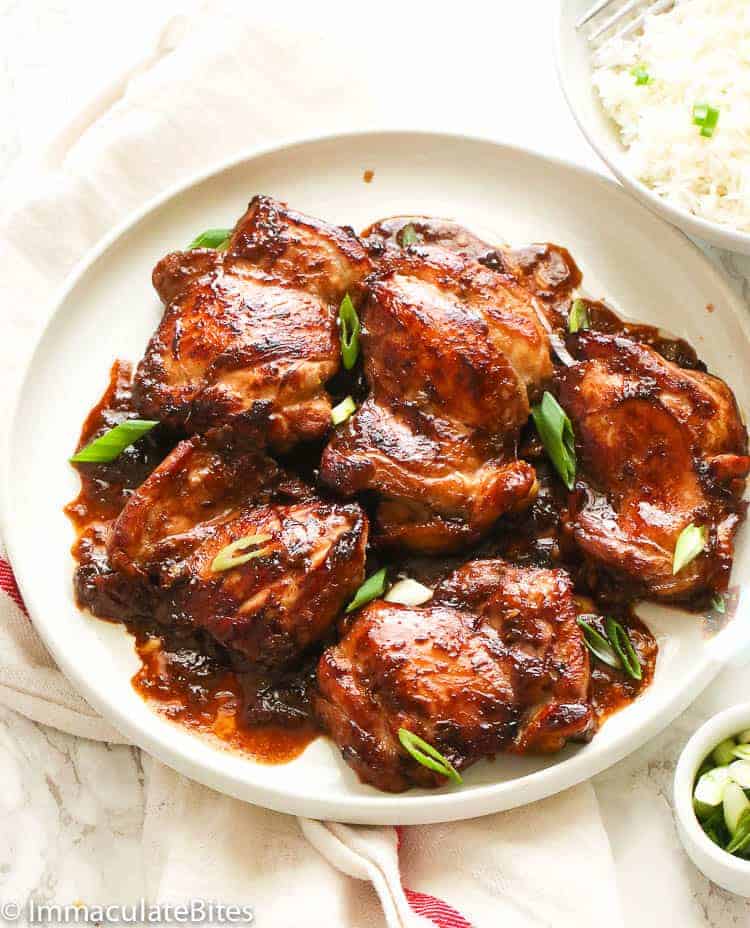 This teriyaki chicken recipe is pretty darn close to authentic. It's so good it will have you passing on Japanese takeout just so you can make your own in the comfort of home. Homemade teriyaki sauce really does make all the difference in this recipe. 
Teriyaki chicken works best with white rice, but it's amazing with fried rice too. Furthermore, I like to serve it with steamed broccoli to get in that serving of veggies. 
If you have leftovers (and that's a big if 😉), then store them in the fridge in an airtight container. You can reheat and enjoy them for up to 4 days. 
Teriyaki Chicken
Teriyaki Chicken – flavorful and juicy chicken thighs coated in a delicious homemade and easy Teriyaki sauce. Why get a Japanese take out when you can enjoy close-to-authentic version of this dish right at home – either cooked on stovetop or grilled!
Check out this recipe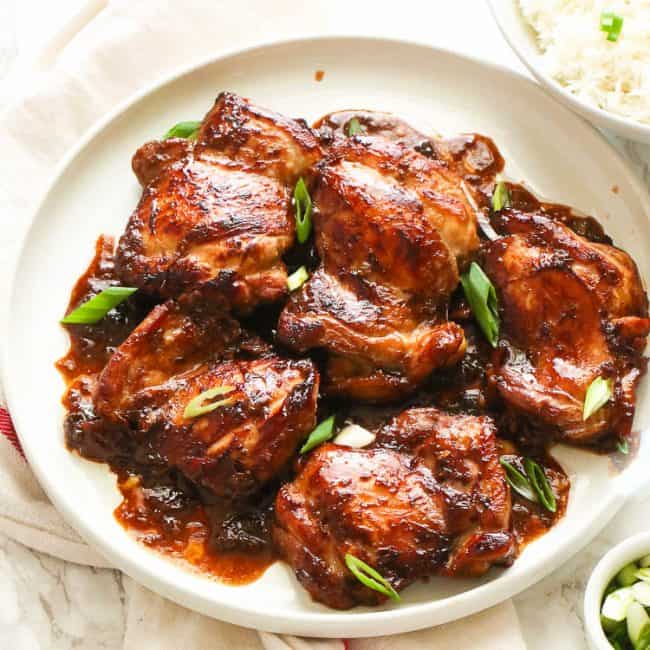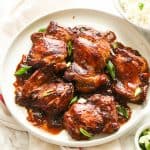 13. Arroz Con Pollo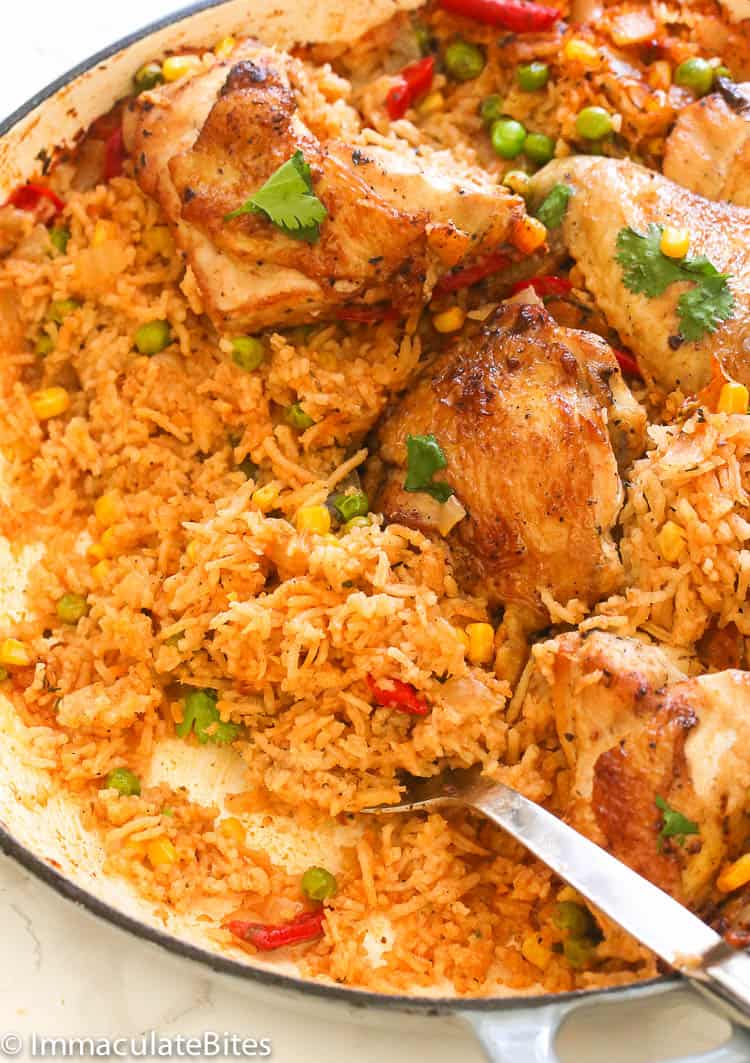 Here's another one-pot meal for the win! Flavorful rice and loads of veggies really balance out the chicken thighs in this recipe. Truly, cleanup is a breeze. 
Arroz con pollo is a perfect meal all on its own, but you can always pair it with bread or a salad. Additionally, I like to pair it with Mexican cornbread to keep things interesting (and delicious).
Remember that your leftovers will stay fresh for 3-4 days if you store them in an airtight container in the fridge. 
Arroz con Pollo
Arroz con Pollo – a fantastic one-pot chicken and rice meal featuring layers of perfectly seared juicy chicken meat, super flavorful rice and loads of veggies. An easy, loaded meal that comes together in less than an hour!
Check out this recipe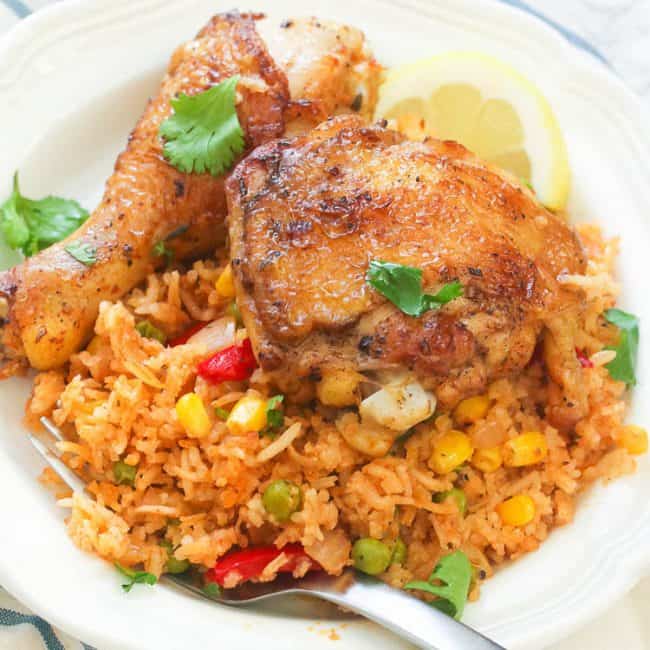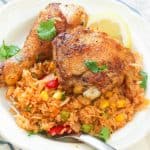 14. Jambalaya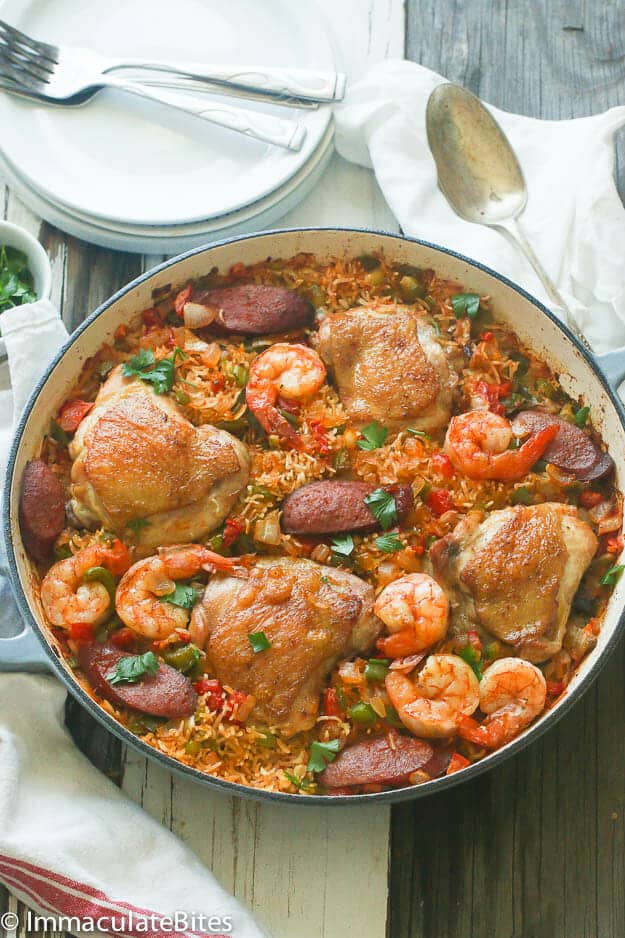 And while we're on one-pot dishes that are amazing, we can't overlook the classic Southern jambalaya. Also, it's a perfect weeknight meal or for guests over the weekend. That's how good it is, friends. 
Pair jambalaya with crusty French bread or some homemade garlic knots. It's a match made in heaven.
Keep leftover jambalaya in an airtight container in the fridge for up to four days. You can also freeze leftovers for up to three months.
Jambalaya Recipe
Jambalaya – This classic Southern one-pot dish boasts bold meaty flavors from chicken, sausage, shrimp, and intense Cajun spices. This protein-loaded dish is surprisingly easy, making it perfect for a weeknight meal yet lavish enough for entertaining. Everything you want for dinner is right here!
Check out this recipe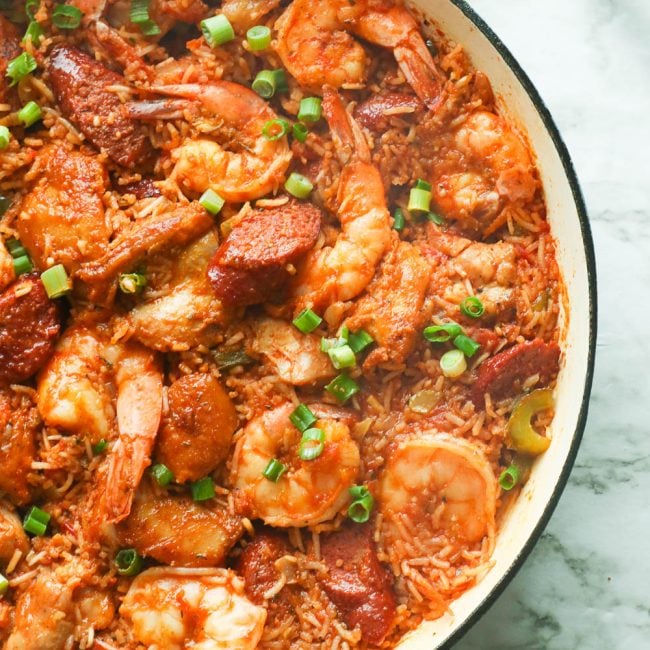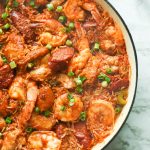 15. Smoked Chicken Thighs
Smoked meats are seriously the best, and chicken thighs – with their already flavorful dark meat – are no exception. This recipe gives chicken thighs a tender texture and just so much flavor. Additionally, a few special sauces make this recipe even better.
Pair your smoked chicken thighs with giblet gravy to create some contrast between the crispy chicken skin and a creamy sauce. On the other hand, you can make a finger-licking-good BBQ sauce for slathering over the finished product. That second option gets rave reviews from my husband every time.
If you happen to have any leftovers (highly unlikely 😆), then pack them up in an airtight container and keep them in the fridge for 2-4 days.
Conclusion
My go-to chicken thigh recipes are paprikash and smoked chicken thighs. Which recipe do you plan on trying tonight? Let me know in the comments.

Credit: Source link